Vettel not keen to discuss details of pre-Russian GP agreement with Leclerc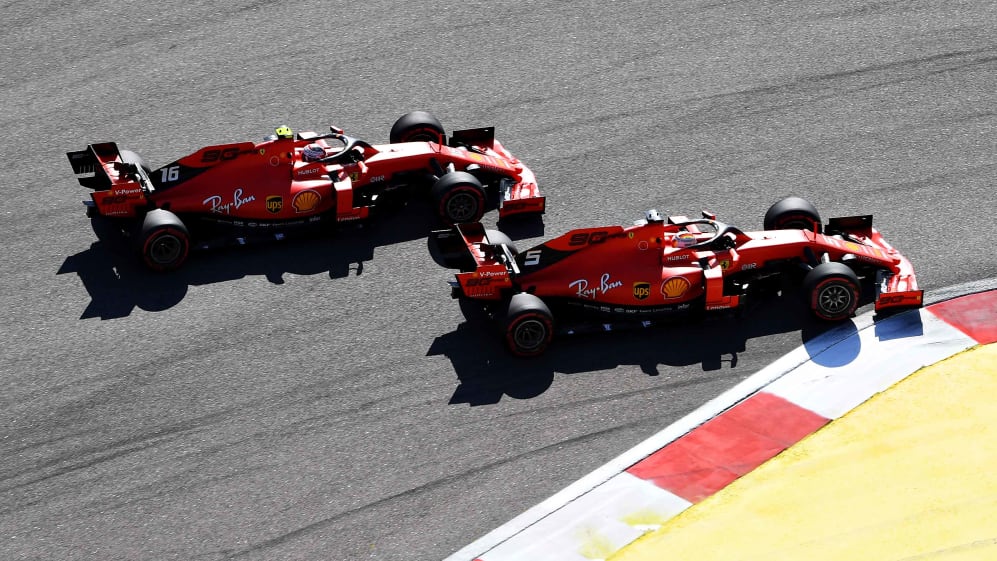 Sebastian Vettel's explosive start off the line in the Russian Grand Prix was so good, he passed both Lewis Hamilton and Ferrari team mate and pole-sitter Charles Leclerc to snatch the lead. It then emerged that he was aided by a pre-race agreement between the two Ferrari drivers but when quizzed about the terms of that deal, Vettel refused to go into detail…
A few laps into the race, Ferrari instructed Vettel to swap positions with Leclerc but when it didn't materialise, the German said it was because Leclerc wasn't getting close enough to allow the move to happen. Leclerc was furious, with Ferrari placating him by saying they would do the move later in the race, as Vettel was so quick, he was easily pulling away.
It looked like Ferrari's stresses were over when Leclerc undercut Vettel by pitting four laps earlier, gaining track position. But then Vettel retired, sparking a Virtual Safety Car that allowed Lewis Hamilton to get a free pit stop. That meant he kept the lead and, ultimately, the race for Ferrari was lost.
Speaking to reporters after the race, Vettel – who was surprised and delighted when he found out he won Driver of the Day – said: "I don't know what happened. I think we had an agreement. I spoke with Charles in particular before the race. I think it was quite clear, but I don't know, maybe I missed something. I'm sure we will talk about it, but obviously it is bitter today because we wanted to have the cars finishing one and two. It's not the result that we wanted."
I know it is not fair because I think people deserve to know
When pushed on the specifics of what was agreed before the race, Vettel shut down. "I don't want to share," he said. "Not a great deal but I don't want to put the team in a bad position afterwards because somebody said something here and there.
"I know it is not fair because I think people deserve to know. It is not a big deal. I obviously was in third, Charles was in first, and we were talking about a strategy to find a way past Lewis. I had a very good start. So there were a couple of options on the table, but sorry I really prefer not to in a way."
READ MORE: Hamilton snatches Sochi win after Ferrari fail to make advantage count
Ferrari Team Principal Mattia Binotto said an agreement was put in place pre-race to allow Vettel to slipstream Leclerc and get ahead of Hamilton so they could run one-two by the end of the first lap. It worked, only they weren't expecting Vettel to get ahead – and then have the speed to stay ahead.
"What was the deal? Charles would give the slipstream to Seb to make sure we were first and second at the end of the first lap and that would have put us in the best position to control and manage the race, which was the case up until the point of the unreliability," he said.
"By the time he would have given the slipstream, and Sebastian would have had that type of advantage, ideally we would have swapped back – but Seb was very fast so I think any decision could have been postponed. Initially, we asked him to swap. That was not the case, because Charles was not sufficiently close to him. That was the deal."
When asked if he could understand why Vettel didn't want to keep to the deal," Binotto replied: "Yeah, I think because anyway, he got such a good start, he overtook Hamilton very soon - even before Turn 1 - so probably in his mind, which is probably right, it wasn't Charles giving him the slipstream, he took simply the slipstream as he was in that position."
Binotto also disagreed with the suggesion Ferrari pitted Leclerc early to undercut Vettel and get the lead back, instead saying they left Vettel out longer to avoid being "vulnerable" to a Safety Car.
Grosjean 'wants to punch walls' after early exit in Russia
"We didn't do that for the purpose of the undercut, there was always time to swap later on," he said. "The reason is because we knew in case of Safety Car, we would have been vulnerable, so keeping Seb ahead on track was for us the best situation, so we just called him when the tyres were too worn, and that was the right moment to do it."
Ferrari now trail leaders Mercedes in the constructors' championship by 162 points with just 215 remaining in the final five Grands Prix of the season.
2019
Constructors' standings after Russia
POSITION
POINTS

1

Mercedes

571

2

Ferrari

409