Vettel fastest as 2017 track action comes to a close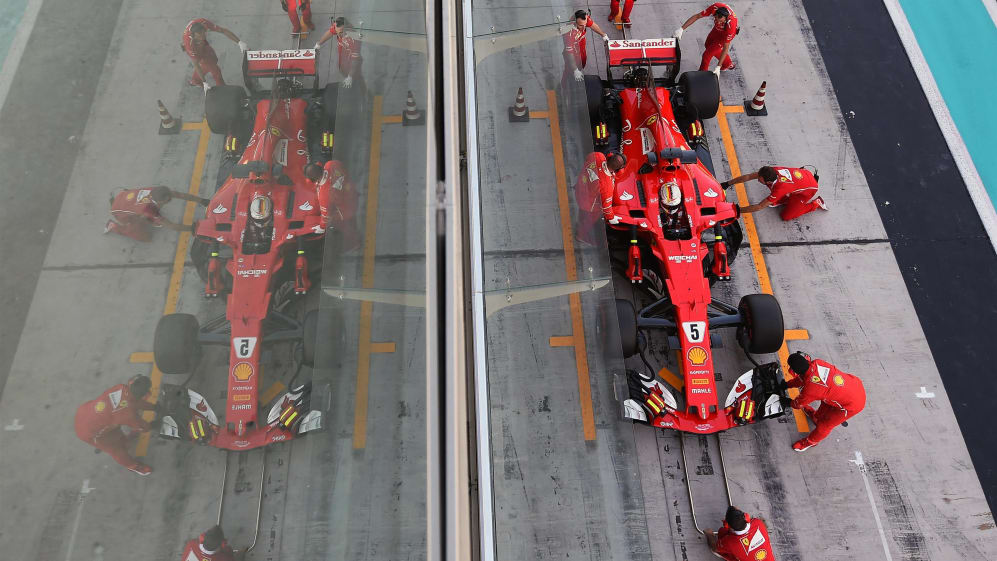 Sebastian Vettel ensured Ferrari ended the final day of track running in 2017 on top as Pirelli's tyre test concluded in Abu Dhabi on Wednesday.
Making full use of the Italian manufacturer's new hypersoft tyre, the German lapped Yas Marina in 1m 37.551s during the morning session - a marker that no one was able to beat over the remainder of the day.
Vettel was one of eight drivers to rack up more than 100 laps on the day, though he was lucky to escape without major damage earlier on after a spin saw him tag the barriers.
Sunday's race winner Valtteri Bottas and Red Bull's Max Verstappen were second and third respectively, with Sergio Perez and Esteban Ocon - sharing driving duties for Force India - completing the top five.
Sixth place went to Renault's Carlos Sainz, with Robert Kubica making use of a late hypersoft run to move up to seventh place as he enjoyed his second half-day behind the wheel of Williams FW40.
The Pole completed 28 laps in total, with the majority of Williams' running being conducted by Russian hopeful Sergey Sirotkin, who ended the day 10th quickest with 86 laps under his belt. Between the pair were McLaren's Stoffel Vandoorne - whose day was interrupted by an off-track incident - and Haas's Kevin Magnussen.
McLaren also had newly-appointed reserve driver Lando Norris in action, with the young Briton - doing development work for Pirelli - clocking 118 laps on his way to 12th place.
On the day that Sauber announced a new partnership with Alfa Romeo, Charles Leclerc, who is heavily fancied to drive for the Swiss team next year, completed the most laps of anyone - 149 - as he finished just ahead of Norris.
The timesheet was rounded off by Brendon Hartley and Pierre Gasly, who split duties at Toro Rosso.
Wednesday times from Yas Marina:
|Position | Driver | Team | Time | Laps| |-------- |------- |------ |------ |----- | |1 | Sebastian Vettel | Ferrari | 1:37.551 | 118| |2 | Valtteri Bottas | Mercedes | 1:38.490 | 141| |3 | Max Verstappen | Red Bull | 1:38.736 | 132| |4 | Sergio Perez | Force India | 1:38.818 | 52| |5 | Esteban Ocon | Force India | 1:39.148 | 72| |6 | Carlos Sainz | Renault | 1:39.444 | 109| |7 | Robert Kubica | Williams | 1:39.485 | 28| |8 | Stoffel Vandoorne | McLaren | 1:39.782 | 105| |9 | Kevin Magnussen | Haas | 1:39.810 | 124| |10 | Sergey Sirotkin | Williams | 1:39.947 | 86| |11 | Charles Leclerc | Sauber | 1:40.666 | 149| |12 | Lando Norris | McLaren | 1:41.714 | 118| |13 | Brendon Hartley | Toro Rosso | 1:43.345 | 61| |14 | Pierre Gasly | Toro Rosso | 1:44.827 | 63|