Vettel: Ferrari can 'make things happen' after break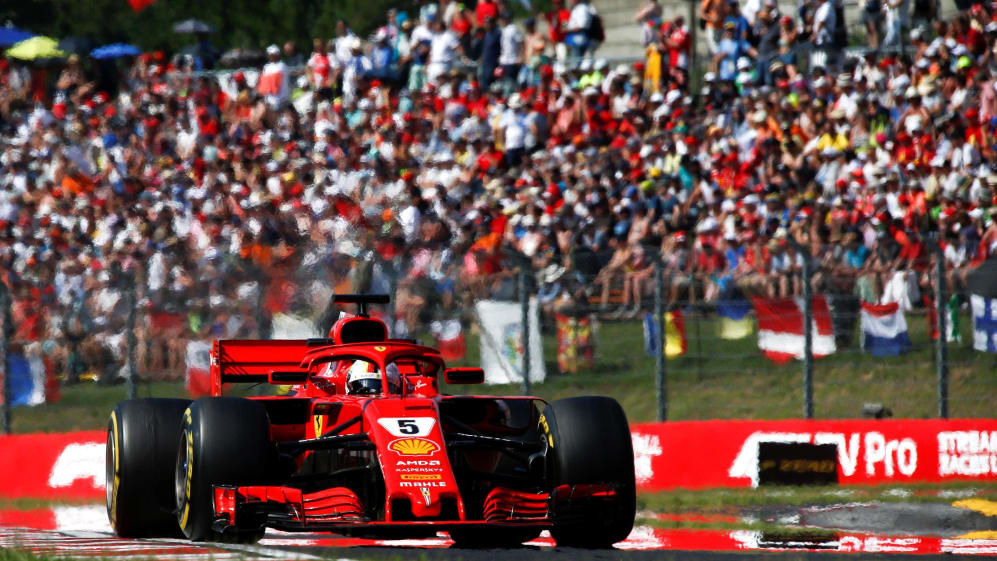 Sebastian Vettel has had the best car on the grid at his disposal this year and the Ferrari driver could have entered the summer break with a comfortable lead in the drivers' championship. Instead, he trails F1 title rival Lewis Hamilton by 24 points. But the German is confident the Prancing Horse have the tools to turn things around when racing resumes…
The momentum has swung between Vettel and Hamilton all season long. But on the approach to the summer, it was Vettel who looked to have wrestled the advantage. He led Hamilton by eight points after triumphing in the Mercedes driver's backyard at Silverstone.
Then the wheels came off his challenge when he crashed out of the lead in Germany, with Hamilton picking up the pieces to win. Hamilton then made it back-to-back victories by triumphing in Hungary on a track where Ferrari were favourites.
Suddenly, a 32-point swing left Vettel trailing Hamilton by almost a race win's worth of points as F1 broke for the summer.
Vettel, though, is refusing to be downbeat. "We had sometimes the pendulum swinging our way, sometimes not," he said. "From my point of view I think it's been fairly consistent. The one error that was very costly [in Germany] - that was quite small, because I wasn't even trying but went off.
"That's part of the game. I can't rewind the clock. It has happened. It obviously hurt us, but I'm quite confident that if we have the car to fight with, we can put them under pressure and make things happen in the second half."
As our tech duo Mark Hughes and Giorgio Piola outlined last week, Ferrari and Mercedes have been developing their cars at an extraordinary rate, which has seen one, then the other, jump ahead in the competitive order.
Ferrari and Vettel's title challenge unravelled following the summer break last year, with Vettel retiring in Singapore and Japan, but the Mercedes was faster in terms of outright pace. The reverse is the case this year – and that's what gives Vettel hope.
"Last year, we lost the championship I think because our car wasn't quick enough to be a match in the final part of the season, despite what happened with the DNFs," he said.
"So I hope that this year, and I think this year has shown so far that our car is more efficient, our car is stronger and still has a lot of potential to unleash. I'm quite confident with what's sitting in the pipeline that we can improve. So we'll see. It should be an exciting second part of the year."
Vettel will have a chance to close the gap on Hamilton when F1 returns to action at the Belgian Grand Prix on August 24-26.