Vettel happy to tell Mick Schumacher 'everything I know' ahead of young German's F1 debut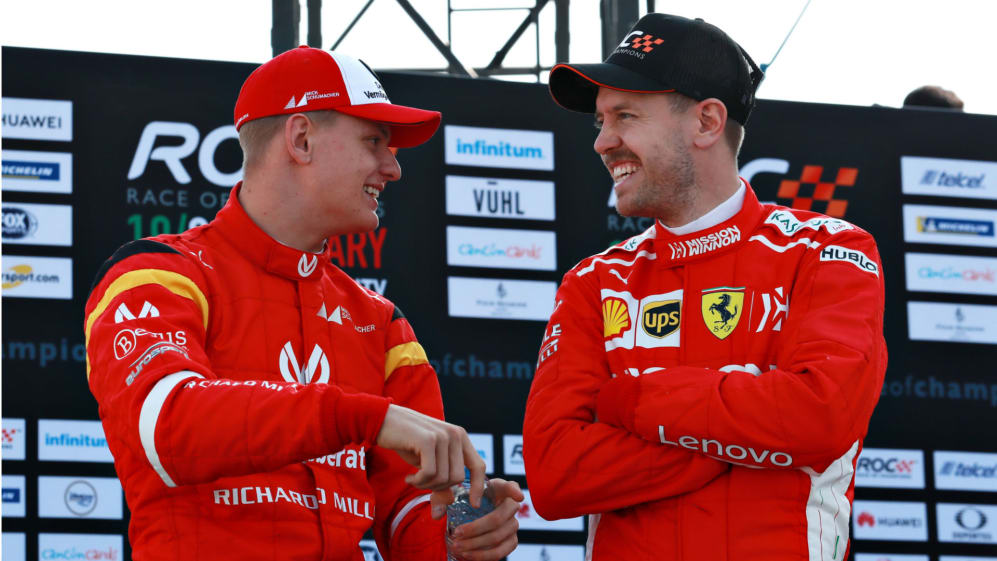 Michael Schumacher was Sebastian Vettel's idol growing up, the two becoming friends as the latter made his way into Formula 1. Now Vettel says he will play the role of sounding board for the seven-time world champion's son Mick when he makes his F1 debut with Haas in 2021.
Schumacher Jr is currently leading the F2 championship, the German holding a 14-point lead with just one round to go this weekend in Bahrain. And on Wednesday, it was announced the Ferrari junior will partner Nikita Mazepin at American team Haas next year.
Vettel said Schumacher was a great source of advice to him during his F1 career, so he is happy to help where he can, though he added it is also important the 21-year-old "finds his own path".
"I am a Michael fan," said the four-time world champion. "I'm happy to help where I can, Mick is a great guy, I have a very special connection to his father.
"From my side, I really like him, we get on well, and I'm happy to tell him everything I know. I watched his father winning a lot more races than he could have watched me win! I would be happy to help."
READ MORE: The inside line on how the Schumacher name returned to F1 - and what we should expect from Mick
When asked how he looked at Schumacher Jr, and whether he saw him like a son, Vettel said: "The way I look at him, I see him as a person, where I can help him in his life or on track with some of the things I went through in my career.
"I'm happy to help, but I think it's important for him to find his own path, follow his own way. As much as it helped me that Michael had things to say when I asked, I'm trying to do the same thing to him."
Schumacher had a seat fit at Haas earlier this week, ahead of his FP1 run with the team in Abu Dhabi followed by a day in the car at the end-of-season test at Yas Marina. For now, though, his full focus is on wrapping up the F2 title this weekend, in what has been his second campaign.