Vettel hoping to make Hungary count after Germany crash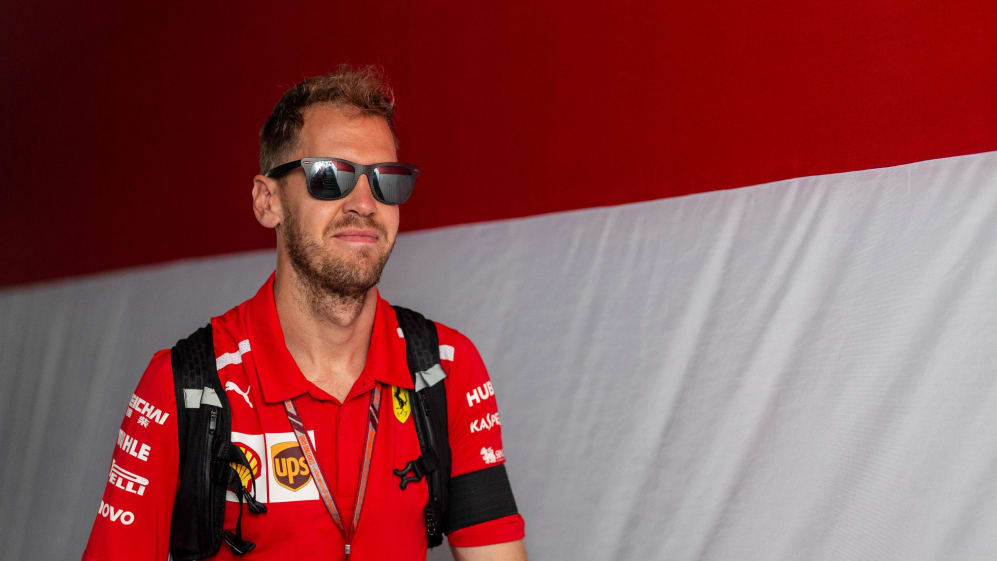 Sebastian Vettel knows what it takes to master the Hungaroring, having triumphed there last year – and the Ferrari driver is eyeing a repeat performance this weekend, so he can finally put his Germany heartbreak behind him…
Vettel comes into this race fresh from his costly error last week, in which he crashed into the barriers while leading his home Grand Prix, wrecking his chances of a first victory in Hockenheim. Even worse for the German, his arch rival Lewis Hamilton went on to claim an unlikely win, though Vettel insisted at the time that he wouldn't 'won't lose sleep' over the incident.
But it was still a topic of discussion in the paddock on Friday, a day that saw Vettel top the timesheet in the second practice session. There was little to choose from between Ferrari and Red Bull on day one in Budapest, but the German is hoping to lead the Prancing Horse to victory.
Asked if he was happy to be back in the cockpit, he said: "Of course, what else I can do? It's probably good to have a race straight away to get your head away and focus on the next thing to do. I hope we can cancel it out and make this race count and then forget properly.
"It's probably the best to get in the car because everybody knows what to do. Obviously it's not easy, but I think today the work has been okay. Having a lot of work in front of you is probably the best to get your head away and focus on the job we have to do here."
Vettel's former boss at Red Bull, Christian Horner, has no doubt that the four-time world champion has the mindset to deliver a performance this weekend.
"That would have hurt, in front of a home crowd at his home race," said Horner. "Apart from 2013, it has never gone that well for him (in Germany). Having put the sucker punch into Lewis one week earlier at his home race, he seemed to have him (Lewis) on the ropes. That won't have escaped him.
"He has got a great strength of mind and he will be very much focused on future races rather than looking backwards. That was always a key strength of Seb."
Looking ahead to the Grand Prix, Vettel is predicting a tough afternoon of overtaking, and is therefore looking to land pole position on Saturday.
"Qualifying and the start are very important here. Overtaking is very difficult, so whoever is ahead after the first couple of corners, that will be crucial but to get there is a lot of things to do, a lot of work ahead.
"I was pretty happy in the afternoon, happier than in the morning, I think the car's pretty good for one lap. We can still improve, but it's been one of the better Fridays. Obviously they've been a little bit up and down for us lately so today was quite solid."
Vettel currently trails Hamilton by 17 points in the title race. His target? To cut - or even better overturn - that heading into F1's annual summer break.