Vettel 'not too stressed' after losing championship lead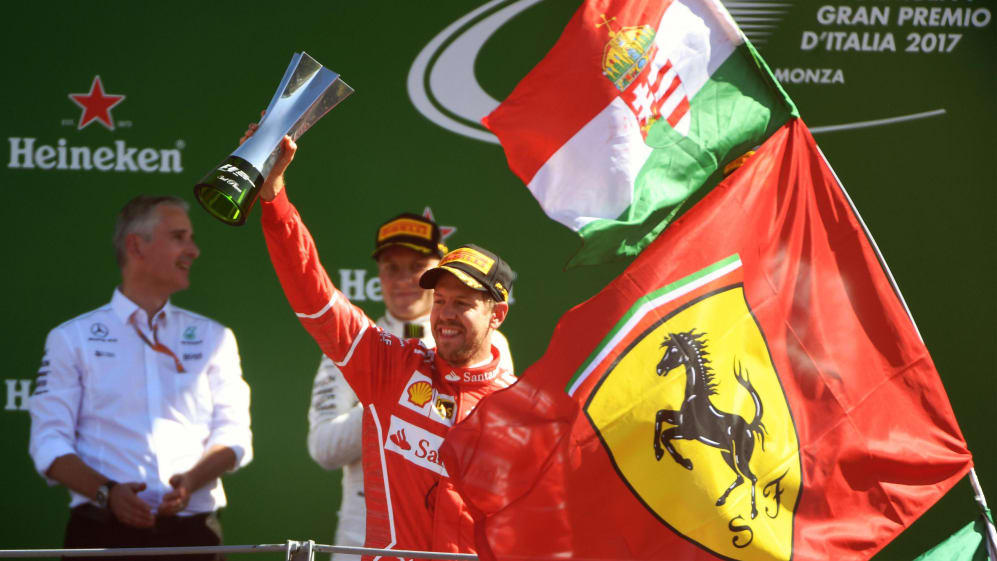 Sebastian Vettel has professed himself 'not too stressed' by the dominant nature of Mercedes' performance in Italy, despite losing the lead of the championship for the first time this season after coming home a distant third.
Vettel, who went into Ferrari's home race with a seven-point advantage over rival Lewis Hamilton, is now three points behind the Briton in the drivers' standings after the Silver Arrows pilot capped a commanding weekend in Monza by leading team mate Valtteri Bottas home for his sixth win of the season.
"It was clear they were quicker than us today," said Vettel afterwards. "But despite that, although I'm not happy I think we can accept the result. We did what we could and that's what it's about. The podium I think makes up for everything this weekend."
Unable to challenge the Mercedes ahead of him, Vettel found himself under strong pressure from Red Bull's Daniel Ricciardo in the closing stages of the race. Although the German was ultimately able to resist the surging Australian and hang on to third, he admits his task was made harder after he made a mistake heading into the first chicane on lap 40.
"After my off something was wrong with the car," he explained. "The car was pulling to one side and I didn't trust the car under braking anymore, so I just tried to control the gap.
"I couldn't push – obviously braking here is immensely important, so it's a no-brainer then that you're losing some [time]. But I had a gap and I just tried to keep it at the end. It worked and that's the most important thing."
Asked if he had any explanation for why Ferrari had missed the pace to Mercedes this weekend having looked arguably the stronger of the two teams last week in Belgium, the four-time world champion added: "We have some answers. It's not always easy to turn them into solutions, but equally I know that Monza is a very specific track.
"If you don't have 100% confidence then you can lose quite a bit of time fairly easily. I'm not too stressed and very much looking forward to the next races.
"I know this team has still got a lot in them. We need to keep pushing no doubt, Mercedes is still very strong and a little bit ahead at the moment. But it's not the end of the season.
"For sure it's better to be in the lead, but the most important is to lead after the last race. The rest, no one remembers."
Having dominated in Monaco, Ferrari are expected to be the team to beat at the next round in Singapore. The venue has also been a happy hunting ground for Vettel, who has won at Marina Bay four times previously.