Vettel penalised three grid places for impeding Sainz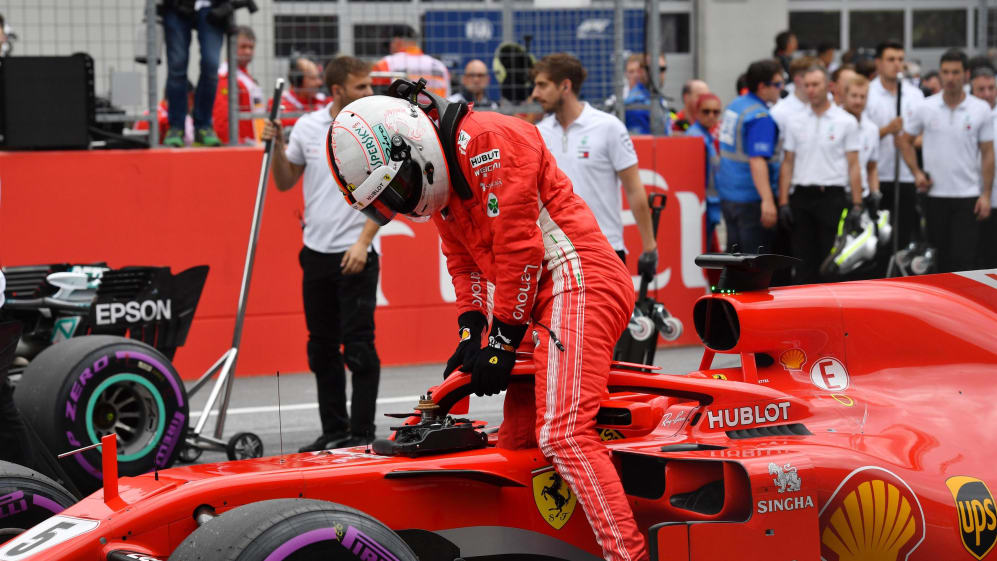 He was punished by the stewards last time out in France and now he has been punished by the stewards in Austria – Sebastian Vettel will start Sunday's Austrian Grand Prix from sixth on the grid rather than the third place in which he qualified...
That's as a result of a three-place penalty dished out by officials after they decided the Ferrari driver had unfairly impeded Renault's Carlos Sainz in the closing stages of Q2 in Spielberg.
Vettel had just finished a flying lap and was on an in-lap, travelling quite slowly into and around turn 1, on the racing line. He conceded that he had passed Sainz between turns 7 and 8 but assumed the Spaniard had pitted afterwards – when actually he was starting a flying lap and closing rapidly.
As Sainz suspected, Vettel admitted he had not seen the Renault in his mirrors and he had not received a radio call from Ferrari to warn him of its approach. Despite this, stewards concluded that the German should not have been so slow and on the racing line during a slow-down lap in qualifying.
"Obviously I wasn't meaning to block him or screw his lap," said Vettel after the session. "I was looking in the mirror, I passed him finishing my lap and I wasn't told anything. So I'm still looking in my mirrors, I couldn't see anything, checked again after Turn 1 and nothing to see.
"The problem by then obviously was that he was side by side, so fair enough, I can only apologise. But there was no intention obviously."
Fortunately for Sainz, the incident did not stop him progressing to Q3 and he ultimately went on to qualify in ninth, one place ahead of team mate Nico Hulkenberg. Afterwards, there were obviously no hard feelings – even though he admitted that at the time he had felt otherwise.
"I don't want to put too much blame on Sebastian because it has happened to me before that your engineer doesn't tell you there is a car starting the lap and you just simply don't look in your mirrors," said Sainz. "I got a penalty for that before, but it is not always the fault of the driver if you are not told.
"But it did cost me a front wing, a repair. I was angry at the moment because I thought it had cost me my Q3 - it was my second run of Q2 and we were pushing flat out. But thank God I had a good enough lap at the start of Q2 to go through."
As well as the grid drop, Vettel – who was punished for a collision with Valtteri Bottas in France – had one penalty point added to his Super License, bringing his 12-month total to three.
The penalty means Vettel's team mate Kimi Raikkonen, Red Bull's Max Verstappen and Haas's Romain Grosjean all move up a place on the grid to third, fourth and fifth respectively.