Vettel says Aston Martin was 'too much of a handful for me' after crashing out of racing return in Australia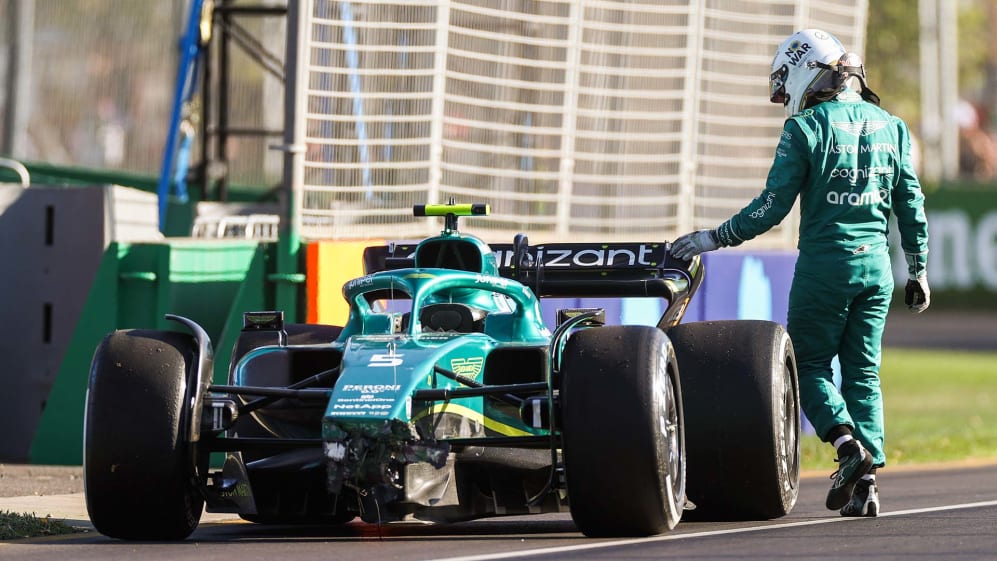 Sebastian Vettel says his race-ending crash in Melbourne was a result of him wanting "too much too soon" on his return to racing after missing the first two rounds of the season with Covid-19.
The four-time world champion was back in the car this weekend after sitting out the opening race in Bahrain and the Saudi Arabian Grand Prix. But it was anything but a happy return to action for the German, who struggled with issues and off-track excursions all weekend – as well as picking up a couple of FIA fines.
READ MORE: Dominant Leclerc beats Perez to Australian GP win as Verstappen retires
His car ground to a halt out on track in first practice with an engine issue – and his journey back to the pits on a borrowed scooter, around the track itself, earned him a €5,000 fine.
The team were unable to fix the car in time for FP2 so he did no running at all until final practice, when he crashed.
His mechanics set to work again to repair his AMR22, and thanks to a red flag delay he was able to get out in qualifying – just – but only in time for one run, which left him P17 on the grid, and with a further FIA fine for speeding in the pit lane.
And race day capped a miserable weekend for Vettel, as first he lost the car and scampered over the gravel on Lap 11, telling the team: "Sorry for that, it's so difficult to judge the car under braking," before he crashed at Turn 4 on Lap 23, triggering a Safety Car.
And after the race he explained just how tricky the new Aston Martin is to drive.
"[It was] maybe too much of a handful for me today. I tried to push a little bit too hard and obviously lost the car," he said. "Overall, obviously we know that the car is difficult and maybe I was wanting a little bit too much too soon and obviously I lost it a couple of times this weekend."
READ MORE: Facts and Stats - Leclerc takes first Ferrari grand slam since 2010
Although he conceded that missing the opening two rounds wouldn't have helped, Vettel says the bigger issue is that the team don't yet have the answers in terms of how to improve the car, which, after three rounds, is the only one not to have scored any points.
"[Missing the first two races] didn't help. Obviously in race conditions it was the first time [for me] and there was a lot of stuff I picked up in the first couple of laps, but unfortunately it was a bit too short our race.
"We have a lot of things that we want to improve [on the car], but we don't have the solutions yet."