Vettel says 'hairy' moment with Stroll did little to dampen enjoyment of Interlagos Sprint
Aston Martin team mates Sebastian Vettel and Lance Stroll had a close call in the Sao Paulo Sprint, but the four-time champion was left feeling content after recovering from 13th to ninth on Saturday.
Vettel attempted a pass on team mate Stroll early in the Sprint and was squeezed off the track on the run to Turn 4 and onto the grass, with the German's Aston Martin emitting a shower of sparks and soil. Stroll was given a 10-second penalty for the move, but Vettel didn't seem too fazed.
"Yeah, it was tight," said Vettel with a chuckle. "Obviously, we don't see as well as you do on the camera, so there's a lot of guessing, but yeah, the gap then closed and then I was sort of half off the track, which was a bit hairy – but fortunately I was able to re-join, and then the lap after, we worked together."
READ MORE: 'Mercedes look unbeatable' says Verstappen as he reflects 'way more difficult than expected' Sao Paulo Sprint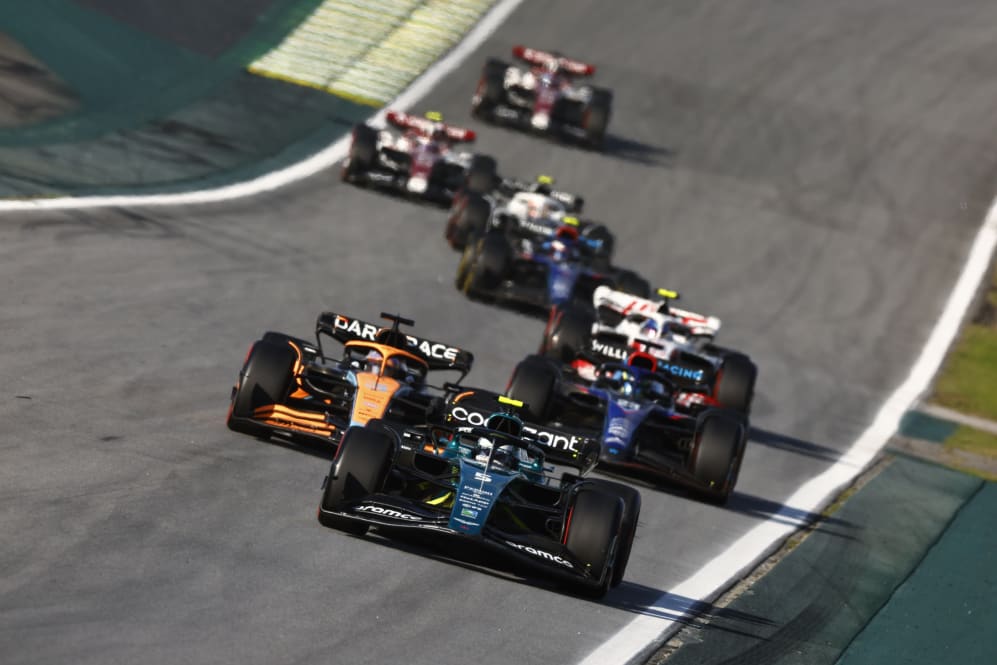 The veteran driver admitted he felt "stuck" in the early laps of the Sprint but enjoyed a tussle with Daniel Ricciardo before pulling off passes on Pierre Gasly and Esteban Ocon.
"It was fun, obviously we were making progress – we started 13th and finished ninth," said Vettel. "I was a bit stuck and then had a good couple of opening laps with Daniel, that was a lot of fun. After, it was a bit close with Lance, but I think in the end we worked together and, you know, I think it's always tough.
READ MORE: Russell revels in 'crazy' Sprint win as Hamilton says Mercedes 'have to' take 1-2 in Sao Paulo Grand Prix
"You lose time when you're fighting, but I seemed to be stronger, and then I was able to pass Esteban [Ocon] fairly comfortably and even catch Pierre in the distance, and yeah, with a couple more laps, I think we could have overtaken Kevin [Magnussen, P8] as well. But maybe we'll save that for tomorrow."
Stroll, on the other hand, finished 17th, having started 15th, and the Canadian gave a short evaluation of his incident with Vettel.
"Yeah, I have to look at it again – probably, I didn't leave him enough space – so I'll have to look," said Stroll. "Just struggling all weekend."