Vettel says he 'sees himself in Leclerc' after Ferrari team mate's passionate post-race outburst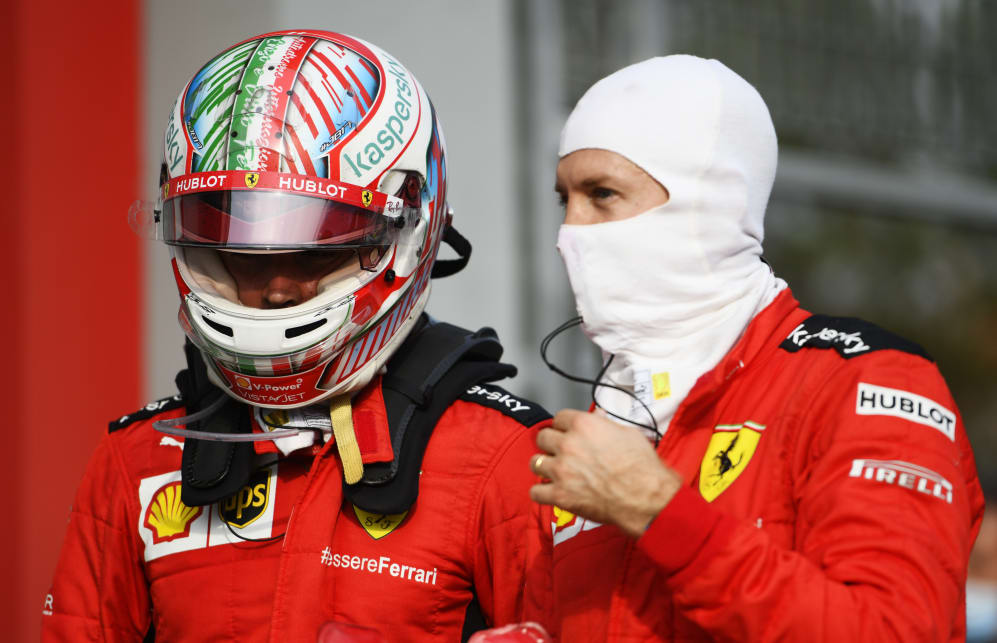 Charles Leclerc is not afraid to castigate himself when he thinks he's made a mistake – as proved by his passionate team radio outburst after a last-lap mistake in Turkey cost him a podium place. Ferrari team mate Sebastian Vettel was the grateful recipient of that error, but afterwards the German said he empathised with Leclerc, saying his character reminds him of how he was at the same stage in his career.
Asked how important what happened in the final corners of the race was to the dynamics between the two, Vettel replied: "Probably irrelevant, to be honest. Turkey is a special place for me because it's where everything started. It's probably not where everything ends but still I think, looking back to many many years ago, I think having Charles as a team mate, I often see myself in him as well.
READ MORE: Inconsolable Leclerc says he was '**** when it mattered' after last-lap mistake loses him podium spot
"He's a lot younger, he's very quick and I think the fact that - I haven't had the chance to talk to him yet – but I will tell him later that being on the podium or not actually is a bit irrelevant for him because he has so many years ahead of him and so many podiums to come, which I'm sure of.
"It's right that he is angry, he did a mistake and lost the podium that way but as I said, in the big picture probably irrelevant for him. I think I'm mature enough, I never let this kind of stuff really heat up and get between us."
Vettel is moving on at the end of the year, joining up with Racing Point as they morph into Aston Martin Racing. But there will clearly always be a fondness towards Leclerc.
"I'm happy for anything that he achieves and will achieve in the future because he's a good kid," the German said. "Obviously [Turkey] was a very tough race and I think all of us, we were very close to losing it completely at various stages in the race. Obviously it's extra painful when it happens in the last lap."
There is currently a 64-point gulf between Leclerc and Vettel in the drivers' standings, with three races to go.