Vettel sticks around after DNF in British Grand Prix to help collect litter at Silverstone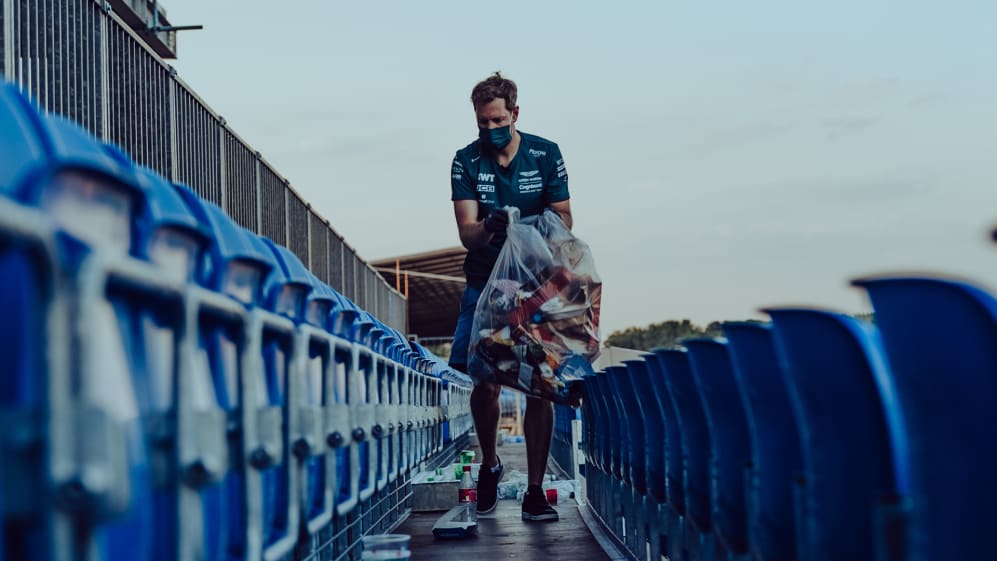 Rather than making a dash for home after a disappointing retirement from Sunday's British Grand Prix, Sebastian Vettel met up with a group of fans, pulled on some gloves and headed to the grandstands to do a litter pick…
The four-time world champion has used his platform to raise awareness about the need to find solutions to protect our planet for the future and has subsequently initiated a number of projects.
In Austria, he worked with school children to build a bee hotel in the shape of a Formula 1 car – and on Sunday, after he was forced to retire his car on Lap 40 of the race, he spent hours clearing up rubbish left by 140,000 fans.
READ MORE: How Vettel created a buzz by constructing 'hotel for bees' close to the Red Bull Ring
The Aston Martin driver then headed back to the track on Monday morning on his push bike to assess the clean up operation.
And it is believed he will remain in the UK and follow how the litter collected on Sunday and across the weekend will be recycled.
"I think it is important that we all respect the environment and don't rely on other people to clear up after us," he said.
"We have to start somewhere and each one of us can make a difference now."
It came after a weekend that offered so much hope ended in retirement. Vettel showed the pace throughout to score points, but lost the car when going wheel-to-wheel with Fernando Alonso.
READ MORE: How Hamilton and Mercedes negated the impact of 10s penalty to win at Silverstone
The German dropped to the back of the pack and though he continued, he was unable to get close to the points and ultimately retired the car with a cooling issue.
"The weekend was looking promising and, without all the problems, I should have finished well inside the points," he said. "I am very disappointed to lose the car in a wheel-to-wheel battle with Fernando [Alonso].
"I am not sure exactly what happened, but I misjudged it, lost grip, and spun. After that, I was right at the back. In the end we did not finish the race because the team retired the car with a cooling issue."