Vettel surprised by qualifying gap to Mercedes, as damage compromises Leclerc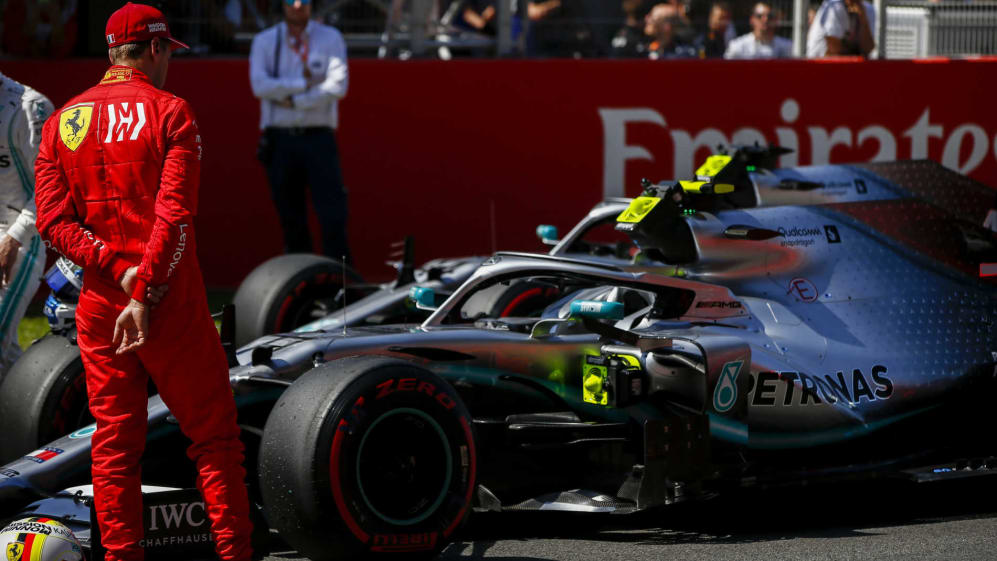 Playing second fiddle to Mercedes is nothing new for Ferrari this season, but even Sebastian Vettel was shocked by how far ahead the world champions were after they dominated qualifying in Barcelona on Saturday.
Vettel was a familiar third fastest behind Valtteri Bottas and Lewis Hamilton around the Circuit de Barcelona-Catalunya, but with Ferrari having reigned here in pre-season testing – and having brought both engine and aero upgrades to this race – the eight-tenths deficit came as a surprise.
"Coming here we did not expect [this]," said Vettel, "but also we seem to lose quite a big amount of time in the last sector. I think it's quite clear that we seem to be faster down the straights so probably carry a little bit less wing than them, but then obviously in the last sector there are no straights, and [we are] struggling a little bit to bring it together.
"It's not a very long sector, but there are quite some corners – and mostly lower speed – and that's where we seem to be losing the most time. So definitely some homework to do. We know this track very well, everybody does, but with the conditions today, etc, we were just not able to match them."
Ferrari's woes were compounded by a troubled session for Vettel's team mate Charles Leclerc, who picked up floor damage over the Turn 9 kerbs during Q2. With his car seemingly compromised as a result, he failed to beat the Red Bull of Max Verstappen and ended up a disappointed fifth on the grid.
"I'm not very happy, but on the other hand in Q2 I don't really understand how I could lose that much of the car on the kerb – I did not expect it," said Leclerc. "I got a little bit of understeer, I keep it flat thinking it will be all fine, unfortunately we broke quite a lot and then had to stop again.
"[In] Q3 the balance was very strange, so we need to check the car to see if everything is fine. Anyway, we were slower than the Mercedes today and that's it."
On the plus side for the Scuderia, Vettel believes that while Ferrari's latest improvements may not have reaped huge dividends in the short term, combined with the team's approach, they should have much bigger long-term potential.
"Everything seems to work, but clearly we're not yet where we want to be," added the German. "But in terms of team effort, everybody was doing their upmost. We tried a lot of stuff yesterday and again today, different directions, and I think we ended up getting the best out of the car for today.
"As I said, it wasn't enough, and we're certainly not satisfied, but I'm very happy with the approach, with the chance that we took in terms of trying something, daring something - I think ultimately it will pay off. Maybe not yet, not today at least, but hopefully it helps us in terms of pace tomorrow and hopefully it sets us off in the right direction."