Vettel: The car came alive in Bahrain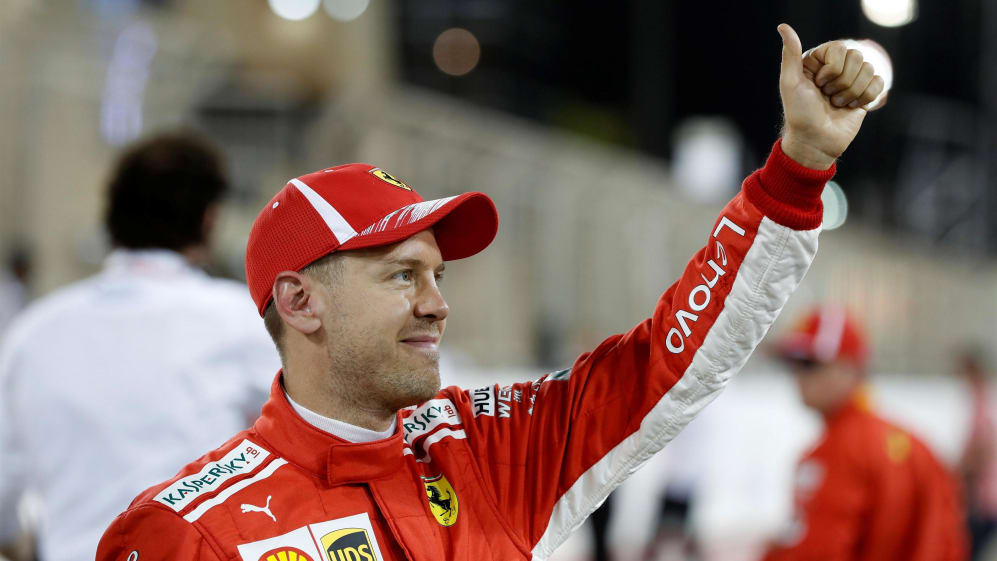 Champions deliver when it matters and that's exactly what Sebastian Vettel did in Bahrain Grand Prix qualifying, recovering from running wide in his first run to snatch pole from his team mate.
Ferrari had looked good all weekend, both on one-lap pace and over the longer runs, but it was Kimi Raikkonen, rather than Vettel, who looked the stronger contender for pole in practice.
But in qualifying, Vettel upped his game, impressing in the second part of qualifying and though he made a mistake on his first run in Q3, he recovered on the second to secure his 51st career pole.
The good news is we are close, in all the conditions, we're close with everyone.
"We don't know the car that well yet, but it's getting there," said Vettel after qualifying. "The car was quite nice and then it came alive.
"I felt quite good from the start, making progress throughout the [qualifying] session.
"My first run in Q3, I was very happy and then I tossed it away in the last corner. I'm happy I got the second run and got it clean.
"I knew on the last corner, I just needed to stay away from that kerb. The car was excellent all weekend so far. So I'm looking forward to tomorrow."
Vettel said Ferrari had made good progress in understanding the reasoning behind why they were off the pace of Mercedes in Australia.
"We worked on the balance, we looked into it quite a lot. We improved it yesterday, we improved it today.
"Overall, we are a bit happier this weekend. We are happy with how the car was responding, how the front end was responding - you can also see it in the result.
"The good news is we are close, in all the conditions, we're close with everyone."
Raikkonen was just 0.143s behind Vettel, failing to improve on his second run after encountering traffic in the second sector.
"It was far from ideal in the last run with the traffic," said the Finn. "But what can I do? We'll see, it's just Saturday. Tomorrow is the main thing, it's where we can get the points."
It was the first Bahrain pole for a car powered by anything other than a Mercedes or Renault engine since 2009, and Ferrari's first at Sakhir since 2007.