Report
Vettel wins in Canada to seize championship lead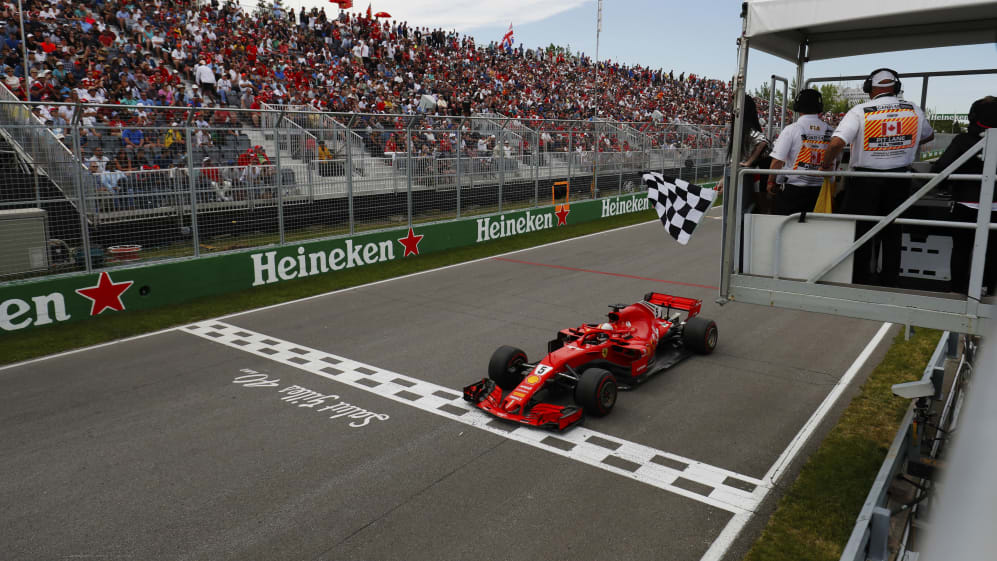 Ferrari haven't won in Montreal since 2004, while Lewis Hamilton has made Circuit Gilles-Villeneuve his own during his F1 career. But Sebastian Vettel ripped up the form book with a dominant victory in the Canadian Grand Prix on Sunday to snatch the lead in the 2018 driver standings…
The German was mighty in qualifying on Saturday and didn't put a foot wrong come race day, crossing the line 5.7 seconds clear of Mercedes' Valtteri Bottas, with Red Bull's Max Verstappen completing the podium, followed home by team mate Daniel Ricciardo and the second Mercedes of Hamilton.
Vettel, whose Ferrari team brought an engine update to Montreal, had a slow start to the weekend but finally found his rhythm in qualifying and the result was a stunning pole position. That form then carried into Sunday as he led the field away from pole position at the race start.
Bottas fought off the fast-starting Verstappen to retain second, moments before the race was neutralised when Toro Rosso's Brendon Hartley and Williams' Lance Stroll collided spectacularly. Stroll felt he had a puncture, lost control of his car momentarily and that speared him into Hartley, squeezing the Kiwi up against the barrier.
Both retired on the spot, sparking a Safety Car period. At the restart, Vettel had no trouble keeping Bottas and the hypersoft-tyred Verstappen at bay and promptly proceeded to pull out a gap. His title rival Hamilton wasn't having so much luck. The reigning world champion reported a problem with power.
Mercedes responded by pitting him early, despite the Briton starting on the more durable ultrasoft tyres, so they could apply a fix to what transpired to be a problem with cooling. It seemed to do the trick, but that put Hamilton at a strategic disadvantage and he dropped a place to fifth behind Ricciardo after the Australian made his stop.
Vettel, Bottas and Kimi Raikkonen ran very deep into the race. That worked out nicely for Vettel and Bottas, as they retained the top two positions, but Raikkonen wasn't so lucky and dropped back to sixth for Ferrari. At one point, it looked like we might have had a battle for the lead as Bottas cut the deficit to Vettel.
But the Finn ran wide exiting Turn 1 and his challenge evaporated. His focus then switched to defending to the fast-finishing Verstappen. Meanwhile, Hamilton attacked Ricciardo until the chequered flag, but he didn't deal with traffic as well as Ricciardo and ultimately had to settle for fifth.
Nico Hulkenberg was the best of the rest, as he has so often been this season, in seventh, a fraction ahead of Renault team mate Carlos Sainz, who survived contact with Force India's Sergio Perez on the rundown to Turn 1.
Perez's team mate Esteban Ocon scored points for only the third time this season in ninth, while Charles Leclerc scored the final point – his third points-finish in four races - for Sauber.
Toro Rosso's Pierre Gasly delivered a strong recovery drive to 11th, having started 19th following a grid penalty for an engine change, with Romain Grosjean 12th, beating his Haas team mate Kevin Magnussen despite starting dead last.
There wasn't a happy end to Fernando Alonso's 300th Grand Prix weekend. The double world champion had fought his way into the points after a poor qualifying, but was instructed to retire his McLaren when the team identified an exhaust problem. Team mate Stoffel Vandoorne didn't fare much better as he ended up 16th.
Williams may have had something to smile about when they won F1's Raft Race on Saturday evening, but fortunes reverted to 2018-type on Sunday, as local favourite Stroll retired on lap one and Sergey Sirotkin was the last of the classified runners.
At the other end of the spectrum, Ferrari regained the momentum in the championship battle, with Vettel turning a 14-point deficit to Hamilton into a one-point lead, while Ferrari closed the gap to leaders Mercedes to 17 points heading to the next race in France.
The key quote
"Perfect is a really good way to describe it. Unbelievable. I said yesterday how much this place means for Ferrari. We saw it from the moment we touched down – and to have a race like we did today was unbelievable. OK, 50 for me… I think after a long stretch where Ferrari didn't win here, I saw the people around and they were super happy so I'm sure they had a blast and will have a blast tonight. I'm just happy." - Sebastian Vettel
The stats that matter
Vettel became the fourth consecutive Canadian GP winner from pole position

Vettel won for the 50th time in his career, the fourth driver to reach that total after Alain Prost in 1993, Michael Schumacher in 2001 and Lewis Hamilton in 2016

Ferrari ended a run of 12 Montreal races without a win, the longest winless streak at any current venue (last win: 2004)

Verstappen registered the fastest lap for the second race in a row, which means Red Bull have now taken five out of seven fastest laps in 2018

The Dutchman also secured his first podium in Canada, having been quickest in FP1, FP2 and FP3 this weekend

Bottas sealed his fourth podium finish in Montreal, more than at any other venue in his career. It was also his fourth top-three finish this year, all of which have been in second place

Fernando Alonso has more retirements in Montreal than at any other circuit in his career – it was his seventh official retirement, or eighth if you also include last year when he was classified
DHL Fastest Lap
Max Verstappen – 1m 13.864s (lap 65)
What's next?
Formula 1 returns to Europe in two weeks as the drivers and teams head for the French Grand Prix at Circuit Paul Ricard on June 22-24.