Abu Dhabi victory is the only goal this weekend – Bottas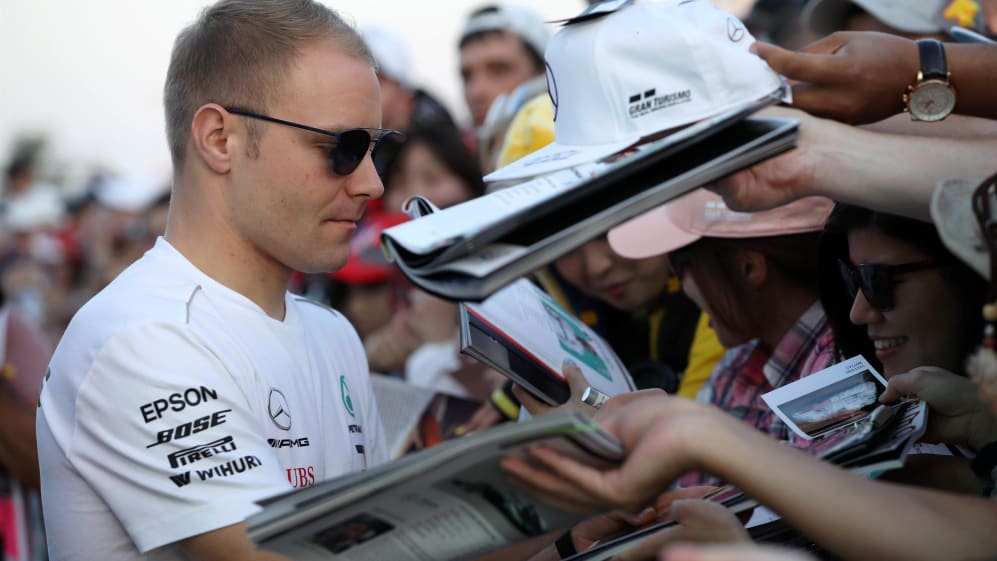 This season has been a tough one for Valtteri Bottas. While Mercedes team mate Lewis Hamilton has romped to 10 victories en route to winning the world championship, the Finn is still searching for his first win of the season. The Abu Dhabi Grand Prix, a race he won last year, represents the final chance for him to achieve that feat, and he admits that's the target this weekend…
Only twice since 1994 has a team mate of a world champion gone through the whole season without winning a race. One was Rubens Barrichello in 2001 (when Michael Schumacher won for Ferrari) and the other was Mark Webber in 2013, a year which saw Red Bull and Sebastian Vettel secure a fourth successive double world title.
And Bottas has one last attempt to avoid joining the pair, with the Abu Dhabi Grand Prix bringing an end to what has been a memorable season for Mercedes, the team securing their fifth successive constructors' title.
What would make that success taste even sweeter is a Bottas victory this weekend, and the Finn, who was unfortunate not to win in Baku and Sochi this season, is hoping to repeat last year's exploits.
"Yes, I try to repeat last year – that's the only goal for this weekend. Nothing has been done yet, there's still plenty of work to do, but that's the target," said Bottas, speaking after topping the timesheet in FP2.
"FP2 was really good, the car felt like I could trust it and drive it the way I want. FP1 was less good, but I think that's pretty usual here. The track is very green when we first go out and it's much hotter during the day than it is in the evening session.
"So I'm glad we got the car to work well in the evening session as it is very difficult to try out set-up changes in FP3 because it is so hot.
"We definitely learned a lot from the runs we did today, especially in the evening, and there are plenty of things we can adjust overnight to find a good set-up for qualifying and the race.
"It's nice to be on top of the timesheets, but we now need to build on that, we need to try and make the right set-up changes and I also need to find more performance from myself."
Hamilton, meanwhile, was out-paced by Bottas in both practice sessions, and the recently-crowned world champion admits there's some work to do ahead of race day.
"Session one was pretty shocking in the sense that the track was always a bit green. Not very good grip wise so there was a lot of sliding around and - just like everyone else - we were struggling with the tyres," added Hamilton.
"There's a big difference in track temperature between the two sessions; the conditions in FP2 are much more representative of qualifying and the race, so in that respect FP1 and FP3 don't really tell you a whole lot.
"We made some really good changes over the break and I was much happier with the car in FP2, but there's still a lot of work to do. Red Bull looked quick today, they're usually fast in practice and in the race, so I have no doubts it will be the same this weekend."