Video
VIDEO: The best onboard action from Monaco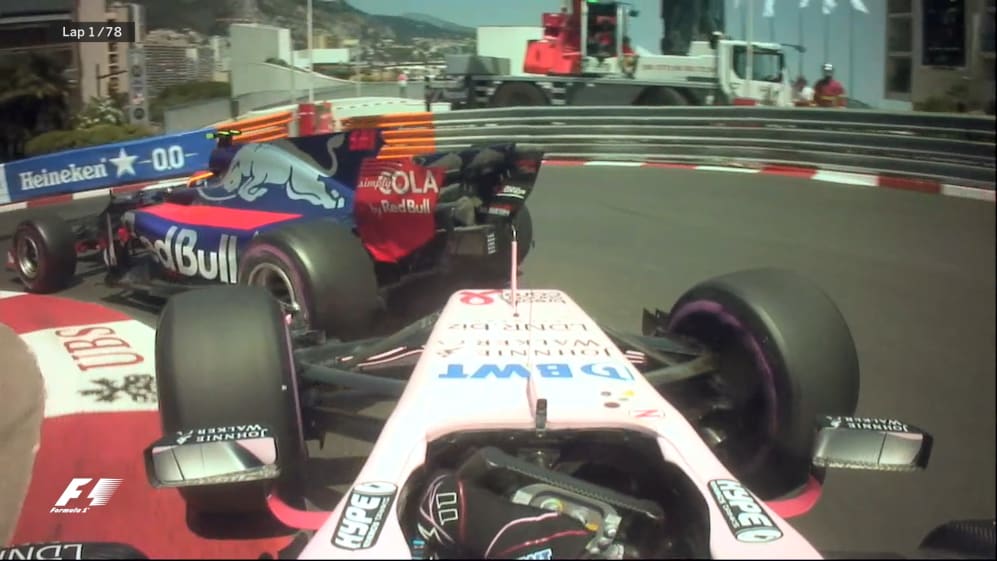 From clumsy collisions to surprise passes and from flying starts to brushes with the barrier, we round up the best action captured by our onboard cameras in Monte Carlo…
The perfect Monaco getaway
It's an extremely short squirt off the line to the first corner in Monaco, but all of the drivers knew that those few hundred metres could make or break their races in terms of gaining or losing track position. A few drivers made up one position, but no one got as good a jump as Haas's Kevin Magnussen, who then threaded the needle between Nico Hulkenberg's Renault and Daniil Kvyat's Toro Rosso to move from P11 to P9 behind team mate Romain Grosjean.
Perez the master of his own misfortune
Sergio Perez entered the Monaco weekend looking to extend his grid-best points run to 16 races – and he did his chances no harm by qualifying an excellent P7. But in Monaco small mistakes can have massive consequences, and so it proved for the usually ultra-reliable Mexican, who consolidated his position at the start but then ruined that good work with a misjudgement at the hairpin that saw him run into the back of Carlos Sainz's Toro Rosso and damage his front wing. An earlier than scheduled stop followed where Perez was fitted with a new nose assembly, dropping him from seventh to 16th and leaving him with a lot of ground to make up. But more on that later…
Monte Carlo and bust
Just as Fernando Alonso would rue his luck at Indianapolis, so his stand-in Jenson Button would for his one-off return to the McLaren cockpit. Having seen his hopes of a fifth consecutive Monaco points finish all but evaporate before qualifying when he was hit with a 15-place grid penalty (undermining a fabulous run to Q3), Button then found himself circulating at the rear of the field for much of Sunday's race. The Briton then decided on one final roll of the dice on lap 60, trying to take advantage when Pascal Wehrlein lost momentum being lapped by race leader Sebastian Vettel to snatch P18. But the German failed to spot him coming and as the Sauber ended up pinned against the barriers, Button went out with suspension damage, later being awarded a rather meaningless three-place grid drop for causing the collision. No wonder Button said Monaco had not whetted his appetite for any further outings…
Magnussen's view of the action
On the tight confines of Monaco, it's easy to become embroiled in someone else's accident, so you can imagine the sigh of relief Haas's Kevin Magnussen breathed when, having seen Button tip Wehrlein's car into that somewhat unbelievable side stand, he was able to duck past both cars and continue on his way, no doubt already anticipating a safety car.
Ericsson's embarrassing exit
Last year, Marcus Ericsson's Monaco race came to a premature end when he committed the ultimate faux pas of crashing into his team mate, and this year there was a similarly ignominious early exit for the Swede as he crashed out under safety-car conditions. "I had some issues with the brakes overheating behind the safety car," said Ericsson, who, along with other lapped cars, had just been allowed to overtake the rest of the field when he went off at Ste Devote. "I tried to bring the brake temperature down, but at the same time I had to keep the tyres in the right working window. The combination of overheating brakes and cold tyres made me struggle a lot to stop the car, so I could not avoid sliding into the barriers." The incident, seen here from cameras on Ericsson's and Vettel's cars, brought the curtain down on a race to forget for Sauber, who had seen Wehrlein's sister car lying precariously on its side only a few laps earlier.
Ricciardo gets lucky after brush with the barriers
A blistering turn of pace before his pit stop allowed Daniel Ricciardo to overcut both Red Bull team mate Max Verstappen and Mercedes' Valtteri Bottas and jump from fifth to third, but the Australian nearly blew his shot at a third Monaco podium in four years when he clonked the barriers coming out of Ste Devote following the safety car re-start on lap 67. "It was pretty unexpected when I touched the wall as I didn't brake late or anything," explained Ricciardo, who somehow escaped without any damage. "I felt I was quite cautious, but then when I turned I thought 'the car isn't turning...'". As you can see in the video, Bottas did his best to prey on Ricciardo's lost momentum, but with the Red Bull sticking to the middle of the track, there was no room for the Silver Arrow to slip by. Who knows, maybe in one of 2016's narrower cars it might have been possible…
Vandoorne crashes out of P10
A Monaco winner in GP2, Stoffel Vandoorne had arguably his strongest weekend of the season so far in the Principality from a pace perspective. After showing extremely well in qualifying before an off at the end of Q2, the Belgian was looking increasingly likely to score McLaren's first point of the season in the race before another unfortunate meeting with the barriers following the late safety car. "I knew it would be difficult at the restart," explained Vandoorne, who had Sergio Perez's ultrasoft-shod Force India (our second camera car) dive inside him while in the process of understeering agonisingly into the wall. "It was hard to get the tyres and brakes up to temperature, and I just had nowhere to go at Turn 1..."
Perez gets it all wrong
Not content with having made it back into the top ten, Perez, keen to make use of his relatively fresh tyres, tried his luck at Rascasse late in the race – only this time the door would be slammed shut rather than left open, as it was when he passed Stroll at the same corner earlier on. Kvyat, who'd retire almost instantly as a result of the contact shown above, described the move as 'desperate' and PlayStation-like, and the stewards, whilst not using such hyperbolic tones, agreed, handing Perez, who finished 13th, a 10-second time penalty and two penalty points on his license. "In Monaco there is no way to overtake without taking risks," said Perez after the race. This was clearly a risk that backfired.