Vienna to host second Formula 1 Exhibition following record-breaking success in Madrid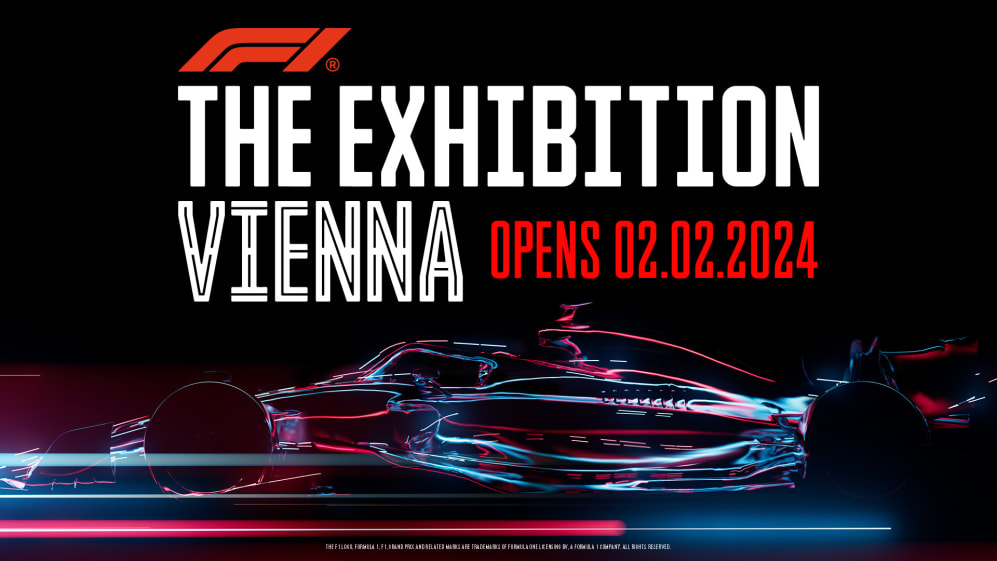 Formula 1 and F1 Exhibition today announced Vienna as the next city to host The Formula 1 Exhibition, with the innovative show set to open on February 2 2024, running until late spring, at the METAStadt Vienna.
Following a successful inaugural run in Madrid that saw F1 Exhibition become the country's biggest temporary show in 2023, The Formula 1 Exhibition will head to the Austrian capital to deliver an immersive F1 experience through six specially designed rooms spread over 3000 square metres.
READ MORE: World's first official Formula 1 Exhibition opens in Madrid with a host of incredible displays
Visitors start their journey by passing through 'Once Upon A Time In Formula 1', where previously unseen photographs transport fans through the sport's most iconic and defining moments. 'Drivers and Duels' then celebrates the most iconic drivers and legendary races since Formula 1 began, before 'Revolution By Design' presents the breakthrough innovations in the sport and explores the new technologies that lie ahead.
'The Design Lab' takes visitors inside an F1 factory, before entering 'Survival', where the remains of Romain Grosjean's burnt out Haas race car from his dramatic 2020 crash in Bahrain serves as a homage to safety innovations in the sport. The show then reaches its finale in 'The Pit Wall' – a show-stopping cinematic and immersive experience that allows fans to relive the greatest moments in Formula 1 history like never before.
Stefano Domenicali, President and CEO of Formula 1, said: "Following the success of our first Formula 1 Exhibition in Madrid, we are incredibly excited to announce Vienna as the second host of the innovative show. Austria has a great history with Formula 1, so we are delighted to take this spectacle to the capital and provide fans in the country with another way of interacting and enjoying the sport's rich history and heritage."
"We were thrilled and gratified by the level of success the exhibition received in Madrid," added Timothy Harvey, Lead Curator and Producer of The Formula 1 Exhibition. "The ambition has always been to bring this one-of-a-kind show to as many people as possible, and so we're excited to announce the next stop will be the dynamic city of Vienna. The Vienna exhibition will feature new displays and experiences for visitors."
Dieter Semmelmann, CEO SHOW FACTORY, said: "We are very proud that with The Formula 1 Exhibition, we can further establish Vienna and the METAStadt as a location for spectacular and popular exhibitions. This exhibition is a unique experience and will certainly bring Formula 1 fans from all over Europe to Austria."
Pre-sale tickets are set to go on sale on Monday October 23 at 1000 CET, with fans now being able to register at oeticket.com to receive an exclusive alert to secure their tickets. General sale will open on Wednesday October 25 at 1000 CET.
For more information visit f1exhibition.com/Vienna.