World's first official Formula 1 Exhibition opens in Madrid with a host of incredible displays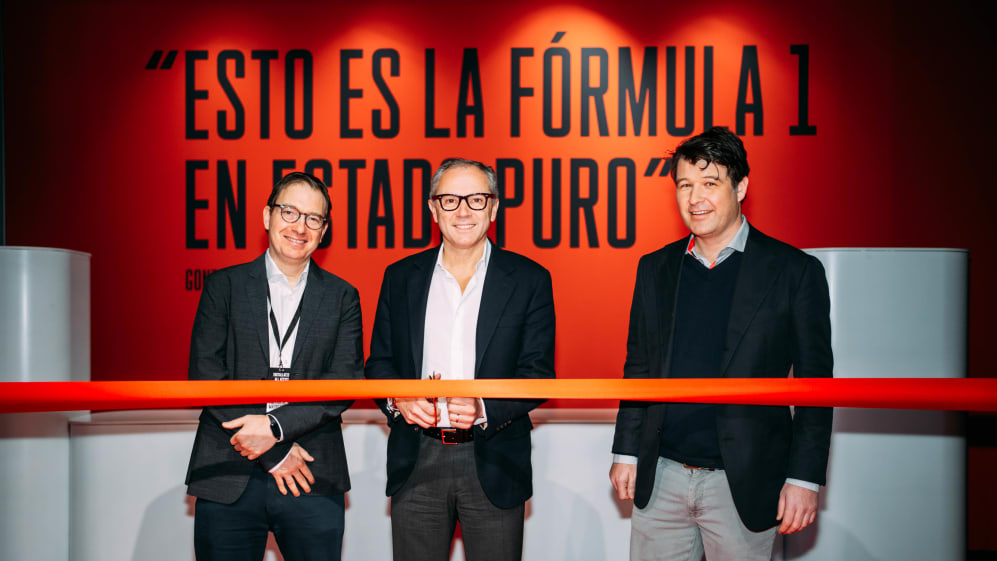 Formula 1 has proudly announced the opening of the world's first Formula 1 Exhibition in Madrid, with F1 President and CEO Stefano Domenicali present to officially open the show.
On Thursday, Domenicali joined the Exhibition's lead curator Timothy Harvey for a formal ribbon-cutting ceremony, ahead of doors being opened to the public tomorrow (March 24).
READ MORE: Gasly's 'Monza Miracle' race-winning AlphaTauri to be exclusively displayed at the Formula 1 Exhibition in Madrid
Hosted at the renowned IFEMA MADRID, and officially developed in association with F1, the exhibition promises an immersive show with a host of artefacts and contributions from legendary teams, experts and personalities.
Highlights include the remains of Romain Grosjean's car from his dramatic 2020 crash in Bahrain in the 'Survival' room, Pierre Gasly's 'Monza Miracle' maiden race-winning car from the same season and the first ever public display of a Ferrari F1 power unit.
Five more purpose-built rooms make up the Exhibition, with visitors starting their journey by passing through 'Once Upon A Time In Formula 1', where previously-unseen photographs will transport them across F1's most iconic and defining moments
Moving on to the 'Design Lab', fans are taken inside an F1 factory to explore design, testing and manufacturing processes, with exclusive insight from F1 tyre suppler Pirelli, before 'Drivers and Duels' offers a race circuit-inspired design and celebrates the most iconic drivers and legendary races since F1 began.
POWER RANKINGS: No perfect 10s in Jeddah – but who impressed the judges in Saudi Arabia?
'Revolution By Design' presents breakthrough innovations across F1 history and explores the new technologies that lie ahead, with the show reaching its climax in 'The Pit Wall' room, bringing a cinematic and immersive experience that allows fans to relive the greatest moments in F1 history like never before.
"I am delighted to be here in Madrid to officially open this spectacular Exhibition. I am particularly excited that our passionate Spanish fans will have the opportunity to first experience this breathtaking show," said F1 President and CEO Stefano Domenicali.
"I am grateful to everyone who has helped capture the heart and soul of the sport we all love in this Exhibition. It celebrates Formula 1's history in such innovative and engaging ways – I know our fans around the world will love it!"
Timothy Harvey, Lead Curator and Producer, added: "I am so pleased this day is finally here. The concept for this Exhibition was first discussed in 2017, so it's been a long – but incredible – journey. To map out the history of the sport I love has been one of the biggest honours of my life.
F1 NATION: Perez perfection as Alonso plays another ace – it's our Saudi Arabian GP review
"Building something like this is a huge undertaking and I would like to thank everyone who has worked so hard and contributed their time to make it the incredible show it is today. I hope people enjoy experiencing it as much as we have enjoyed creating it."
Tickets can be purchased from the F1 Exhibition website today, with the show set to run at the IFEMA Madrid from March 24 for several months.