Video
'I don't feel great, but it happens' - Ricciardo philosophical after Q2 crash in Baku
The Baku City Circuit is one of the more unforgiving tracks on the F1 calendar – as several drivers, including McLaren's Daniel Ricciardo, found out to their cost in qualifying for Sunday's Azerbaijan Grand Prix.
First Lance Stroll crashed at Turn 15 in Q1, putting himself out of the session and bringing out the red flags, then Antonio Giovinazzi did the exact same thing almost as soon as the track was clear again.
And then in the dying moments of Q2, Daniel Ricciardo outbraked himself going into Turn 3, and buried the nose of his McLaren into the barrier on the outside of the corner. That left him facing a P13 grid start for Sunday, though the Australian was philosophical afterwards.
READ MORE: Leclerc takes shock pole in dramatic Baku qualifying session as FIVE drivers crash out
"I don't feel that great, but it happens, it's a street circuit," he said. "I knew there was some time to find, and just tried to get it in the braking.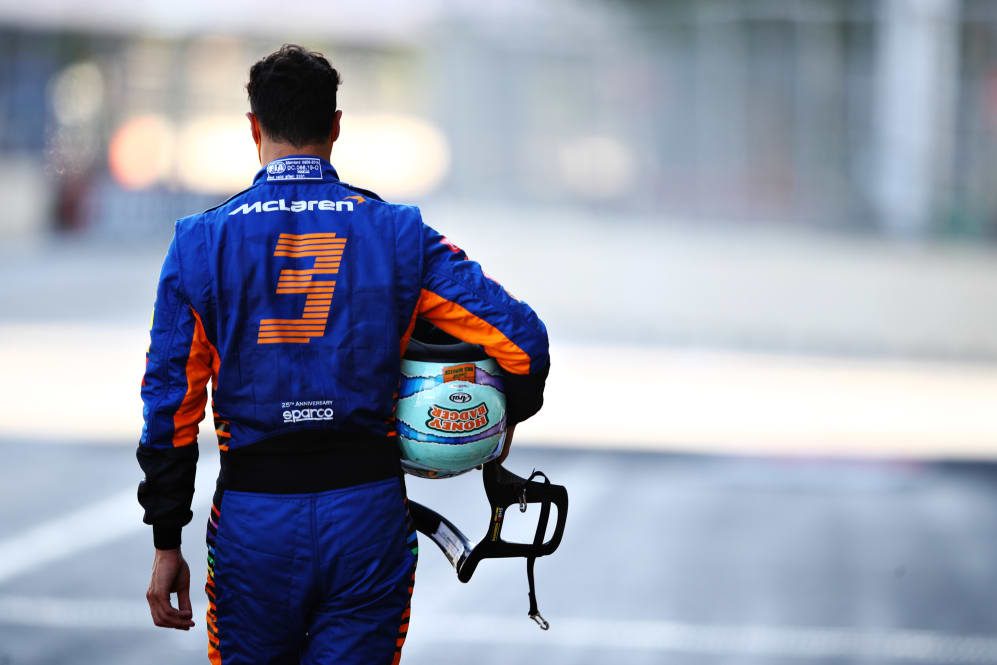 "I think in the braking point there was some margin and I tried to take it. But as soon as I turned it started to lock and once you lock here you've got no room for escape.
"That was obviously frustrating but still trying to find the limits. Got a bit more work to do tomorrow, but hopefully the car is not in too bad a place and the guys don't have a crazy late night [fixing the car]."
Ricciardo added that it was touch and go whether he'd make it into Q3 anyway.
"It was close," he explained. "I struggled a bit more on the first timed lap, getting the lap time out of it. But with the timing and all the yellows and the reds [flags] we were kind of forced to make the first lap work.
"I think it would have been close, but woulda coulda shoulda doesn't matter here. We'll just have our eyes forward tomorrow and make a good race of it. If you have a quick race car you can overtake, you can do some things, so ready to put on a fight tomorrow."
That's two races in a row this season, and two consecutive races in Baku, that Ricciardo has been eliminated at the Q2 stage of qualifying. The 31-year-old is chasing a fifth points score of the season on Sunday, having missed the top 10 in Monaco.