'We could have done a better job' says Verstappen despite clinching pole at Spa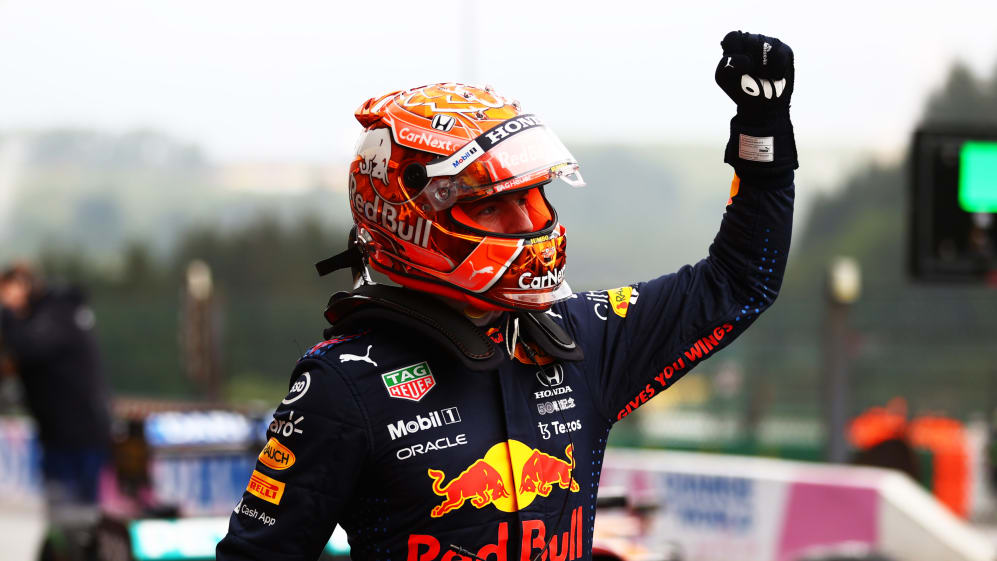 Max Verstappen got the job done when it mattered in the closing moments of a thrilling wet Belgian Grand Prix qualifying to pip George Russell and snatch his sixth pole of the year – but he reckons it could have been even better…
Verstappen arrived at Spa after the summer break trailing seven-time world champion Lewis Hamilton in the title race, and while he set the pace in final practice, he was outpaced by McLaren's Lando Norris in both Q1 and Q2.
READ MORE: Verstappen denies Russell shock pole in dramatic wet qualifying session at Spa
But when Norris crashed early in Q3, the session was red-flagged and after a long stoppage, the nine remaining drivers had just nine minutes to get back in the rhythm and get used to the conditions.
Verstappen was solid in the first sector, but then went purple in the second and third, as he gained more confidence, to give Red Bull their first pole position at Spa for a decade, just pipping Williams' George Russell in the process, who had shocked the paddock with his own Q3 lap.
"The lap was all right but I don't think in the wet it's all about the lap," he said. "It's super sensitive with temperatures. The lap was OK but my tyres felt cold in the first sector and maybe the start of the second one. Looking back we could have done a better job but it's so tricky out there."
He added: "It's hard to keep the car on track, switching the tyres on as well at the right time and also the long break in Q2 and Q3. It's not ideal then to settle in and learn the track conditions again but in the end, we were first and that's of course the important thing. It's an amazing track to drive but very challenging in the wet.
"Overall, super happy to have a qualifying like this after the break, to have a pole position again."
READ MORE: Russell promises to 'go for it' on race day after clinching sensational P2 in Belgium qualifying
Rain is forecast for Sunday, too, but as is often the case at Spa, it's difficult to predict exactly when it will come – and how intense it will be.
When asked if he was confident about his chances whether it was wet or dry on Sunday, he replied: "Yes. It's never easy in the wet but it's all right. We just need to make sure tomorrow we have a clean first lap and we'll see."
The Red Bull driver could do with a victory in front of a large contingent of his supporters at Spa as he trails Hamilton – who starts third – by eight points in the drivers' championship.