'We couldn't have done more today' insists Russell after taking P4 in Miami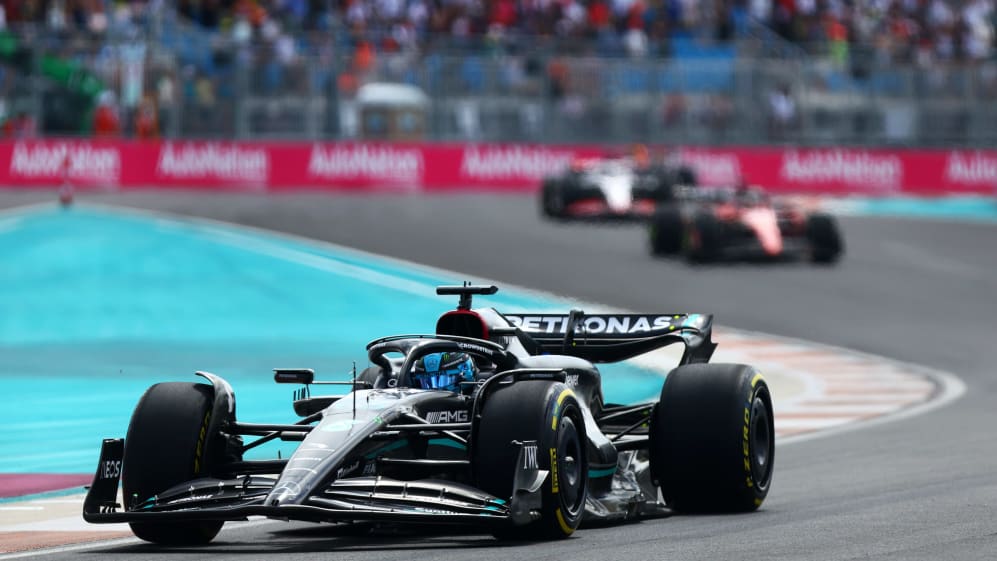 Mercedes weren't at their best in qualifying for the Miami Grand Prix but race day saw George Russell come home fourth as the Silver Arrows closed the gap on Aston Martin. The Briton was satisfied with his result – but not pleased to be out of the fight for victory.
Russell took sixth in an action-packed qualifying session on Saturday while his team mate Lewis Hamilton ended up starting 13th on the grid, but the pair finished a respective fourth and sixth on Sunday to score a combined 20 points to Aston Martin's 15 – Fernando Alonso having completed the podium for the team in green, behind winner Max Verstappen, and Sergio Perez.
READ MORE: Verstappen overhauls Perez for Miami GP victory as Red Bull intra-team battle steps up a gear
"I mean P4 in those circumstances, we probably weren't expecting it really, quite a satisfying race," said Russell afterwards.
"Good overtake on the Alpines, good overtake on Carlos [Sainz]. Pace relatively speaking was strong. We couldn't have done more today. I'm proud of that but of course we want more, and we want races like this today to be for the win."
Red Bull, however, dominated the race with Verstappen coming from P9 to win, five seconds ahead of team mate Perez – who in turn finished more than 20 seconds ahead of third-place Alonso.
The reigning champions are therefore leading by 122 points in the constructors' championship heading to Imola, while Aston Martin are second and Mercedes a close third.
MUST-SEE: will.i.am gets race day at the Miami Grand Prix off to a stunning start with an orchestral version of 'THE FORMULA'
"I wasn't really surprised, no [about Red Bull's pace]. That's where they are at the moment," said Russell. "We said at the start of the season they are so far ahead. They've got it easy at the moment. I wonder if they are even running full power, they are just so far ahead.
"It's a bit of a shame for the sport, but kudos to them for the good work they've clearly done and shown what is possible when you get it right. That's what we are going to be chasing and let's see what we can achieve," he concluded.