'We had a car to win' – Russell admits he and Mercedes missed a golden opportunity in Singapore
George Russell reckons Mercedes could have claimed their first victory of the 2022 F1 season on merit at the Singapore Grand Prix, had he and his team executed a cleaner weekend.
Russell suffered a surprise Q2 exit at the Marina Bay Street Circuit as brake issues – which followed several off-track excursions in practice – scuppered his efforts, with Mercedes electing to turn his P11 grid spot into a pit lane start by fitting a host of new power unit elements.
Working his way up the order from the back of the field, Russell was the first driver to make the switch from intermediates to slicks as the wet-dry race developed, but any hopes of a points finish were dashed when he clashed with Haas driver Mick Schumacher and picked up a puncture.
MONDAY MORNING DEBRIEF: How Russell's Singapore gamble ended up helping everyone except himself
After crossing the line as the final finisher in 14th, with the fastest lap to his name, Russell said: "We were in no man's land, to be honest. Potentially it was [worth switching to slicks], because at the restart we were flying – I overtook three people on one lap after the Safety Car.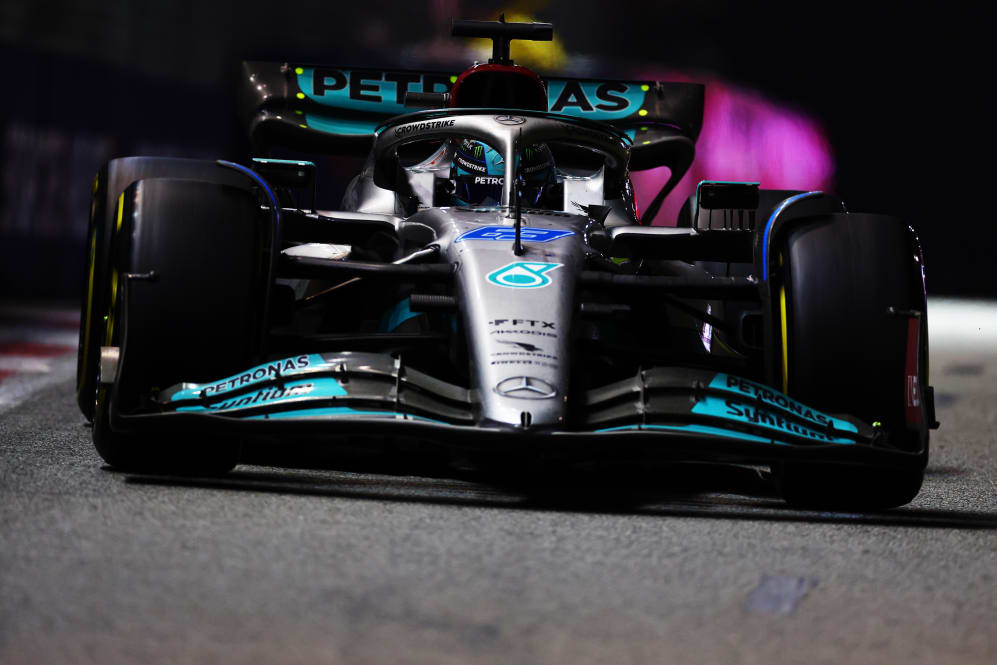 "[Then] I had the tangle with Mick… I don't really know what happened there; I felt like I left him plenty of space. We would have probably finished inside the points, because we were flying and got the fastest lap at the end by almost two seconds.
"I'm pleased that the issues from yesterday and FP1 have been resolved, and I guess a bit of confidence [has been] restored that I haven't lost it and I didn't qualify three seconds off the pace due to a lack of talent. But it's such a shame – we had a car to win this week."
READ MORE: Hamilton keen to move on from 'pretty rubbish' Singapore GP after pair of errors leave him P9
Asked if the race was 'one that got away', given the pace he displayed in the closing stages, and the fact that team mate Lewis Hamilton qualified up in second position before his own problems in the race, Russell agreed.
"We're making loads of progress as a team, that I'm proud about. We're here to win races; points are always great. We've had a very good run of results and this is probably the first weekend as a team, bar Silverstone, that we slipped up, myself included – [but] that's how it goes," he commented.