'We have some theories' says Alonso, as Alpine search for answers to race pace struggles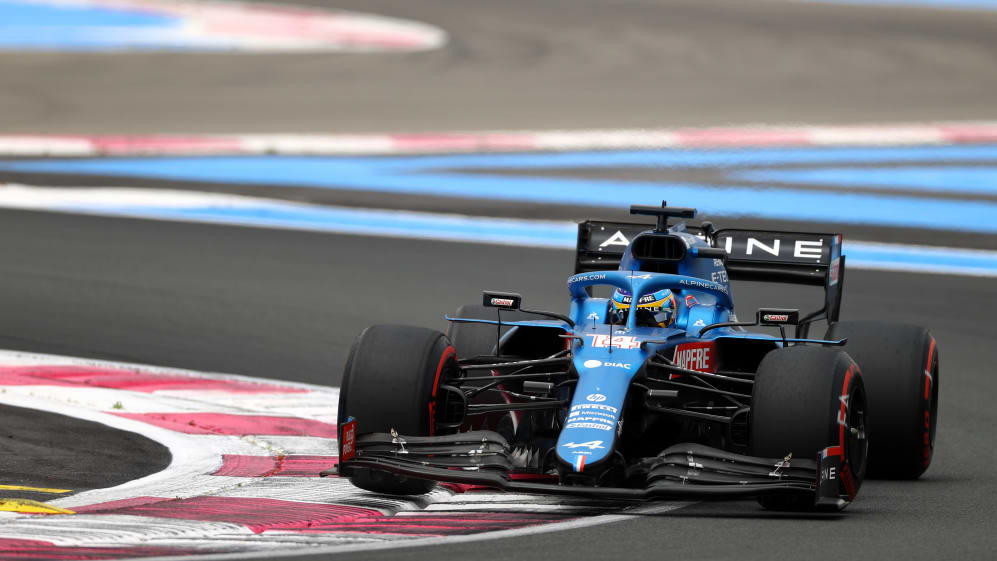 A stronger qualifying performance in France than at recent races has given Alpine some encouragement, but Fernando Alonso and Esteban Ocon are intrigued to see if they have found a fix for their recent race pace woes.
Alonso reached Q3 and will start from ninth in Paul Ricard after managing to split the McLarens, while Ocon is 11th on the grid after missing out in Q2. Having regularly seen the Saturday pace be the highlight of a weekend, Alpine are trying to identify why they often struggle more in race trim and Alonso says he's expecting to be fighting in the lower reaches of the points unless an improvement has been found.
"In free practice we already saw on a few occasions we seem to perform a little bit higher than what we actually are in qualifying and the race, so I will not see free practice as a representative picture of it," Alonso said.
READ MORE: Ricciardo pleased with 'smooth' run to P10 grid slot in France, as Norris survives Q2 fuel scare
"Big points is going to be a challenge, we have very competitive people around us – the two McLarens, the two Ferraris and Gasly, and obviously the people starting from P11 with a free choice of tyres. So we have to be realistic. Optimistic, yes, but realistic as well about chances to score big points. I think there's going to be a few points available but in a normal race not so many.
"We do have some theories. We obviously investigated after every race what is happening sometimes but it is not a clear trend. We had good performance for example in Portimao in the race. We had less degradation than the others and we had very good speed and we were overtaking people in the last couple of laps like crazy.
"So it is nothing that tells us one way or the other, every weekend it seems to change. So it's a little bit unknown for tomorrow. But on Friday the long run pace looked OK so let's see what we can do tomorrow."
And Ocon suggests there is a specific fix that has been put in place that could lead to a stronger performance on Sunday for the Alpine pair.
READ MORE: French GP qualifying facts and stats - Verstappen's pole is Red Bull's eighth since hybrid era began in 2014
"Obviously we are investigating why the pace is worse on Sunday than it is in qualifying," Ocon said. "Only time will tell if we've found the issue. If we come back tomorrow and have good race pace then I think we'll know what it is obviously. If we are still struggling a bit then it will need further review but we are on it and we have a few areas we can focus on.
"The important thing for us is to get back into the points. I disagree with having AlphaTauri struggling with race pace, they were pretty fast on race pace as well. It's going to be a tight fight – as it is usually – but we are in there in the mix to be fighting with them.
"There can still be a lot of things happening like we saw in qualifying. Hopefully we can take advantage of that and score some good points, seventh and eighth would be ideal so let's see if we can get that."