'We made some mistakes' – Horner explains 'root cause' of Red Bull team orders row in Brazil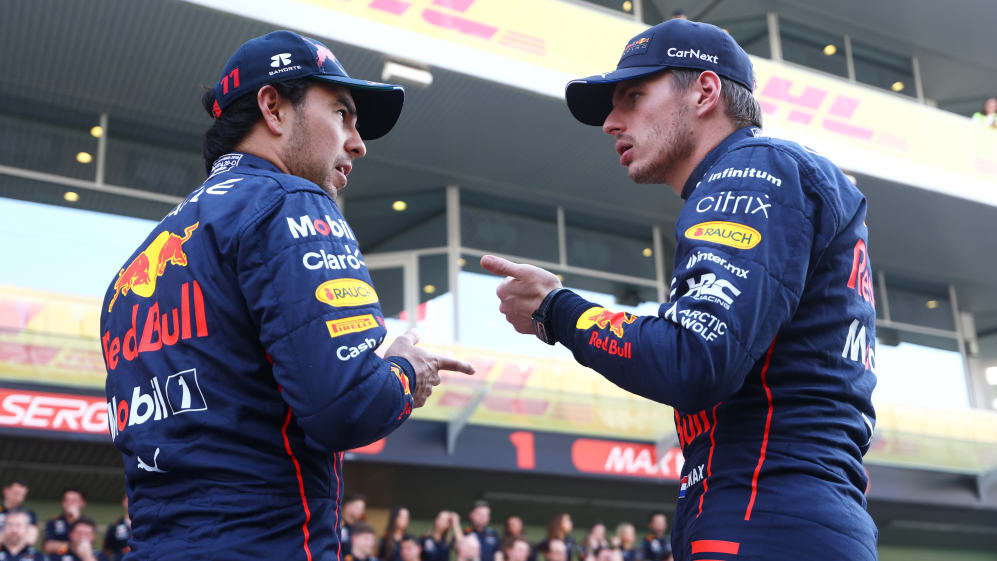 One black mark on Red Bull's brilliant title winning 2022 season was the team orders row between the two drivers in Brazil – though boss Christian Horner insists they have learned lessons from that incident and that no ill-feeling remains as they gear up to defend their championship crown this year.
On the final lap of last season's Sao Paulo Grand Prix, Max Verstappen refused to let team mate Sergio Perez past him for sixth place, despite being requested to do so by the team to help the Mexican in his fight with Ferrari's Charles Leclerc for P2 in the drivers' championship.
In the aftermath of the race, Verstappen was heard on the team radio saying: "I told you already last summer, don't ask that again to me… I gave my reasons, and I stand by it," while a frustrated Perez said: "It shows who he really is."
But Horner says both drivers and the team as a whole have put it all behind them.
READ MORE: 'He's a great people person' – Team bosses back Vettel to return in F1 management role in the future
"I think the root cause of the problem was we had never envisaged being in a situation, being in the final few laps, being in sixth and seventh place in that Grand Prix," said Horner. "And I think it was something that, as we hadn't envisaged it, we hadn't discussed it, before the race, and I think, that was a mistake on our part, that we should have thought through, or tried to think through every single scenario.
"And so, I think that was a mistake as a team that we didn't discuss it and come up with a very clear plan. Obviously, it was unfortunate what happened, but it was quickly discussed, openly and transparently. And both drivers were very clear, open, and honest with each other, and from that, as a team, we move on and the dynamic between the drivers is absolutely fine."
He continued: "I think we made some mistakes in Brazil, we've learned from that and, as I say, we move on. We've done some amazing things. These two drivers have performed incredibly well together. They're the reason that we are in the position that we are. Max's season [was] on another planet [last] year. So, we're not going to let the events of a couple of laps in Brazil dictate the year for us."
READ MORE: Newey reveals 'pretty depressing' reason for Red Bull's early turbo-hybrid struggles
Red Bull's 17 wins in 2022 was the second most successful season in Formula 1 history by a constructor – after Mercedes' 19 wins in 2016 – but Horner says it was not as easy as his team made it look.
"It was a very tough year," admitted Horner. "When you look at the statistics, it looks like we totally dominated it. But certainly, in the first half of the season, Ferrari had their chances and probably a quicker package. But Max was outstanding throughout the year, particularly in that first half."