'We should be very proud' – Ex-F1 driver Giovinazzi hails 'fantastic' effort as Ferrari make winning return to 24 Hours of Le Mans top class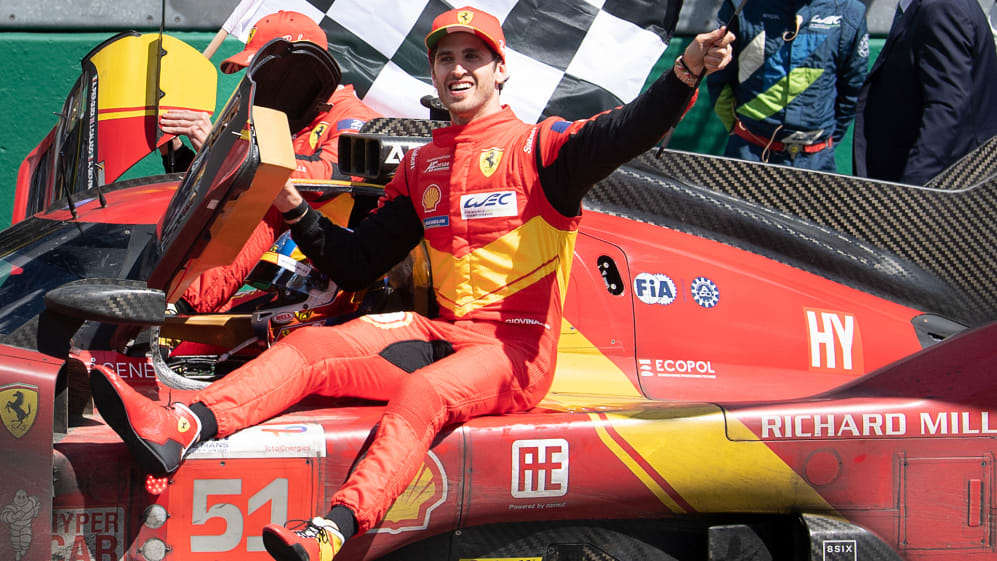 Antonio Giovinazzi was part of motorsport history over the weekend as the former Alfa Romeo F1 driver, along with team mates Alessandro Pier Guidi and James Calado, took an emotional victory at the 24 Hours of Le Mans on Ferrari's return to the top class.
Giovinazzi, Pier Guidi and Calado, driving the #51 499P hypercar, came out on top after a tight battle with the #8 Toyota driven by Sebastien Buemi, Brendon Hartley and Ryo Hirakawa – the latter making a costly mistake in the closing stages of the race.
READ MORE: F1 design legend Newey reveals two times he was tempted by Ferrari move
It marked Ferrari's 10th overall victory at Le Mans – the ninth having come way back in 1965 – and 39th when taking into account their various class wins, with Giovinazzi holding back the tears as fellow Italian Pier Guidi took the chequered flag.
"For me and Alessandro it's an even more special feeling," said Giovinazzi. "We first drove this car last July, so to have achieved this result, pole and victory, after just under a year, is undoubtedly fantastic.
"It was by no means a given that we'd make it, but the entire team and my team mates did a great job, and here we are today. Thanks to Ferrari, who made all this happen. We are back to winning ways after 50 years, and we should be very proud."
Watching on from the Ferrari pit garage and paddock was F1 driver Charles Leclerc, who added his congratulations to a marque he has represented since joining their dedicated academy some seven years ago.
"It feels absolutely amazing, obviously," Leclerc told Eurosport after witnessing the victory. "Especially having a Ferrari winning, it's incredible, after a return after so many years – it's a very special edition."
TECH TUESDAY: How Ferrari's bodywork upgrade is designed to address the car's inconsistency
Asked if he could ever imagine driving a Ferrari at the prestigious event in the future, the Monegasque added: "I mean, why not? Why not? I would love to, it's an incredible event.
"For sure, one day in my life I want to tick that box. When will it be, I don't know. Again, I'm just extremely proud of what Ferrari has done today."