'We missed a big opportunity' says frustrated Ricciardo after P9 Monaco finish
A botched pit stop cost him victory at the 2016 Monaco Grand Prix – and it was pit problems that once again left Daniel Ricciardo dismayed at the 2019 running of the race, after his Renault team's decision to box him under the Safety Car on Lap 11 ended up costing the Australian a shot at fifth place.
Starting the race in P6, Ricciardo had targeted getting ahead of Kevin Magnussen's fifth-placed Haas off the line, which he duly did, sweeping around the outside of the Dane at Sainte Devote to slot into P5 behind the Ferrari of his old team mate Sebastian Vettel.
We got a late call on the Safety Car to box, and as soon as we came in, my gut feeling was that it wasn't the right call
But when the Safety Car was pulled 10 laps later, both Ricciardo and Magnussen were boxed and left to re-join in 13th and 14th, while Pierre Gasly, Carlos Sainz, Daniil Kvyat and Alex Albon continued to lap in P5, P6, P7 and P8 – the positions that all four drivers would eventually finish the race in, as Ricciardo came home in P9. And come the end of the Grand Prix, the Australian was on the hunt for explanations from his team about the thinking behind their pit stop strategy.
"I got out of Turn 1 in fifth and I was smiling and the team gave me a bit of love after that," said Ricciardo. "Then we got a late call on the Safety Car to box, and to be honest as soon as we came in, my gut feeling was that it wasn't the right call, because the tyres were fine and we had the pace.
"Here it's all about track position and giving up so much so early just felt wrong. So, disappointing. We missed a very big opportunity today to get a fifth, at the very worst a sixth. So yeah, sit down with the guys now and understand it, but yeah, certainly frustrated… We could have had a real big result today."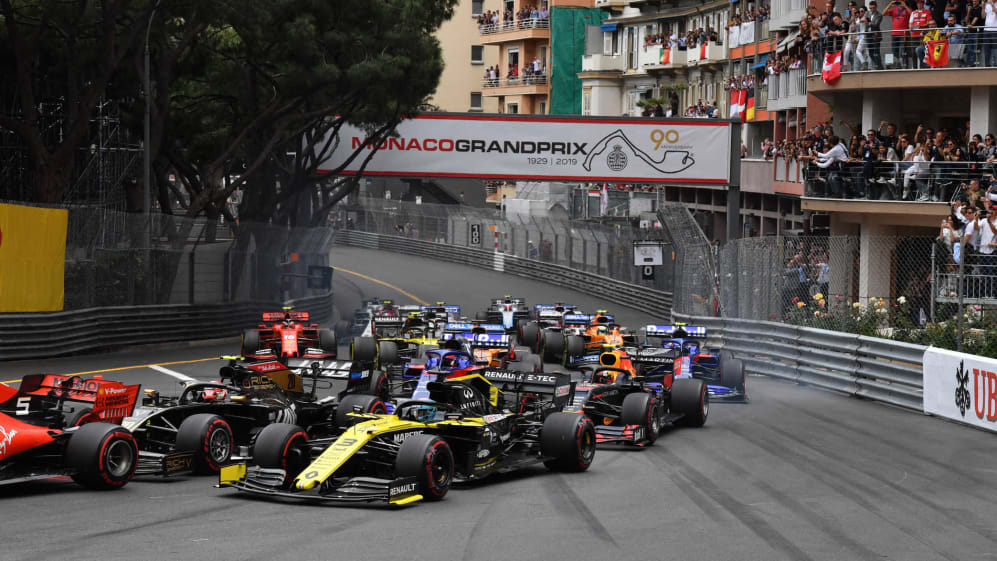 Having eventually worked his way to 10th place by Lap 48, Ricciardo then picked up his pace in the final laps, having been told that the Haas of Romain Grosjean ahead of him had a five-second time penalty. Ricciardo duly set his fastest lap on the 78th of 78 laps – and the fourth fastest of the race overall – to secure the net ninth place by just 0.14s. But that, if anything, just made him angrier…
"That's as well the frustration," he said. "I think we had a pretty good car in the race – 50 something laps on the mediums and on the very last lap of the race I did my personal best. That just jumped me in front of Grosjean because I heard he had a penalty, so I had a few laps at the end to put everything into it and we had that pace to show. We were definitely better than ninth."
On the bright side, Ricciardo's result in Monaco means he scores his second points finish of the season. But for a driver who thought he'd got all his bad luck in Monaco out of his system in 2016, that will likely be scant consolation.