Wehrlein to have back scan after 'scary' Monaco crash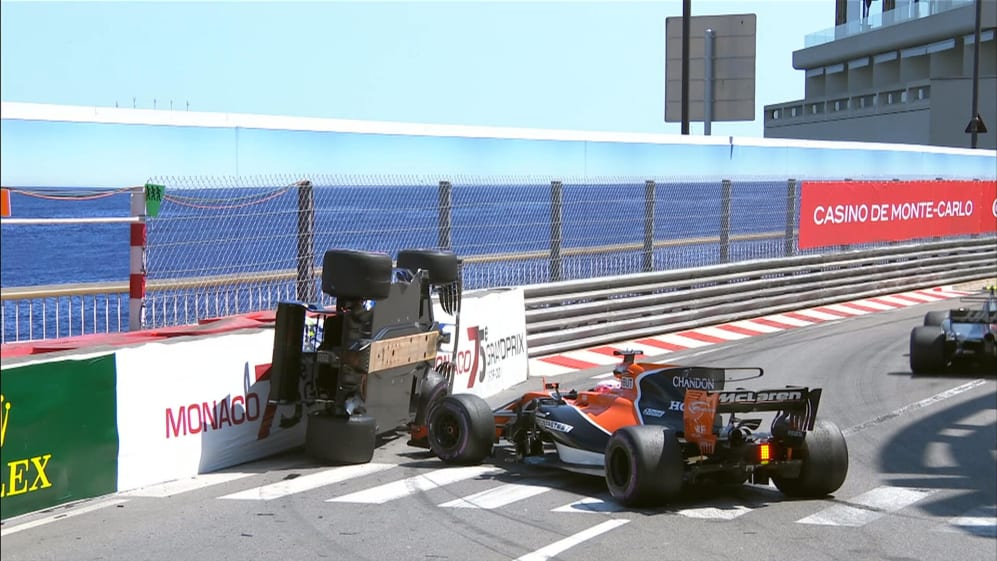 Sauber's Pascal Wehrlein is to have his back rescanned after a clash with Jenson Button in Sunday's race in Monaco sent him headfirst into the barriers, with his car on its side.
Wehrlein, who missed the first two races of the season after injuring his back in January's Race of Champions, clashed with Button on the 60th lap as the McLaren driver - who was later penailised for the incident - tried to dive down the inside at Portier. The pair banged wheels with Wehrlein's car ending up on its side against the barriers, preventing the German from jumping out.
"It was scary - the brakes started to smoke and I couldn't get out of the car, and obviously the only thing I wanted to do was to get out of the car when you see the car start to smoke," said Wehrlein. "But yeah, it seems to be ok. Obviously with the injury I had I'm not too sure. I touched again the head on the barrier, so I will have to do another scan next week for my back."
Speaking about the move itself, Wehrlein declared himself unimpressed: "He [Button] was nowhere," said the 22-year-old. "Clearly this corner is no place to overtake, it was a silly move."
Button, however, defended the move, saying: "I went up the inside and obviously I thought it was on because I wouldn't have made the move. I got alongside him, well, I thought I was alongside him, but then I looked across and went 'oh he hasn't seen me at all. These cars are so difficult to see out the back of - I've been telling the team and the FIA that this weekend. So I tried to back out of it but it was too late and we touched.
"I've never seen a car go up on its side before. I don't know if that's the way the tyre is or just unlucky, I don't know. Horrible to see. I wanted to get out of the way as soon as possible because the leaders were coming round and obviously I asked as soon as I stopped the car and they said he got out on his own. I saw him earlier and he obviously wasn't very happy but he seemed okay anyway."
Having reviewed footage of the incident and spoken to both drivers after the race, stewards decided that Button was 'predominantly to blame', given that his move was 'unlikely to have resulted in a clean pass'.
Button was handed a three-place grid drop and two penalty points on his license, but given his appearance in Monaco was scheduled as a one-off, they are unlikely to have any consequence for the Briton.
In a separate incident, Sergio Perez was also reprimanded by the stewards for his clash with Toro Rosso's Daniil Kvyat, the Force India driver picking up a ten-second time penalty and two penalty points.