'We'll be ready for tomorrow' – Ricciardo downplays FP2 crash as Norris admits surprise at being ahead of Mercedes on Friday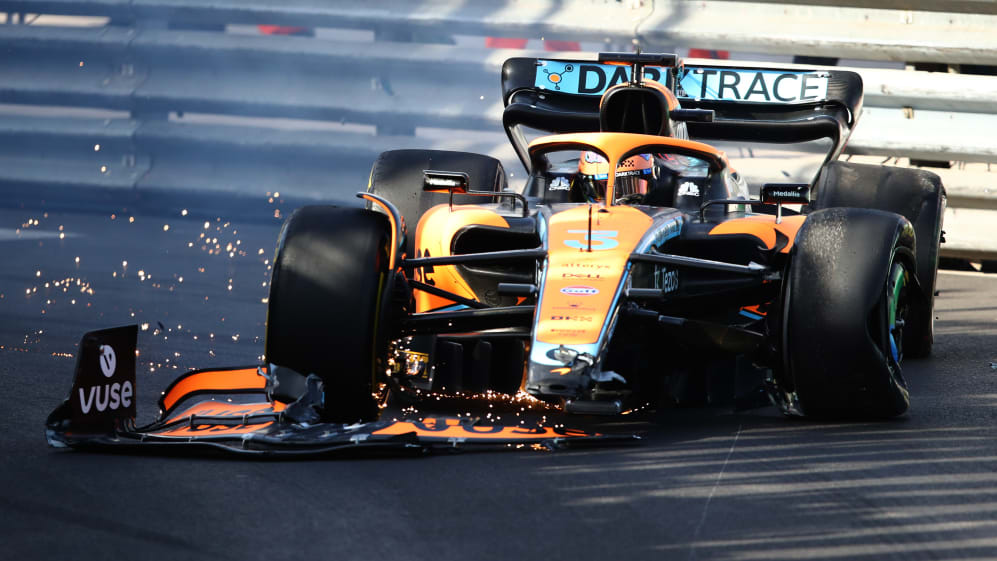 McLaren enjoyed an impressive first day of running at the Monaco Grand Prix, despite driver Daniel Ricciardo's second session being cut short after he crashed into the barrier at the Swimming Pool complex. But the Aussie driver didn't appear to be overly worried by the situation, as he suggested that an extreme set-up was the main cause behind the accident.
2018 Monaco Grand Prix winner Ricciardo – who's only scored 11points to team mate Lando Norris's 39 so far this year – had made a positive start to the weekend by setting the seventh fastest time of the first practice session. But on his first flying run in the second session of the day, Ricciardo lost the back end of the car and ended up in the barrier.
Explaining the crash, Ricciardo said: "Obviously it happens quickly, but it kind of slowed down as well. Like, I knew everything that was happening, and I tried to save it but already kind of into Turn 13, I already started losing it.
READ MORE: McLaren to honour Senna legacy by permanently featuring logo on F1 cars
"I could feel the car was starting to get away from me and yes, a little strange. I think normally you pick up some stuff on Turn 14, on the kerb, if you kind of get a bit too greedy then the car can get unloaded. But I think honestly, we just pushed a few things with set-up. Obviously, we're trying but we pushed a little too far probably in a couple of areas."
When looking ahead to the qualifying action on Saturday, Ricciardo admitted that there were still a few unknowns with McLaren's place in the hierarchy – but believes they showed enough on Friday to know they can compete with their rivals.
"Yes, [the pace is good]," Ricciardo said. "You kind of never really know how you're going to go around here in terms of if you're in that midfield scrap. You're either in the front end or the back end, but today at least we showed that we are going to be relatively competitive around here and for, let's say, our battle. "
FP2: Leclerc leads Ferrari 1-2 in second practice at Monaco after Ricciardo brings out red flags
Ricciardo's team mate Lando Norris – who finished a strong P5 in both Friday practice sessions, despite still struggling with the after effects of a bout of tonsillitis – was happy with the team's display on the first day of running in Monaco, but also had one eye of both the Mercedes and the AlphaTauri of Pierre Gasly, who wound up P7 in FP2.
"It's the aim for sure [to be the best of the rest]," admitted Norris. "I think it's not going to be easy. Mercedes seem very close and AlphaTauri seem very close as well. A little bit surprised to say we're ahead of Mercedes; I expected them to maybe be ahead of us at the minute, but the plan is to be ahead of them and if we can be I'll be very happy with that."