Feature
What the teams said - Friday in Belgium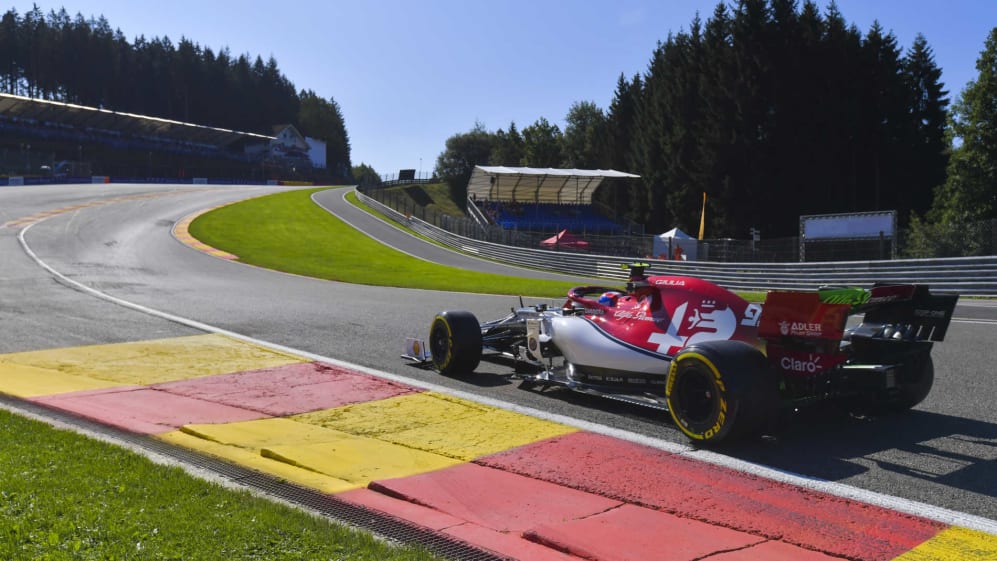 Ferrari
The Scuderia were expected to be strong here and so it proved, with Vettel topping the timing sheet in first practice before Leclerc returned the favour in FP2. Indeed, the Monegasque driver managed to gap his team mate by a considerable margin, indicating that he perhaps will be the happier of the two heading into tomorrow. Does pole and a first victory of the season beckon? You wouldn't bet against them...
Sebastian Vettel - FP1: 1:44.574, P1; FP2: 1:44.753, P2
"It was a positive day and it's great to be back in the car, especially at a track like this. The feeling from the cockpit was good, but I think there is still room for improvement. Let's not forget it's only Friday and it will only get serious tomorrow afternoon and then Sunday when it matters. On a quick lap, the performance was okay, but the race is not just one lap and so we have to work on improving our race pace, especially in the second sector. In today's two sessions, we were sliding a bit too much in the middle sector and so for the race it will be important to optimise the tyre behaviour. We still have work to do tomorrow."
Charles Leclerc - FP1: 1:44.788, P2; FP2: 1:44.123, P1
"It was quite a good first day for us after the holidays. I really like this circuit and enjoy driving here. The track is quite long, has all types of corners and there's a very unique flow to it. Despite our good positions in free practice, we do have to stay realistic and expect our rivals to be very competitive tomorrow. Our qualifying pace was strong today, but we still have some work ahead of us in improving it over the long runs. If we are quick on the straights, we will hopefully have some good opportunities for overtaking on Sunday, which is a positive. The last few Grands Prix have been great, with a lot of battles, so I hope that this race will be another exciting one."
Mercedes
It was an unusually scruffy outing for Mercedes today on one side of the garage. Bottas, fresh from the announcement that he is being retained for next season, quietly impressed on both the medium and soft compound tyre. Hamilton by contrast struggled to hook a clean lap together, locking up and running wide on occasion. Add in power unit and telemetry issues, and there is work to do for the team overnight if they are to get on pace with their Ferrari rivals.
Lewis Hamilton - FP1: 1:45.973, P6; FP2: 1:45.015, P4
"It was obviously not a great start for us in FP1, we had a problem with the throttle pedal, I basically lost power and was idling. I managed to fix it with a couple of switch changes and got the car back to the garage, but when I went out we had another issue. It was a bit of a mess, but we got some laps in towards the end. We made some changes for FP2 and the car was feeling a lot better, but we still have work to do tonight. The Ferraris are particularly strong in the first sector, we gain some time back in the middle, and I think it looks quite close between us in sector three. They have been strong on the straights all year long, so I had a feeling this weekend might work really well for them. We will have to find a way to apply the pressure this weekend, if we don't have it on pure pace."
Valtteri Bottas - FP1: 1:45.882, P5; FP2: 1:44.969, P3
"It's nice to be back in the car especially on a track like this, I had fun out there today. We got through our programme as planned, finding small gains as the day went on; it was pretty much business at usual on Friday. We always knew coming here that Ferrari and Red Bull would be quick on this track, but Ferrari have been particularly strong on the straights today. We'll push hard overnight, trying to find every bit of performance we can for tomorrow. We need to make a big step if we want to battle with them, but at least we made some decent gains from FP1 to FP2."
James Allison, Technical Director
"We made some progress with the car across the two sessions but we have more to do in order to be competitive tomorrow and on Sunday, because we looked a little off the pace in both the low and the high fuel running today. The car balance was a bit too much towards understeer this morning and the track surface here is quite a rough asphalt, which makes it pretty demanding on the tyres if you don't have the car's balance correct. That hurts on both the single lap and the long runs because you can't keep the goodness in the tyres if the balance isn't there. It will be small changes that we're looking for but there's nevertheless some work to do overnight if we want to pick up where we left off before the summer break."
Red Bull
Red Bull took the fight to Ferrari in FP1, with new boy Albon impressing by finishing less than a tenth off his illustrious team mate. Come second practice and niggles started to appear, with Verstappen complaining of several small issues, which the team will be hopeful of rectifying overnight. With Albon set to take a grid drop, he understandably focused on race pace but certainly didn't look out of place on his maiden outing for the team.
Max Verstappen - FP1: 1:45.507, P3; FP2: 1:45.394, P6
"The car felt pretty good today, especially the balance in FP2 and we are quite competitive in the second sector. We ran a slightly lower power mode on my side of the garage which lost us lap time, especially around such a long circuit, but tomorrow we should be back to normal and there is no point in risking anything on a Friday. It will be hard to beat Ferrari around here as they are super fast but that is no surprise as this track definitely suits them better than us. We should be closer to Mercedes tomorrow and we will see what we can do from there. We still have a bit of work to do but in general I was quite happy with how the car was behaving."
Alex Albon - FP1: 1:45.584, P4; FP2: 1:45.771, P10
"Today was exciting, a bit like your first day at school, and it felt pretty good. I kept it on the black stuff and I'm enjoying it. I'm just trying to take it slowly, get as many laps as I can and understand the car as I'm still learning. There are obviously differences from Toro Rosso so I'm trying to adapt as quickly as possible, I can see it's a nice car to drive and it's quick, now I just need to get used to it. In the morning, FP1 was pretty good, it was just baby steps really, then in the afternoon we focused more on long runs as with the penalty, our focus isn't so much on short run pace but more on Sunday. The Team have been very kind to me and so I feel quite at home with the guys. I don't have any expectations or a finishing goal, I just want to do a good job for Sunday."
Racing Point
A very mixed bag for Racing Point today with all the extreme highs and lows of motorsport bottled up into two practice sessions. The positive was the pace demonstrated by the drivers across both sessions, and they look - on paper - solid top 10 contenders if not the midfield 'best of the rest.' On top of that, they confirmed Perez will be driving for the team next year. But that joy was tempered with reliability woes, as Stroll lost part of his engine cover in FP1 before complaining of a hot seat and burning smell in his cockpit in FP2. He has a grid drop for the race, and might be joined at the back by his team mate, after Perez's car caught fire at the end of FP2. The amount of damage that and the ensuing fire extinguishers will have caused is an unknown as it stands.
Sergio Perez - FP1: 1:46.433, P9; FP2: 1:45.117, P5
"We are still investigating the problem at the end of second practice, but it looks like a drop in oil pressure which killed the engine. Hopefully it won't impact on the rest of the weekend too much, but we need to wait and see if anything is damaged and needs to be changed. Up until that point, things were looking good. The car was strong in both sessions and the new parts we introduced here made an immediate difference. There are still lots of areas to improve before tomorrow, but I'm feeling positive."
Lance Stroll - FP1: 1:46.198, P7; FP2: 1:45.732, P8
"Today was one of the better Fridays we have had this season so that is promising. We did some consistent running and the pace of the car is looking good, which is what we expected here in Spa. We suffered some heat transfer issues behind my seat so we will look into that overnight but overall I am feeling positive. It is a shame we have an engine penalty but it is what it is. We will do what we can in Qualifying but the focus is going to be on setting the car up for Sunday and then trying to pass as many cars as possible to score some points! I'm looking forward to it and confident we can have a good rest of the weekend."
Otmar Szafnauer, Team Principal & CEO
"It wasn't the most straightforward day with a few operational issues that limited Lance's running in both sessions. We had to abort a couple of runs with sensor issues and then there was a heat transfer issue with his seat. Then, right at the end of the session, Sergio was forced to stop the car. Exactly what happened is still under investigation but the engine stopped as a consequence of an oil pressure loss. However, when we were on track, the drivers were reasonably happy with the car from a balance perspective and the updates appear to have brought performance gains."
Renault
Renault confirmed before the track action even began that both drivers would incur a grid penalty for Sunday's race for taking the latest spec engine, which was disappointing news given that they seem to have genuine pace here. Can the team come up with a clever strategy to get their drivers back in the hunt for points on Sunday? There will be plenty of number crunching tonight to see what might be possible...
Nico Hulkenberg - FP1: 1:46.669, P11; FP2: 1:46.209, P13
"Our morning was decent and the afternoon started okay, but this afternoon was a bit strange. The car seemed to get worse throughout FP2 on the soft tyre runs so we need to investigate why. We have some work to do on short and long runs, but we're getting ourselves back into the routine of a race weekend again. Nevertheless, it's nice to be in the car after the break at this great track."
Daniel Ricciardo - FP1: 1:46.426, P8; FP2: 1:45.735, P9
"It was a pretty good day and it's nice to get back into it. The break didn't feel too long and everything felt very normal on a whole. We were in the top ten for both sessions, so I think we've started on the right foot, but we have a little bit more to find. We probably didn't make as much progress as we'd have liked in the afternoon. We're there, with just a few bits and pieces to work on. Other than that, the track's good, the weather is good and we'll see what happens."
Nick Chester, Chassis Technical Director
"Overall we made some good progress today, working on the aero balance and set-up across both cars, while getting some data on the medium and soft tyres. We are not quite there with balance just yet: Nico wasn't able to improve on new soft tyres in FP2 so we will have a good check of his car to understand why we lost some pace after his first run. On the medium tyres, at the start of FP2, the drivers were quite well matched. Daniel's long run pace was pretty good in FP2 and we need to concentrate on first lap balance for tomorrow."
McLaren
McLaren had a solid day, with both drivers completing a full programme and getting plenty of lap time in at this historic circuit. The team finished the first part of the season looking strong, and will hope to continue that form into this race. Sainz, though, will have his work cut out. The Spaniard looked the pick of the drivers today, but does have a grid penalty for Sunday's race after taking Renault's latest upgraded power unit.
Carlos Sainz - FP1: 1:46.557, P10; FP2: 1:45.999, P11
"I think it's been a mixed Friday. During FP1 I was quite encouraged by how the car felt and how the session went. In terms of lap-time, we were looking okay and the behaviour of the car was decent. FP2 was definitely more challenging. We faced issues with car balance and overall car grip. We need to look carefully into what happened in order to find a bit of lap-time for tomorrow. The target always has to be Q3, so let's see if we can get back in."
Lando Norris - FP1: 1:46.670, P12; FP2: 1:46.258, P15
"The day was good, we did the things we needed to do. The car seemed to change quite a bit from FP1 to FP2, which is something that we weren't quite expecting. Also, pace-wise we're struggling a little bit as well, compared to some of the other guys, so there is plenty to look at overnight. A good day in terms of what we were doing ourselves but, in terms of pace, we have a bit to catch up on. We'll work hard tonight and come up with some good ideas for tomorrow."
Andrea Stella, Performance Director
"Spa-Francorchamps is a circuit that requires careful work to optimise rear wing levels and also car set-up, because grip is low and the track is bumpy in places. That was the focus of our efforts today, in addition to the normal work of aerodynamic testing and tyre evaluation.
"It's difficult to properly evaluate our competitiveness, because both the power effect and the fuel effect are sizeable at Spa. It's clear we have work to do, however, and overnight we'll be trying to find the improvements that will allow us to push on into Q3 and score good points in Sunday's race."
Haas
Haas have been the subject of much speculation due to the recent developments in the driver market, and as such their drivers will be keen to impress the boss this weekend. Grosjean went about it the right way, with two clean sessions and had the beating of his team mate in both to boot. Magnussen did lose running in FP2 with mechanical issues, and will hope to bounce back tomorrow.
Romain Grosjean - FP1: 1:47.176, P14; FP2: 1:46.120, P12
"It was alright. Surprisingly, my first run of the day I was happy with the balance of the car. After we started to remove downforce things got a bit more fruity. That's obviously always going to be the game at Spa, being fast on the straights, then getting the corners as good as you can. We're just evaluating which downforce we're going to run for the weekend. We're working really hard to find out what we can do better for the future. I hadn't run the Hockenheim package until today, and it's better than the Barcelona one – so my confidence came back up on that package, which is good. It's very low downforce here though, so it's always going to be quite complicated."
Kevin Magnussen - FP1: 1:47.488, P16; FP2: 1:46.399, P18
"It was a bit of a difficult day, definitely not the best Friday we've had in a while. We're really lacking pace and just struggling with the car and the handling. So, we'll see if we can fix it, or fix some of it, but it's been a tough start to the weekend. We're going to do our best to come back. This is a difficult track to get the downforce levels right, it's also very difficult for us to make the tyres work – that adds another element to our decisions on the aero and the rest of the set up. If your tyres aren't working, that's the most important, and they're not. We need to see if we can fix it. We also didn't get out for proper long runs today, so there's more to learn there. Fingers crossed we'll have a better day tomorrow."
Guenther Steiner, Team Principal
"Not a very successful FP1 and FP2 for us, we are struggling a little bit on these low downforce tracks. We just need to work as best as we can to get the best out of the car. We never give up, we try to do the best, and hopefully we can get something out of it."
Alfa Romeo
Raikkonen was a doubt for today due to a pulled muscle sustained in the summer break, but he was able to drive and delivered two composed performances and in his hands the Alfa certainly seems to have the pace to compete for the top 10. Giovinazzi struggled to match his team mate, and has one practice session left to find some form before qualifying.
Kimi Raikkonen - FP1: 1:47.024, P13; FP2: 1:45.708, P7
"Thanks for asking about my leg: It's okay. Beside this I'm not overly happy with today. The lap time is okay, but we have a lot of work to do with the set up of the car and I really believe, if we get the balance right we can improve tomorrow."
Antonio Giovinazzi - FP1: 1:47.333, P15; FP2: 1:46.328, P16
"It was difficult to put everything together today. The potential of the car is there but I feel we couldn't unlock it to the fullest. However, tomorrow is when it matters. We have to focus on improving ahead of qualifying and do the best possible job in the rest of the weekend. Our aim remains to get a good spot on the grid."
Toro Rosso
Kvyat did spin early on in FP1 before the track rubbered in, but other than that managed a good number of laps in both sessions, although the STR14 doesn't look to have the pace to trouble the top 10. Gasly was back with his old team, and couldn't match his team mate in either session as he looks to rebuild his reputation.
Daniil Kvyat - FP1: 1:47.636, P17; FP2: 1:46.214, P14
"It's great to be back in the car after the summer break and Spa is the perfect track to return to racing as well. With quite a few other drivers taking grid penalties, the race should be quite interesting as some drivers will be out of position. We'll see how tomorrow goes. This kind of track can either be quite good or quite poor and at the moment, it's quite poor for us. Today our car wasn't suited to this track as well as it is to some others. We will see what we can find for tomorrow, but I'm not too concerned."
Pierre Gasly - FP1: 1:47.968, P14; FP2: 1:46.374, P17
"It was a busy day with the team, trying to get used to the car and learn all of the new procedures and the behaviour of the car. It was the first time working with this group of engineers, so there were a lot of things to get done today. We had a good plan and lap after lap I felt I was getting used to the car, so I think we are progressing. It's been a bit tricky in terms of pace for us, so we need to work and find out which direction to take for tomorrow to be more competitive. Some drivers will have penalties this weekend, so we need to make sure we have a good race car for Sunday."
Jonathan Eddolls, Chief Race Engineer
"It's good to be back on track after the summer break and we couldn't pick a better place than a sunny Spa, it's a fantastic track and the weather conditions are great for running. We're pleased to be working with Pierre again, we worked closely with him last year and he has tremendous speed, so we're looking forward to maximising his performance in the second half of the season. Obviously, the last time he drove for us it was a different car than the one he drove today, so the main focus for him was to get him comfortable and acclimatised with the seat fit characteristics and the balance of the STR14. This meant it was less performance running and more building up the laps, so he could get used to the setup. Now I think we have a good idea of the requirements he needs from the car.
"As for Dany, we will take a new PU for him, Honda's Spec 4, and it will be interesting to see the step in performance it brings, which should be positive around here. Given he will take a PU related penalty, Dany's main priority today was on race pace. Coming here we knew that a few of the corners on this track wouldn't necessarily suit some of the handling characteristics of our car, so another big focus was carrying out multiple setup changes on both the aero and mechanical side, to try and minimise these handling issues. We didn't show the best performance in FP1, so we made quite a few changes to the car for FP2, which improved the performance, although we've finished the day still not quite where we expected to be. We know where the limitations are, so we just need to come up with some changes for the car to try and improve those areas without making the car weaker in the others."
Toyoharu Tanabe, Honda F1 Technical Director
"It's good to be back at a race track after a four week break. We introduced our Spec 4 PU here, running it just with Kvyat on the Toro Rosso side. It is the first time this PU has run on track, so it was good that we got plenty of laps completed with no problems, which means we now have a good amount of data to analyse as we prepare for the weekend. As for Gasly, this was his first time back with the team, so it was a case of getting used to everything again."
Williams
Latifi deputised for Russell in first practice, keeping the car in one piece before handing it back to the Englishman for FP2. Russell looked solid in his only outing, but the car definitely lacked the pace to trouble the rest. As for Kubica, he spun in first practice and propped up the field in both sessions.
Robert Kubica - FP1: 1:48.966, P20; FP2: 1:48.331, P20
"I would say today was as expected. Driving at Spa is always nice as it's a great track to drive. The feeling in the car unfortunately is not so great at the moment. Hopefully we'll be able to solve some issues and improve the handling of the car. Our pace, unfortunately, is what it is, and the gap to the cars in front is pretty big."
George Russell - FP2: 1:47.887, P19
"It's been a long summer break, so I was happy to get back in the seat for FP2. The car generally felt nice to drive so it was enjoyable around a great circuit like this. We knew it was going to be difficult for us, the pace is a long way off, half of the lap time we are missing is on the straight and we also struggle in the corners. We will look at the data and see if we can find a better compromise tomorrow. All in all, it will be a tough weekend."
Nicholas Latifi - FP1: 1:48.784, P19
"This was probably the FP1 I was most looking forward to due to the nature of the track. There have been a lot of changes to the car since my previous session at Le Castellet and its difficult to compare the FW42 across different circuits. On a general note, I noticed a slight improvement with the car despite running with a smaller rear wing, and I was pleased with my session. It was quite clean, and I was able to give the car back to George for FP2. Overall, it was great to drive a Formula One car at Spa and I look forward to my next outing with the team."
Pirelli
Mario Isola, Head of F1 and Car Racing
"Today was largely what we expected from Friday in Belgium, with quite a change in track temperature from the morning to the afternoon, and a significant degree of track evolution in FP1. However, the track was generally in good condition, which enabled a lot of representative data to be collected. We saw long runs on both the soft and the medium tyres during the afternoon, in roughly equal proportions. The weather forecast suggests cooler conditions for the race on Sunday; one reason why the teams focussed on medium and soft tyres, although we can't of course exclude the possibility of the hard being used as well. With the big demands that Spa places on tyres, teams will be monitoring the levels of degradation closely as they refine their strategies. We've seen a reasonable amount of degradation on the soft tyre today, so a large part of the work from here on will be optimising the car balance on the soft tyre, in order to make the most of this compound during the race."