Feature
What the teams said – Friday in Brazil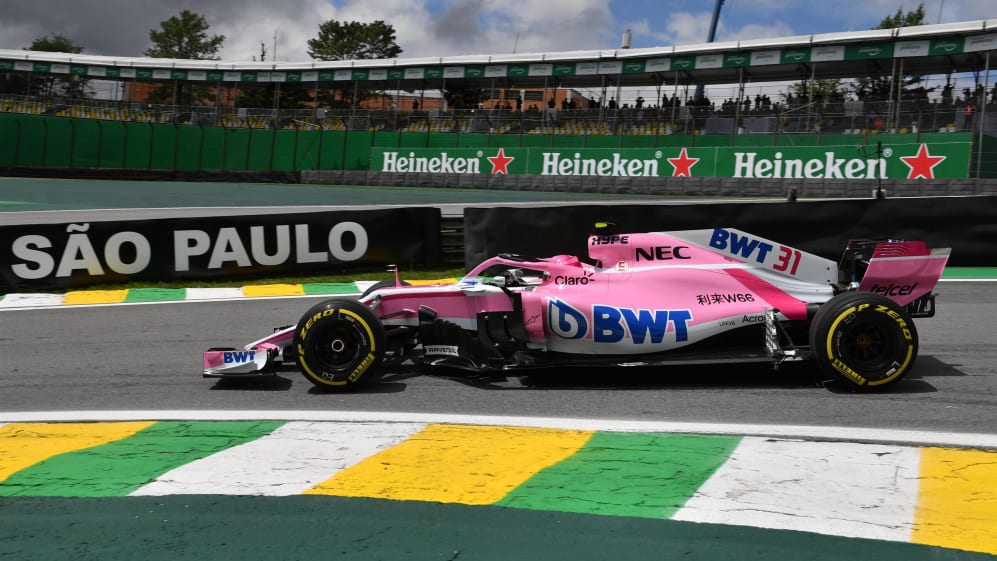 Mercedes
A mixed bag for Mercedes. They looked quick, with Bottas topping second practice by the narrowest of margins from his team mate, but both drivers complained about understeer and locked up on occasion. The set-up changes made between sessions seemed to have paid dividends and it looks like both their drivers will be in the hunt for pole tomorrow.
Lewis Hamilton - FP1: 1:09.107, P3; FP2: 1:08.849, P2
"It's been a relatively normal day, we got through everything we needed to. The car felt better than it did in Mexico, but we are still working our way through some issues. The pace doesn't seem too bad, so we just have to keep working on it and improving it. In FP2, it was quite windy and very gusty through the corners, which meant that the car was actually quite tricky to drive. There's rain forecasted for tomorrow, but I love driving in the rain, so that wouldn't be a problem. We just need to make sure that we are quick enough in the dry. It's very close between all of us at the front, but I think there's more potential in our car, so we just need to try and squeeze it out."
Valtteri Bottas - FP1: 1:09.679, P6; FP2: 1:08.846, P1
"It was a bit of a mixed day; FP2 was much better than FP1. The morning was quite difficult, it was easy to make mistakes. I had a few lockups and aborted laps, so it was difficult to build a good rhythm. But we really improved the car for the afternoon and I managed to find a rhythm. The pace seemed to be good, but it is a short track, so the margins are small. There was not a lot of tyre drop-off today, but we're expecting warmer temperatures, so we will have to wait and see if that might bring about some issues. It looks like it might rain tomorrow, but we've had a good package in the wet all year, so I don't think that would be a big problem for us. It is very close between the top three teams, so we can't feel satisfied about our results today; we know everyone else is going to be working on their performance overnight, so we will have to keep pushing as well."
James Allison, Technical Director
"I don't think it was a particularly easy day for anyone today with a track that was giving plenty of understeer challenge on the start of the run, but where it was very easy to overheat the rear tyres as well as the run went on; everyone was wrestling with that to a degree. We got the short-run pace good, although we think there's more to come tomorrow, and the long-run pace was there or thereabouts, but I think that we have work to do overnight - as probably do our competitors - to get the car in a place where it is going to be alright for the hotter track that is coming on Sunday. So lots and lots of things for us to think about overnight, just one short one-hour session tomorrow to confirm everything - and then we're off to find out whether we've made a good job of it or not."
Ferrari
Vettel had a strange day – although quick, he repeatedly complained about something that was bouncing around in his cockpit, with his radio messages showing that the German might have lost the title this year, but not his sense of humour. Raikkonen was less sanguine, swearing about traffic but still looking there or thereabouts.
Sebastian Vettel - FP1: 1:09.060, P2; FP2: 1:08.919, P3
"Today was a good Friday and I think we had decent runs; the biggest worry we had today was a little screw that had ended up between my feet, but we found it in the end, so apart from that, I think it was ok. Tyre management was also ok, but Sunday is going to be more challenging. However, we still need to improve the car as it is does not feel perfect yet. There's still some work to do, but I think that if we can get the balance in the window, it can be fine. It is supposed to be hotter over the next days, so that could make it tricky for the tyre management, but we'll see".
Kimi Raikkonen - FP1: 1:09.573, P5; FP2: 1:09.412, P6
"It was not the easiest day today, quite tricky in many ways, but it's Friday and that's how it goes sometimes. Very often, on the first day of practice, we struggle a bit here and there; there are some sections of the track which are good for us, and some others which are not that good, but that's part of the game. Regarding the tyres, the harder compound felt a bit slippery, but it's more or less what we expected. For sure we have some work to do; we'll make some changes and then we'll see where we get to".
Red Bull
Early news was that Ricciardo will be taking a five-place grid drop for Sunday's race due to a new turbocharger being fitted to his RB14. There were further technical issues for Verstappen, who sat out much of FP2 with an oil leak. Once on track, both Bulls looked quick, and despite not expecting this track to suit them, seem to be right up there with Ferrari and Mercedes. Whether they can stay there once their rivals 'turn up' their engines remains to be seen...
Daniel Ricciardo - FP1: 1:09.395, P4; FP2: 1:09.164, P4
"It was a pretty good afternoon and we made a good step forward between FP1 and FP2. It's always a tricky track to get the car set-up perfectly as it's quite demanding on the tyres. We struggled a bit with that this morning but we found a sweeter spot in FP2. This afternoon we had a decent car but we are still three tenths off, so pole is probably a bit of a stretch in these conditions. The others haven't turned it up yet either but our race pace seems solid and that will be our main focus due to the grid penalty. I've known about the penalty since last week as the turbo was unfortunately damaged when a marshal used a fire extinguisher on the car in Mexico. I've come to terms with that and I'm ready to try and qualify well, race hard and make the best of the weekend."
Max Verstappen - FP1: 1:09.011, P1; FP2: 1:09.339, P5
"I was pretty happy with the car as soon as I jumped in it this morning, which isn't usually the case around here and showed in the first session. The car felt good but I had a bit of traffic on my quick lap, so I feel the time can still improve a little bit. As this circuit generally doesn't suit us I don't have any major expectations for qualifying, our focus is on the race. My long run pace looked OK, the second session was compromised a little bit so I couldn't do everything I wanted but it felt alright. With only a few tweaks tomorrow I'm confident we can get the set-up where I want it. I was delayed getting out on track this afternoon due to a small oil leak and we wanted to make sure that was fixed and therefore shouldn't cause any further issues. Looking at the weather, I think today was supposed to be the worst and it didn't rain, so I'm not sure we will get any help in that respect."
Force India
Latifi had a solid if unspectacular FP1, before giving Perez his seat back just in time for Force India to find some technical issues with the Mexican's car. Once solved he got underway and with reduced running did well to push his team mate. Ocon was consistent, finishing 10th in both sessions and it looks like both drivers should be aiming for Q3 tomorrow.
Sergio Perez - FP2: 1:10.320, P11
"It was not the best day because I lost quite a lot of running at the start of second practice. There was a hydraulic issue with the steering assistance and we had to make some changes during the session. So I've only done 23 laps today which isn't ideal on such a technical track. Also, because it's a short lap, every tenth of a second is even more important. We made the best of the session after making the changes, but I still feel we need to make some good steps overnight to be ready for qualifying."
Nicholas Latifi - FP1: 1:11.493, P20
"It was a bit difficult in the car today, definitely harder than I hoped. We struggled to find the right balance with the car and as a result it was not where I needed it to be to maximise the performance of the tyres. It is similar to how I felt in Sochi, earlier in the year. I wish I had been quicker today but I am still satisfied with my work. In the end, when you jump in the car you don't want to make any silly mistakes and you focus on helping the team prepare the car for the race drivers, which is what I did today, so from this perspective it was a positive day."
Esteban Ocon - FP1: 1:10.361, P10; FP2: 1:10.159, P10
"I am pleased with today. Both sessions were straightforward for me – no issues on my side of the garage and we did a lot of laps. It's not an easy circuit to get everything right and there is still some work to do before qualifying. It's those small details we need to work on to make me feel more comfortable. The target is definitely to reach Q3 tomorrow. In terms of the weather, I don't mind if it's wet or dry."
Otmar Szafnauer, Team Principal & CEO
"Esteban had straightforward sessions in both FP1 and FP2, gathering all the tyre data and set-up information we needed. Nicholas did a good job, completing all the test items we had planned for him, although he wasn't happy with the balance during his runs. With Sergio, we lost some track time early in the afternoon with a precautionary change of power steering. However, after that, Sergio got on the pace quickly and if we can have a solid morning session tomorrow he will hopefully be in good shape for qualifying."
Renault
Hulkenberg and Sainz both pushed the racing line wider and wider through the final corner, repeatedly putting wheels onto the grassy area. But in FP2 the German got it wrong, went slightly too wide and lost control of his R.S.18. A big brush with the barriers bought out the red flags, wrecked his session and left Renault with plenty of work to do overnight.
Nico Hulkenberg - FP1: 1:10.679, P12; FP2: 1:11.674, P20
"We weren't able to get on top of the car today and losing so much track time in FP2 obviously didn't help the cause. I ran wide and went over the kerb, making the car bottom-out which caught me out. I wasn't able to avoid the barriers so that's a shame and I've given my crew some work to do. On the plus side, Carlos was able to have a productive day so we'll be looking at the data and we're hoping to hit the ground running tomorrow."
Carlos Sainz - FP1: 1:10.662, P11; FP2: 1:10.458, P14
"Today wasn't as straightforward as I wanted and we have some work to do to find a better balance with the car as it's a difficult place to get the car working as you want at every corner. However, it's a great circuit to drive and we have a good idea of the areas we need to improve for tomorrow."
Nick Chester, Chassis Technical Director
"It was an unusually eventful Friday for us with Nico's shunt, but fortunately he's fine and we'll have the car repaired for FP3. Other than that, FP1 had been straightforward and we made progress. In FP2 Carlos was able to show decent long-run pace, but it's clear we have work to do on our qualifying pace. We also have yet to find the best balance for the car, so we have plenty to keep us occupied ahead of qualifying."
Haas
It was a good day for Haas with Grosjean finishing 'best of the rest' in both sessions and Magnussen not far behind. It was not without incident though – first, the Frenchman squabbled with Sainz over the same piece of tarmac, leading to contact but no damage. Then Magnussen in rather bemused fashion had to radio the team to say his wing mirror had flown off...
Romain Grosjean - FP1: 1:09.922, P7; FP2: 1:09.769, P7
"It was a good day. I think the car worked pretty well here, especially after Mexico where we struggled a little bit. It was good to be best-of-the-rest in both sessions. I'm happy with that. There's some more work to be done. We're exploring a few different things on the setup to see which direction to go. We'll put it all together to be ready for FP3 and qualifying tomorrow, and then for the race on Sunday."
Kevin Magnussen - FP1: 1:10.236, P8; FP2: 1:10.007, P9
"It wasn't too bad today. It was a good start for us. The car felt good from the get-go. It was fast, as well. The pace looked good. As always, we have a few things to work on and get right, but we're in a good place, I believe. I think we're more or less in the window balance-wise. There are always things you can do better and improve, but we'll try and be best-of-the-rest here."
Guenther Steiner, Team Principal
"We've had pretty good sessions today. It's good to be back performing again after Mexico. I always say a Friday doesn't mean a lot, but it gives us an idea where we should be. Hopefully, tomorrow we can continue on the path we were on today and enjoy a good qualifying session."
McLaren
Norris took Alonso's seat in FP1 and had a decent outing. The Spaniard was less happy, complaining of traffic in FP2 that hampered his flying laps. But there was worse news in Vandoorne's cockpit, as the Belgian had to box with technical issues and lost plenty of running as a result.
Fernando Alonso - FP2: 1:10.332, P13
"It was a positive Friday. I missed FP1 and testing one tyre compound, but we still managed to get all the information we needed and do all the tests we wanted anyway, as we had a clean second session, only slightly disrupted by the red flag. We now need to analyse everything and we'll hopefully be more competitive tomorrow.
"As always on this track, one or two tenths can mean five or six positions, so we need to find the right tuning on the set-up tonight and meet perfection on our lap tomorrow.
"There is a lot of work to do, but I am quite confident."
Stoffel Vandoorne - FP1: 1:11.452, P19; FP2: 1:10.596, P17
"It's not been the ideal Friday for us. We had a couple of issues in FP1 and FP2 which cut our day a little bit short, so we've not had quite the running we wanted. We did a lot of testing and preparation for next year in FP1, so it's not the kind of preparation you want to go into the weekend, but that's the way it is sometimes.
"Hopefully tomorrow everything will be sorted out and we can start to build on a proper weekend. The field here is always super tight, so it's important to really extract every tenth you have in the car. We'll aim to do that tomorrow in qualifying to try and get the maximum there.
"The weather looks a bit unsettled for Sunday as well – hopefully that can play to our advantage. If the conditions are difficult and tyre degradation is hard, then I think there's always a good opportunity for us.
"Hopefully tomorrow will be better and we can go into qualifying with a bit more preparation, and then we'll see where we end up."
Lando Norris - FP1: 1:11.013, P16
"Today was definitely a more productive day than my last visit to Interlagos! It's a new track again for me and I was trying to get into the rhythm of the circuit. I got up to pace pretty quickly. I did the tests I needed to do for both my side and the team's side, and I did some practice starts, so it was a good session.
"During FP2 I try to learn as much as I can in the garage. It's not just about watching and listening to what the engineers and drivers are saying and going through the data, there are a lot of interesting things that go on in the background that people don't hear.
"I like going through the data to see what's good and what's bad, and comparing some things to my run this morning. Even though the conditions changed slightly and we were on different tyres, there are still things that I like to compare. Whatever I can learn is a good thing.
"You can learn a lot from just one session on track, even if by the end of FP1 I didn't manage to try everything I wanted – different lines or braking points, for example – because of the amount of time I had. But by already doing what I did, I can come back next year knowing a lot more and can try those things straight away.
"I can watch Fernando and Stoffel and see what they do, but by doing FP1 on a weekend like I am now and then going into FP1 next season is a big help and I think it prepares you a lot more. I can go straight into knowing what's good and what's bad next year, without it taking me a whole session to build up to things.
"Interlagos is quite tricky and it's easy to lock the tyres in Turns Eight, Nine and Ten. It's quite tough and I don't think it'll be the easiest track to overtake on. But it's a good track and pretty fun and enjoyable to drive."
Gil de Ferran, Sporting Director
"We're generally satisfied with the running today. Unfortunately, we had a couple of issues on Stoffel's car that curtailed track time in both FP1 and FP2.
"On the positive side, we made consistent progress throughout the day on the balance of the car and were able to perform all the tests that were scheduled.
"Overall, we seem to be in a reasonable position. Looking ahead to tomorrow, there are still some doubts over weather stability, however we also expect temperatures to rise throughout the weekend, which will play an important part in our decision-making."
Sauber
Leclerc had a quiet, confident session and looks well-placed to continue his points-scoring momentum from Mexico. He finished in the top 10 in both sessions, showing the potential this car has. Ericsson's one session was focussed on long run pace while Giovinazzi was the cause of much wrath from the other drivers after dawdling on the racing line in FP1.
Marcus Ericsson - FP2: 1:10.532, P15
"It was a decent day for me, taking into account that my running time was limited by missing out on FP1. The second practice session went smoothly, and I completed plenty of laps then. The car felt good in terms of the balance and we will work over night to analyse and define what we will do tomorrow. We know that the lap times are very tight here, so it will be about putting everything together in qualifying. In general, it has been a positive Friday and we have a good base to work on for the rest of the weekend."
Antonio Giovinazzi - FP1: 1:10.685, P13
"It was a good session this morning. The programme was quite similar to the previous free practice sessions I have completed so far, and my target was to give the team as much feedback as possible. I enjoyed driving here in Sao Paulo, and now look forward to my next session in Abu Dhabi."
Charles Leclerc - FP1: 1:10.346, P9; FP2: 1:09.943, P8
"It was a positive day overall. We were quite strong in our qualifying pace and feel confident for tomorrow. Some work still lies ahead of us in determining where we are in terms of our race pace in comparison to the other teams, but it is looking good so far. The weather was better than expected, and we gathered quite a bit of data in dry conditions, which is positive. I look forward to seeing what we can achieve tomorrow."
Toro Rosso
Very mixed fortunes over at Toro Rosso. Hartley struggled in both sessions and will look for improvements come tomorrow after some promising finishes of late. Gasly looked quick but wasn't happy, with steering that pointed right and traffic his main bones of contention. They will hope for more content drivers come Saturday.
Pierre Gasly - FP1: 1:10.934, P15; FP2: 1:10.330, P12
"I like coming to this circuit and it was great to drive here again for the second time. It was a productive day of testing and we made some improvements from FP1 to FP2. Overall, I think we made some effective changes to the setup, but we still need to work overnight to find more balance for tomorrow. I think we are getting closer to the top 10 and hopefully with some good work tonight we can close the gap tomorrow. I think we have a chance to do well here but we just need to put everything together, that will be the main target tonight."
Brendon Hartley - FP1: 1:11.176, P18; FP2: 1:10.734, P19
"It's good to be back in Interlagos! I wouldn't say we were as competitive as we would have liked to be, but we have been fighting with the balance of the car a bit today. There's some work to do with the engineers overnight to hopefully find some more time for tomorrow."
Jonathan Eddolls, Chief Race Engineer
"It was a fairly productive day where everything went to plan with no issues. We have the new aero package here on both cars, which is behaving very well, so that's a positive sign for the team. The focus in FP1 was to carry out some aero tests to try and build on our knowledge of the package.
"The track was very dirty to start with so the grip was quite low. In terms of car balance, both cars suffered with understeer in FP1, and although we tried to address it, we didn't achieve a good balance by the end of the session. Based on what we saw in the morning, we took the optimum aero configuration into FP2 and planned the normal tyre compare on short runs before going to high fuel. The red flag compromised both of our first runs, but at least Hulkenberg was OK because it looked like a quite big hit.
"We improved the balance in FP2 and our competitiveness on low fuel looks reasonable. We didn't look as competitive on the high fuel run, so we need to understand why that is. We'll work on this tonight to ty and find the best compromise between qualifying and race pace. We've also seen low track temperatures, much lower than we expect on Sunday, so we have to be careful in what we've learned about the tyres and how we take that forward into the race when the temperatures rise."
Toyoharu Tanabe, Honda F1 Technical Director
"Everything went smoothly on the PU side throughout today's three hours of track time. The team improved the balance of the car between the two sessions, allowing Pierre to set 12th fastest time in FP2 which is encouraging for tomorrow. However, there is some uncertainty over the weather with rain forecast at some point during Saturday afternoon, so a flexible strategy to qualifying could be the key to a good result."
Williams
It was a quiet day down at Williams. Stroll struggled with tyre wear, while Sirotkin was the workhorse for the team and completed a full programme. Nonetheless, it looks very much like Q2 is out of reach unless Williams can find some pace overnight.
Sergey Sirotkin - FP1: 1.11.037, P17; FP2: 1:10.569, P16
"It was a busy day today, we had some interesting bits on the car for next year's development. We managed to collect a lot of data and went right back to the baseline. We then had to switch back to race weekend preparations and car set-up which went fine. In these conditions I think we are reasonably good. There are a few bits I could have done better on my lap but I think pace looks good, particularly long pace, which was surprisingly good. Overall busy, but a good day."
Lance Stroll - FP1: 1:10.799, P14; FP2: 1:10.662, P18
"It was the usual Friday, just learning as we are running. It is great to be back in Brazil on this track. I think we made some good steps with the car today and it felt ok. We will see what tomorrow brings and where we are compared to the rest of the field. Perhaps we can get into Q2, and I hope that will be the case, but we will see after FP3 when we will have a much better idea. In qualifying it is a short lap here, so it is about piecing it together and getting the most out of it. it is going to be very tight in that midfield, so it is about every hundredth and every thousandth, which means it should be exciting."
Paddy Lowe, Chief Technical Officer
"It's great to be back at Interlagos. The cars come around very quickly due to this being a short circuit, meaning life on the pitwall and in the garage is quite intense. We had a lot of problems with traffic today and both drivers struggled to get a fully clear lap when on their one lap pace runs. Nevertheless, we managed to complete our programme without any issues. We've tested all three compounds thoroughly, both at low and high fuel. There's certainly opportunity to compete here. A very close grid means half a tenth can make a significant difference. We will be working very hard tomorrow to see if we can translate that into some good grid positions and a strong race."
Pirelli
Mario Isola, head of Car Racing
"As usual, it was very close at Interlagos, meaning that just the smallest mistake or adjustment could result in quite a big difference. The same applies to the strategy too, which can make a real difference when everything else is so closely-matched. At the moment, it's hard to make any predictions about the competitive order here, but the tyres are reacting as we expected them to. We've not seen any cases of excessive degradation – only some blistering that didn't affect performance – even though the lap times are nearly a second faster than their equivalents last year. Teams were using quite varied run plans during both sessions today, so it's going to be interesting to see whether or not that translates into a few different strategies on Sunday."