Feature
What the teams said – Friday in Great Britain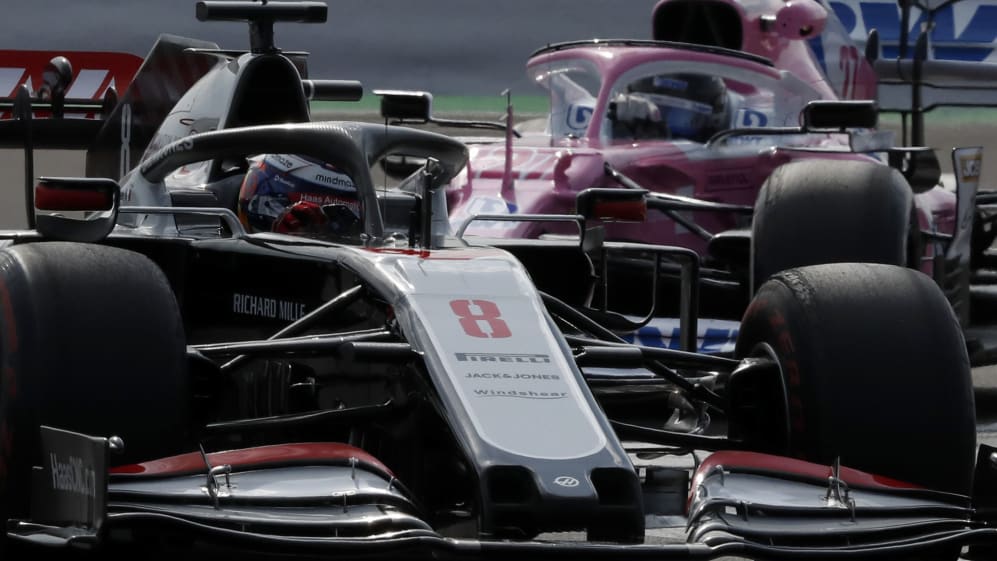 Mercedes
It was an unusually quiet day for Mercedes. Hamilton looked good in FP1, especially considering he was running the harder tyres to session-leading Verstappen's softs. Roll on second practice, both drivers started to struggle in the warmer temperatures. Neither could get within touching distance of Lance Stroll in the Racing Point, and the W11 looked tricky to handle to boot. Heat is their Achilles' heel but with temperatures expected to cool off tomorrow, they cannot be discounted just yet.
Lewis Hamilton - FP1: 1:27.896, P2; FP2: 1:27.581, P5
"It was quite a difficult day to be honest. The balance didn't feel quite right, and the wind made things really tricky out there today. So, we're going to work on it tonight and try to figure out why I haven't been feeling as comfortable as I would like. It's been a hard day of driving, but it's not a disaster and what's so great about this team is we continue to dive deep into the details - hopefully we'll make some good changes overnight. It's going to be cooler tomorrow and the Red Bull and Racing Points look strong, so hopefully it'll be close out there."
Valtteri Bottas - FP1: 1:28.519, P6; FP2: 1:27.431, P3
"The car is feeling good out there, the first session was a bit trickier balance wise, but the feeling wasn't too bad during the second session. But the gaps are quite small, with both Racing Point and Red Bull looking strong. So, we obviously have some work to do. Normally we are able to make some good steps for qualifying, so I'm optimistic that we can make some progress overnight. Conditions are going to be completely different for the rest of the weekend with lower track temperatures and a change in wind direction. That normally has quite a big effect on this track and it's going to be about who can react to those changes the quickest. We'll get to work tonight and see how much more performance we can squeeze out of the car, and hopefully it's going to be enough."
Andrew Shovlin, Trackside Engineering Director
"You never know what others are up to on a Friday in terms of fuel loads and power, but it seems that we don't have the same pace advantage that we had in Budapest. Red Bull in particular look close on a long run. There doesn't appear to be anything wrong with the car, and it's the same basic aero package, so we'll probably end up concluding that we've not adapted to the very hot conditions here as well as some others. Valtteri seemed happier with his car than Lewis but both feel that the tyres are running hot and that's making the car a bit of a handful at times on low and high fuel. It's quite a balancing act in terms of how you respond because we're expecting cooler weather tomorrow and need to be careful not to over-react. This car is competitive when we land it in the right window, and we've got a bit of time this evening and another session in the morning to work out how to do that. Hopefully we can finish tomorrow a bit higher up the timesheets."
Racing Point
They were the second quickest team in Hungary, but this afternoon the Pink Panthers went one further. Stroll topped FP2 after producing a stellar lap, but it remains to be seen if they can stay ahead when it matters. As for late replacement Hulkenberg, he acquitted himself very well after a sprint through the paddock to make it to the garage in time for FP1. The German was understandably slightly off the pace of his new team mate, but looked more and more comfortable every lap.
Nico Hulkenberg – FP1: 1:28.592, P9; FP2: 1:27.910, P7
"It's been a really special last 24 hours. At 4.30pm yesterday, I took the call from Otmar and got on the plane. I arrived at the factory and had my seat fit until 2am. I got in the simulator at 8am this morning and had some useful prep work. I want to thank the team for their amazing work to get me into the car today, and the FIA for their help with the superlicence and turning it around so quickly. The main positive today is that we completed our programme and that I completed plenty of laps. It was a jump into the deep end, but I was able to see the potential of the car – even if I feel like I could have got more out of the soft tyre today. It's been great to work with some old faces again and that's been a help in getting up to speed too. I'm looking forward to working with everyone tonight to make sure we extract everything from the car tomorrow."
Lance Stroll - FP1: 1:28.004, P3; FP2: 1:27.274, P1
"It's been a positive day and it feels great to be on top in FP2. The car was strong on both the short and long runs today, so it's a promising start to the weekend for us. We knew coming into the weekend that Silverstone could suit the car and it looks like we've got a good shot at some big points this weekend, although qualifying and the race are where it really matters! My heart goes out to Checo: we'll definitely miss having him around, but it's great to welcome Nico back to the team. I'm sure he's enjoying driving this car – and he's looking competitive, which is great."
Red Bull
Talk about a mixed day. Verstappen topped the opening session but did complain of understeer, a problem his team mate was suffering from as well. Fast forward to the afternoon and Albon nailed his flying lap to go second but lost control through Stowe on his second quick effort, sliding through the gravel and into the barriers. That led to a red flag stoppage which scuppered his team mate, with Verstappen also suffering traffic in the form of Grosjean on his earlier flying lap. He failed to set a representative time.
Max Verstappen - FP1: 1:27.422, P1; FP2: 1:28.390, P14
"I got blocked on my fast lap and then moved on to race runs, so I don't have a proper time on the board for FP2 but in the end that doesn't matter on a Friday and it wasn't a bad day for us. We keep developing and bringing new parts to the car and they seem like they are working a bit better, so I'm happy with that and the direction. There are of course still things that we can improve and on a Friday you don't know what the others are doing. We will keep working but overall the car looked and felt better today. On the long runs we also looked quite decent but who knows what the weather will be like for the rest of the weekend and how that will change things! Overall, I would say it was a positive day but we will see where we really are tomorrow."
Alex Albon - FP1: 1:28.129, P4; FP2: 1:27.364, P2
"There are a lot of positives to take from today despite the incident at the end of FP2. I'm fine and it wasn't that bad. The rear just went away quite quickly and I struggled to correct it. I thought I caught it and then I just got sent into a tank slapper. We'll have a look at the data and see what happened there. As a Team though I think we've definitely made a step. We expected worse coming into today but the car feels good and it was hooked up straight away from the first lap in FP1. Obviously I'm pretty sure the Mercedes are hiding a lot so we'll be watching them tomorrow but otherwise on our side the car feels more balanced and I think we have a better understanding of it. The wind and temperatures tomorrow will be very different to what we've had today so it will be a little bit of a reset but it's looking good so far."
Ferrari
Vettel struggled with reliability today. First an intercooler system error was spotted, which meant he sat out of FP1 after completing just two installation laps while his team worked on his car. They were still fixing it at the start of FP2 and once he did go out, he found that something was loose in the cockpit. That led to a pedal change, and then when he finally managed some flying laps he ran wide on both attempts before complaining of a loss of power in a day to forget. As for Leclerc, he was fighting the SF1000 through the corners but at least managed a clean flying lap in FP2 for an encouraging fourth.
Sebastian Vettel - FP1: No time set, P20; FP2: 1:28.260, P18
"It was a disjointed day and a shame to lose the morning session. Then in the afternoon, there was an issue with the brake pedal and that cost us some time so it was a bit difficult to get into a rhythm. All the same, even though we didn't do many laps, we learned a little bit that will be useful to help us improve the car for tomorrow and then we can see where we are. The track should be cooler tomorrow and we should also have a better day.
"Hülkenberg? There was a time when there were maybe six or seven German drivers around, so it's nice that I'm not the only one! It's good for Nico but for sure we also hope Sergio (Perez) gets better soon."
Charles Leclerc - FP1: 1:28.221, P5; FP2: 1:27.570, P4
"It has been a reasonably good day as far as quali performance is concerned, but our race pace seems to be less strong. In the long run the car was extremely hard to drive, balance wasn't great and it was difficult not to make mistakes.
"Tomorrow and on Sunday, the temperature is going to be quite different and I believe we can still change quite a lot of things to see how to gain some race pace, probably by sacrificing some quali pace."
McLaren
Sainz got up and running quickly and looked very good over both one lap and on longer runs. His race simulation pace was on a par with the Red Bull which could bode well for Sunday. Norris by contrast was slightly more vocal on the radio, struggling with the balance – but as someone who is gaining a reputation as a good qualifier, will fancy his chances tomorrow.
Carlos Sainz - FP1: 1:28.988, P12; FP2: 1:27.820, P6
"It's been an intense Friday, testing the new upgrades and having to adapt to the track conditions. The wind picked up and the temperature rose quite a lot from FP1 to FP2, meaning the track was trickier for the tyres and made the car more challenging to drive. I would say it's been a positive first day, making improvements from FP1 to FP2, but the feeling with the car is not quite there yet. Our lap-time looks competitive, but some cars were caught out by the red flag, so we'll have to wait until tomorrow to see where we really are. Looking forward to it!"
Lando Norris - FP1: 1:28.990, P13; FP2: 1:28.169, P11
"We had a decent day in terms of getting through most of the run plan. FP2 was the only difficulty. A small setback towards the end meant I could only do two or three laps at my high-fuel pace, which is a bit frustrating. Apart from that, we worked through the upgrades and some of the changes on the car for this weekend to get a better understanding of what we have. All in all, it was a difficult day with the wind affecting the car a lot. It made things tricky – but apart from that it was positive in terms of getting through what we needed to get through."
Andrea Stella, Racing Director
"We had a busy programme for this Friday, which opens the double-header at Silverstone, with some aerodynamic upgrades to validate. Happily, the circuit stayed dry and, barring some minor bodywork damage, we didn't see any major problems and could complete the programme we'd planned. We could see the new parts are working, and I want to thank the whole team for the effort that went into designing and manufacturing those parts. It's a constant effort to improve the car, which is very important because the midfield is clearly very tight.
"The track was tricky today with a blustery wind and, like everyone else, it was tough to extract the maximum out of the car given the conditions. We expect the remainder of the weekend to be a little cooler; we have to be prepared to deal with all conditions and hopefully once again be able to compete for a place in Q3, to give ourselves the best chance of scoring good points on Sunday."
Renault
Renault had a good Friday, with both drivers in the top 10 in FP1. Ocon looked the more comfortable of the two initially, although there was very little to choose between the team mates on the timing sheets. They did struggle with their rear tyres on the longer race runs, but the expected cooler temperatures for the rest of the weekend could help with tyre wear.
Esteban Ocon - FP1: 1:28.559, P7; FP2: 1:28.219, P12
"It was a pretty decent day, I would say. It was good to test the new updates and get a feel for the car on a very quick track, which contains a lot of high-speed corners. I found it interesting to test the car in tricky conditions with the heat and quite a strong wind. Overall, it worked quite well today but we have a bit of pace to come for qualifying tomorrow. We'll look through the data and be ready for tomorrow when it matters."
Daniel Ricciardo - FP1: 1:28.575, P8; FP2: 1:28.112, P9
"It certainly feels a bit different driving here without fans as it's one of the places you feel it most. It's always a fun track to drive, so I enjoyed taking on some of the high-speed stuff this place offers. In terms of our running, we showed some promising signs but, on my side, we lacked a bit of consistency in the car. On some runs, I felt happier than others, so we have some work to do there. As always, it's pretty close between a group of cars. The temperature is dropping tomorrow, so it should change quite a bit."
Ciaron Pilbeam, Chief Race Engineer
"It was quite a warm and windy day here, which affected the car and tyre behaviour throughout the day for everybody. The morning session was fairly straightforward for us and we worked through a series of set up options. Esteban's afternoon session ran smoothly, but Daniel's was not quite so smooth. He had a cut in one of his tyres, which limited what he could do in the second half of the session. We have good data on both short and long runs, which we'll look through tonight and prepare for the rest of the weekend. The upgrades that we tested today seem to be working well. It looks like it's going to be much cooler for the rest of the weekend, and possibly wet on Saturday."
Alfa Romeo
The Alfa mechanics were left watching through their fingertips in the morning when first Raikkonen spun, before moments later Giovinazzi had an even bigger moment. The Italian shredded his tyres after losing control through Chapel, and left a trail of rubber, carbon fibre and turf as he gingerly retreated to the pits. But the Italian outfit had a much better FP2, with both drivers looking solidly quick. If they can replicate that sort of pace on Saturday, they could trouble the top 10 in qualifying.
Kimi Raikkonen - FP1: 1:29.746, P16; FP2: 1:28.159, P10
"It's been a busy Friday but so far, so good. The times look a bit more promising, but it's only Friday and you can't really draw any conclusion from them. What we know is that there is still work to do to get the most out of this weekend. The upgrades seem to work as expected, but it's early days: who know what tomorrow is going to bring, especially with the weather. We will just go out and do our things and hopefully we can be in a better position than we have been before."
Antonio Giovinazzi - FP1: 1:29.925, P18; FP2: 1:28.256, P13
"I'm pretty pleased with what we have shown today, although it's still early in the weekend and we cannot let ourselves get carried away. The morning was quite tricky, especially with the wind, but the afternoon was much better. I feel we made some good steps forward, both in terms of qualifying and race pace, and the upgrades we introduced for this race appear to be working well, so hopefully we can build on this. Tomorrow the conditions may be different, so we need to be ready for whatever we get: we will need to keep cool and just do our job."
AlphaTauri
After a torrid weekend in Hungary beset with reliability issues, Gasly will be pleased to manage two full sessions. He improved in the afternoon to finish in the top 10, while Kvyat finally looked more at home in the AT01 after saying that they were speaking different languages last time out. Can they find further improvements tomorrow? The Russian has yet to feature in Q3 this season.
Pierre Gasly - FP1: 1:28.909, P11; FP2: 1:27.997, P8
"It feels great to be back in Silverstone, which I think is one of the best tracks of the season and overall it was a good start to the weekend for us with many laps and tests completed. However, I still don't feel like I got the car exactly where I want it to be, so I'm confident that if we manage to make the right improvements overnight there's a bit more performance to come for tomorrow."
Daniil Kvyat - FP1: 1:28.868, P10; FP2: 1:28.426, P15
"I think it was a productive day, even if the red flag compromised my session a bit when I was on my new tyre run. I had to abort my lap and go again with the used tyres, so that was a bit unfortunate. Other than that, I think we worked on a good number of things and I was also quite pleased with the balance of the car today, so we have to analyse everything tonight and see what we can do to improve more tomorrow."
Jonathan Eddolls, Chief Race Engineer
"After the first very intense triple header, we managed to have a week back at the factory where the team put an awful lot of effort into understanding the data gathered from the first three events, trying to understand the limitations of our AT01. Apart from a few new parts to test, we came to Silverstone with a number of set-up items to test and improve the performance of the car, so we had a busy Friday. Track temperatures were very high, so we need to be mindful of this taking the results from today because we expect the temperatures to come down for the rest of the weekend. Actually, tyre temperatures were quite an issue as it was very easy to overheat them, particularly with the very high pressures we have to run here, so the car was operating in a very different area compared to the previous events, where the temperature was cooler and the pressure was lower. We ran through our test programme but unfortunately, it wasn't as smooth as we would have liked. In terms of performance, in FP1 we feel we made a step forward, but in FP2 the red flags and the traffic did not allow us to get the best out of the option tyres on the short run. This means there is more to come, which is positive, so we will have to go through all the data, put it all together and come back with the best possible set-up for the rest of the weekend."
Williams
The team seemed to have made big strides forward in Hungary, but those evaporated today. Russell was struggling with the balance of his car, describing the handling at one point as "woeful". As for Latifi, he blotted his copybook at the last possible moment by spinning after the chequered flag had come out in FP2. Fortunately he wasn't carrying enough speed to continue on and hit the barriers, but nonetheless it won't have done his confidence much good.
George Russell – FP1: 1:29.899, P17; FP2: 1:28.771, P17
"It was difficult out there today, the pace was ok, probably where we expected it to be. As a team this circuit does not suit our car as much as Hungary. The Alfa Romeos seem pretty fast so I think we will be in competition with Haas this weekend. We are trying to find the right compromise between downforce and drag. We have got a lot of straights here but a lot of high-speed corners so you need to try and run as little as you can without compromising Copse, Maggots and Becketts.
"Silverstone is my home race, last year was such a buzz with all the fans and sadly we don't have that this year. However, the excitement levels are more because of the pace of the car. We are still not where we want to be but at least we have a small fighting chance."
Nicholas Latifi - FP1: 1:30.703, P19; FP2: 1:29.958, P20
"Overall from my experience driving the track I enjoyed it quite a lot. It is my favourite on the calendar, so I was looking forward to driving these cars around here. It is good fun with lots of high speed. In general, in P1, the first runs were not so bad and then we had an issue which took away a bit of the programme. We tried some things going into P2 which didn't really work out in terms of the feeling of the car. I was not at the pace I wanted to be. I was struggling with consistency, as well as some consistency in my own driving that carried over into the high fuel runs which I wasn't happy with. I think we have an idea of why it was so difficult, but we definitely have a lot to analyse tonight."
Dave Robson, Head of Vehicle Performance
"Although each of today's sessions were interrupted by red flags, we still worked through most of our plan. Each driver looked at different set-up trades as we sought to balance the performance on the straights and the high-speed corners. The hot blustery conditions made this a little difficult, but between the cars we gained enough experience to get the best compromise for tomorrow.
"The conditions are expected to be a little different on Saturday and if the wind changes direction then we may need to make some further compromises. However, that is normal for Silverstone and the other teams will face the same dilemmas.
"Compared to Hungary we thought that we might struggle a little more here, but we made decent progress today and we are a bit closer to our competitors than we feared. The car is working reasonably well, and we will see how things pan out when it really matters tomorrow afternoon, but we are hoping to be able to challenge for Q2."
Haas
Grosjean got himself into a spat with Verstappen after dawdling on the racing line. That angered the Dutchman, who returned the favour on the next lap to scupper Grosjean's flying effort. As for Magnussen, he had a quiet day but in the hot temperatures, Haas did seem to lack pace compared to their midfield rivals. Can they both escape Q1 tomorrow? It is looking a tricky prospect as it stands.
Romain Grosjean - FP1: 1:29.576, P15; FP2: 1:28.564, P16
"It was actually a positive day in the way that the car behaved and so on. I think we also made some good set up changes that helped me to feel better in the car in the afternoon – which is great. The challenge for the rest of the weekend is that we won't see those high temperatures again, therefore all the work that's been done today needs to be extrapolated into what we think Sunday's going to be like. The balance has been okay and we're getting the best of the car, but after that we're 16th and 19th, so that's obviously not ideal. We wish we could be in a better position, but we just have to do the best that we can. Hopefully tomorrow we get one car into Q2 and mid-term we end up getting both cars in Q2. In the race we need to see if we can get better degradation than other people."
Kevin Magnussen - FP1: 1:29.532, P14; FP2: 1:28.898, P19
"It was hot today, which made things difficult – the tyres got really hot. At this track, with the high-speed corners, when it's this hot, it's very easy to overheat the tyres. It was an interesting day and it'll be interesting to see if tomorrow's cooler temperatures are better for us, that'll be another element of our learning of the VF-20. It doesn't look like we're very fast, but we expected that and we're trying to work with what we have. I think there's a little bit more to find but we'll see."
Guenther Steiner, Team Principal
"The temperatures have been a lot higher today than they will be on Sunday, at least that's what we've been told, so maybe today's not relevant. We're still lacking speed – which we knew coming here. We'll be a little bit on our backfoot here at Silverstone, that became a little more evident in FP2 obviously. At the moment we keep trying to do the best job that we can. We will always keep on fighting."
Pirelli
Mario Isola, Head of F1 and Car Racing
"Silverstone is always a tough challenge, but when the track is 'green' on a Friday and in these extremely hot conditions, the job of the tyres becomes even harder. Because weather conditions are likely to become considerably cooler for the rest of the weekend, that makes life a bit harder for the teams: the data they collect today might not be entirely relevant to the expected race conditions. It was interesting to see that 17 cars out of 20 were covered by just 1.5 seconds in FP2, which suggests that we're in for a closely-fought weekend."