Feature
What the teams said - Friday in Great Britain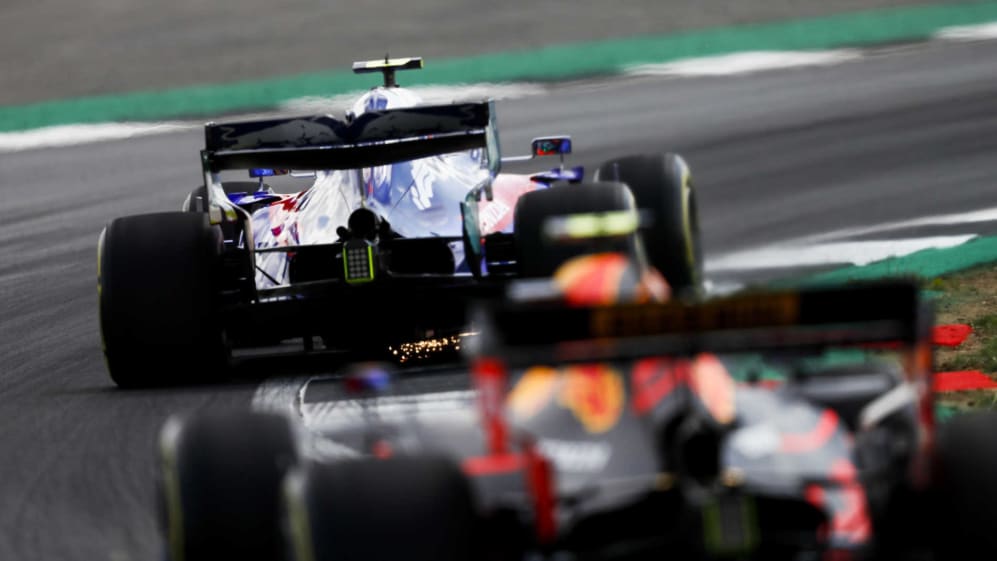 Mercedes
Mercedes were expected to be strong here and they certainly looked it in second practice, finishing with a one-two and a margin to Ferrari behind. It wasn't a worry-free day though, with Bottas suffering a mechanical issue, and Hamilton throwing in a few ragged laps that involved diversions across the grass. With the reigning world champion on a run of four straight poles here, Bottas will have his work cut out to stay ahead of his team mate tomorrow.
Lewis Hamilton - FP1: 1:28.122, P4; FP2: 1:26.801, P2
"It's been quite windy, quite gusty out there, so it hasn't been the easiest of days, but we were up there nonetheless, and it looks like we'll be in the fight. It's always difficult to say after the first day though and the Ferraris are usually a little bit slower on a Friday and then pick up the pace on Saturday. The new track surface is better on the straights, especially between Turn 4 and Turn 6 where it was pretty bad before. It's still bumpy on the exit of Turn 7 and towards Copse, but after that it's nice and smooth through Maggotts and Becketts and down the Hanger straight. The asphalt is very smooth which makes it tricky to get the tyres to work, they're in and out of the window, and the gusty winds didn't make it easy. I was struggling with the rear end and went off a few times, but Valtteri seemed much more comfortable in the car, so we are going to dig deep tonight trying to figure out what the issue is and how we can solve it for tomorrow."
Valtteri Bottas - FP1: 1:27.629, P2; FP2: 1:26.732, P1
"I've had a good day from the get-go, both in terms of my own performance and the set-up of the car. It's always a nice feeling when you start a weekend like that. The track is less bumpy than last year which is nice; they did a good job on the asphalt and it was very enjoyable to drive. The new surface is quite grippy, but sometimes you can lose the grip very suddenly on new tarmac. The car seems quite well-balanced, but I think there's still room for improvement. It felt quick around the corners and there's plenty of corners in Silverstone, so that's a good thing. I still think it's going to be close again tomorrow and it will be all about who finds the most performance tonight and tomorrow before Qualifying, but it's nice to start the weekend on a positive note."
James Allison, Technical Director
"It was a tricky day in some ways because the wind, as ever at Silverstone on this open old airfield, was strong and gusty and made it very difficult to put a single lap together; we saw the whole grid having little excursions onto the grass. Lewis struggled with it a little bit more than Valtteri, but in the end both drivers managed to put in good lap times on the single lap run on a softer tyre. They both looked competitive today on the race simulations we did, but it's hard to know whether that form will translate over to Sunday. A small change in temperature and the tyres won't behave in this fashion and the asphalt is also brand new, so it will change too as the weekend goes on. But it's a promising start nevertheless."
Ferrari
Ferrari looked to be suffering from graining tyres more than their rivals, which doesn't bode well for Sunday. A number of small niggles also plagued them, with Vettel suffering a charging issue and Leclerc complaining about his front-left brake. As a result, they didn't manage fully representative laps. Nonetheless, the Scuderia might need to find something special to challenge for pole tomorrow.
Sebastian Vettel - FP1: 1:28.304, P6; FP2: 1:27.180, P4
"It's good to be driving at this circuit again and the new surface seems a lot smoother than the old one, with a lot higher grip, which makes it good fun. I would say the lap times don't mean much today, as usual on a Friday, but it's clear that our main rivals seem very strong and are the ones to beat. It looks quite close between us and Red Bull, but as we were trying some new things on our car, it's a bit hard to judge. We must wait for tomorrow to get a clearer picture of where we are."
Charles Leclerc - FP1: 1:28.253, P5; FP2: 1:26.929, P3
"It was a tricky day for us. We struggled with our front tyres during the long-runs quite a bit and have to focus on understanding how we can get them to work better. The qualifying pace, on the other hand, was not bad and we also managed to run a lot of tests throughout the day which is positive. Our competitors are strong and I think that they will only reveal their full potential in qualifying. We will give everything to be competitive and will see where we stand tomorrow."
Red Bull
Gasly was a somewhat surprise leader in FP1, courtesy of a late flying lap when the track was at its best. But the Frenchman then backed it up by going quicker than his team mate in FP2. Once again they look off the one-lap pace of their rivals, but stronger on race pace. They could yet be the ones to watch come Sunday.
Max Verstappen - FP1: 1:28.009, P3; FP2: 1:27.562, P7
"From my side, today was not so good and I didn't find a good balance with the car in FP1 or FP2. I was sliding around a lot in the wind and struggling for rear grip, so we have a bit of work to do. Even though I'm not fully comfortable yet we're not that far away and the times are pretty close which is a positive. There is a lot more grip with the new tarmac which all drivers like. In general, the new surface is quite a good change but there are some pretty bumpy sections out there, especially going into Turn 6 and Turn 9. It's not very easy on tyres here with the high energy corners so it will be interesting to see what choices everyone makes tomorrow and in the race. It's promising that we are still quite close to Mercedes and Ferrari so there is still a lot of potential for the weekend."
Pierre Gasly - FP1: 1:27.173, P1; FP2: 1:27.249, P5
"I'm happy because it was a really good day on our side and the best Friday of the season. We made some changes after Austria and we have a good plan on how I can improve things. There are still a few improvements I can make and my lap wasn't perfect in FP2 so I can still extract a bit more, but overall I'm happy. It's only Friday so we won't get excited but we need to keep going in this direction. It will be important not to make any mistakes and perform tomorrow when it's important, but the feeling I have today is a lot better. This is a high-speed track and with the wind today it made the conditions super tricky as the balance changes from one corner to another, but this is the same for everybody."
McLaren
A good day at the office for McLaren, bar one early spin for Norris on the green track. After that both drivers kept their heads down and once again looked quick. Norris even got in the mix with the Red Bulls, splitting the two in second practice. With Sainz also flirting with the top 10, it looks like another good qualifying could be on the cards at the team's home race.
Carlos Sainz - FP1: 1:29.162, P10; FP2: 1:27.987, P8
"It's been a good day for the team. Another strong Friday making it to the top 10 in both sessions, so happy with that because it's always encouraging. The team at the factory have been pushing hard and we've managed to bring a couple of upgrades here. They are still to be evaluated after today's sessions, but they seemed to work properly. We need to look carefully into the data gathered today if we want to perform at a high level tomorrow, so no time to waste."
Lando Norris - FP1: 1:29.170, P11; FP2: 1:27.546, P6
"Tricky sessions today. The wind is quite gusty, which makes the car quite unpredictable. It's easy to make mistakes in a few of the corners. The new tarmac seems to be getting better in some ways but there are still some bumps and small things here and there that can catch you out. So, not easy – but I think we managed to do most of the plan, including a good amount of longer runs. We've got a good idea where to improve the car from the runs we did today. Although it was tricky, we still did everything we needed to do."
Andrea Stella, Performance Director
"Silverstone is always an interesting challenge for drivers and for the engineers. You have to set up the car to be good in both the high-speed and low-speed sections. Especially in the low-speed, there are some long corners which are very important for lap-time, so you need to find the right compromise, and this is not straightforward. Additionally, there was a lot of wind today which made the car quite tricky to drive. Overall, the balance of the car wasn't perfect: we have some work to do to make the drivers more comfortable and exploit the performance of the car.
"As usual, Friday is a busy day and we tried some new parts, which we still have to evaluate properly. Once we have completed that analysis, we will make a call on how we progress with both cars for tomorrow.
"Another interesting element at Silverstone this year is the new tarmac, which meant that we lost some of the references to the past. Certainly, understanding tyre behaviour will be one of the main tasks overnight, in preparation for qualifying and the race. Overall, it's been a positive day as we could go through our programme without problems or delays. We collected a lot of data that we will analyse overnight, and hopefully be able to improve the balance of the car and get the maximum out of this important weekend for our team."
Renault
Ricciardo's day ended in dismal fashion, when he pulled up trackside with technical issues and had to hitch a ride back to the Renault garage. Worse news followed - he'd damaged his chassis on the kerbs and will need a new one for Saturday, as well as an engine change - though mercifully neither will attract penalties. Hulkenberg managed a full programme, but once again the French outfit look to be lacking in one-lap pace.
Nico Hulkenberg - FP1: 1:28.803, P7; FP2: 1:28.217, P15
"It was an alright Friday for us today with nothing unexpected. The car felt good on the long runs, but we didn't have the best of runs on low fuel. All in all, though, it wasn't too bad. I'm feeling comfortable, certainly not unhappy and we have the usual things to discuss and work on as ever for a Friday. Our baseline is solid looking ahead to the rest of the weekend. The new surface is definitely high grip, much smoother than it used to be, with the odd bump, which gives the track its character."
Daniel Ricciardo - FP1: 1:29.031, P8; FP2: 1:28.128, P14
"We have some work to do following today's sessions but I'm sure we'll get there. I don't feel we will have a difficult weekend ahead. We didn't really make the improvements we felt we could have done in FP2 so we have a bit of homework tonight but I'm still optimistic that we will be better than what we showed today."
Nick Chester, Chassis Technical Director
"A pretty good first day of running for us. FP1 was useful as we tried some things that gave us some direction on set up, particularly for the high-speed corners. FP2 was similarly fine, but we got caught in some traffic, otherwise we would have been further up the order. Daniel unfortunately stopped early with an engine problem; he was running a Spec A and will revert to his Spec B as planned and previously introduced. We have a few things to do ahead of tomorrow's running, but it's super tight so finding just a little bit will put us squarely into Q3."
Haas
Grosjean had a Friday to forget - it started with a crash in the pit lane which damaged his front wing, and he then managed to spin and flat spot his next set of tyres before being halted by a hydraulics problem in FP2. His weekend can only go in one direction. Magnussen by contrast had a quiet Friday and looked to be solidly in the midfield, but couldn't match his scintillating pace from Austria that took him to the front of the chasing pack.
Romain Grosjean - FP1: 1:30.811, P19; FP2: 1:28.794, P18
"The start of the day was a bit embarrassing. I turned the pit-limiter button off, the tyres were a bit cold and grip was low, next thing I knew I was backwards. It didn't feel so good. After that though we got back on track and ran our program. I had a bit of an issue with a hydraulic line in the afternoon, we missed around half an hour of the session, but we're getting some good data. This is definitely a package I enjoy driving more, but the performance is not there yet, which is something you would expect. There's been a lot of development through the car, and when you revert back to an early spec it's tricky. There's definitely a better feeling in it, we're just looking to develop it now, understand it, and move forward."
Kevin Magnussen - FP1: 1:30.605, P16; FP2: 1:28.059, P12
"It's been a good day. I think we had some good long runs today, that's been the main priority. We've obviously tried many different things this weekend to try and learn some more about our struggles. There's a lot to look at. It's going to be a busy night for the guys to get through everything, and to understand what we can do for tomorrow. I'm still gunning for the top 10 in qualifying, I'll try to get into Q3 and qualify as high as possible. Obviously, the main priority this week is to get the long run pace right, so that we can fight in the race and go for some points."
Guenther Steiner, Team Principal
"A couple of mixed up sessions. I think we're looking a little better than the last two races in the long runs - at least with one car. We still need to find some speed for Romain (Grosjean). In FP1 he spun in the pit lane, then in FP2 a hydraulic leak meant he didn't get the full running we wanted to give him. We've got another hour tomorrow morning to work on things. With Kevin (Magnussen) we made good progress. It looks like we're well prepared for the weekend."
Alfa Romeo
Raikkonen stopped out on track with his engine sounding like a box of parts in first practice. A swift PU change between sessions saw the Finn come out first in FP2, managing a full programme to make up for lost time. Giovinazzi ran flow vis paint to collect aero data, which the team will put to use overnight in a bid to get their cars back up towards Q3.
Kimi Raikkonen - FP1: 1:30.747, P18; FP2: 1:28.126, P13
"The problems in the morning made it difficult as Silverstone can be tricky when you don't get enough laps in, but I tried to make up for lost time in the afternoon. Still a lot of work has to be done, we need to sort a few issues, but the last few laps felt quite okay."
Antonio Giovinazzi - FP1: 1:30.099, P15; FP2: 1:28.294, P17
"Overall, it was a good first day of action. The track was not as bumpy as it was on my last time here and I was able to get into a good rhythm quite soon. The wind was making it quite hard out there – it kept changing lap after lap – but in the end it's the same for everyone so we need to adapt to it. I did a small mistake on my lap on softs but I am satisfied with the pace we showed. Everyone is so close in the midfield so we need to find the best setup tonight and have the best possible car to get a good result in qualifying tomorrow."
Racing Point
A quiet day for the team in pink at their home race, with both drivers focusing on longer runs on the hard-compound tyre. Does that indicate a long one-stop strategy? Time will tell, but unless Perez and Stroll manage to find a turn of pace tomorrow, Q3 looks out of reach.
Sergio Perez - FP1: 1:29.453, P12; FP2: 1:28.002, P10
"There's lots of work to do tonight, but it's a promising start and probably one of our most competitive Fridays yet – looking good in both sessions. We need to make sure we can carry today's performance into qualifying. There is more grip out there with the new track surface, which is much smoother, and I think that's helped us so far. We have good information for Sunday because I tried all the tyre compounds and we can now start thinking about the strategy for Sunday."
Lance Stroll - FP1: 1:29.657, P14; FP2: 1:28.240, P16
"It was a pretty solid Friday for us and the car felt good. The programme went to plan and we completed all the runs. The wind is always a big factor at Silverstone – it felt especially gusty out there today and it was always changing direction. I think there's more to come because I didn't manage to get the cleanest of laps in during the performance run. I'm feeling upbeat so let's see what we can do tomorrow."
Otmar Szafnauer, Team Principal & CEO
"A standard Friday with plenty of learning about the car, tyres, and new track surface. We evaluated some small aero parts this morning with measurement devices on the car and then turned our attention to set-up. The new tarmac presented some significant challenges with big track evolution throughout both the sessions. The task now is trying to get the car in the sweet spot for Sunday when the track will have evolved much more. The wind also made for tricky conditions, and a shower from time to time, but that's what you expect at Silverstone."
Toro Rosso
Albon took to the newly surfaced track, finishing in the top 10 in both sessions. He did use his STR14 as a lawn mower on one occasion, though, which won't have pleased his crew. Kvyat likewise ran wide as he pushed the limits, and both will hope that a clean lap tomorrow will reward them with a top 10 grid position.
Daniil Kvyat - FP1: 1:29.500, P13; FP2: 1:28.008, P11
"At the beginning of the session the tarmac felt different, it was quite dirty to start with but got cleaner lap after lap. We've done quite a few laps today, so we understand the car better now and we will try to do our best to make a further step forward. The midfield is tight as always, so we will do our best to squeeze everything out of the car tomorrow in qualifying."
Alex Albon - FP1: 1:29.093, P9; FP2: 1:27.997, P9
"I think it was a good day for us, we found some balance that we missed in the past two weekends and we now have the car in a better window. We looked quite consistent in both the long and short runs which put us in the mix. There are still definitely things to improve on, so we'll work on that with the aim of getting into Q3 tomorrow."
Jonathan Eddolls, Chief Race Engineer
"We came to Silverstone on the back of two difficult events for the team in France and Austria, so we put an awful lot of effort in the last 10 days in both Faenza and Bicester to find the main reasons for the lack of performance. We believe we have identified the reasons and have a much better understanding of what our limitations were in the past two races. We had an intense simulator programme to come here well prepared with items to address that, so our main focus in FP1 was understanding our analysis and putting test items into practice on the track to see if we could improve the balance and bring our competitiveness back to where it was a few races ago.
"The track is extremely new after having been resurfaced and that presented its own challenges today. We could see many drivers were struggling with the low grip at the start of the session, which was also not helped by the fact that the wind, which is quite typical in Silverstone, was very strong. It was gusty and changing directions, making the car handling a little bit inconsistent, but we got enough good running in FP1 to understand that our effort brought some good results.
"We did some further steps heading into FP2, then spent the session trying to fine-tune the balance over the short runs. Our long runs look reasonable, so we will look through all of the data and decide what to do going forward for the rest of the weekend. We seem to be back in terms of competitiveness at the tail end of the top 10, so close to the front of the midfield. It looks like the work is paying off but we'll confirm that in Qualifying tomorrow and the race on Sunday."
Toyoharu Tanabe, Honda F1 Technical Director
"Although, like everyone, we had to deal with a new track surface and blustery winds, we had a smooth and trouble free day. It was particularly encouraging to see that Toro Rosso seems more competitive in the mid-field than at the past couple of races. The announcement earlier this week that Silverstone will host this Grand Prix for a further five years is good news for Honda, as we have great memories of some fantastic results here."
Williams
Russell's second practice was cut short after a series of gearbox issues eventually consigned him to the pits as the team set to work diagnosing the issue. That left Kubica out on track. The Pole managed one spin at the start of FP2, but after that mastered the tricky conditions to lay down a decent amount of laps.
Robert Kubica - FP1: 1:32.121, P20; FP2: 1:29.935, P19
"The new surface this year makes the track a little spicier and the car behaves differently. Additionally, the wind was quite gusty in places which has a big influence on the car. Although this is the same for everyone it probably has a larger impact on us as we have less grip, therefore more sensitive to these conditions. We will go through the data tonight and see what we can do."
George Russell - FP1: 1:30.741, P17; FP2: 1:30.514, P20
"It has been a mixed day. It was amazing to drive around Silverstone in a Formula One car, this place is incredible, and the track is thrilling. We had a gearbox issue in FP2, only completing about three proper laps. That has set us back a bit, but I am confident we can hit the ground running again tomorrow. It's a track I know well, and I feel comfortable ahead of the weekend."
Dave Robson, Senior Race Engineer
"As we expected, the new surface and the normal Silverstone wind made conditions a little tricky today. That said, we were able to evaluate some test items and begin to understand the tyres in preparation for qualifying and the race. Both drivers had steady FP1 sessions despite the brief interruptions from the VSC and the light rain.
"The stronger wind gusts this afternoon made testing more difficult and the gearbox issues on George's car meant that we lost our reference for some of the tests. However, Robert drove well and had a decent long run on the hard compound. We will now rebuild George's car ready for tomorrow when we will make our final refinements ahead of qualifying."
Pirelli
Mario Isola, Head of F1 and Car Racing
"Track evolution was the main theme today, with a new and greasy track surface one of the unknown factors as the teams embarked on free practice, as well as some changed cambers and bumps. For these reasons, we saw more spins than usual especially during the morning, as drivers looked for the optimal line. With nobody having run yet on the new surface, it was important to gather as much information as possible today, but it was tough to get an accurate read as the track was evolving all the time, which also makes assessing the performance gaps quite tricky. Nonetheless, despite some interruptions in the morning, the teams achieved their objectives, also setting faster times than they did on the older but bumpier surface last year."