Feature
What the teams said - Friday in Hungary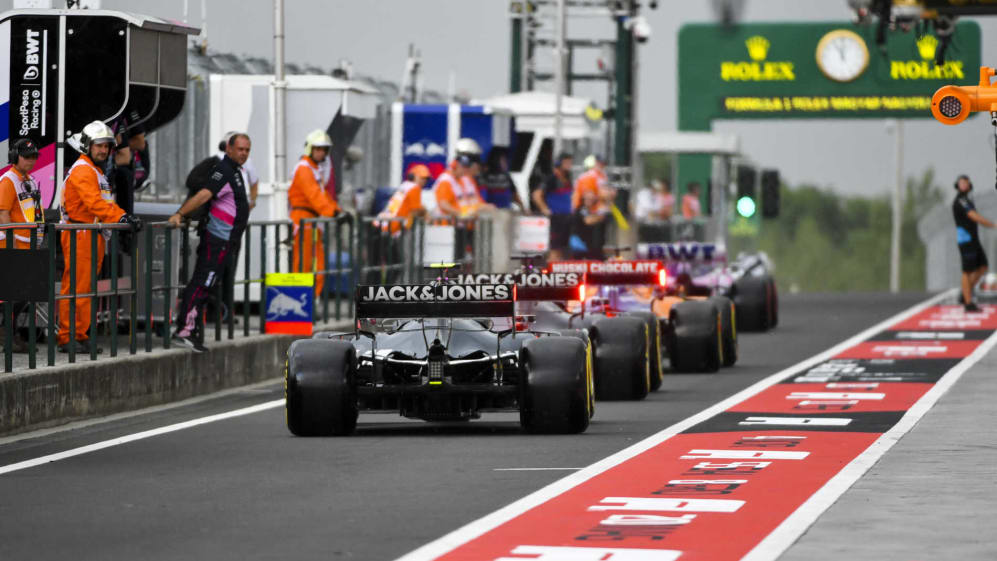 Mercedes
Mixed fortunes down at Mercedes, with Bottas managing just the two laps in first practice after an engine issue was detected. That led to a full PU change and meant the Finn missed the rest of the session. Hamilton became path finder and completed a pack-leading 41 laps for the team, gathering plenty of data and looking quick to boot. In second practice, both drivers went out but little could be learned in the mixed conditions.
Lewis Hamilton - FP1: 1:17.233, P1; FP2: 1:17.995, P3
"FP1 was a good session. I wanted to come back into the weekend feeling better and getting straight on it. The car the balance was quite nice straight from the get-go. We made some changes in between the sessions, but unfortunately we didn't really get to test it. This afternoon I only got a few laps on the Hard tyre, then we stopped because running in the wet is kind of irrelevant when you know that the race is most likely going to be dry. The weather was tricky; from the pit lane and on camera it looks like it's just spitting, but when you're driving through it, it's raining a lot everywhere. The surface is quite dark as well, so you can't really spot if it's dry or damp."
Valtteri Bottas - FP1: No time set; FP2: 1:18.184, P4
"During my first timed lap in FP1 I had an issue with the engine where I lost power. The engine went into a safety mode so I had to come back in. The team couldn't find the issue immediately, so we decided to swap the Power Unit for FP2. We were hoping for more laps in the afternoon, but the weather conditions meant that I only got three proper timed laps in in the dry and a couple in the wet. But at least the car felt good on the few laps I drove it. I got a feel for the car balance and an idea of what we need to work on for tomorrow. In the wet, the car felt better than it did last weekend, with a nicer balance and more grip. I'm looking forward to properly starting my race weekend tomorrow."
Andrew Shovlin, Trackside Engineering Director
"Valtteri had an engine electrical issue on the first run, we changed a few parts but failed to resolve it, so we decided to start fitting his spare power unit during the session. As a result, he had no meaningful running in the morning. Lewis on the other hand had a very good first session and was able to make the most of the dry windows. We managed to do the planned low and high fuel work and the car seems to be working fairly well.
"The second session was more heavily compromised by the weather. Valtteri's PU issue had been resolved and he made good use of the relatively small dry window at the start of the session, getting a feel for the car on the Medium compound. Lewis was running the Hard tyre which wasn't ideal in the cool and damp conditions but once up to temperature it was working well. We finished the session doing some laps on the Intermediate. It's not easy to know where we stand in terms of performance owing to the limited running but we've done enough to understand where the balance weaknesses are, so we will try and get those sorted overnight."
Red Bull
Verstappen complained vociferously about the balance of his RB15 in first practice, spinning twice for good measure before damaging his front wing on the kerbs. Gasly ran the aero rakes in the early part of the session, and looked quick throughout. Come FP2 and the Bulls came home with a one-two, albeit in unrepresentative conditions. Nonetheless, finishing ahead of his team mate should give Gasly a confidence boost.
Max Verstappen - FP1: 1:17.398, P2; FP2: 1:17.909, P2
"I think it was a good day for us and although Mercedes seem to be a little bit ahead we're very close which is positive. We learnt a lot this morning during the dry running and the car was competitive straight away. We were then able to make lots of changes, some worked and some didn't, but that is what practice sessions are for and you have to see if you can improve the balance before deciding on one direction. The car seemed to work well in both wet and dry conditions, which is very positive. Tomorrow is a new day but it all looks pretty close so it should be an interesting qualifying."
Pierre Gasly - FP1: 1:17.682, P4; FP2: 1:17.854, P1
"We have a strong car and the package seems to be working well in both the dry and the wet, but we can't take many conclusions from today with the mixed conditions. I was happy with the car in both sessions, even if we didn't do many laps, but it's too early to see where we stand. I don't know what's going to happen with the weather tomorrow but it could be really unpredictable like today with more tricky conditions. I think as expected Mercedes are really fast and we probably didn't see Ferrari's true pace so we'll find out tomorrow what we can fight for, but the battle with Ferrari will be pretty tight."
Ferrari
Leclerc wasn't afraid to push in the slippery conditions, and ran wide a few times as a result. He did keep his Ferrari pointing the right direction throughout though, but couldn't solve the riddle of the final sector, repeatedly losing time there when compared to his rivals. As for Vettel, he had a cleaner session, power sliding a few times in the rain but otherwise keeping a lower profile and getting on with his programme.
Sebastian Vettel - FP1: 1:17.399, P3; FP2: 1:19.254, P13
"The morning session wasn't bad. I'm sure we can improve quite a bit because I don't think we got all the potential out of the car on my quickest lap. In fact, more than going for a lap time, I was trying to get a good feeling from the car, which is why I think we can make progress. Having said that, we must wait until tomorrow to see where everyone stands and we know there is still work to do.
"There's not much to say about the afternoon, even if, in sessions like the second one there is always something to learn. For example we were able to do a few more laps on the intermediate tyres, after those we did in Hockenheim and that was useful for me.
"As for the aero updates, it's difficult to assess, but I can say they worked as we had expected."
Charles Leclerc - FP1: 1:18.188, P6; FP2: 1:18.852, P7
"It was quite a difficult day. We faced mixed weather conditions, the first session being relatively dry and the second rainy. Overall, from my side, we struggled with the car balance and are now working on finding a way to improve this for tomorrow. I think that I was in a better shape in the wet, so it will be interesting to see what the conditions will be like in qualifying. On the upside, we tested some new parts today which worked as expected. Hopefully, we can make a good step forward."
Renault
Renault looked there or there abouts in the midfield, although the full pecking order won't be known until tomorrow - assuming the track is dry. In the wet, both drivers looked like they enjoyed proceedings and kept their noses clean.
Nico Hulkenberg - FP1: 1:18.417, P7; FP2: 1:18.892, P8
"Overall, it's been a decent day for us. It was a little bit different to a normal Friday with the conditions and the rain throughout both sessions. We weren't able to learn the usual things we do during practice and everyone will be a little in the dark tomorrow and the rest of the weekend, which isn't necessarily a bad thing. I feel we can be in a good position, the car didn't feel too bad, especially in the afternoon on our soft run."
Daniel Ricciardo - FP1: 1:18.894, P11; FP2: 1:18.597, P5
"It was a pretty good day, even if the weather wasn't great. We had a positive afternoon with the few laps we managed to complete. We made some progress after a tough morning but there's a bit more to find tonight. I felt more confident in the car in the afternoon, so that's promising. We'll see what happens tomorrow, there is a chance of rain again so it could be interesting. It's the last one before summer too, so let's get it!"
Nick Chester, Chassis Technical Director
"With these kind of changeable conditions, you have to try to get everything in that you can before the rain hits. At the start of FP1 neither driver was satisfied with the set up, but we made some changes and they were much happier. In FP2 we really only got two short, dry runs but we confirmed we had gone in the right direction and we were able to make some further improvements. We did some running on intermediates as it could well rain again tomorrow right on the bell. End of session they again seemed pretty happy with the car on inters too."
Racing Point
Racing Point had to watch FP1 through their finger tips, after first Stroll then Perez managed to spin in Turn 7. Both churned up the grass and damaged the car, but fortunately kept clear of the barriers. Add in a lock-up for the Mexican and it was a session to forget. Come FP2, the drivers took things more carefully and managed a few exploratory laps on the inters.
Sergio Perez - FP1: 1:19.325, P15; FP2: 1:19.721, P15
"We did limited running today due to the wet weather. It's hard to learn a huge amount, but we did what we could. The difficulty is predicting where the track will be tomorrow, but I think we can be competitive whether it's wet or dry. I think if it's wet again it will open up more opportunities for us. There's definitely a lot of work to do tonight to go through the data and pick out the best bits."
Lance Stroll - FP1: 1:19.722, P18; FP2: 1:19.774, P16
"We did some good running this morning, but then the rain came this afternoon which limited our programme. It means we are missing quite a lot of information, but it's the same for everybody. It was good to get a few laps on the intermediate tyres under our belts in case the rain continues into the weekend. I was exploring the limits in FP1, but I ran a bit wide into six and got caught out in seven. It's hard to assess where we stand because the sessions were so disrupted. We are still fine-tuning the car and I think we can make some progress overnight to improve before qualifying."
Otmar Szafnauer, Team Principal & CEO
"We made the best of the relatively dry conditions this morning to continue learning about the car. We used some aero measurement devices and also applied flow vis around the rear of the car. When the rain came this afternoon, we fitted the intermediate tyres and did a few runs to learn what we could, but it's far from certain what the weather will do tomorrow or Sunday."
McLaren
Sainz returned to the pits late on in FP1 with a water pressure issue, missing some running as a result. Norris then was hampered at the start of second practice with a hydraulic leak. Bar the reliability issues, when on track Mclaren still look quick and will hope for a return to the dry conditions from a few races ago, when they were comfortably the fourth-best team.
Carlos Sainz - FP1: 1:18.702, P9; FP2: 1:19.398, P14
"A challenging Friday. We could say the most representative session was FP1 and we had to sit out half of it due to a water pressure issue on my engine. In FP2 the rain came and went, which allowed us to try the inter tyre, even though we don't expect wet sessions tomorrow or in the race. The runs with the medium tyre were unfortunately not very representative either. We'll work with what we've got and tomorrow we'll see where we are."
Lando Norris - FP1: 1:18.531, P8; FP2: 1:20.401, P18
"Not the best of Fridays. FP1 wasn't too bad but we had a hydraulic leak in FP2 which didn't really allow me to do any laps. I didn't really want to push when it was half-wet, half-dry. When it was raining we were on the slicks and I only got one lap in. Sometimes not getting much running is what happens. We'll look at the data from both cars overnight. The weather tomorrow again looks a bit uncertain. Let's see what happens."
Andrea Stella, Performance Director
"Several issues disrupted our Friday. In addition to the rain, we also had some reliability problems. On Carlos' side, in FP1, we had a water pressure issue that meant changing the power unit. It was a Friday PU, so it shouldn't affect his weekend or subsequent races. With Lando, in FP2, we had a small hydraulic leak which cut short his session.
"Despite this, we got as much information as possible from the day. Lando completed a good programme in FP1, including a long run which will allow us to assess tyre performance for the race on Sunday. Carlos gathered good data on the inter tyre in the afternoon. So, the information is there – we now need to analyse it overnight and get ready for what looks like will be another very tight qualifying session and race."
Haas
There was very little to separate the two Haas drivers in FP2, on a decent day for the team, with plenty learned and no incidents. Once again they look quick over one lap, but their race pace remains more of a mystery...
Romain Grosjean - FP1: 1:18.973, P12; FP2: 1:19.149, P11
"We struggled a little bit in the morning to get the balance of the car right, especially on the C4 soft tyres. We know the old spec car doesn't like the colder temperature, and today it just wasn't warm enough to get the tires to work – therefore the balance gets really unpredictable and not so nice to drive. We made some progress in the afternoon, though it was still quite cool early in the session, it wasn't ideal. Eventually the rain the came and we got a bit of a taste of the inters. We tried to find what the balance was like in case there's rain tomorrow."
Kevin Magnussen - FP1: 1:17.942, P5; FP2: 1:19.178, P12
"It wasn't too bad in FP1, it was fast, but we'll see. There's a high chance of different conditions tomorrow, either with temperatures or weather. We're keeping our feet on the ground because we've seen big changes before, where it's just been a small change in conditions, in temperature, and it can mean a lot. We did get some wet running on in the intermediates, it's good to feel the car on that tyre, in case it's wet tomorrow. It looked good, competitive, so overall it's not been a bad day, but we'll see tomorrow."
Guenther Steiner, Team Principal
"Two sessions dominated by the weather conditions. In FP2 we took the opportunity to stay out on the intermediates quite a bit to learn more about them, because we haven't had a lot of opportunities to test them this year – so that was good to learn. For everything else, it's very difficult to analyse what's happening. Hopefully tomorrow we'll have more stable weather."
Alfa Romeo
Giovinazzi had a moment in FP1, not turning sharply enough out of his garage and needing a push to make the corner. Bar that one red-faced moment, it was a good day for the Italian. Raikkonen looked as assured in the wet as he did last weekend, carrying on his momentum from Germany with aplomb. He should be quietly confident of making Q3 tomorrow.
Kimi Raikkonen - FP1: 1:18.787, P10; FP2: 1:18.682, P6
"That was not exactly we were hoping for. We got just two laps in the dry done in the afternoon, so this session was pretty useless. But at least it's the same for everyone."
Antonio Giovinazzi - FP1: 1:19.488, P16; FP2: 1:18.909, P9
"It hasn't been the most straightforward day, because of the weather conditions. I went out in FP1 but it started raining on my first run and I had to abort my lap. It was pretty much the same in the afternoon session: I managed only one run in the dry, but at least we were able to do some runs in the wet. In the end, it was a positive day to gather some data on wet weather, as it may rain tomorrow. Let's see what we can achieve: our car seems to be working well in both the dry and the wet so we'll just keep working hard to get a good result."
Toro Rosso
Albon had the biggest moment of the day, putting a wheel on the wet grass at the start of second practice and losing control. Heavy contact with the barriers destroyed his STR14 and landed the Thai driver with a trip to the medical centre, from which he was cleared pretty quickly. As for Kvyat, he still managed a good haul of laps.
Daniil Kvyat - FP1: 1:18.982, P13; FP2: 1:18.957, P10
"It was a tricky day today. I thought it best not to take extra margins in FP2 as it wasn't worth the risk, it was always drizzling and tricky out there with the wet kerbs. This doesn't mean it wasn't a useful session though, as every lap on track is worthwhile. The engineers will have quite a bit of data to look at tonight, so hopefully it will help us make progress tomorrow. Overall, we did a good job in understanding how the tyres and the setup works, what's comfortable and what isn't, just trying to get the car in a better window. Tomorrow we will try to put all of it together."
Alex Albon - FP1: 1:19.223, P14; FP2: No time set
"In FP1 I think we struggled a little bit with the car, but we knew where we needed to improve. Coming into FP2, we made a few changes and we could see straight away, on the couple of laps I did, that it was really positive. Unfortunately, I made a mistake at the last corner where I dipped a wheel onto the grass. Honestly, it was a silly error and just a misjudgement. It certainly wasn't ideal, but in some ways, it's better today than in FP3. Let's see where we will pick up from tomorrow."
Jonathan Eddolls, Chief Race Engineer
"The great result for the team and the pace of the car at the German GP presented an ideal opportunity to learn more about the performance of the STR14 in colder conditions. In Hungary, the typical hot track conditions and C4 compound do not present the best combination for our package, but the team put a lot of focus into the analysis between Germany and here, so we arrived with a comprehensive test matrix to carry out across the two cars on Friday. The main areas we investigated were tyre behaviour, aerodynamic and mechanical, and trying to optimise the package on a hot track.
"At the start of FP1, neither car had a great balance but, even so, we were able to complete our test plans across both cars, whilst improving the balance by the end of the session. We took all of the best options from the analysis of the data after FP1 and applied this to the cars for FP2. However, the weather conditions in FP2 were not ideal for a standard run plan. Given the expected drizzle throughout much of the session and the fact the track was dry at the start, we decided to bring the short run on option forward to the start of the session with a view of completing the long run as and when the track dried.
"The changes made to the cars were an improvement, and Alex was closing a very competitive lap when he unfortunately just touched the grass on the outside of Turn 14 and lost the car - the good news is that Alex is ok. Daniil completed his low fuel run and competitiveness was better, although there was still room to improve the balance. The weather is looking mixed for tomorrow, but we have a lot of data from today to analyse overnight and prepare the cars in the best way for the rest of the weekend. Given both sessions were declared wet, we will carry over an extra dry tyre to FP3, which is expected to be an action-packed session, trying to catch up on the dry running we missed today."
Toyoharu Tanabe, Honda F1 Technical Director
"FP1 was dry and FP2 was wet, which is actually quite useful as the forecast suggests it could rain for tomorrow's qualifying. Aston Martin Red Bull Racing's weekend got off to a solid start, while Scuderia Toro Rosso's package has more room for improvement and we will work on that overnight. Alex's crash was unfortunate, but at least he was unhurt."
Williams
Both drivers will have welcomed the opportunity to experience more wet-weather running, with Russell one of a handful of drivers to get his first proper go on the Pirelli wet tyres last weekend on race day. A good amount of time on the inters will have given both drivers more confidence and knowledge of what that compound is capable of, which will be helpful moving forward through the season.
Robert Kubica - FP1: 1:20.322, P19; FP2: 1:20.439, P19
"It was a tricky Friday. During FP1, track conditions were ok with light rain and we were able to complete our programme. We were unlucky with the weather in FP2, but that's just how it is, and it's the same for everyone. It is kind of a home race although we are not in Poland so there are many Polish fans. I hope for dry weather this weekend so that the fans can appreciated the full potential of a Formula One car. I wish for a good weekend, for them, and for us."
George Russell - FP1: 1:19.649, P17; FP2: 1:19.889, P17
"It was a pretty productive day and I feel quite pleased with today's running. We learned a lot even with the limited laps we did, especially in the rain, but also in the dry. We did a full 40 minutes of aero running in FP1 to correlate everything and make sure everything is working as expected. We didn't do many laps in FP2, but it was still a very intriguing session for us. Generally, the pace was relatively strong, and I think we've learned some good things so hopefully we can follow that through into tomorrow."
Dave Robson, Senior Race Engineer
"The conditions again have made for a challenging day, with rain influencing both sessions. This morning there was light drizzle although the track stayed largely dry, which enabled us to complete most of our original plan. This afternoon was more challenging, but we were able to get a few laps in on the dry tyres either side of the red flag. Once the rain was hard enough for some good consistent running on the intermediate tyres, we took the opportunity to use both cars to do some testing on this tyre. Both drivers got a good feel for driving intermediate tyres in the wet conditions and the slicks in damp conditions and so looking at the forecast for tomorrow, we are perhaps well prepared for FP3 and qualifying.
"Sunday looks like it will be dry but still reasonably cool and so it is likely that the consecutive laps that we completed at the end of FP1 will have given the drivers some useful experience of the race conditions. The regulations allow us to carry some additional tyres into Saturday and so we can complete a few more laps in FP3 than we normally would. If conditions allow!"
Pirelli
Mario Isola, Head of F1 and Car Racing
"Today it's difficult to draw too many detailed conclusions about the weekend ahead, especially when conditions have been so mixed. Except at the start of the session, in FP2 the conditions were a bit too wet for slicks but a bit too dry for intermediates: one reason why there was comparatively limited running. The drivers will have an extra set of Cinturato Green intermediate tyres for tomorrow, after the wet running today, and they were able to learn something about the intermediates later in FP2. Nonetheless, we also saw some quicker runs in the morning on slick tyres as well as longer race runs, acquiring data that should contribute to a more accurate picture tomorrow as we head into qualifying. The teams were additionally able to gather some ideas about crossover points from slicks to inters and vice versa. All three slick tyres were used at various points today, and the indications so far suggest that all three will also be useful race tyres, depending of course on the weather – which still holds a question mark for the rest of the weekend."