Feature
What the teams said - Friday in Russia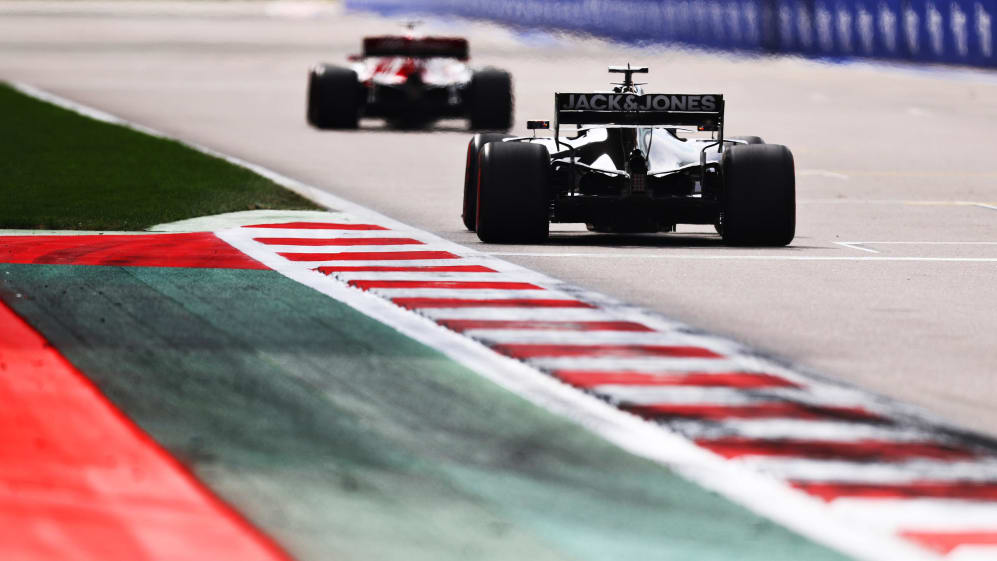 Ferrari
A mixed day for the Scuderia. On paper they appear quick, with Leclerc once again looking the better of the two. Especially given the Monegasque definitely left time out there today. Vettel couldn't get a clean flying lap in after first encountering traffic, then running wide so will hope to improve tomorrow. But with Red Bull also looking ominous and Mercedes yet to reveal their full hand, where will the Prancing Horse be come qualifying?
Sebastian Vettel - FP1: 1:35.005, P3; FP2: 1:34.201, P5
"My day was not perfect, as in the afternoon I struggled a bit to find the right balance and therefore I never got into a rhythm. I think we can do better tomorrow as we tried different things and now we need to decide what to keep and what to get rid of. think we need to work more on the car and then we'll see if we are competitive. It's too early to tell what the pecking order is and we will get a better idea of where we are tomorrow. I don't know what the weather is doing, but the closer we can be to the front the better it is. Anyway, we have the tyres for whatever the situation might be. To summarise I think we can improve, in particular in terms of balance. I hope tomorrow we are on the good side of things."
Charles Leclerc - FP1: 1:34.462, P1; FP2: 1:33.497, P2
"It was quite a good day. Although we have some work to do when it comes to our qualifying pace, our race pace was very positive. The track layout can be deceptive, as it has many similar corners. But it is tricky to set up the car, because the first and second sectors are quick and once you arrive in the third sector, the tyres are not in the best shape anymore. There is quite a difference in balance from the beginning to the end of the lap. You have to find a good compromise in the set-up, which will allow you to post the best lap time without sacrificing your race pace. We tested a bit in both directions today and I think we found our way. Our competitors are strong, and we have to keep working as hard as we possibly can to keep our momentum from the past few race weekends."
Red Bull
Both drivers went into today knowing they are carrying grid penalties for Sunday's race due to taking new power unit components. When they settled down to business, Verstappen looked fast and topped FP2 by a comfortable margin. Albon had a poor day by comparison, spending time in the garage thanks to a floor change, and then coming close to collecting Hamilton when the Thai driver was seemingly caught napping on the racing line.
Max Verstappen - FP1: 1:34.544, P2; FP2: 1:33.162, P1
"Today was very positive and the car worked really well on both tyres. We followed our own programme, tried quite a few things set-up wise and got a good balance, especially in the last sector but even the first sector with the long straight looked competitive. When you have a good feeling with the car it comes alive in the last sector which is really nice after the strange weekend we had in Singapore. It looks like it may rain tomorrow so that will also mix things up but hopefully the car will also work well in those conditions. We will of course try and do our best in qualifying as the five place grid penalty will be applied after the session, so it is still very important to be quick but at least you can overtake around here and if you are fast you can get to the front. It's only Friday and too early to make any predictions as everyone will improve but it is a very positive start."
Alex Albon - FP1: 1:35.484, P6; FP2: 1:35.216, P10
"FP1 went well this morning but this afternoon in FP2, I got a bit of floor damage after running wide out of Turn 4 which meant we lost some running which was a shame. That delayed things and then when we got back out it was a never-ending traffic jam with everyone on long runs so I didn't get any clean laps in. I tried to stay out of trouble as best I could and I heard Bottas was just behind me but I didn't know Lewis was right behind him and so it was my mistake to get in his way. It was just one of those things, but I wouldn't say it was a waste of a session as there's definitely things I learned out there. It's encouraging to see where Max is and to see the car is back to being competitive again. I think the car is quick and the pace is good. I just need to work on it my side and get a cleaner run tomorrow. I'm building confidence with the car and this takes time, but compared to Singapore, I think we're looking good."
Mercedes
Mercedes focused on longer runs on the hard and medium tyre earlier on, and thus didn't set fully representative lap times. The same can't be said for FP2, when both drivers had a good go on the soft compound. They appear slower than their rivals, but the suspicion is they were carrying more fuel. Either way, they know they are in for a fight if they want to continue that proud unbeaten record around Sochi.
Lewis Hamilton - FP1: 1:35.411, P5; FP2: 1:33.960, P4
"It's been a day of discovery and exploring. It started off not too bad and while we've been improving, the others made some big progressions and improved much faster than we did. Our pace was a little bit better in FP2, but still not where we want to be. We'll work very late tonight to understand what we can do better and make some changes to the car for tomorrow. It's good to see the competition doing so well, but naturally we want to be in a fight with them, so that's what we're working towards. It's going to be a tough day tomorrow, but I hope it's going to be raining. I don't think we've ever driven here in the rain, so that would make it pretty interesting."
Valtteri Bottas - FP1: 1:35.198, P4; FP2: 1:33.808, P3
"It's always good fun to drive on this track, but unfortunately the others were a bit too quick for us today. The balance of the car felt good, I was just struggling with the overall grip. Everything else seemed ok, but obviously we need to find some gains if we want to be in the fight for pole tomorrow. We will review the data tonight to see what we can do better. Tyres are key for a good performance on this track and we need to try and extract more from the Soft tyres on a single lap, but our performance on the Medium and Hard tyre looked relatively decent. I hope for rain tomorrow, I think we might have a better chance in a wet qualifying."
James Allison, Technical Director
"That was mostly a difficult day but with some bright moments in it that give us hope that we can do a good job tomorrow and on Sunday. We're quite clearly a little bit out of step with the other teams in terms of our first lap performance on a track where we've traditionally found it a bit difficult to get the front tyres to the temperature we need them. But we made some decent learning steps during the day and if we carry on in that direction, then things should look brighter tomorrow. We're also quite reassured by the fact that on high fuel and when the first lap is taken out of the picture, the car looks swift and looks like it will be a good racing car. There's definitely a load of work for us still to do, but hopefully we can get that done well and put the frustrations of today behind us and retain the good bits that we saw."
Renault
Hulkenberg had a solid day, looked quick in both sessions and will be pleased with his showing. As for Ricciardo, he managed to blot his copybook late on in FP1 by spinning and colliding with the barriers. That cost him his rear wing, and a chunk of time in second practice as the team worked hard to rebuild his R.S.19. The Aussie owes his mechanics a few beers tonight.
Nico Hulkenberg - FP1: 1:35.740, P7; FP2: 1:35.026, P8
"Friday was okay for us today. I like the track, it's got a nice flow to it and it was good to be back driving here. Generally, it wasn't a bad day. The car seemed in a reasonable place from the get go and I felt confident in the car straight away. I wasn't as happy in the afternoon, we changed a couple of things on set-up, which we'll review and look to improve. But, overall, it wasn't bad and I'm feeling positive."
Daniel Ricciardo - FP1: 1:36.287, P8; FP2: 1:35.370, P14
"It started pretty well today, but having the incident at the end of FP1 meant we lost a little bit of time in the afternoon. The mechanics did a really good job to fix the car so quickly. We have work to do but we're not in a bad place with just a few things to clean up. I think I can improve in some areas so there's more to come. The rears have a hard time here and we're figuring out the right balance. I'm not too concerned, Nico had decent pace and I think we'll be alright tomorrow."
Alan Permane, Sporting Director
"It was a fairly standard Friday and, with the exception of Daniel's little excursion this morning, everything ran to plan. We've got a bit of work to do on the balance - we were happy with the car in the morning and made a few changes; some worked and some didn't. We have some work to do overnight to assess what we can do to improve it for tomorrow. Overall, we're generally happy with things."
Toro Rosso
A mixed bag for the Toro Rosso drivers, who came close to colliding at one point. Gasly had a steady day and wound up best of the rest in FP2 which should give the team some confidence heading into qualifying. But Kvyat struggled with reliability, sitting out much of first practice after pulling over with a fuel system issue. He further complained of anti-stall problems in a day to forget at his home race. Both drivers are carrying grid penalties too, so might go for some differing tactics to the rest come qualifying.
Daniil Kvyat - FP1: 1:38.550, P19; FP2: 1:35.337, P12
"It wasn't an ideal start to the day in FP1, so in FP2 we had to catch up with the mileage we lost and try a few things we couldn't try in FP1. I needed to get reacquainted with the track and find my references again, which I did, and we ended up having a productive session in FP2. We covered everything we planned to do, so we are prepared for tomorrow. In the end, we completed a decent number of laps for our long run analysis and hopefully we have enough data to understand what we need for the race. There are always chances, so we'll do our best to take them. We knew our weekend was going to be compromised already with the penalty we are taking. However, we will do our job and see how far we can get up the grid on Sunday."
Pierre Gasly - FP1: 1:36.538, P12; FP2: 1:34.971, P6
"It was a really good Friday. I'm happy with the progress we made between FP1 and FP2 as it seems to have gone in the right direction. We finished the day with the sixth-fastest time, which is always positive, but I think looking at our situation with the penalty on Sunday, we really need to make sure we have a strong race car and prioritize our car for Sunday compared to Saturday. There's a lot to analyse tonight, but it was a positive day overall."
Jonathan Eddolls, Chief Race Engineer
"I think it's fair to say we are generally happy following the end of FP2, although we didn't make it easy for ourselves today. We are introducing fresh PUs on both cars, which means a five-place grid penalty for Pierre and a back of the grid start for Dany. Unfortunately, we had a fuel system issue on Dany's car after the first lap in FP1, which put him on the back foot in his home race.
"On the other side of the garage, we got some good mileage from Pierre's car in FP1. The C4 compound has been brought to this track and we were expecting to exhibit some of the handling characteristics we know are a limitation on this car, so we came here with a big plan of mechanical and aerodynamic test items. Given Dany wasn't able to run, all of that work shifted to Pierre's programme, so that session was more about data gathering and trying to build up an understanding of how these items were behaving.
"Then, we put a lot of analysis in from FP1 to FP2 to try and take the best of everything and apply that to the two cars for FP2 onward. I think it's shown the changes appear to be working because the competitiveness is looking reasonable, which is good, and the lower track temperatures also helped, as that seems to suit our package. The shorter run performance looked decent, and this is quite important for Pierre, as with the 5-position penalty it's still important for him to do the best for Qualifying tomorrow.
"For Dany, it's a different situation and our focus was primarily on the long runs, which looked quite positive too. We need to see what the wear figures are like to make sure the pace is fair, but I think the car balance was good and we're quite happy with how we ended the day."
Toyoharu Tanabe, Honda F1 Technical Director
"All four of our cars are fitted with new Spec 4 ICE this weekend, as part of our PU management plan for the rest of the season. Kvyat also has other new components that make up the PU, which means he will start from the back of the grid, while the other three drivers take a 5 place grid drop. In FP1 with Kvyat there were issues on the car, which cost us some track time, so it was not the smoothest of days. However there were no problems on the PU front. Although it is only Friday, Gasly's sixth place in the close mid-field is encouraging."
McLaren
Tricky to judge how McLaren's day went. Both drivers kept their noses clean and managed full programmes. Sainz was the pick in FP1, finishing on the fringes of the top 10 before Norris did likewise in FP2. You'd imagine they'll be able to turn the wick up tomorrow in their bid to finish at the front of the midfield.
Carlos Sainz - FP1: 1:36.523, P11; FP2: 1:35.635, P17
"Challenging Friday during both sessions today. We attempted to try different set-ups which didn't work and traffic ruined our best attempts. We aren't where we want and we have work ahead of us this evening.
"However, we're ready for the challenge, even if the weekend looks difficult today. Conditions will be different tomorrow with a high possibility of rain – so let's see what we can do."
Lando Norris - FP1: 1:36.844, P16; FP2: 1:35.223, P11
"Not a bad day. I'm struggling with the car, as it's a little unpredictable at times, making it easy to make mistakes. I'm not yet as comfortable with the car compared to Singapore, for example.
"We definitely made progress between the sessions and we'll now work hard overnight to make more improvements."
Andrea Stella, Performance Director
"We had a busy couple of sessions today. We undertook some aerodynamic tests and also an evaluation of the package we took to Singapore last week – Marina Bay not being particularly suitable for testing. In addition, we had to evaluate the tyres we have this weekend, attempting to understand which is the right compound for the race.
"We got through the programme well with no problems or delays, and our running generated a lot of useful data. On the downside, the car doesn't appear to have the pace it did in Singapore. We have some work to do to improve and fight for good points on Sunday. There is rain around tomorrow and we'll have to take our opportunities as they present themselves, but the information gathered today will be useful for what should be a dry race."
Haas
Grosjean struggled slightly on track, locking up and running wide on more than one occasion. Nonetheless, with Haas finally gathering a better understanding of their aero problems, the Frenchman did at least look fast when he managed a clean lap. Magnussen likewise was there or thereabouts, before being called back to the pits late on in FP2 with technical issues.
Romain Grosjean - FP1: 1:36.516, P10; FP2: 1:35.593, P16
"It was actually pretty good today. I was P10 in FP1, then in FP2 I didn't get a lap in on the soft tyres – I had a few issues, I pushed the rear of the ride height as low as I could but that created some locking. I think though it was a pretty good day. The long run pace didn't look too bad and the car felt okay. We did a bit of aero testing today also, changing the front-wing and stuff like that. We're working on a few things we can do for tomorrow, but we're quite happily surprised."
Kevin Magnussen - FP1: 1:36.596, P13; FP2: 1:35.351, P13
"Not too bad, not too good. I think we're kind of where we expected, I guess. We looked okay on the long run, at least on the first stint, we didn't really do too much on the second stint. We extended the first run to try and learn more about the soft tyre. It looks okay, but it could be better. We need to keep learning all these upgrades and analyse all our data, but I'm hoping we can get to where we can just concentrate from a performance point of view."
Guenther Steiner, Team Principal
"It was a productive Friday for us today. There were no issues, we got a lot of running in, a lot of data in, and a lot of learning. The pace seems to be a little bit better than it's been in the last races. Let's see what we can do tomorrow, but it looks a little better than previous Fridays."
Racing Point
Racing Point's upward trajectory continued. Ever since they introduced some big upgrades just before the summer break, the men in pink have been closer to the front of the midfield than the back. Perez was the pick today, finishing in the top 10 in both sessions. After a couple of weekends marred by crashes and reliability woes, can the Mexican atone here and pick up a much needed Q3 appearance?
Sergio Perez - FP1: 1:36.321, P9; FP2: 1:34.998, P7
"A promising day. I think it's been our best Friday of the season in terms of understanding and progress. We did a lot of aero work and I'm very pleased with the day. I'm massively looking forward to tomorrow and Sunday. The conditions could change at any time so we have to be ready to react to the weather, try to find a couple of tenths and we should be fighting for a strong position."
Lance Stroll - FP1: 1:36.714, P14; FP2: 1:35.176, P9
"I'm happy with today and the car is feeling good. There are still some things to work on in terms of the balance, but we seem quite competitive at the moment. Anything can happen tomorrow and there may be a bit of rain in the mix too. Singapore was the first race with the new package and sometimes it takes more than a weekend to find a good balance. We still have to work on a few things but we're not in bad shape."
Otmar Szafnauer, Team Principal & CEO
"Overall it has been a productive day that's given us plenty of information to analyse this evening. The track evolved quite significantly throughout the first session, during which we were carrying out a substantial aero test programme. It was a good opportunity to continue evaluating the car parts that were introduced in Singapore. That all went quite smoothly and the drivers felt happy with the baseline car set-up. The focus now is to work on the low-fuel qualifying performance, but the weather forecast tomorrow is far from certain with a high chance of rain, which would present a very different challenge."
Alfa Romeo
Giovinazzi went for a spin in first practice as he struggled for grip, the Italian having a quieter time of it in second practice after his heroics in Singapore. Raikkonen couldn't extract much pace from his Alfa today, but with the team often focusing on longer race simulation runs on Fridays, all is not lost ahead of tomorrow.
Kimi Raikkonen - FP1: 1:36.770, P15; FP2: 1:35.374, P15
"It was a fairly regular Friday and the car felt pretty ok. Laptimes don't really matter today, we'll go through all the usual meetings and analysis tonight and see what we can do tomorrow. There's a threat of rain for qualifying but it didn't influence the work we did today. We'll just see what we get in the car and adapt to it."
Antonio Giovinazzi - FP1: 1:37.328, P17; FP2: 1:36.004, P18
"It was a fairly regular Friday and the car felt pretty ok. Laptimes don't really matter today, we'll go through all the usual meetings and analysis tonight and see what we can do tomorrow. There's a threat of rain for qualifying but it didn't influence the work we did today. We'll just see what we get in the car and adapt to it."
Williams
Kubica spun in first practice, another to fall prey to the slightly green track. Combined with Russell's struggles to maximise the set up, it was a below-par day for Williams who might not have too much company towards the back of the field.
Robert Kubica - FP1: 1:38.670, P20; FP2: 1:37.838, P20
"Sochi is a new track for me, so it is always nice to experience new challenges with different layouts. However, today was one of hardest days behind the wheel, in terms of the balance and overall grip. This is the kind of track that you must carry a lot of speed and the corners are short. You need good stability on entry and confidence in the car, which we do not have yet. We must check the data and hopefully we can improve for tomorrow."
George Russell - FP1: 1:38.520, P18; FP2: 1:36.785, P19
"It was a bit slippery out there, but I think it's like that for everyone. I'm not the greatest fan of this circuit. It's low grip and with all the run off areas it's not quite as daunting as some other circuits, but it was ok and as we expected. We weren't quite as good on the new tyres as we should have been. We did our fastest lap on our third lap, rather than the first one, so there is room for improvement. We're quite slow on the straights and this track has a mighty one to start with, so that's not helping us at all. Our performance today wasn't as good as it could have been, and we should be closer than the laptimes suggest."
Dave Robson, Senior Race Engineer
"The Sochi track is always a tough challenge and getting the most out of the tyres here can be especially tricky. Overall our day was quite quiet as we worked methodically through our programme. Both drivers looked at some test items in FP1 before settling on our preferred specification for FP2. We were keen to complete a thorough programme in FP2 on both low and high fuel as the weather for tomorrow looks poor and so today could be our last chance to finalise the race preparation for Sunday, when the weather looks better. We have a little more to do to understand how to maximise the tyre for a single lap in qualifying, but this is something that we can work on tonight.
"George had a good day and made good progress throughout the sessions and was able to build on his previous experience of driving here in F2. Robert had a more difficult day with his first experience of driving in Sochi beset by a feeling of inconsistent grip and balance. We will look through the data and understand what the cause of this was and we will change any suspect components ahead of running tomorrow."
Pirelli
Mario Isola, Head of F1 and Car Racing
"The fact that we've seen quicker lap times than last year despite nominating tyres that are a step harder shows that this was the correct selection for Sochi, in what is very likely to be a one-stop race. Having three different teams in the top three FP2 times, with Ferrari going quickest in the morning and Red Bull fastest in the afternoon, underlines how closely matched the teams are in terms of pace. However, the weekend's action is set to be heavily influenced by the weather, with rain expected tonight that could persist until tomorrow, before a dry race on Sunday. This meant that the teams focussed on collecting as much data as possible today, running all three compounds at length. Each one of them could play an important part in the race, depending on the strategy chosen."