Feature
What the teams said - Friday practice in China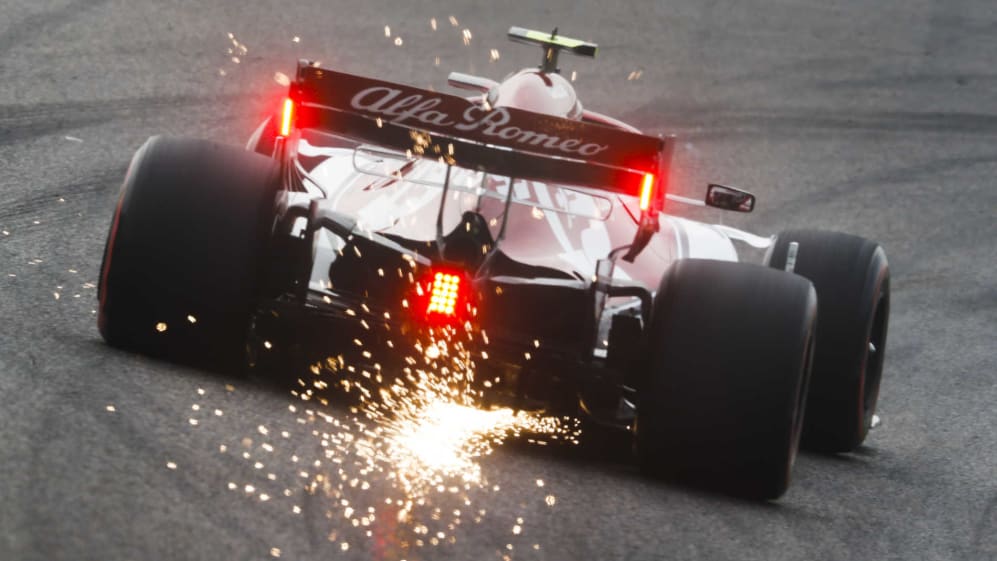 The drivers and teams report back on all the action from Friday practice at the Formula 1 Heineken Chinese Grand Prix 2019...
Ferrari
Advantage Ferrari. They might have been pipped in FP2 by a narrow margin, but such was their performance they still look the team to beat here this weekend. One cloud on the horizon was on Leclerc's side of the garage, the youngster having to cut short his second practice session after issues with the cooling system were detected. Nonetheless, you would expect the Scuderia to be battling on two fronts for pole tomorrow.
Sebastian Vettel - FP1: 1:33.911, P1; FP2: 1:33.357, P2
"Overall it was a positive day. We still have to do some homework, the picture is a bit similar to Bahrain, where we were competitive. There are some parts of the track where we are very strong and others where we still have to improve. I expect it to be very close tomorrow and also on Sunday, so it will be key to keep working to improve the feeling with the car."
Charles Leclerc - FP1: 1:34.167, P3; FP2: 1:34.158, P7
"I got a good feeling from the SF90 today. There is still a bit of work to do in terms of the balance, but overall I'm pleased with the work we did. It's a shame I wasn't able to do a long run test, because it would have been useful for the race, but I'm not worried about that. We have all the information we need to do well and now, it's just a case of putting everything together for qualifying, especially as I expect it to be very close between us and our competitors."
Mercedes
After being off the pace of Ferrari in first practice despite being on the quicker tyre, they will have been encouraged to have Bottas in P1 in the afternoon session. It wasn't completely plain sailing for the Silver Arrows on Friday though, with both their drivers having a spin on their out-laps within moments of each other in FP2. Ferrari remain favourites – but don't discount Hamilton on a track where he excels more often than not.
Lewis Hamilton - FP1: 1:34.118, P2; FP2: 1:34.037, P4
"It was a relatively straightforward day, we got through our programme ok. It was quite cold out there, which makes it difficult for the tyres. I was struggling with the car today, so we've got work to do, particularly on my side as Valtteri looked much more comfortable in the car. We're going to work hard tonight to find some tweaks and hopefully come back stronger tomorrow; the car has the pace in it to compete at the front, we just need to find the right set-up. It is nice to see how close it is between us, Red Bull and Ferrari. As we expected, the Ferraris still look quicker on the straights, but overall it's very close between the top cars and I anticipate that it is going to be the same tomorrow."
Valtteri Bottas - FP1: 1:334.653, P5; FP2: 1:33.330, P1
"The day ended up ok, we made it to the top of the time sheets, but it is always very difficult to find a good balance through an entire lap on this track. We got there step by step and the car was feeling ok in the end, but it's only Friday and it's the next two days that count. Ferrari still seem to be quicker than us on the straights, whereas we were better in most corners in FP2. We still have room for improvement, but we know the others are going to work hard on their cars as well, so we're going to have to wait and see how much we can improve in relation to them. The wind is forecasted to change direction over the next two days which can make things really tricky as we saw in Bahrain two weeks ago, so that's going to make things interesting."
Andrew Shovlin, Trackside Engineering Director
"We've had a fairly straightforward day as far as the programme was concerned. The first session was quite busy as we were looking at various set-up items but we covered everything we wanted to. It's always a difficult circuit to balance as the long corners and the sequences cause overheating on one axle or the other so you are often left trying to tackle a number of different issues around the lap. Valtteri has been fairly happy with the car all day, just trying to put a bit more front end into it over the sessions. Lewis hasn't found the car as easy to work with and we need to do some investigation overnight to understand why. Ferrari and Red Bull are all doing decent times on long runs and short runs so it looks like it will be tight but we have some scope to improve things overnight."
Red Bull
A mixed bag once again down at Red Bull. Verstappen looked quick, if occasionally on the ragged edge, but complained about issues late on in the day. Red Bull could have a night of it identifying and repairing that RB15 ahead of tomorrow. Gasly completed a full programme but still seems to be lagging behind his team mate for pace.
Max Verstappen - FP1: 1:34.334, P4; FP2: 1:33.551, P3
"Today has been pretty good. We have a good balance in the car and not too many issues, so I'm pretty happy. Of course there was a question mark coming here after Bahrain but we were all quite confident that if we could solve the issue we would be a lot closer, which I think we have shown today. The long runs were alright but it is all about managing your tyres over a race distance here, but that's the same for everyone. Overall, I'm happy with the pace so far and tonight we just need to fine tune the set-up. I think pole position will be tough tomorrow and it's too early to say exactly where we are but we're a lot closer, so hopefully in the race we can mix it up."
Pierre Gasly - FP1: 1:35.428, P7; FP2: 1:34.455, P10
"I always want more, but I'm quite happy with the programme today. I think we have a good direction and Max showed that the car has good potential. We tested a lot of things between FP1 and FP2, we were pushing the development as much as we could, so now we need to analyse every part we used today. In FP2 I had quite a big moment in the third sector on the fastest lap and lost a bit of time, so it's actually not really representative for the potential of the car. I think we need to focus on tomorrow now and improve my set-up. Also the degradation of the tyres is always difficult here, as the track layout is really tough for the fronts, especially the front left tyre. It is important to find a compromise between qualifying and the race here, but the Team has the experience and the knowledge so I'm sure we'll find the right direction for tomorrow."
Renault
Hulkenberg looked quick once more, as he did in Bahrain. Can he actually take the fight straight to the Red Bulls this week? Ricciardo had a solid if unspectacular day, but looks to be top 10 material come qualifying. Whether Renault can minimise those costly little issues that have hampered them in the first two qualifying sessions of the year remains to be seen.
Nico Hulkenberg - FP1: 1:35.591, P12; FP2: 1:34.096, P5
"We can be pleased with our day. It was smooth running for us across both sessions with no issues and we completed our programme as we expected. I felt positive and comfortable in the car today and I think that reflects in our lap times across both short and long runs. We still have a few areas to work on and some details to assess, but I feel today is a solid baseline to work off heading into Saturday."
Daniel Ricciardo - FP1: 1:35.239, P6; FP2: 1:34.336, P9
"It wasn't a bad day for us, if a little bit mixed. We got out the gates well this morning and it seemed quite positive in the car. This afternoon we tried a few things with balance. I felt we were closer to what we wanted in the morning, so we have a few things to work on and figure out ahead of tomorrow. Our short run pace looks like it belongs inside the top ten, so tomorrow will be about piecing everything together and extracting some good one-lap pace."
Nick Chester, Chassis Technical Director
"We ran through our programme as planned today and it was a pretty good Friday overall. We went through a couple of aero tests and added some mechanical parts and we have some good data to work with tomorrow. We have some information to build off and it seems the new parts we evaluated worked as expected. Performance looks reasonable and we'll see what happens tomorrow when we get to qualifying, but it's been a good start."
McLaren
McLaren have been a revelation so far this season, especially on one-lap pace, moving right to the front of the midfield. So it proved yet again in China, with Sainz and Norris coming alive on the qualifying simulation runs. You wouldn't bet against both cars making Q3 – but can they maintain that advantage on the longer runs?
Carlos Sainz - FP1: 1:35.756, P16; FP2: 1:34.141, P6
"We had an encouraging FP2 after facing some issues in FP1. I think we reacted well as a team and put together a better baseline in the afternoon. The field looks as close as it was at the first two races, or even closer, which means you can't take anything for granted. It would be a huge mistake not to analyse every detail just because we had a decent Friday. I want more from the car and we need to make sure we don't fall back down the order if anyone improves tomorrow.
"The car's still not perfect – we still have a few things to improve – but hopefully we can put it together for tomorrow and have another positive Saturday."
Lando Norris - FP1: 1:35.631, P13; FP2: 1:34.296, P8
"It was my first time driving on this circuit and I think I got up to speed reasonably quickly, which was good because that meant we could start focussing on the car and the set-up much earlier than we could in Australia. That's a very positive thing for our whole weekend.
"We made further progress in FP2 but there's still a lot of work to do. The car's not exactly where we want it yet but we made some improvements, so we just need to make sure we keep going in that direction. Overall, not a bad first day."
Gil De Ferran, Sporting Director
"It was quite a smooth day for us today. We were able to complete the whole plan doing both short and long runs, without any unexpected issues. Now we'll start the usual long night of analysing all the data collected.
"Clearly the competitiveness of the field we observed in the first two races seems to have continued here in China. We fully expect a very tight qualifying session, so good decisions overnight and flawless execution tomorrow will make a significant difference to where we qualify."
Haas
Haas focussed on set up rather than pace, but had one or two interesting moments. Grosjean's front wing failed heading over the bumps leading into Turn 1, causing a big lock up and a hasty retreat back to the pits for diagnosis. Magnussen didn't fare much better when a piece of bodywork flew off his car in FP1...
Romain Grosjean - FP1: 1:35.507, P10; FP2: 1:35.704, P17
"It hasn't been an easy day, just an okay day. It wasn't so easy in the afternoon with the issue on the front-wing on the low fuel run. We didn't really get much information there. I think we made some progress for the long run after that, and I was happier with the car. There's still some work we need to do, especially in race configuration. I'm not too worried about qualifying, but we saw in Bahrain we struggled with race pace. We've got good ideas of what to do, but we haven't yet found the magic key to the VF-19."
Kevin Magnussen - FP1: 1:35.517, P11; FP2: 1:34.788, P16
"Today it's been somewhat cold, I think we've been struggling a little but for tire temperatures. There's definitely some work to do for tomorrow. We're looking over everything – it's still a normal weekend, we're not panicking. We'll see if we can find something for Saturday and get a bit more performance out of those tyres. Hopefully we'll be better tomorrow."
Guenther Steiner, Team Principal
"We did a lot of data gathering today – still trying to further our understanding of the issues we had in Bahrain. We got a little bit ahead, but there's still a lot of work before us. We'll continue on overnight, and into FP3 tomorrow, in order to get the most from our package for qualifying and the race."
Toro Rosso
Kvyat missed some running in the afternoon as Toro Rosso opted to change his PU as a precaution between sessions. Once back in action the Russian had a solid day. Albon managed plenty of laps, running wide on occasion before his session ended in smokey fashion, with a set of over-heating brakes near the weighbridge. The Ferrari mechanics came to his aid with fans before Toro Rosso managed to sprint up the pit lane and prevent further damage.
Daniil Kvyat - FP1: 1:35.447, P8; FP2: 1:34.694, P13
"FP1 was very productive, we completed all of the laps we had planned and we were happy with our competitiveness. In FP2, we lost quite a bit of time due to the precautionary PU change, so we were put on the back foot once I was able to get going. Everyone was on their high fuel runs so I spent most of my time in traffic. Despite all of this, we are pretty happy where we are, we just need to keep digging for tomorrow."
Alex Albon - FP1: 1:35.695, P14; FP2: 1:34.634, P12
"Today was a pretty good day for us. I spent the first session exploring and getting an idea of the circuit – it's a technical track and there's a lot of different lines you can take but I got to grips quite quickly with it. The more time I get in the car, the more I'm comfortable learning a new track so I feel a bit more confident with the car straight away. Between the two sessions, I put to practice what I learned from FP1 to FP2, but there's still a few things I want to try in FP3. I was happy with how the day went, it looks like our long run pace is quite competitive, although there's definitely a bit of time left in the car."
Jonathan Eddolls, Chief Race Engineer
"Overall, it's been a fairly busy day. In FP1, each driver had two prime tyres and the focus was to take what we learned at the Bahrain test and put that into practice, so we ran some setup work on the same tyre type across multiple runs. We also spent time tuning mechanical setup items and aero platform work which gave us some interesting results. The track started very slippery which meant extremely high track improvement. Tyre graining is always a potential issue at this circuit, particularly on the front left, so we did a long run at the end of FP1 to assess how the tyres would hold up. Even with the track temperatures on the colder side, the tyres performed better than expected. On the last lap of Dany's run in FP1, Honda noticed an anomaly on the PU side, so we elected to cut his run slightly short and decided to change the PU as a precaution. The mechanics did a very good job to get the car turned around and running again halfway through FP2, although, this meant we had to compress Dany's programme. Traffic becomes a problem when you do a low fuel run while the rest of the field is on a race simulation during FP2, however, the team did a good job to find a reasonable window so Dany could get a couple of clean laps in. He was able to improve and put in a competitive time, which we were happy with as it was only his second lap of the session. Alex completed a more conventional FP2, having two short runs on the base followed by option tyres before moving onto the long run. We made some setup changes from FP1 to FP2 based on the data from the first session and it was good to see those changes pay off given how tight the midfield is."
Toyoharu Tanabe, Honda F1 Technical Director
"A tricky first day in China, as we spotted an irregularity on the data from Daniil's car and decided to change the PU before FP2. Inevitably, this meant Daniil was unable to go out at the start of the session, but well done to the team for getting him back on track for the final 45 minutes. We will now send the original PU back to HRD-Sakura for further investigation and also we will analyse the data here at the track. This is Alex's first time at the Shanghai circuit and he had a trouble-free day. Once again, here in China, the times are incredibly close in the mid-field, so tomorrow's qualifying will be very important."
Racing Point
Both pink cars earned the wrath of their fellow competitors by dawdling on the racing line, but as it is practice, have free rein and thus can't be sanctioned. That aside, it was a solid day for the team despite Stroll managing a reasonable spectacular spin on cold tyres in Fp1.
Sergio Perez – FP1: 1:35.820, P17; FP2: 1:34.784, P15
"We showed some good pace early on this morning, but after some of the changes we made we seemed to be missing something. Fortunately we have lots of information and data to pick through tonight so that we can try and understand the direction we need to take for tomorrow. The goal is still to make Q3, but we need to find something tonight to be in better shape for qualifying."
Lance Stroll - FP1: 1:35.466, P9; FP2: 1:34.779, P14
"We completed a good amount of running today, collecting all the usual Friday data. I had a lot of traffic around me through both sessions on the short and long runs. It's frustrating when that happens but I think everyone was dealing with traffic out there. It's always very busy here going into the last corner and finding a gap is not easy. It's competitive in the midfield, but I think we're in the mix. There are quite a few positions covered by a few tenths but it's not until Saturday that we'll see everyone's true colours. I'd like to think we can be fighting for a place in the top 10, but we need to get everything just right tomorrow."
Andrew Green, Technical Director
"We took a slightly different approach to the Friday sessions here in China, with our focus being on set-up and balance rather than the aero testing we carried out in Australia and Bahrain. On the whole, everything went according to plan and we completed all the test items on the job list. We ran all the different tyre compounds and this afternoon we explored tyre performance and degradation. We will evaluate that data tonight to determine our strategy for the rest of the weekend. Track conditions were good, although it looks like the wind will pick up tomorrow and bring more challenging conditions, so we need to keep that in mind in terms of the set-up. Overall, though, it has been a routine day of work giving us the data we need going into the weekend."
Williams
A full programme for both drivers, with finally some signs of encouragement for Kubica. After being outpaced by his team mate for most of the first two race weekends, the Pole got the better of Russell in both sessions. Can Kubica restore some pride and out-qualify Russell for the first time tomorrow?
Robert Kubica – FP1: 1.36.847, P18; FP2: 1:36.121, P19
"It was a usual Friday. We were trying to understand some of the different characteristics of the Shanghai circuit and how our car copes. Generally, the car feels a bit different to the last two weekends so that is a good sign. Now we have to look at the data and see what to do but the balance is quite different to the previous two events. The characteristics of the car have changed, and it feels like it is responding differently."
George Russell - FP1: 1:37.619, P19; FP2: 1:36.229, P20
"It was my first time out in China, so it took a bit of getting used to the circuit. It was a fairly normal Friday; the long run pace seems better than the qualifying pace for me. I am struggling with the single lap, but it's my first day and I'm looking forward to tomorrow. We seem closer as a team to everybody else than the previous two races, so we are heading in the right direction. We have to make the most of it, keep pushing, understanding the car, and see what we can do tomorrow."
Dave Robson, Senior Race Engineer
"The weather has been kind in Shanghai today with low cloud cover and gentle wind. This allowed us to complete some good quality testing in FP1, both continuing the work we started with Nicholas in Bahrain, and also looking at some components that were new for this event. Although there is more analysis to complete this evening, early indications are that the new components are working well, and we will likely adopt at least some of them for the rest of this weekend. During FP2 we were able to turn our attention to tyre preparation in readiness for qualifying as both drivers got their first look at the qualifying tyre. Both were reasonably happy with their runs, which gives us a good baseline on which to build during FP3. Long runs were decent with the car again proving reliable, allowing us to gain some valuable information on how to manage the tyres over the course of a race distance on the Shanghai International Circuit."
Pirelli
Mario Isola, Head of F1 and Car Racing
"The first day of action here in China has been a great beginning to the celebrations for 1000 races. Tyre performance was positive, considering that these are broadly the same nominations as we made last year, but a combination of warmer weather and this year's new compounds meant that we saw nearly no graining. The gap between the medium and the soft is a little bit higher than we expected, and the compounds are well spaced out in terms of performance, which should provide potential for a number of interesting strategies. There's some degradation on the soft tyre, but this too is exactly what we expect and want with the softest tyre available here."