Feature
What the teams said - practice in Melbourne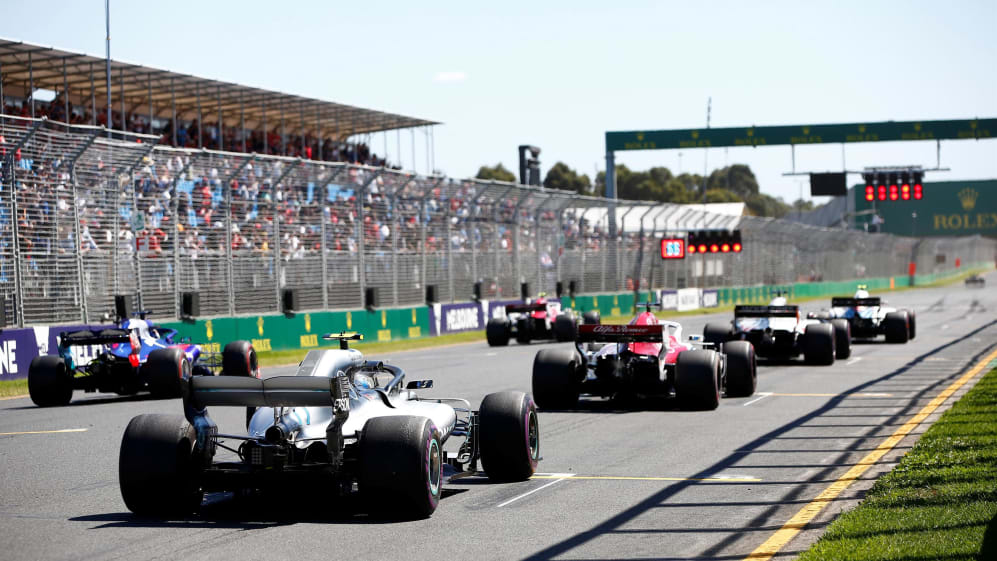 A round-up of the opening day's action from the Formula 1 2018 Rolex Australian Grand Prix at Albert Park...
Mercedes
Hamilton looked like he had never been away, topping both practice sessions with ease. Bottas was not too far behind, giving Mercedes a real prospect of a third front row lock out in four years come qualifying. The Finn did have several off-track excursions, though, to take the gloss off of a good day for the Silver Arrows.
Lewis Hamilton - FP1: 1:24.026, P1; FP2: 1:23.931, P1
"Coming to the first race, you really have no idea what it's going to be like. You don't how you're going to feel physically, you don't know how the tyres are going to react to the circuit. But we started on the right foot today, we got through everything we needed. It closed up a little bit in FP2 in terms of the gap between us all, but that's exciting. It's more challenging for me to try and eke out a little more from the car. It's been such a nice day, Albert Park is a really beautiful place to be and work when the weather is like this. The tyres definitely didn't seem to have the same issue that we had in Barcelona where they were blistering, so it felt a lot more normal. Obviously the car is quicker here than it was last year, so it feels better everywhere. Turns 11 and 12 are crazy, we're not even braking into that corner, it's insane. It's going to rain tomorrow and on Sunday as far as I'm aware. I've not driven in the rain yet on these tyres, so that'll be interesting."
Valtteri Bottas - FP1: 1:24.577, P2; FP2: 1:24.159, P3
"FP1 was tricky for me, we had a bit of an issue with the suspension and also with the fuel system, so it was difficult to get a good comparison. I don't think these issues are something to worry about, just something we discovered in the session. In second practice the car felt a lot better but there's still more to unlock. I have to say thank you to the team because we are looking strong at this point, so I think it's a good start. It's good to be back on track and go racing. It's looking really close between us, Ferrari and Red Bull but that was more or less expected. Let's see what tomorrow brings. We got some information for the long runs if it's a dry race, we got some tyre data and we can see that a lot of things are behaving differently to testing in Barcelona because it's much warmer and it's a different tarmac. We've definitely learned a lot and we'll keep on learning."
James Allison, Technical Director
"It was a good day. We had a programme of finding out how the tyres behaved and we've been able to work through that without any drama. It's brilliant as always after the winter testing to actually be racing again and to be finding out for real where our car stands. If we were in any doubt before, we're in no doubt now that it's going to be a tight weekend with both Ferrari and Red Bull. But we're looking forward to the fight tomorrow and again on Sunday."
Ferrari
Ferrari chose to keep their powder dry in FP1 and not run the ultrasoft tyre. They did run the supposed fastest rubber in FP2, with Raikkonen getting the better of his team mate but lagging slightly behind Mercedes. It will be interesting to see if they have kept anything in hand for qualifying...
Sebastian Vettel - FP1: 1:24.995, P5; FP2: 1:24.451, P5
"It's been a rather dull day of work, like every Friday. We tried to chase the balance because I didn't feel completely comfortable at first, but I'm not worried about that because I know that if we do everything right, the car should be in better shape. It looks like we are close, which is good news, so we should be able to do something tomorrow. This track is particularly tricky, in that if you don't nail it at first, then there is quite of bit of lap time to be found, and I think we still have much potential to extract. The car is fine; it's not where we want it to be yet, but if we keep on working, it should be ok. I really hope to make a bigger step than the others".
Kimi Raikkonen - FP1: 1:24.875, P4; FP2: 1:24.214, P4
"It was a pretty normal first day here in Australia. Everything felt a bit different from testing, but it's normal when you are in a different place. The track itself felt much better than last year, in terms of grip. It looks like there are a lot of leaves, but this doesn't really affect the driving. It's not easy to find a good set up, but the start today was not too bad. We tried a few things and did our best to improve here and there. We are considering which way we should go and trying to figure out the best way to do that. It's a normal story, especially at the beginning of the year. Let's see what the weather brings tomorrow. Tonight we'll go through all the work we have done today, we'll pick all the positive things and see what we can do".
Red Bull
Red Bull took the fight to their rivals, with Verstappen in particular looking quick. Ricciardo had to abort his flying lap in FP2 due to the red flag and thus we didn't see the best of him.
Daniel Ricciardo - FP1: 1:25.063, P6; FP2: 1:24.721, P7
"The car was ok today but I was definitely happier with the long runs than the short. My low fuel run got cut short by the red flag, but to be honest, after doing about nine turns on that lap I wasn't fully happy with the balance. I think I would have been a bit quicker than on the soft tyre and moved up from where we are but I still don't think it would have been a P1 lap time. We still have a bit of work to do but generally it's not been a bad day. I got a good feel for the car and I think tomorrow is going to be wet so I don't know how relevant today will be. Looking at the times it's nice to see that everyone seems to be pretty close and hopefully that's the reality. It would be great if the top three teams and even Haas can be close as it would be a pretty nice start to the new season."
Max Verstappen - FP1: 1:24.771, P3; FP2: 1:24.058, P2
"For me this has been a positive start to the weekend so I am really happy about that. The car has behaved well on this track which is always pleasing after only running in Barcelona to date. Of course we have only done two practice sessions so it is still hard to see who is strongest and how we will finish come race day. It is a bit of a guess when you come to the first circuit of the season. It takes at least two or three Grand Prix to understand what is going on, it then also depends on everyone's development rate throughout the year. Race pace looks good, I think there is definitely some room for improvement and Mercedes look pretty strong, but I'm not concerned with how it looks at the moment. A little bit of rain over the rest of the weekend would help us out. Being wet means performance is less engine dependent and makes the power tricky to control. Our car is usually strong in the wet and I enjoy myself so fingers crossed we get some rain."
McLaren
Alonso had reliability woes in FP1 but once on track looked his customary feisty self, finishing eighth in both sessions. Vandoorne struggled for pace initially but soon was in the mix with his team mate, and he too finished in the top ten in both sessions to give McLaren a much more optimistic day at the office than has been the case for a while.
Fernando Alonso - FP1: 1:25.896, P8; FP2: 1:25.200, P8
"It's good to be back in the racing spirit, and it's a nice feeling to be with all the cars on track after the lonely winter tests where you are the only car per team on track and have empty grandstands.
"Being the first day of the season, there were a lot of things we wanted to test. However, the weather conditions will be changeable from tomorrow, so we need to be careful with the information we have gathered.
"We lost a little bit of time in first practice with some issues but we managed to recover everything in the second session, and now we need to analyse everything to get the best package for tomorrow. The weather is going to affect everyone and we're used to these changeable conditions here, so hopefully we can maximise every opportunity."
Stoffel Vandoorne - FP1: 1:26.482, P10; FP2: 1:25.285, P10
"Today was a pretty good day. We lost a little bit of track time in the first 45 minutes of FP1 but had a very good run after that and got some good learning from the car, which was the most important thing after winter testing. The issues we had weren't big problems, and we got on top of everything pretty quickly.
"We had a very productive day, so I'm looking forward to putting all the pieces together with the set-up for tomorrow and seeing where we're at. I think we're in reasonable shape and the feeling in the car is positive – it feels like we've got something to work with. Everything is running as we want it to, and we just need to keep pushing forward to gain performance.
"The most important thing was to go through our programme and we did that, and I'm excited about the possibility of running in a wet qualifying tomorrow. I think we're in a very close group with some other teams, and the conditions will make things a bit more difficult for everyone. Hopefully we can benefit from the rain that's on the radar this weekend and make the most of it."
Eric Boullier, Racing Director
"Today has been a productive day of running, and for the first time in more representative conditions. Track temperatures were much higher than they were on any day during testing, which has meant we've been able to test certain set-up parameters that we couldn't in Barcelona.
"Although we had a slightly interrupted start to the day with a couple of initial teething problems with bodywork around the exhaust, these were quickly addressed and both drivers got out on track for some valuable mileage in the second half of the session. This afternoon ran much more smoothly, and we were able to collect a lot of useful data on the behaviour of the car in various scenarios, that will stand us in good stead for the rest of the weekend.
"Both drivers have provided positive feedback about the car and we have some solid information that our engineers are now busy analysing. Now, we look ahead to our first qualifying session of the year. Ironically, the weather conditions look like they'll change again, but we'll maximise what we already know and keep pushing to make progress through each session. It's great to be back in Melbourne and we're all very happy to be racing again."
Force India
Force India were working on aerodynamic set-up for much of FP1, and long-run pace in FP2. It remains to be seen whether P12 and P15 are representative times for their drivers, but they will have their work cut out in what is looking a very competitive midfield battle.
Sergio Perez - FP1: 1:26.767, P16; FP2: 1:25.413, P12
"We achieved a lot today. There were a lot of new parts on the car and we needed to learn quickly. It's only Friday and I think we can find more performance before qualifying. That's always been our strength as a team and we need to work hard tonight understanding the data. I said during testing that all the teams are much closer together and if you look at the times it's certainly the case. We need to be perfect in qualifying because a small mistake will drop you a long way back. "
Esteban Ocon - FP1: 1:26.605, P14; FP2: 1:25.888, P15
"For the first day of the season it was actually quite a normal day of practice. We had a lot of things to try on the car, but everything went to plan. It was all about learning and understanding the directions we need to take with the new package. We have already seen a step forward in performance compared to testing, but there' is obviously some tuning to be done. The afternoon session was a bit frustrating because of the red flag and I always seemed to be stuck in traffic. Tomorrow is what counts, though, so we need to make sure we are ready and do our homework tonight."
Robert Fernley, Deputy Team Principal
"A solid start for us in Melbourne. The main job was fitting all the new aero parts to the car and starting to understand how to get the most from them. We made good progress with that and also worked through the usual tyre evaluation programme. Both sessions went pretty smoothly and we have lots of data to help us make the right decisions tonight. It was a shame that the red flag interrupted both drivers during their performance runs, but fortunately it was only a short disruption. It's clearly very tight in the midfield and a tenth here and there will make a huge difference in qualifying. It's hard to know exactly where we stand just yet and I wouldn't want to make any predictions for qualifying."
Renault
Sainz ran wide in FP2, but other than that it was a solid day for Renault who looked to be another team on the fringes of challenging for the top ten. Sainz got the better of his team mate in both sessions, something Hulkenberg will be looking to make amends for come Saturday.
Nico Hulkenberg - FP1: 1:26.583, P13; FP2: 1:25.463, P13
"We had a decent amount of work to get through but a reliable car to get all the work done. I wasn't so happy with the balance of the car on lighter fuel loads, but it felt much better when we went for the longer runs so there's a sweet spot yet to be found. I would say there's a decent amount of pace to come when we get the car working as I want it. It's just general improvement in pretty much every area; the brakes, better balance and grip and the usual things you look for to go faster."
Carlos Sainz - FP1: 1:25.922, P9; FP2: 1:25.390, P11
"It was a calm and fairly straightforward day for me and that was great to have for the first Friday of the season. The midfield is extremely tight so it's difficult to say where we'll be tomorrow. We do need to work on getting the Ultrasoft working a bit better as we didn't manage a clean lap with it today. Conditions were great on track; it was an ideal day for Melbourne, but I think tomorrow we might have more of a challenge."
Nick Chester, Chassis Technical Director
"A pretty smooth day for us, where we ran through our planned programme without any issues or concerns. Carlos was able to find a decent car balance pretty early in the day whilst it wasn't till Nico went out on the longer runs that he was much happier. Between the two cars we have a decent baseline and plenty of data to refine this further for tomorrow."
Williams
Sirotkin impressed on his first practice session of the year, finishing ahead of Stroll before the Canadian reasserted his dominance come FP2. Unfortunately for Williams, overheating led to Stroll having to park up track side at the end of the day, leaving the marshals to rescue his stricken FW41.
Sergey Sirotkin - FP1: 1:26.536, P12; FP2: 1:25.974, P18
"Both sessions were quite good today. I went through different stuff, going through normal things to understand the car and the track. It's not easy, but it's as expected. Overall, everything feels very different to Barcelona. It's still a bit early to say, but I think we look OK. You get more confidence with every lap and every corner, especially when you try different things. There are still many new things for me to learn procedurally. Q3 is obviously the target, but the midfield is very close. It's not going to be easy but if we do a perfect job we could be there. We're improving, but altogether the picture compared to Barcelona looks very different."
Lance Stroll - FP1: 1:26.636, P15; FP2: 1:25.543, P14
"I think it was a positive day, looking at the laptimes and everything. I think we can improve quite a bit, because we got the red flag and I went back out and did my time on a one lap tyre, so there is definitely a few tenths in that. If you ask me I think we are in a decent position. We don't know where the other cars are on fuel and everything, and we don't know what engine mode people are running, so that is a question mark. It seems like the car is a bit better here than in testing. At the end of the session the engine went into a safety mode. At the practice start seeing the red lights with the halo is fine."
Paddy Lowe, Chief Technical Officer
"Today went well from the perspective that we achieved all the things we set out to do. There was a minor problem with the radio which lost Sergey some time this morning, and then this afternoon Lance's car got too close to the power unit limits doing practice starts, so we stopped on track after the chequered flag to preserve the engine. But, other than that, it was a trouble-free day. We chose to run an extra set of tyres in FP2 because we anticipate wet weather for FP3 tomorrow and we won't be able to make use of these tyres. We worked on balance, which is not too bad at the moment and the drivers were learning the track, particularly in Sergey's case, and learning how to get the best from the tyres, which are working properly here, unlike during pre-season testing where the conditions were so cold. There's clearly a very competitive midfield, so there's a lot of work to do overnight to ensure we can perform at our very best in qualifying tomorrow."
Toro Rosso
Toro Rosso showed glimpses of pace in the first practice session but ultimately finished towards the back of the field in the second, with Gasly pipping Hartley in FP1 and those positions reversing in FP2. With both drivers complaining of traffic, it will be interesting to see if they can make it out of Q1 and challenge those around them.
Pierre Gasly - FP1: 1:26.494, P11; FP2: 1:25.945, P17
"The first Friday of the year… it felt good to be back in the car to start the season properly! We tested many things for Qualifying and the Race but we still don't really know what the weather will be like both tomorrow and on Sunday - it looks like it might rain. Let's see how it goes, at least we did many tests and now we need to analyse the positives and negatives from today. I think tomorrow is going to be tight in the midfield, so we really need to put everything together - it can make a big difference on the starting grid."
Brendon Hartley - FP1: 1:27.745, P18; FP2: 1:25.925, P16
"We missed a little bit of track time this morning in FP1 but we made up for the lost time with a good second session. Managing tyres is going to be a big topic for all the teams but we got some good data on both the long and the short runs. It looks like we're in the battle with the midfield, but there's still a bit to improve before qualifying tomorrow."
Jonathan Eddolls, Chief Race Engineer
"It was a very productive day, FP2 more so, and we managed to cover a lot of laps and our full programme. In FP1, with Pierre we managed to cover our full test plan quite successfully, but with Brendon, a few operational issues meant that we lost some track time which obviously isn't ideal with him trying to learn the circuit, especially the first race of the season, in a new car. Fortunately, he recovered well in FP2. I think the big thing for us is understanding the tyres, as we seem to be suffering quite heavily with tyre overheating, especially in the last sector - it's something we certainly need to work on. The weather forecast isn't looking great tomorrow, so maybe the tyre problems are not such a big issue for qualifying, but obviously we need to understand it for the future. In the background we were covering lots of mechanical tests and we've been working a lot for the race so we've got an awful lot of data gathered that we need to go through tonight in preparation for Sunday - we have to see what the weather brings tomorrow."
Toyoharu Tanabe, Honda F1 Technical Director
"At last, the 2018 season has begun. Thanks to the enthusiasm of the Australian fans, which I last experienced here ten years ago, there was a good atmosphere for the first day of practice.
"Overall, things went smoothly today, with practice held in perfect weather. As this was the first time that both our drivers have driven this track, our target was to let them get in as many laps as possible. On the Power Unit front, we concentrated on adjusting the drivability and the energy and fuel management, to suit the characteristics of the track. We were able to complete almost all our programme and it has been a good preparation for tomorrow.
"However, the forecast for tomorrow is very different, with rain and cooler temperatures expected. This means that during FP3 we will have to focus on finding the best settings for qualifying."
Haas
Haas were the surprise package in testing and so it proved once again around Albert Park. Grosjean looked strong, finishing sixth and Magnussen wasn't far behind despite sensor issues restricting his running in FP1.
Romain Grosjean - FP1: 1:25.730, P7; FP2: 1:24.648, P6
"It's been a good day. I'm happy with the car and the guys did a great job getting everything ready. We had a successful winter test, and it's good to confirm that the car is up there on a different track and with different temperatures. Obviously, it's early stages and we need to keep up the work and keep building everything. There are areas where we can improve the car but, generally, I'm very happy with how today went."
Kevin Magnussen - FP1: 1:27.035, P17; FP2: 1:25.246, P9
"I'm fairly positive, but we still have some work to do. I had quite a few abnormal issues today – nothing big – but little annoying issues with small things that were breaking. That stopped us from running as much as we'd hoped for, at least on my side. We got at least one run that was representative where I got to feel the car, and I was happy with the feeling. I'm looking forward to trying again tomorrow. Obviously, we don't know what the weather's going to do, but if it's dry, I have a feeling we have a good package."
Guenther Steiner, Team Principal
"Not a bad day, but not a perfect one either. We had some small issues with Kevin in FP1 which carried into FP2. In the end, though, we came out not too bad. We have a good understanding of what we can do. We've got some more work to do tomorrow, but then I think everything changes a bit, because it's supposed to be raining all day long."
Sauber
Sauber somewhat predictably propped up the timing sheet but there were no major incidents and both drivers acquitted themselves well, with Ericsson shading his rookie team mate by just 0.001s in FP2.
Marcus Ericsson - FP1: 1:27.964, P19; FP2: 1:26.814, P19
"It was a positive day – we completed a lot of laps testing different compounds. We continued developing our understanding of the new car, building on what we learned during winter testing. We still have lots of work ahead of us to get to where we want to be. Today's sessions were good in preparing us for the rest of the weekend. In any case, it is great to be back racing, and fun to be here."
Charles Leclerc - FP1: 1:28.853, P20; FP2: 1:26.815, P20
"Overall, it has been a productive day for me. There are a lot of things going on that are new – I can already tell that I have learned a lot since this morning. It was my first time driving on this track in Albert Park which was exciting. We mainly worked on finding the best set-up for the car and drove on different tyre compounds today. By FP2, I already felt quite comfortable in the car. I really look forward to being back on track tomorrow."
Pirelli
Mario Isola, Head of Car Racing
"It's early days, especially as this is the first warm running these tyres have had in conditions that we can directly compare to last year. On the longer runs, the pace of the frontrunners seems closely matched so far. The complexion tomorrow might be altered completely by the forecast of rain, with uncertain weather perhaps persisting on Sunday as well. After the first day of running of a new season, there's obviously a lot of data to sift through, and it's certain that the full picture is yet to emerge. With the performance gap between soft and supersoft quite low from what we can see so far, and a bigger gap of 0.6 seconds to the ultrasoft, all three compounds appear to be viable options for the race strategy."