Feature
What the teams said - practice in Brazil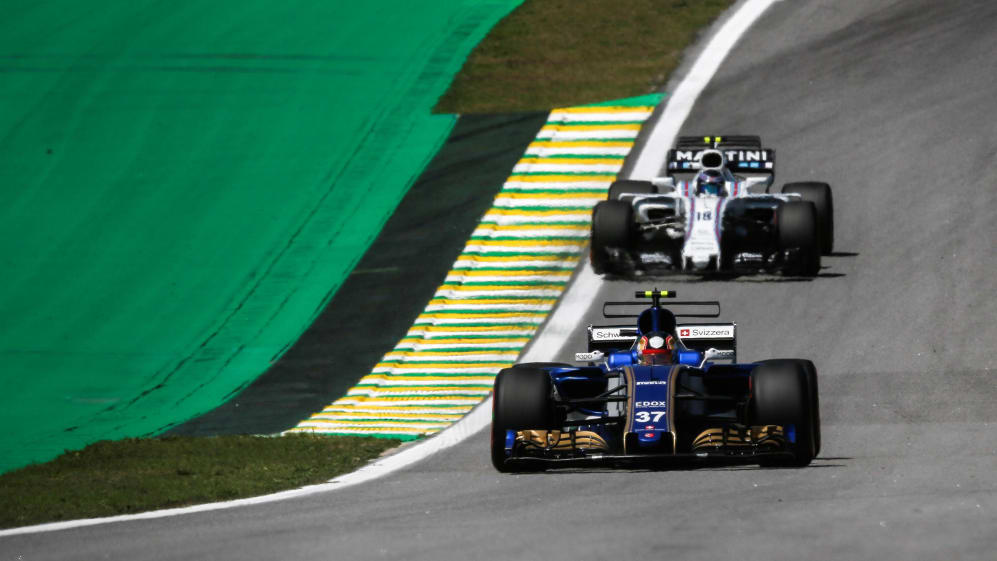 A round-up of the opening day's action from the Formula 1 Grande Premio do Brasil 2017 at the Autodromo Jose Carlos Pace in Sao Paulo...
Mercedes
Hamilton and Bottas had a great intra-team scrap as they headed the times in both sessions. Hamilton ran wide in the Senna esses on one lap, and had a big lock-up on another (as did Bottas), and was also eased off the track by Hulkenberg at one stage. The second session was less dramatic, though neither driver got a particularly clean lap.
Mercedes had time to try some aero experiments destined for the 2018 W09, and were generally adjudged to be in strong form on both sort and long runs.
Lewis Hamilton - FP1: 1:09.202, P1; FP2: 1:09.515, P1
"It's been a good day. It was pretty exciting to come to the track with the cars being so much faster this year. It's physically more demanding than before which is great and it's obviously quite warm out there today. We got through the long runs and the short runs; unfortunately, the tyres don't really last very long, so you only get one or two laps on the short runs. Overall, we got through what we needed to do. We're in a decent position but I think it could be quite close."
Valtteri Bottas - FP1: 1:09.329, P2; FP2: 1:09.563, P2
"I think it was a positive day for us. Initially in Practice 1 we did some aero tests, looking at some things we can improve for next year. We now have some data to analyse from that. Otherwise, I think both the short runs and the long runs in both sessions looked positive for us as a team, so we have a good starting point for the weekend. Still, we were a little bit struggling to get the set-up right for each corner of the circuit. However, I was really enjoying this track and I'm looking forward to the weekend."
Andrew Shovlin, Chief Race Engineer
"We had quite a big programme this morning looking at some development items for 2018. We had been putting off that work while we were still fighting for the championships, so it was very good to get that done. We have collected a lot of good data from those tests which will all feed into the development programme for the W09. The weather forecast looked like we might lose some running with the rain today but it was great that it stayed dry. It was really good to get some long run work done in the hot conditions both in FP1 and FP2 as it looks like we will have similar track conditions on Sunday. Overall, the cars are working well but it's been tricky today in the windy conditions and both drivers struggled to put their lap together on the super-softs. There are a few areas that we need to work to improve the car but it's been a solid start to the weekend and we're looking forward to a good fight with the Red Bulls and Ferraris."
Ferrari
Vettel spun on Hartley's oil in FP1, but otherwise Ferrari had a relatively troublefree day. Both drivers said that they need to fine-tune the balance of the SF70Hs.
Sebastian Vettel - FP1: 1:09.984, P6; FP2: 1:09.875, P4
"I think that in the end we ran more than what we expected as it didn't rain. It was nice to be able to do a lot of laps today. We need to find the right balance and this should help us get the pace for the qualifying session and the race, but I still think it won't be easy to defeat our main competitors. We'll see where we get tomorrow".
Kimi Raikkonen - FP1: 1:09.744, P3; FP2: 1:10.117, P6
"It's only a Friday and as always, we keep trying different things to learn from them. The tyres will play a key role here as usual, the performance will depend on how they work and how long they will last. I felt some vibrations at the beginning of my stint, but that's quite normal to have sometimes in the car: usually it comes from tyres and different sets. We don't know what the temperatures will be over the rest of the weekend, but we cannot change them anyway and it will be the same for everybody".
Red Bull
Ricciardo said he was happy with his car in the afternoon and was pleased to beat the Ferraris, but has a 10 grid place penalty for using an eighth MGU-H. Verstappen reckons they have decent pace, albeit not at Mercedes' level, but said his car's balance still needed some work.
Daniel Ricciardo - FP1: 1:09.828, P5; FP2: 1:09.743, P3
"I'm pretty happy with Friday. For what we've got here we looked competitive. The long runs looked okay but the Mercs looked really strong. We can definitely find a little bit more for tomorrow but I don't think we're far off and we don't have to make many changes tonight. It's never a circuit where we have dominated in the past so to be close to Ferrari and at least in the fight with them seems positive. I'd like some rain for Qualifying tomorrow and I can try and fight for pole. I know if I get it I won't start there because of my penalty, but anyway it would be good to start 11th for the race. That's my target."
Max Verstappen - FP1: 1:09.750, P4; FP2: 1:09.886, P5
"My Friday has been ok. It could have been a bit better and we still need to improve the balance, but in general it was a decent practice day. I was struggling for grip this morning and we managed to improve that a bit this afternoon but there is still more work to be done. On the short run it was not ideal on the Supersoft but we are not too far off on the long runs. Of course I always want to go faster and Mercedes are quicker than us at the moment. We need to make improvements before tomorrow because we know that in Qualifying they will step up their engine. I think we need to be at least the same speed or faster than Mercedes in the final practice to have a chance of getting on the front row of the grid."
McLaren
Neither driver could find the MCL32's recent sweet spot as they struggled all day with the balance. Vandoorne had a spin in FP2, when Alonso had a PU problem for part of the session but got going again to claim 10th place.
Fernando Alonso - FP1: 1:10.476, P10; FP2: 1:10.655, P10
"Today was more difficult than we'd expected. We had some problems in the first session, then a PU pressure issue in the second session. We lost some valuable track time, and in the end we didn't manage to complete our programme. We tried to carry out the priority items on our run-plan, and we're more or less happy with the outcome.
"There's still a little more to come from the car tomorrow – some tuning on the set-up – so we'll see what we can do. Times are very close here, and if it stays dry making it into Q3 is going to be tight. We'll have more chance if it rains."
Stoffel Vandoorne - FP1: 1:10.402, P8; FP2: 1:10.902, P13
"Today was a very positive day. FP1 was my first session driving here at Interlagos. We've brought a new upgraded aero package for my car this weekend so we started FP1 learning about and understanding that, which generally went very well.
"FP2 was maybe a little bit more difficult – we tried some different settings and made some changes that weren't necessarily in the right direction. However, our long-run performance was extremely positive – one of our strongest of the year so far I would say.
"Everything is looking good for the race. We still need to put everything together tomorrow, but a good qualifying would put us in a strong position for Sunday."
Eric Boullier, Racing Director
"With the threat of wet weather hanging over the afternoon, we were keen to press on with our Friday programme just in case the rains fell during one of the sessions.
"Happily, we were able to run all day without the weather closing in, and rattled through a busy and intensive session as we continue to trial components and ideas that we can take forward onto next year's car.
"Neither Fernando nor Stoffel ended the day really completely with the balance of their car, so we've got a bit of work to do tonight to get a consistent handle on the car's sweet-spot. Fernando, too, had a small issue in FP2 that delayed his progress.
"On the face of it, this wasn't a bad day, but there's definitely a little bit more to come from us."
Yusuke Hasegawa, Honda R&D Co. Ltd Head of F1 Project & Executive Chief Engineer
"Despite the rain forecast for Friday, we finished both practice sessions with dry conditions. Overall, it was a smooth day and we completed our scheduled programmes.
"From the PU point of view, although we found a small issue with Fernando's car during FP2, we managed to fix it quickly, thanks to a great job from our mechanics. Other than this, we were able to finish all the sessions without any major concerns.
"We will continue to proceed with our set-up in tomorrow's FP3 session, as we think there are more improvements to find from both cars.
"Tomorrow's running could be tricky, due to the high temperatures and sudden rain. We will remain focused on qualifying, as this is the circuit where we would look to get both cars into Q3."
Force India
Ocon said this was one of his toughest days this year due to the unexpected high temperatures, and struggled in FP1 before a "massive" step forward transformed his car for FP2. Perez struggled with handling issues and tyre degradation when he took his car back in the afternoon.
Rookie Russell did a very confident job in FP1, lapping an unfamiliar car within six-tenths of Ocon, on a track he'd never seen before.
Sergio Perez - FP2: 1:10.695, P12
"I only drove this afternoon so there was a lot of work to squeeze into one session. It wasn't easy to make the balance adjustments because of the tyre degradation during the session, but the team has collected a lot of good information and this will help us take a good direction tomorrow."
Esteban Ocon - FP1: 1:10.454, P9; FP2: 1:10.306, P7
"I'm happy with today. This morning the car was not at its best, but we made a massive step forward during second practice. The car feels much better now – close to where it should be, so it's another good job by the team who made the correct decisions during the day. We need to keep improving ahead of tomorrow and hopefully we can be in our usual position for qualifying. It was very tough physically today because it's very hot and humid – a bit like Singapore. I wasn't expecting this and it was one of the toughest days in the car this year."
George Russell - FP1: 1:11.047, P12
"First and foremost I want to thank Force India because I really enjoyed today. It's something I have been working towards for a long time and even though it feels normal right now, it's a surreal feeling to know I have been driving in a race weekend. It's a huge step up for me, but I have been prepared as well as I could be: I have done days in the simulator with both Mercedes and Force India and I feel that, after my days at the test in Budapest, this was the next step. I didn't know the car or the circuit and I wanted to learn as much as I could to review and take to Abu Dhabi, a track I know. We did some aero running early in the session, then some proper runs to change the set-up to my liking. All tyre compounds felt good and I got up to speed quickly. I was very happy with the car. The final half of the session was quite difficult: I was still doing fast laps while others were doing longer runs: it's a short circuit and it's difficult to find space. You end up compromising your warm-up procedures because you're looking in the mirrors all the time, but it's something from which I learnt a lot."
Robert Fernley, Deputy Team Principal
"As we expected, this turned out to be part winter testing day, part regular Friday, especially in FP1, with a very comprehensive plan split between the cars. George performed admirably, especially considering he had never driven our car or at Interlagos. As we expected after his good work in the simulator, he slotted straight in with the team. In FP2 we moved more towards a standard Friday, but with Sergio having to play catch-up after sitting out the morning session. We gathered a lot of data today, but now we have to put all our test items aside and concentrate on our regular race weekend. As always here, the margins are very tight and every tenth makes a big difference. Having a good Saturday puts you in a good place for Sunday, so that's where we will focus now."
Renault
Both drivers had troublefree days that left the R.S.17s reasonably close to the pace, albeit with a little bit more work to do overnight. Hulkenberg inadvertently eased Hamilton off the road in Turn 11 in the morning, after running wide as he overtook the Mercedes.
Nico Hulkenberg - FP1: 1:11.608, P16; FP2: 1:10.396, P9
"We got some good laps in through both sessions to identify where we need to make progress, but the car's not a million miles away from where it needs to be. It's always great to lap Interlagos and I've always got a good vibe here. We ended the day in the top ten; tomorrow's job is to see how much further up the grid we can get."
Carlos Sainz - FP1: 1:11.467, P15; FP2: 1:10.685, P11
"It was a positive day for me as every time I went out in the car I felt we had made progress and I gained more confidence with the car. It was good that we didn't see any rain in the afternoon as I was able to complete my full programme. We were able to get faster through the day and I think there's more to come tomorrow."
Nick Chester, Chassis Technical Director
"It was a fairly standard Friday for us. We had a number of assessments to run in FP1 relating to our 2018 design, so we ran conservatively in that session. FP2 was more about this weekend, so the times there are more representative of our relative pace here. Car balance is reasonable but we are working in a few areas to try and unlock a little more speed. On the whole, a pretty good day and we're hopeful of a little better tomorrow."
Williams
Williams were happy with a day on which Massa felt the car was strong and both drivers managed to gather a lot of data while getting through all their workload. Stroll was learning the track, and said he was hampered by traffic all through FP2.
Felipe Massa - FP1: 1:10.102, P7; FP2: 1:10.373, P8
"It was a good Friday. We managed to do some good lap times, and I think our long run pace is similar to many of the cars we are fighting. It will be a difficult fight in front of us, but we will try everything we can."
Lance Stroll - FP1: 1:10.632, P11; FP2: 1:11.064, P14
"My day was alright. It was my first time here so I was getting used to the track and doing the runs. I have things to work on, like always, but that is okay. The positives are the car is feeling quite competitive, and it is just about putting everything together and we have the time to do that tonight and tomorrow. We got quite compromised in FP2 with some traffic so I didn't do a perfect lap. We have been competitive in the rain so if we have that tomorrow for qualifying it is not a problem."
Paddy Lowe, Chief Technical Officer
"It's been a good day here in Brazil with some fantastic weather, which is great considering rain was predicted. We got a lot of work done on both sides of the garage, with all of our homework, particularly on tyres, achieved. Our pace looks reasonably competitive, but it's close here as usual in the midfield. It's a very short lap around here so a tenth is quite a big percentage of the whole lap time, so we'll have to work very carefully overnight to fine tune the car and make sure we can get those valuable grid spots tomorrow afternoon. Felipe looked particularly strong around here today, so hopefully that's a good sign of a great weekend for him for his final home race."
Toro Rosso
Toro Rosso had a horrible day. Hartley's car did only two laps before suffering an MGU-H failure in the morning, when Gasly's car also had problems which resulted in him getting an eighth MGU-H too, plus a ninth in the afternoon and a new turbo. The New Zealander will thus get 10 grid place penalties, the Frenchman 25.
Pierre Gasly - FP1: 1:14.034, P19; FP2: 1:11.422, P16
"A pretty good afternoon after a tough beginning of the day. This morning of course was not great for us with the engine issue, I had only one timed lap and Brendon none, so we didn't learn much - for me about the track and for the rest of the team about the car and setup… it wasn't ideal! I managed to do many laps in FP2 which was good, a short run on softs and super softs, and then long runs on the second part of the session so I think it was really good. We finally could seize the potential of the car and work towards qualifying and the race on Sunday. At least we have many things to analyse tonight and to work and improve on for tomorrow."
Brendon Hartley - FP1: No time set; FP2: 1:11.821, P17
"A tricky start to the day and the weekend… We missed FP1 because of an engine issue. In this afternoon's FP2 it took me a couple of laps to get back up to speed after driving a different car for a few weekends in a row! In the end we were able to complete plenty of laps – I was the driver that did the most this session – and we made some good progress. We now still have some time to find for tomorrow and that's what we will work on tonight."
Jonathan Eddolls, Chief Race Engineer
"Obviously it was a very difficult FP1 for the team again, we came in knowing we would need to take some engine penalties for MGU-Hs, which we did. Unfortunately, the new MGU-H on Pierre's car failed early on while the issue on the other car looked more catastrophic than it was. It was something quite simple in the engine, where it smoked badly which everyone saw but we were able to fix it with no further issues. Both cars went out pretty much at the start of FP2, so the mechanics did a fantastic job, given there was a complete engine swap on one and an engine strip and rebuild on the other…so really well done to get them out. We were a bit on the back foot, obviously we lost a lot of time in the morning where we were going to be testing mechanical and aero items, so we pushed some of that to FP2 across both cars. The other priority in FP2 was focusing on giving both drivers lots of laps with the aim of getting comfortable in the car and turning the balance to suit. That was the target but they are still not 100% happy with the car so there's still some work for us to do tonight. We carried out the normal qualifying preparation and high fuel long runs, and the focus will be to analyse all of the data tonight and try to improve the balance and performance for tomorrow."
Haas
Grosjean had a spin in Turn 4 in the afternoon and later stopped with a serious vibration. Magnussen had shadowed him in the morning, but handed over his car to Giovinazzi in FP2 as that session seemed the more likely to be affected by rain.
Romain Grosjean - FP1: 1:11.188, P13; FP2: 1:11.300, P15
"It was a decent Friday. We got a lot of mileage and we tried a few things on the car. The morning wasn't too bad, but the afternoon we didn't go very fast. Anyway, it was good that we had a dry Friday when everyone was thinking it would be wet. I've always loved driving here and did the best we could today."
Kevin Magnussen - FP1: 1:11.463, P14
"Not too bad in FP1, but we still need to sort a few things on the systems and the balance. I had four laps on the supersofts with nearly the same lap time, but it should be a one-lap tire for qualifying. Antonio ran a kind of FP1 program in the afternoon. I shared my thoughts with him and we tried to benefit from each other."
Antonio Giovinazzi - FP2: 1:12.417, P20
"It's a good feeling to be back in the car and to help the team again with a lot of laps. It was a difficult Friday, swapping from FP1 to FP2, but in the end we did a lot of laps and some high-fuel running. We did a few things different to what I've done before, so I'm happy with that. Again, thanks to the team for the opportunity."
Guenther Steiner, Team Principal
"A busy day. We got a lot done today. We swapped drivers in the morning, between FP1 and FP2, with Antonio doing FP2 and Kevin doing FP1. We got a lot of data. We need to find a little bit more speed for tomorrow. Hopefully, we can get better. The guys are looking at it all now. Otherwise, it was quite a calm day by Haas standards. No big drama, but a little bit of speed is missing."
Sauber
Ericsson spun in Turn 11 in the afternoon, and slid sideways all the way out to the tyre wall, which he clipped lightly with his rear wheel. He lost the rest of the session having the tracking re-checked.
Leclerc narrowly beat the Swede in FP1, while Wehrlein was a little further ahead in FP2 once he'd reclaimed his car from the Frenchman.
Marcus Ericsson - FP1: 1:11.898, P18; FP2: 1:11.989, P19
"My morning session was a bit compromised as we had an issue on the front right tyre. Unfortunately, I lost some running time there. However, the car felt quite good overall. FP2 started off well, but, unfortunately, I lost the car on my first push lap, and touched the wall slightly. That was enough to cause some damage. It was a bit of a messy day, but all in all I felt comfortable with the balance of the car, which is positve for the rest of the weekend."
Pascal Wehrlein - FP2: 1:11.857, P18
"After missing out on FP1, it was important for me to collect good mileage in the afternoon. In terms of our programme, we focused on short and long runs in the afternoon, in order to prepare for the rest of the weekend. Moving forward, we have some work to do regarding set-up of the car. Overall, the day went well."
Charles Leclerc - FP1: 1:11.802, P17
"I enjoyed today's practice session very much. First of all, it was nice to return to a familiar track which I have driven on last year. My knowledge of the car and the procedures has been improving over the past few weeks. I have learned a lot and I feel more and more confident in the car each time I have the opportunity to drive it. Today was my first practice session this year to have taken place in completely dry conditions. We were able to run through our planned programme and to collect some useful data. Overall, it has been a great experience."
Pirelli
Mario Isola, Head of Car Racing
"There were no real surprises today, just a little bit of front-left blistering. Again, we saw the all-time lap record lowered, with the soft tyre as well as the supersoft. Most of the drivers were able to beat last year's pole time, which shows just how much progress has been made with the latest generation of cars and wider tyres. As usual for Brazil, the weather outlook remains uncertain for tomorrow, with a few drops of rain in FP2, but not enough to run on anything other than slicks."