Feature
What the teams said – practice in Germany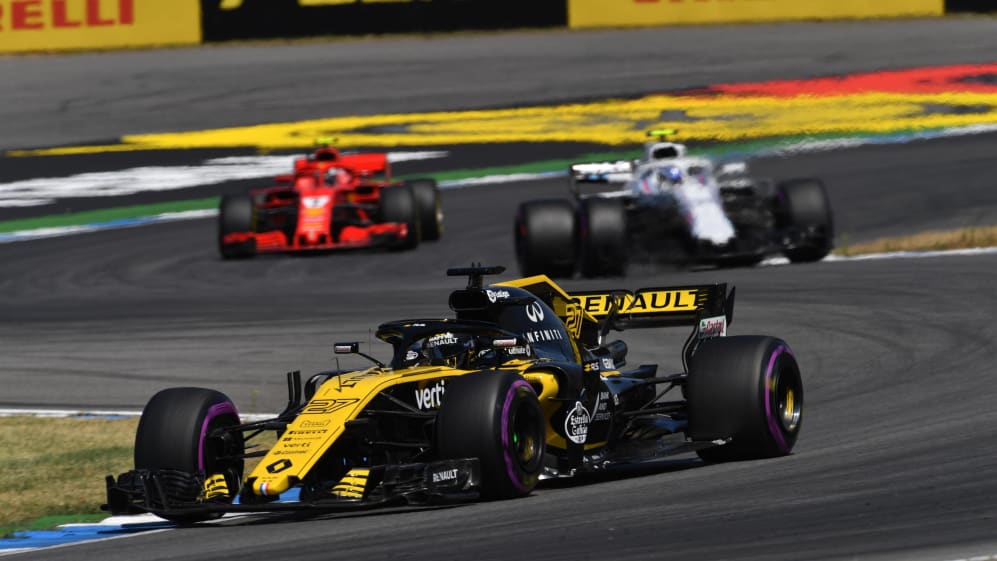 A round-up of the opening day's events from the Formula 1 Emirates Grosser Preis Von Deutschland 2018 at Hockenheim...
Red Bull
A proper mixed bag from Red Bull. The good news was a quick car in the hands of two competent drivers - Ricciardo topping FP1, Verstappen FP2. The bad news was also two-fold, with Ricciardo dropping to the back of the field for the race due to grid penalties for new PU components, while Verstappen spent time in the garage in FP2 with gearbox issues...
Daniel Ricciardo - FP1: 1:13.525, P1; FP2: 1:14.682, P13
"The pace was pretty good today. This morning I was quick and Max was fastest this afternoon while I focussed on long runs. We are looking quite good but obviously, I will be starting somewhere down at the back on Sunday due to the engine penalties. The priority today was to get a good race car as the reality is that Qualifying will be irrelevant for me and we're going to be passing a fair few cars on Sunday. The race run I did just now was pretty good and the car feels strong. Whether one car starts at the front and one car at the back, if we have a fast car it is still motivating for Sunday. I prepared myself before the weekend knowing that I would probably take the penalties here and I'm actually pretty excited to come through the field and have a bit of fun, so I'll find the right perspective from it all. For me it will be satisfying and for everyone watching it should be pretty fun as well."
Max Verstappen - FP1: 1:13.714, P3; FP2: 1:13.085, P1
"In summary, a pretty good Friday. I feel like we have a good balance with the car which shows by topping Practice 2. It was a nice surprise to start so competitively here but we have to remember it is only Friday. The others will be quicker for Qualifying but certainly a better than expected start. We are looking competitive ahead of tomorrow, along with this we need to wait and see how the weather is going to behave as this could have a big impact. I haven't had a chance to do a proper long run yet but the feeling is good for now. We lost a few laps due to a small oil leak this afternoon but this was quickly fixed and I managed to get a few laps in at the end of the session to make sure everything was fine. The tight parts of the track, sectors 1 and 3, feel good and I think our pace shows in these areas. Let's hope we are in a similar position or at least close tomorrow."
Mercedes
A quiet but productive day for the home team - Hamilton was narrowly pipped in both practice sessions and despite running wide on a couple of occasions, looked in good shape around a track where he has previously won twice. Bottas too looked assured, pushing his team mate close and completing a full programme ahead of tomorrow's crucial qualifying session.
Lewis Hamilton - FP1: 1:13.529, P2; FP2: 1:13.111, P2
"It's great here in Hockenheim - the weather is amazing, it's very hot, which makes it very demanding and physical in the car. It's quite a technical track even though it is a pretty short circuit. We've got through our programme today, finished all the sessions and got all the information we needed from the tyres. The car was feeling good, but it is very close, so there's lots of work to do tonight. We've been working on our starts, making sure to get a better understanding of the tyres and tyre temperatures and trying to be as perfect as we can in that area. Both Ferrari and Red Bull were very quick today and I think it will be very similar tomorrow and on Sunday. It's going to be a serious challenge and it's not an easy track to get right, so we will have to give it everything."
Valtteri Bottas - FP1: 1:13.903, P5; FP2: 1:11.190, P3
"We announced my new contract today and I got to drive a Formula One car around Hockenheim - so it's been a really good day and it's great to be back in Germany. I think we're now in a very good situation as a team, because the contract situation is clear and we can focus totally on the tough battle we're in. The car seemed competitive today but, as expected, it is very close. I was struggling a bit with the front end of the car; we need to find a bit more bite in the slow and medium speed corners, but otherwise it was okay. I'm not completely satisfied yet but that's exactly what Fridays are for. We will work on the car and surely make another step forward for tomorrow. We suffered a bit from overheating our tyres today and I'm sure the others did as well, but it looks like it will be a bit cooler on Sunday. We've got a lot of data to go through tonight to gain a better understanding of the tyres when we get to the race."
Andrew Shovlin, Trackside Engineering Director
"We've had a pretty good day overall but it's always difficult to know quite where we stand on a Friday. The car balance has been ok from the start and on a single lap we look to be fairly competitive. We have seen good times from both Ferrari and Red Bull so we expect it to be tight tomorrow in qualifying but there are a few areas where we can find a bit of pace. In the afternoon our programme was split between the cars to allow us to collect data on all three compounds. The hot conditions are definitely making life difficult for the tyres, the ultraSoft is really on the limit, it's got good grip to start but needs to be driven ever so gently to keep it from blistering. The soft and medium are a bit easier to lean on which may mean that we see a range of strategies on Sunday which should lead to an interesting race. We expect the weather to cool a bit going into tomorrow which will make working conditions more pleasant and will help the tyres a little bit. There's also a risk of rain for qualifying which could shake things up if it comes."
Ferrari
Ferrari opted to run just the soft tyres in FP1, and looked quick on the yellow-marked rubber. Come FP2 they did change to the ultrasofts and looked to be there or there abouts with respect to their title rivals, but as always it is hard to tell on Friday when the Scuderia traditionally 'sandbag'.
Sebastian Vettel - FP1: 1:13.796, P4; FP2: 1:13.310, P4
"The car has been working well today and it's been a normal Friday. Today, we tried a little bit of everything. I think we got along quite well with the tyre selection that we used today. Now we have to find out how we've been working compared to the others, but I think that even if we can still improve our lap time, the car is fine. I think the high temperatures we had today could probably have an impact somehow, but we don't know exactly what the weather will be like. Tomorrow it should rain, but on Sunday we expect it to be dry again. It was very nice to see a lot of Ferrari flags here today and it's great to see a lot of people supporting us!"
Kimi Raikkonen - FP1: 1:14.267, P6; FP2: 1:13.427, P5
"Friday is the only day that we can use as a test, trying a lot of things and different solutions. It was a very normal day and later this evening we'll analyze what we have learned today and put things together for qualifying. Tomorrow the conditions might be a bit different from today and a bit more tricky. On Sunday if the weather stays warm like it was today, for sure it will be challenging for the tyres; it's going to be more similar to Austria, with a limit on the tyres, and whoever makes the best job in managing them is going to have some advantage. So far we have been reasonably strong in most places, we'll see how it goes here; it looks pretty close".
Haas
Haas qualified 'best of the rest' in seventh and eighth last time out in Great Britain and from the looks of things, they have continued that form here this weekend. Grosjean had the edge on his team mate in both practice sessions, but given they had a coming together last time out, how much would Haas love to have a few cars between the duo come Sunday's start?
Romain Grosjean - FP1: 1:14.691, P7; FP2: 1:13.973, P6
"It's great to be back in Germany. It's a big country for motorsport. I have some good memories from my earlier career here and it's always good to come back. I'm pretty happy with our day. It's not going too bad. We were the fourth fastest team again. That's where we want to be. It's been very warm today – that may not be the case over the weekend – so we'll keep an eye on that, but so far the car's been working very well. The car's been happiest in the high-speed sections – we love high speed. The tyres haven't been having a good time in general – for everyone, I guess – but it's hard to keep them cool. We're hoping for a dry race as it'll be easier for everyone, but there's nothing we can do about it. We have to choose the right tyre, at the right time. It should be a bit cooler for the race, which will help in managing those tires, and allow us to be able to push a bit more."
Kevin Magnussen - FP1: 1:14.853, P8; FP2: 1:14.189, P7
"It's a good track. I'm enjoying driving here and it went well today. We've been happy with our day. We need to look into finding a bit more pace on the long run, on high fuel, but low fuel looks to be very competitive. It's a pretty low-grip track, so the car does a lot of things, like you do have a bit of understeer, and you do have a bit of oversteer. The car is moving around. That's just how it is here, but our car seems to be working alright. Tyre wear, in terms of actual wear, isn't so bad, but degradation is high because the temperatures get very hot – you overheat the tyres. We'll work on that and, hopefully, make some steps, also I think the weather's going to be a bit colder the next few days, so it might not be such a big problem. So far though, it all looks good."
Guenther Steiner, Team Principal
"It was a pretty good Friday. We've still got work to do on our long runs, but all in all, it was a positive day. The weather forecast is that it could be showers tomorrow, so we need to be looking into that one, and also the temperatures will go down on Sunday. So, our guys still have work to do before qualifying and the race."
McLaren
McLaren opted to complete a testing programme ahead of next weekend's Hungarian Grand Prix, trying out a number of different parts. Vandoorne missed most of FP1 as the set-up of his car was modified, but didn't have the pace to compete in FP2. Alonso at least restored some credibility with a late lap to grab 12th in first practice, but dropped down the field in FP2.
Fernando Alonso - FP1: 1:15.544, P12; FP2: 1:14.836, P17
"We tested a lot of things today and we probably compromised our final positions because of that. We have been in quite a good place on Friday in the last couple of races, and it's a matter of fact that with two or three tenths you can lose or gain a lot of positions. Here in Hockenheim we've lost a few positions.
"Hopefully this will change tomorrow, and there could be some rain around qualifying time, which is a big question mark. It's going to be cooler, cloudy and maybe even wet, so if that happens it opens up an opportunity for the midfield group and you can gamble a little bit more."
Stoffel Vandoorne - FP1: 1:16.149, P20; FP2: 1:15.454, P20
"This morning we did a lot of testing of new parts on the car to understand them a bit better, so we didn't have much running in the first session. We were doing some learning work for the team, and it has been beneficial to understand them for the future.
"In the afternoon, we again had a difficult session. This has probably been my worst Friday for a long time – I had a similar feeling to what I had at Silverstone, that something isn't working properly on the car. We can see that the car is not in its normal conditions, and at the moment it's a bit of a question mark for us to firstly put the car back to a position where it behaves normally, and then to see how we'll get on, on Saturday.
"There's going to be a lot of data analysis tonight to understand how to get the car back in normal conditions for tomorrow, and we'll probably change quite a lot of parts on the car.
"If the rain comes tomorrow, it'll be good news for us."
Force India
Latifi stepped into the car for FP1 in place of Ocon, leaving the Frenchman making up for lost time in FP2. He ran a long programme and finished a credible tenth. Perez was P11 in both sessions, a position that come qualifying would garner free tyre choice. That position probably wouldn't displease the team given that tyre wear could be a crucial factor come race day.
Sergio Perez - FP1: 1:15.415, P11; FP2: 1:14.552, P11
"It's been a positive day. We collected a lot of information and I'm happy with how things are going so far. The main conclusion I take from today is that the middle of the grid is very close once again and we will need to optimise everything to make Q3 tomorrow. I feel optimistic we can find some more performance tonight and the conditions could change for the weekend – we think it's going to be a bit cooler and there is talk of some rain. There is definitely a good opportunity for us to go well this weekend and be competitive."
Nicholas Latifi - FP1: 1:16.023, P17
"Overall I'm quite pleased with my second FP1 session. Already from the first lap I felt more comfortable with the car and the whole race team environment after my first experience in Montreal. I know the track well and it was a straightforward session with some aero test items and tyre work. I chipped away at the performance lap after lap and from a personal point of view I felt more at ease compared to Montreal and felt more competitive. Obviously I will build on this experience so that I'm ready for the next time I'm back in the car for an FP1 session later in the year. "
Esteban Ocon - FP2: 1:14.508, P10
"Things went well this afternoon and I got up to speed quickly. The information from Nicholas and Sergio this morning was useful and it was a pretty normal session. The main challenge was completing a clean lap with all the traffic, but we have done most of our homework today to help us get ready for the weekend."
Otmar Szafnauer, Chief Operating Officer
"As forecast it was a hot day as we worked through a busy programme of test items and tyre learning on all three tyre compounds. Nicholas had a clean FP1 session and continued to make progress as he settles into the team. Sergio did the majority of our set-up work and the car is behaving largely as expected. There is still some work to be done to understand the car behaviour at these high track temperatures and we need to keep an eye on the weather forecast for the weekend in case it cools down. Hockenheim is a track where overtaking is possible, but with the middle of the pack so closely matched it's important that we maximise our qualifying session tomorrow. I think Q3 is achievable for both drivers."
Renault
Hulkenberg struggled with the set-up of his R.S.18, locking up and running through the gravel but nonetheless finished in the top 10 in both sessions. Sainz sat out a portion of FP1 with a water leak, but once solved ran a full programme in second practice to gather crucial data. He did later admit he left time on the table, which could mean Renault will be aiming for both cars in Q3 tomorrow.
Nico Hulkenberg - FP1: 1:15.282, P10; FP2: 1:14.496, P9
"Quite a standard Friday for me. The car didn't feel too bad out of the box, even if you could really tell that the tyres were suffering with these very hot conditions. It's mainly been a case of refining the set-up today and we made progress, with more to come after we've looked at the figures this evening. We're looking at how to maximise the new front wing as obviously every bit of pace and balance helps."
Carlos Sainz - FP1: 1:15.769, P14; FP2: 1:14.592, P12
"It was frustrating to miss most of FP1, but my crew did a great job to find and fix the issue so I could get a great number of laps in FP2. The car doesn't feel bad and our pace looked good on the long run. Nico tried the new front wing and it seems to be working. I will try it tomorrow and together with some fine tuning I hope we can be back in the top ten."
Bob Bell, Chief Technical Officer
"Today wasn't as slick a day as we wanted, but we completed enough of our programme to make well-informed decisions for the rest of the weekend. We saw a small coolant leak on Carlos' car in the morning, then Nico flat-spotted his Soft tyres in the afternoon, meaning that neither driver completed their full programmes today. We're yet to make a conclusive decision on the new front wing, but the initial impression is that it's doing what is required of it. We completed a good number of long runs in today's hot conditions, but we're mindful that it could well be rather cooler on Sunday."
Williams
Running high-viz paint in both sessions on Stroll's front wing, Williams looked to gather crucial aero data on their latest component. Meanwhile, Sirotkin took a trip through the gravel but to his team's relief kept his FW41 out of the barriers.
Sergey Sirotkin - FP1: 1.15.876, P16; FP2: 1:15.408, P19
"Today we had a very busy programme in both sessions, whereby we mainly focused on the front wing. We found some very interesting and positive things which in return gave us better pace to work with. Overall, it is a good step in the right direction. It is up to us to go through the results tonight so that we can get the maximum out of the car tomorrow. For sure we are at the beginning of a positive road ahead."
Lance Stroll - FP1: 1:15.629, P13; FP2: 1:15.269, P18
"We have learnt quite a lot today and obviously what happens will depend on the conditions tomorrow. If the wind picks up then things will change. Today was all right, we tried some new bits on the car and had a new front wing. It was interesting, but now we need to look into it and see what we do for tomorrow. With the hotter weather we are going to have to do some tyre management in the race. It will be interesting due to the step in compound from the ultrasoft to the soft. Maybe this will mix things up and maybe the quicker guys can get into Q3 on the soft and then their race will be set."
Paddy Lowe, Chief Technical Officer
"It was a pretty good day. We brought a new front wing to this event which is completely new from left to right. We conducted a very thorough programme in FP1 with a lot of data flow measurements and flow visualisation. At one stage the car was almost completely painted green. The programme was extremely well executed by the team both in preparation and execution. We've adopted the front wing for the rest of the weekend, as it did everything intended and we obtained positive comments from the drivers. We continued work in FP2 with a range of tyres and some further aerodynamic tests. We have a lot of analysis to do tonight to determine how we configure the car for the race, but so far so good. A special thanks to the team back at base for all of the effort to get these new parts to this event."
Sauber
Giovinazzi ran in place of Ericsson in FP1 and had some drama when his engine cover flew off and landed on the track. The Swede reclaimed his seat in second practice and was an assured 14th. Leclerc meanwhile, despite complaining about tyre wear, put his C37 in the top 10 in both sessions, heightening the possibility of another Q3 appearance in what is shaping up to be an incredibly impression debut season.
Marcus Ericsson - FP2: 1:14.783, P14
"Today went positively. Missing out on FP1 puts you a bit on the back foot, but we had a clean FP2 and I completed the full programme we had planned, so I feel that I am back in the groove. The car feels good, and we have a foundation to build on. Our performance was good today, and we are in the mix in the midfield again, just like in the previous weekends. It will be tight tomorrow and on Sunday, and we have to make sure to maximise our performance on both days. I look forward to the rest of the weekend."
Antonio Giovinazzi - FP1: 1:16.023, P17
"It was a positive day, and nice to be back in the car again after a long time. I really enjoyed the practice session. My target was to complete the planned programme and give good feedback to the team. I am really happy with that, and I can't wait to be back in the car to build on this experience next week."
Charles Leclerc - FP1: 1:15.097, P9; FP2: 1:14.374, P8
"It was a pretty good day for us, finishing the two free practice sessions in P9 and P8. The car feels good and I feel comfortable driving on this track. We also had a good race pace, so things are looking positive so far. If the weather conditions stay the way they are, it will be a challenge for everyone to manage the high temperatures. We have to build on the things we have learned today and keep working for tomorrow – hopefully we continue having good results."
Toro Rosso
Gasly complained about the drivability of his car, whilst Hartley struggled for grip and ran wide over the kerbs on more than one occasion. They wound up towards the back of the field and look to be in a battle with McLaren to make it out of Q1 tomorrow.
Pierre Gasly - FP1: 1:16.071, P18; FP2: 1:14.793, P15
"Overall, it was a difficult day for us in terms of pace. There isn't much to say other than we need to work really hard to find more grip, which is what we are struggling with at the moment. The only thing we can do is to try and work as efficiently as possible to improve the car's performance for tomorrow."
Brendon Hartley - FP1: 1:15.864, P15; FP2: 1:14.830, P16
"It was really enjoyable to drive Hockenheim for the first time in a Formula 1 car. I felt pretty strong in both sessions, particularly at the end of FP2 during the high fuel long run. I think I was one of the stronger cars in the midfield which is a real positive. Again, it's extremely tight on short run pace in the midfield, I think it's just two or three tenths to get to the top 10. I didn't get everything together on my best lap, but if we do our homework tonight I think we can aim to move up a few places tomorrow."
Jonathan Eddolls, Chief Race Engineer
"It's great to be back at the German GP and Hockenheim after a one-year break. It's typically very hot here and tough on tyres, and this year it has been no exception.
"We arrived at this track with a few new parts on the car; we have some performance updates we evaluated on Pierre's car to further help the performance from both the chassis and the PU side. These were evaluated throughout both sessions, and their performance is as we expected. The track started dirty in FP1 and temperatures were already high, the general grip level was low and neither driver was happy with the balance of the car. For this reason, we spent the majority of the session to try and get a better balance to make the drivers feel more comfortable in the car. Towards the end of the session, Brendon carried out some aero correlation runs and Pierre did a longer run on the soft tyre, given that we weren't planning to run it again on Friday. We were one of the few teams who ran two soft tyres in FP1, so the time sheets weren't representative of where the real pace of the car was.
"Moving into FP2, we made quite a number of changes to both cars on the mechanical and aero side to improve both the grip and balance. The track temperature increased and that, combined with the lower working range of the ultrasoft, meant the overheating was even trickier in FP2. However, the changes we made certainly helped and both drivers set reasonably representative lap times. As you will see from the times, it's extremely tight in the midfield, so just a few tenths would promote us within the top 10. We will work extremely hard tonight to ensure we extract every last piece of performance from the cars."
Toyoharu Tanabe, Honda F1 Technical Director
"It's good to be racing in Germany again, after a one-year break. Track conditions this morning were affected by very high temperatures. On the PU side, we had a trouble free day, gathering data from both short and long runs, which we need to prepare for qualifying and the race. In terms of our settings, we will now take into account the possibility of rain tomorrow, although it is expected to be dry again on race day."
Pirelli
Mario Isola, Head of Car Racing
"Hockenheim had higher than anticipated temperatures today, but all the tyres performed entirely in line with expectations, with no issues whatsoever. The medium tyre was actually a bit closer to the soft than expected in these conditions, because of the high temperatures. However, the warm weather may change tomorrow, which will obviously have an impact on tyre behaviour and race strategy. Today's free practice session was all about the teams and drivers re-familiarising themselves with the Hockenheimring and assessing how the 2018 tyres interact with the circuit. From what we can see so far, all three compounds look to be viable options for the race, but there are still many more developments to come with plenty of data to analyse"