Feature
What the teams said - practice in Mexico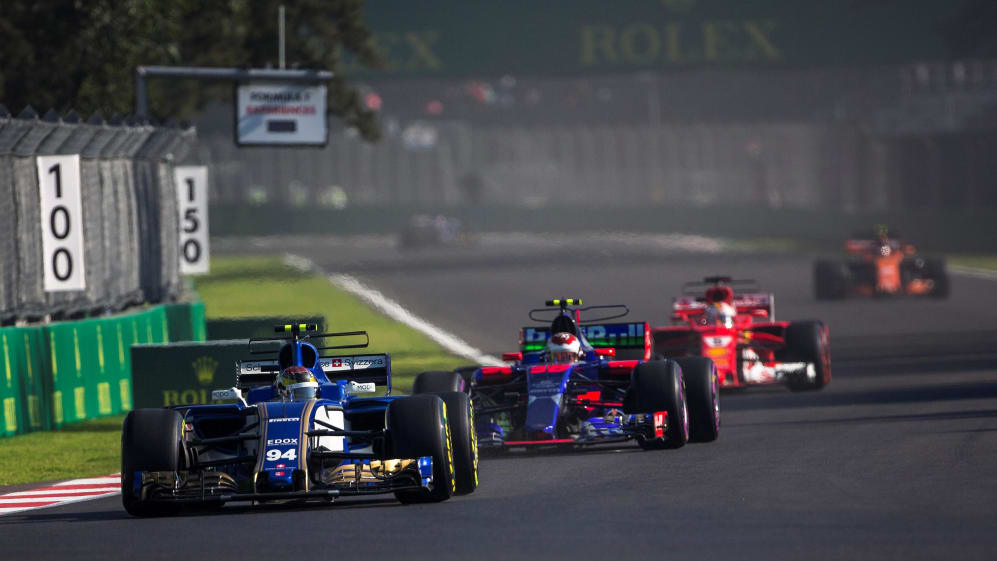 A round-up of the opening day's action from the Formula 1 Gran Premio de Mexico 2017 at the Autodromo Hermanos Rodriguez in Mexico City...
Mercedes
An early spin for Hamilton at the start of FP2 put the points leader on his back foot after a not too brilliant FP1, but overall he said he'd had a productive day and he was delighted that his single and race run pace was good. Bottas looked very strong in FP1, when he set what was actually the day's fastest time, but his crew went the wrong way on set-up in FP2, and when they reverted to FP1's settings he said the car wasn't as good as it had been in the morning.
Lewis Hamilton - FP1: 1:18.290, P2; FP2: 1:17.932, P2
"It's been a good day today. It didn't really start out great, particularly in the second session with the big spin on my first lap. That really threw off the session and obviously made it a little bit tricky to get the run on the SuperSoft. So I put myself on the back foot. But the single lap and then the long run on the UltraSoft was probably one of the best I've ever done. I don't think I've ever done 26 laps that consistent, apart from in the race maybe. We got lots of information, the track was feeling better in the second session once the temperature came up. It was great to see all the fans buzzing already today, in the paddock but also in the big grandstands. So overall a good day."
Valtteri Bottas - FP1: 1:17.824, P1; FP2: 1:1:18.299, P6
"First practice was good; I really enjoyed it. It is such a fun circuit to drive because it has quite a low grip, so it is definitely challenging. We made some set-up changes for FP2 which went in the wrong direction. So in the end of the session we went back to the original set-up. For some reason I also struggled to get the tyres to work in the second session. That's why it didn't look as good as the first one. But I think it was a positive day overall, I'm looking forward to qualifying."
James Allison, Technical Director
"That was a pretty positive day overall. The morning session was dominated by graining on the tyre, which then improved in the afternoon session as we normally see here in Mexico. Losing a tyre set on Lewis' first run in FP2 actually turned out to be a blessing in disguise because we then had a really nice long run on the UltraSofts later in the session. So between both drivers we got a good look across all the compounds and we're pretty happy that the cars are behaving well on this unusual track with its very smooth asphalt and challenging conditions for brake and engine cooling. Overall it looks promising for tomorrow and for Sunday as well."
Ferrari
Ferrari had an interesting day. Vettel got on his back foot in FP2 when a loose screw caused the fire extinguisher to set itself off in the cockpit, while Raikkonen had a spin in Turn 6 in FP1. Both said there is work to be done on the balance ahead of qualifying.
Sebastian Vettel - FP1: 1:18.586, P5; FP2: 1:18.051, P4
"This is a day in which we haven't done it 100% right. A fire extinguisher went off in the middle of the run. Initially it just felt like burning, and then it turned out to be very cold, so I had to go back, but we couldn't recover the time lost. This is a short track with a lot of traffic, so it is not ideal. Also, here it is tough to cool the car, the brakes, all the components, so if you are stuck behind someone else, it is quite bad. You want to be ahead of traffic and able to keep your pace. I think that keeping the temperatures as low as possible here will be tricky, but whoever succeeds the best will have the strongest pace. The car is quick, I just think it is important to find the right balance".
Kimi Raikkonen - FP1: 1:19.008, P6; FP2: 1:18.142, P5
"It was a normal Friday, trying different things and solutions to use in the car. Because of the high altitude the track conditions were not easy, always feeling a bit slippery. In some places it was ok while in some others it was a bit more difficult. Obviously you always want to have an easier and more straightforward day, with a better feeling from the beginning, but it's the normal story on Friday. It's the first practice and we can improve. In the evening we'll go through everything, figure out what's best and get ready for tomorrow".
Red Bull
Ricciardo said he was very happy with the way things had gone his side of the garage, and that he could actually have gone a few tenths faster on his best lap. Verstappen tried some 2018 parts on his STR13 in FP1, then had to switch back to current spec for the afternoon, which cost him time and rhythm. He also had a possible engine problem at the end of FP2.
Daniel Ricciardo - FP1: 1:18.421, P4; FP2: 1:17.01, P1
"Today was pretty positive and it's always nice to be on top of the time sheets. I still feel we can improve a bit and we know Mercedes always find more on a Saturday when it counts. I think we still need to find a few tenths to stay in the fight, but we will work on that tonight. It's nice not having to change much on the car because we don't seem too far off. It's always tricky here with the low grip and it's very easy to make mistakes which you could see today with all the spins. You have to be careful, be very nice to your car, have a good feeling and that really helps around here. I think we managed to find a pretty good set-up today with the car and the tyre temperatures, but it doesn't mean it will be easy for us all weekend. It doesn't look like I will have to make an engine change, so unless something unplanned happens then I will race from my Qualifying position on Sunday. If she keeps ticking over then we are keeping her in! Sunday will be really close, but today was a good day, so we will try and keep it going for the rest of the weekend."
Max Verstappen - FP1: 1:18.395, P3; FP2: 1:17.964, P3
"The pace of the car seems good, we tried a few new bits for next year this morning to understand them but I didn't like the feel so we stopped running early. We lost a bit of momentum and didn't do as many laps as we would have liked, this also meant we fell a bit behind on set-up. This afternoon we were playing catch-up on achieving a good car balance, we didn't get it where I wanted it but we were still third before we finished so I think the potential is there. Grip is always low here due to the altitude. With the other categories going out later today and laying rubber it should improve the grip as the weekend goes on. The day ended with a MGU-H failure but it was an old engine so nothing major to be concerned about looking ahead for the weekend. Daniel's pace looked good and we were quickest on all compounds which is very positive. We still don't have that extra power for Qualifying but I think we look good to fight for a descent result on Sunday as race pace looks strong."
McLaren
Once again Alonso showed the pace of the much-improved McLaren Honda, but Vandoorne had a troubled day, first with engine problems in FP1 that earned him a 35-place grid drop, then with a loose wheel that was initially mistaken for more engine trouble in FP2. To make things worse, Alonso also earned a 20-place grid penalty for powertrain changes.
Fernando Alonso - FP1: 1:19.346, P8; FP2: 1:18.508, P7
"I would say that today has been a very positive and productive Friday. We did a lot of laps, a lot of tests, and most of them gave us good feedback. We were only seven tenths away from the fastest time and two tenths from Bottas, so surprisingly competitive in both sessions on such a complicated circuit.
"We know it's going to be a difficult race anyway, starting from the back, and with little chance of overtaking because of our top speed. In some ways we have to sacrifice this race in order to have a fresh engine in Brazil and Abu Dhabi.
"We also don't yet know which way to go for qualifying - we need to decide on a few things in terms of tyres, and see which decision gives us the least painful result.
"The stadium section is such an incredible view! It's so nice to see so many people in the grandstands here already, on a Friday."
Stoffel Vandoorne - FP1: No time set; FP2: 1:19.844, P15
"I had an engine problem in FP1 which obviously limited our mileage. In FP2 too it was difficult for us to get out of the box at the beginning of the session due to a loose wheel, but we managed to complete our programme for that session and gather the data we needed.
"I hope tomorrow we will have a trouble-free day and continue our weekend as normal. I'm pleased we've managed to find the root of the PU problem we had in the first session, and hopefully we can get as much mileage as we can in FP3 tomorrow before qualifying.
"On a new track, mileage is always the most important thing to achieve, especially when you're trying to dial in the car to the circuit in tricky conditions like the high altitude we experience here. I feel positive that we can find a better feeling in the car tomorrow provided we can get the track time, and collect as much information as possible ahead of qualifying and the race."
Eric Boullier, Racing Director
"After a frustrating start for Stoffel we ended the day productively by gathering useful data from both cars in the second session.
"Following the issue on Stoffel's car in FP1, we elected to change his PU to diagnose the problem outside the car. Fortunately, the engine he was running was from our pool, and therefore it hasn't limited our resources for the rest of the weekend but simply necessitated that we bring our programme forward.
"Stoffel and his engineers ran the second session very efficiently to try to compensate for his lack of running this morning – a situation which hadn't helped his programme, especially on a track on which he's never raced before. However, he did a sterling job this afternoon to complete a full run plan and collate useful information for his team to process overnight.
"Fernando enjoyed two smooth sessions where the team was able to gather useful data ahead of the weekend and provide his engineers with valuable feedback on the car's handling around this circuit. We know this track is a challenging one for us and we're hampered by penalties for both cars, but we're pleased with the work we've managed to complete today, in spite of the PU issue, and we hope to be able to start on the front foot tomorrow with more useful running."
Yusuke Hasegawa, Honda R&D Co. Ltd Head of F1 Project & Executive Chief Engineer
"For today's running, both drivers started with a new PU. We changed Fernando's PU because of the issue he had with his MGU-H in the USA, and Stoffel's PU change was more strategic in order to help with reliability for the final two races in Brazil and Abu Dhabi.
"During both practice sessions, Fernando completed his programme in accordance with the schedule. Although we have been expecting a tough challenge here with regards to controlling the power extraction due to the thinner air at 2,200m, the performance he showed today was rather encouraging in terms of his competitiveness.
"As for Stoffel, we found a potential issue in his data at the beginning of FP1 and decided to change his PU as a precaution. Although it was frustrating to lose most of the session, we found the issue was very minor and there was no damage to the PU. Stoffel was then able to recover his programme, completing 32 laps in FP2.
"It's frustrating that we'll have to start the race on Sunday with both cars at the back of the grid. However, we know that anything can happen in the race. For this reason, we'll continue to focus on our set-up for long runs in tomorrow's session."
Force India
Perez made the most of his two sessions and was happy with the data he gathered. Ocon praised his team for getting his car ready after Celis, who had been going quite well, pushed a little too hard in Turn 16 in the stadium and damaged the rear wing of Ocon's car after crashing backwards into the tyre wall. The Frenchman made up lost ground as quickly as possible, but said the balance of his VJM10 needs work.
Sergio Perez - FP1: 1:19.240, P7; FP2: 1:18.728, P8
"I'm feeling happy with how things have gone today – it's been a positive start to our Mexican Grand Prix weekend. We looked strong from the start of morning practice and we've taken some important steps to improve the car across the two sessions. It's never easy finding the right balance here because the high altitude has a big impact on the car: you slide around more with the lack of downforce and it makes things quite tricky. It was important to cover so many laps today and we have a big job tonight to understand the tyres, the car balance and where we can improve ahead of qualifying."
Esteban Ocon - FP2: 1:18.822, P10
"It's never ideal to miss a session because you always improve with every lap. For this reason, it was crucial I had as much track time as I could in FP2 and I have to say thank you to our crew. It wasn't an easy job to get the car repaired in two hours but we managed it: their work gave me even more motivation to go out and do a good job. In terms of balance, the car still needs a bit of work: the feeling I have is not perfect yet, but there is plenty more to come ahead of qualifying tomorrow."
Alfonso Celis - FP1: 1:22.342, P19
"It was a very special feeling being on track in FP1 in front of my home crowd. I love the track and really wanted to put on a good show. Unfortunately I pushed a bit too hard and ended the session early. I turned in and lost the rear at the final corner. The track had quite low grip and several other cars did the same thing, but I made contact with the wall. I wanted to show the true performance of the car today, but it just didn't happen. In the early part of the session I was working through some set-up items and I also ran with the halo for the first time."
Robert Fernley, Deputy Team Principal
"It's been a busy Friday. This morning we evaluated some updated parts, gathering data to understand their effects on the car. The red flags cost us some track time, but we split the programme between the cars and collected a huge amount of data. Alfonso was very unlucky, making a small error and clipping the wall. The track was changing very quickly and he got caught out. There is a lot of data to analyse tonight, working with our colleagues back at the factory in Silverstone to make sure we put the best possible car on track tomorrow. The data from short and long runs shows it's going to be a tight weekend, but I feel we are in a good position going forward."
Renault
Both drivers were reasonably happy with their day, but each said that there is work to do on the balance, and Hulkenberg lost time at the end of FP2 with a cooling problem - a challenge in high-altitude Mexico because of the low air density.
Nico Hulkenberg - FP1: 1:19.552, P10; FP2: 1:18.775, P9
"Overall it was a pretty standard Friday, we missed out on a bit of running but we will manage. The car seems competitive balance-wise but we still have room for improvement. I think we can still optimize the package tomorrow morning but overall, a good start."
Carlos Sainz - FP1: 1:19.554, P11; FP2: 1:19.060, P11
"We had a good start in FP1, we were feeling quite comfortable with the car. However, in FP2, we were struggling a little bit to find the right balance. We will work hard on finding the answers for tomorrow and hope to be back in a comfortable spot with the car. I'm sure we can put together a strong Saturday here in Mexico to have good options to help the team on Sunday."
Bob Bell, Chief Technical Officer
"This morning we were able to get through virtually all of the programme and are reasonably happy with the results. We got clear answers on the tests we did and got a good feel for the car. We ran a relatively conventional FP2 programme but the drivers were less comfortable with the balance of the car so we have a bit of work to do to improve. We had to stop Nico's car earlier than we would have liked because of a cooling issue, that's usually a bit of a challenge for everyone here in Mexico City but we will adjust for tomorrow. We gathered enough information to decide what we are going to do for the race."
Williams
Williams had their usual busy Friday, trying a lot of things and Massa was generally happy with the car and his own lack of mistakes in the rarefied air and with the equivalent of Monza levels of downforce. Stroll struggled a little as he learned the circuit, spinning twice.
Felipe Massa - FP1: 1:19.443, P9; FP2: 1:19.206, P12
"Austin was maybe a slightly better Friday in terms of laptime. I didn't have the perfect lap on my first run on the soft tyre, which is really hard for here. I wasn't 100% ready for the ultrasoft but the long run wasn't bad, so I think we are there in the fight. We just need to try and score points. We know that Renault are looking competitive. With the altitude here, even if you have the maximum downforce, you still have a lot less than at Monza, so it's easy to make mistakes. I didn't, so I hope I can carry on like that all weekend. Tomorrow, I hope we can have a good qualifying and a good race."
Lance Stroll - FP1: 1:19.772, P12; FP2: 1:19.524, P14
"It has been a decent day and I like the track. It is my first time here in Mexico, so I am just learning the track and getting into it. It is definitely challenging due to the high altitude and the car is very nervous, but it is the same for everyone. I have been pushing to try and understand the limits of the car. It is not easy to get the tyre working on one lap. I have no expectations for qualifying and we will just do what we have to do to get everything right."
Paddy Lowe, Chief Technical Officer
"It's been a nice sunny day to start the weekend here in Mexico. We had a lot of work planned for today. We achieved most of it but missed out on some items because of the red flag in FP1. Generally, we had a problem-free day with a lot of tests in the morning and then more regular homework in the afternoon. As usual, the competition looks very tight in the midfield and there's some trickiness around getting the best lap for qualifying with tyre preparation, which we'll be working on a lot overnight and also in FP3 tomorrow."
Toro Rosso
Toro Rosso had a tough day with engine problems on both cars. Hartley showed well despite his in FP1 and again in FP2 until the engine failed, but after taking his car back from Gelael for FP2, Gasly only did 10 laps before the engine suffered control electronics problems. Fitment of the fifth CE of the season has earned him a five -place grid drop.
Pierre Gasly - FP2: 1:21.745, P19
"Not much running for me today unfortunately – I sat out in FP1 as Sean was in the car this morning and this afternoon I was only able to complete one lap… We then had an engine issue and had to stop the car. On Sunday I will have a penalty for the race… So not a good day for us, but it is what it is, we can't do much about it now. We will have a really busy day tomorrow because I don't know the track, so we'll have only FP3 to learn it and to get ready for quali and the race. We'll do as much as we can and keep pushing the rest of the weekend!"
Brendon Hartley - FP1: 1:21.747, P18; FP2: 1:19.423, P13
"We had a bit of a slow start this morning because of an engine problem from the word go in FP1, so we lost a bit of time, but the team did a great job to get the car ready for this afternoon's FP2. I feel I'm getting better on the short-runs and to end up P13 isn't bad. I learned some good lessons on the longer runs and, even if we had an engine failure, the rest of the day was very positive and I got a lot out of it. I'm a lot more well-prepared than a week ago! We will now work hard tonight and I look forward to tomorrow!"
Sean Gelael - FP1: 1:21.639, P17
"Finally, a completely dry FP1 session! I'm very happy with this morning's consistent weather conditions, it was a really positive session for me. I was happy with my first outing and set quite a good lap. Then, on my second set of tyres, we had a few small issues and I also got caught in some traffic, so I didn't really get any decent laps, which was a shame… But, having said that, as a team we got everything we wanted and needed from the session, so we can be pleased. Overall, I'm happy with everything I did today – a good way to end the season with the team, as this was my last FP1 of the year and to finish on a positive note is always good!"
Jonathan Eddolls, Chief Race Engineer
"A very difficult day for us all round… Unfortunately, we had a Power Unit issue on each side of the garage today. In FP1, we had an issue with Brendon's car, which meant he had really bad drivability, so he was really struggling with the car and, in the end, it was a terminal issue, so we had to stop him and fit a spare engine that was already in the pool – so he can do this without a penalty – and that meant it was the end of his session. Sean was in the other car for FP1, because we knew that unfortunately Pierre needs to take a grid penalty this event, so that's why we decided to sit him out during this morning's session. That wasn't a completely smooth session either for Sean; he also suffered drivability issues with the PU side. We thought we would get away with it going into FP2 but it also became a terminal issue in this afternoon's FP2 with Pierre… We're happy to have him back after his last race weekend in Japan and look forward to working together again. Unfortunately, it wasn't the best welcome back for him, as he had almost no running today. Not a good start to the weekend, but another PU goes into Pierre's car tonight, and we just plan to do as many laps as we can with him tomorrow to get him up to speed – I know he's fully capable. We're also struggling with the cooling of the car in general, so that was another big focus of our day – this is a track where the ambient pressure is so different to anywhere else, that it's very hard on engine and cooling system, so we were testing lots of things throughout the day to find the optimum going into the race. Even with all of the challenges there are some positives: the pace looks pretty good regarding the low-fuel runs – we're happy where Brendon was – and on the high-fuel the pace and degradation look reasonable. So, all in all, a difficult day, but also with some positives to take from it."
Haas
With Magnussen suffering from a tummy upset, and Grosjean's car suffering damage early in FP2 due to a spin and subsequent tyre delamination, it was not a strong day for the American team...
Romain Grosjean - FP2: 1:25.526, P20
"The car was very on the nose on the lap I did. I really struggled with the rear end. Initially, I didn't know what was happening – if we had too much aero balance or just didn't get the setup right. I had that spin that I wasn't expecting, and then I saw the tyre flying apart. I don't know which came first, the eggs or the chicken, but it felt pretty strange on that lap. We need to get some laps tomorrow, but we're never going to get a long run. Clearly you shoot yourself in the foot when you've got a Friday when you don't drive in FP1 and FP2. Again, we'll try to do our best for tomorrow. I believe we've got two sets of ultrasofts to prepare for qualifying in FP3. From there, we're just going to guess what we need for the race."
Kevin Magnussen - FP1: 1:20.644, P13; FP2: 1:20.318, P17
"Looking positively, we went through the program and got through everything we had planned today. We obviously have quite a lot of pace to find and a lot of work to do, but we'll look at it tonight."
Antonio Giovinazzi - FP1: 1:21.269, P15
"It was a good session with a lot of laps, which was the target. We had a good run on soft tyres before jumping onto the supersofts. I got a lot of laps in, learned a lot. It was good to feel the car and learn a new track. The track is always dirty in FP1, and I ran in the first 10 minutes of the session when it was really dirty, almost like a street track. Then it got better and better. I'm really happy with my session and I'm looking forward to going again in Brazil."
Guenther Steiner, Team Principal
"Obviously, we've had a tough and long day. Our only focus now is to get everything going again for tomorrow. We've got a lot of things to do, and we need to keep our focus. We're planning to do better tomorrow. Nothing is given, but we will do our best."
Sauber
There were no real problems here, and all three drivers were able to complete their individual programmes on a productive day. Pace, however, remains an issue.
Marcus Ericsson - FP2: 1:20.306, P18
"It was a bit of a challenge for me to only start driving in FP2 today. I had a bit of catching up to do, but I was satisfied with being on the pace quickly. Overall it was a positive day. Unfortunately, I was having some issues with the car throughout the session, and we are working on understanding the causes so that we can improve for tomorrow. Overall, it was a decent session for me."
Pascal Wehrlein - FP1: 1:20.971, P14; FP2: 1:20.306, P16
"Today was an OK day for me. I was able to complete a good number of laps and worked through the programme. In FP1, we tried different set-ups on soft and supersoft tyres, whereas we focused on qualifying and race preparations in the afternoon. Overall it was a productive day. We are going to keep working on our performance, in order to continue the weekend on this positive note."
Charles Leclerc - FP1: 1:21.446, P16
"It was a positive session overall, as I was also able to run the planned programme. The track was a bit slippery due to the low grip. It was a nice experience and the track is fun to drive on; I really liked it. It has a bit of everything, all kinds of corners. I am learning more and more each time I drive the car, and I am really looking forward to getting back into the Sauber C36-Ferrari for the free practice session in Brazil."