Report
What the teams said - practice in Monaco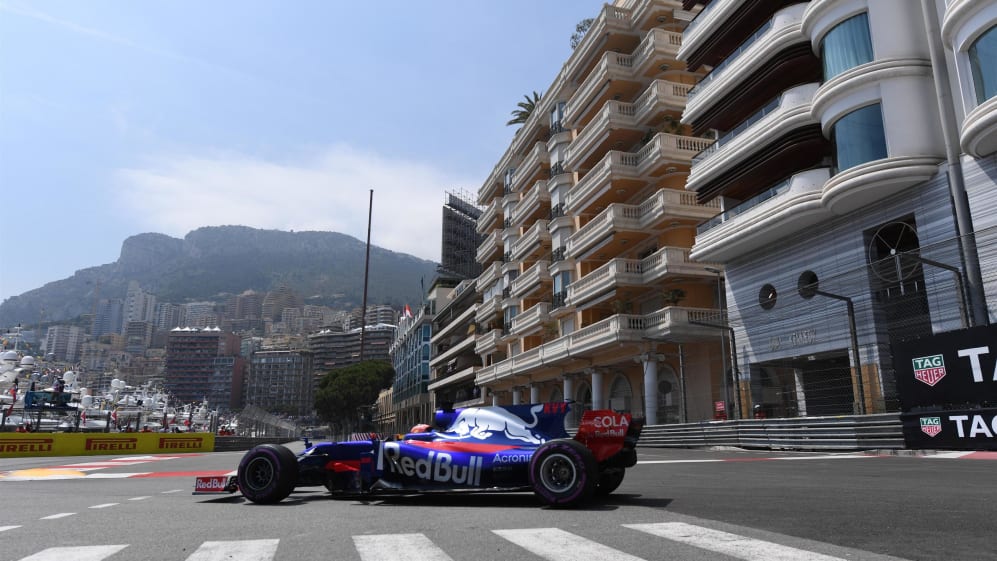 A round-up of the opening day's events from the Formula 1 Grand Prix de Monaco 2017 in Monte Carlo...
Ferrari
All in all, Ferrari had a very good day, with no particular mechanical issues and both cars running well. Vettel was right on Hamilton's tail in FP1 and said that the short-wheelbase SF70H seems well suited to this tight track, and in FP2 he was the only man so far to duck beneath the 1m 13s barrier. They could be very hard to beat on Saturday.
Sebastian Vettel - FP1: 1:13.621, P2; FP2: 1:12.720, P1
"I was pretty happy with the afternoon session. We had a small issue at the start of the session which needed some extra time to be looked at, but then we were on our way. It's fun to drive these cars around Monaco because they're faster than in the past. They're also wider, and I kissed the barrier a couple of times this morning, but I could carry on with no damage. Overall it has been a good day. It's only Thursday, so we have to wait for Saturday to get a clear picture, but it is nice to have a good feeling with the car already. I was very happy with the first run in the morning and since then we didn't have to change too much, but we improved the car in the afternoon. It feels good on a quick lap, the long runs are a bit harder to judge because of traffic. Now it's about fine-tuning and we have time for that. Yet, we still have to do something more on the car to be more competitive. Meanwhile, we'll have some commitments at the track tomorrow; it is more relaxed than usual because we have more time, but we are definitely not on holiday!"
Kimi Raikkonen - FP1: 1:14.164, P7; FP2: 1:13.283, P3
"Today it was getting better and better and that's the main thing. We made smooth progress; in the long runs the feeling with the car was good, while on the shorter ones we still have to improve a little bit. We made some changes and it got better all the times. We only need to work on small things to get a nicer feeling all the time and see once we push where we end up on Saturday. For sure it will be close between quite a few cars and so we obviously we need to do a good job."
Red Bull
Red Bull looked very strong in both sessions. Ricciardo said he really liked the way the rear end was behaving here, as it was the best it's been all year, and said the downforce level and the car's general rhythm were very good. Verstappen had trouble with the floor in the morning, and complained of poor downshifts in the afternoon, and said that the red flag cost him a run on fresh tyres. But he kept off the walls this year, and agreed that he has learned that you don't need to be the fastest on the first day here.
Daniel Ricciardo - FP1: 1:13.854, P5; FP2: 1:13.207, P2
"Regardless of how the car feels it is always so much fun to drive this track. We are looking pretty good at the moment. We put some good laps together and know where we need to improve so I'm very happy with our position after the first day. We have good downforce here, the rear of the car feels like it is working the best it has so far this year. If we can get the tires warmed up I think we can be pretty close on Saturday. I'm pleased with the cars rhythm and set-up which gives me confidence and makes me feel we are back in that groove after the first couple of practice sessions. I don't think we need to do too much to the car set-up wise at the moment, just a couple of small tweaks overnight perhaps. Being the first time round here with the new cars it definitely felt a little bit tighter so that needs to be considered when pushing on quick laps, but as I said, so much fun as always."
Max Verstappen - FP1: 1:13.771, P3; FP2: 1:13.486, P6
"It felt quite straightforward today, the balance of the car felt ok and we didn't do too many big changes so we are pleased with our performance. We still need some small improvements which we will hopefully find overnight and be up there at the front tomorrow. The red flag in the second practice messed up my run a bit so I didn't get a good chance on the new tyres and to show a true fast lap potential. I have learnt from the last few years you do not need to be the quickest on Thursday, it takes a lot of concentration here as one small mistake means you are in the wall and the session is over. Qualifying is very important in Monaco as once you get in traffic during a race it is so hard to overtake and progress, it's also very risky trying it. If you can get the tyres in the right window it helps massively, today we didn't quite manage to get there so we will work on that tomorrow and be ready for qualifying."
Toro Rosso
Toro Rosso were the revelation of the day, and Kvyat in particular, who was on fire. He was sixth in FP1 and Sainz ninth, both running supersoft tyres where every other frontrunner ran ultras, and then went fourth ahead of his team mate in FP2 – for a while there was even a Toro Rosso 1-2.
Daniil Kvyat - FP1: 1:14.111, P6; FP2: 1:13.331, P4
"A productive Friday. We did many laps today and they were all of good quality. We now have a lot of useful data to analyse before Saturday. The good news is that I'm happy with the balance of the car and we already look quite competitive. We now need to maintain this and get the car ready for qualifying and the race."
Carlos Sainz - FP1: 1:14.333, P9; FP2: 1:13.400, P5
"I think that we did what we needed to do on a Thursday in Monaco, building the speed up little by little and trying different configurations to give myself confidence with the car. After today's two practice sessions it's safe to say that we're quite happy with everything. Obviously, from Thursday to Saturday a lot of things could change so we can't let ourselves get carried away with today's result, but it's definitely a good starting point! I'm looking forward to the rest of the weekend!"
James Key, Technical Director
"Quite a productive day today. Since our problems in Barcelona, where we had a number of updates, we've learned a little more on how to get a better balance with the car. Both drivers seemed to be reasonably happy in FP1, so it was a case of fine-tuning the car a little bit for FP2. We ran a slightly different tyre programme to other teams, concentrating on our own work, car set-up and understanding. During the afternoon session we made reasonable progress and, even if there are still some issues to resolve, the session went well. We will now be working hard overnight and tomorrow to look at the data and optimise the car as best we can."
Force India
Perez believes that the 'little' team could be very strong in qualifying, but said there is work still to be done as he wasn't fully comfortable with the VJM10. Ocon was very impressive on his first run round Monaco, though he admitted that when he really tried to push in FP2 he "might have brushed the left rear. And maybe the left front. And possibly the right rear and the right front." He had, but the damage was negligible.
Sergio Perez - FP1: 1:14.201, P8; FP2: 1:13.799, P7
"Finishing in the top ten in both sessions is a good result, especially considering I am not feeling fully comfortable with the car yet. We have a lot of work to do before qualifying, but I am confident we can extract more performance and be really strong on Saturday. It hasn't been easy to get the tyres into the right window today and this makes it very hard around a place like this where there is no margin for error. We have time tonight and tomorrow to analyse all the data and ensure we can get our set-up right for qualifying and the race."
Esteban Ocon - FP1: 1:14.425, P10; FP2: 1:14.093, P15
"It was my first experience of Monaco from inside the cockpit and I am impressed. To be here for the first time in an F1 car is not easy, but I was able to do a good amount of laps and learn my way around the circuit. I took it step by step in the morning and felt satisfied with what we achieved. In FP2 I tried to push a bit more and I ended up brushing the walls a couple of times. Fortunately there was no significant damage and I could carry on with our programme. I am looking forward to being back in the car on Saturday and seeing where we stand in qualifying."
Robert Fernley, deputy team principal
"We started FP1 pretty well and the drivers were immediately comfortable with the balance of the car. We tried a slightly different direction in FP2 and things didn't really improve, so we will need to look at the changes we made to understand how to move forward for Saturday. Esteban had to get up to speed with a new circuit and he went very close to the limit at times, but that's part of his learning process around this track. We were able to do a lot of mileage with the softer compounds and we also tried some new parts, which seem to be working as expected. Now it's a matter of extracting some more potential from the car during FP3 and focussing on qualifying performance."
Mercedes
Mercedes looked good in FP1, with Bottas being very aggressive early on while yet keeping the car off the walls, and Hamilton setting the fastest time. But in trying to cure a few handling shortcomings for FP2, the team went the wrong way on set-up and both drivers reported a "night and day" difference as they struggled for grip while running both the supersofts and the ultrasofts. The good news is that the engineers know where they went wrong.
Lewis Hamilton - FP1: 1:13.425, P1; FP2: 1:13.873, P8
"We didn't have the greatest day today. Practice one was actually really good and we were quickest, but then in second practice we just struggled to extract the grip from the tyres and we were sliding around a lot. I'm not sure why the tyres weren't working but the difference between the two sessions was night and day. We'v e got some work to do ahead of Saturday that's for sure but I'm confident the team can work it out. Monaco is always amazing to drive, but this is definitely the best car I've driven around here. Ferrari are very quick again and Red Bull are also looking good this weekend. We're looking forward to a real fight on Saturday."
Valtteri Bottas - FP1: 1:13.791, P4; FP2: 1:13.902, P10
"Practice two was difficult and we struggled with the pace over one lap. We made some changes between practice one and practice two but we clearly went in the wrong direction - that's why both of us were struggling. When the car isn't quite right you lose a lot of time in Monaco. We tried to go back with the set-up and it felt better but by that point we'd already put a lot of laps into the tyres. At least we've learned what not to do with the set-up here. It's a shame but we have a full day tomorrow to analyse everything and come back stronger on Saturday. It will be close again at the top I' m sure."
James Allison, Technical Director
"After a very positive morning session with both cars and drivers, the afternoon proved more difficult and we clearly took a step in the wrong direction with the car set-up over the break. We will have a good think about it tomorrow in order to put things right for Saturday. But I think we can be encouraged by the pace and consistency that we were able to demonstrate in FP1."
Haas
Both drivers liked how the VF-17 felt, stayed out of trouble, and got through their day's programme, and they were decently in the midfield group, so the feeling is one of optimism here tonight.
Romain Grosjean - FP1: 1:15.321, P15; FP2: 1:14.022, P14
"We managed to stay out of trouble. It's a very tight midfield. We need to get all our sectors together. I think there's a bit of work we can do on the car to make it better. In general, though, I'm happy with the work everyone's done. I'm looking forward to Saturday. It's harder and more challenging to drive here, but it's more fun."
Kevin Magnussen – FP1: 1:14.870, P13; FP2: 1:13.890, P9
"I'm pretty happy with the day. We got everything done that was on our program. The car's not feeling bad, so I'm looking forward to qualifying on Saturday. It's very fast here. It feels amazing and it's really good fun to drive. Let's hope we can be competitive, as well."
Guenther Steiner, team principal
"It was a pretty good day. If in FP1 and FP2 you bring both cars home without damage, it's always a good day in Monte Carlo. There's a very tight midfield as always – it's even a little bit tighter, which is very interesting. We had a good session. We did a lot of laps and learned a lot. Now we're soon into qualifying. It will be tight – there were seven cars in less than three tenths (of a second). I think we're in a good position. We'll try to do our best to get ready for Saturday."
McLaren
Crucially, McLaren enjoyed a troublefree days as Button played himself back in and learned about the 2017 cars in real time as opposed to in the simulator. It didn't take him long to get a handle on the MCL32, further updated here with revised bodywork, front wing and floor, and he ended FP1 just 0.141s off Vandoorne, and had closed that gap to 0.035s by the end of FP2. Both are adamant that there's more to come on Saturday.
Stoffel Vandoorne - FP1: 1:14.813, P12; FP2: 1:13.946, P11
"It's been a reasonably good day's running.
"If you look at today's lap-times, you can see how extremely tight it is in the midfield – and that's exactly where we are. That means we really need to maximise every single opportunity that comes our way this weekend so we can eke out every last bit of performance from the car. An extra tenth or two could make a huge difference in Saturday's qualifying.
"I'm feeling pretty comfortable in the car. I think we'll make some small adjustments ahead of FP3, and those should hopefully help us take another slight step forward. The most important thing around here is to build up throughout the weekend, and to be fully prepared for qualifying.
"I think we can be in good shape for that. There's still more to come from us this weekend."
Jenson Button - FP1: 1:14.954, P14; FP2: 1:13.981, P12
"It was funny when I did the install lap this morning, I had a little giggle to myself. Have I missed it? No, but when you jump in the car, you definitely enjoy the moments that you have. I've really enjoyed practice, both the long and short runs. FP2 was a bit of a struggle to really find my feet with the car. I'm braking so much later than what I'm used to here and carrying so much speed into the corners. Adjusting to that takes time, so with another day with the engineers and a look through the data, I'm confident that I can improve for Saturday.
"As soon as I exited the pits, everything felt very natural. The weirdest thing is when you're behind a car or when you let a car past, because you look at it and it's gigantic. Then you feel really uncomfortable because you think, maybe I am too close to the barriers. But the car fits well; it fits like a glove.
"I haven't really thought about where I hope to finish. It's a very mixed-up grid at the moment which I'm sure will all change again on Saturday. I don't expect to be one tenth off the Mercedes cars in qualifying, but the guys understand where I'm coming from. They know what they need to do to improve the car to suit me a little bit more and to give me a little bit more confidence.
"Hopefully we'll see a step in performance on Saturday."
Eric Boullier, Racing Director
"It's always fantastic to be in Monte-Carlo for the Monaco Grand Prix, particularly after a relatively quick and trouble-free day of running. We managed to execute our run-programme with very few disruptions today, and, while that's nothing to be proud of, it's satisfying to have been able to maintain momentum with both cars through both sessions.
"I'm pleased that Stoffel had such a productive day. Both he and his engineers have worked hard since the last race to better understand how he and the car can work together, and I think we're starting to see the fruits of those labours.
"Jenson also had a good day. He judged the day very well, typically playing himself in gently during FP1 before starting to explore the increased grip and performance of these 2017 cars in the afternoon. After FP2, he admitted that he'd had a lot of fun in the car today, and I think that translated directly into his lap-times.
"This has been a solid start to our weekend. We'll now spend Friday evaluating the data and will look to further improve on Saturday."
Satoshi Nakamura, Honda R&D Co. Ltd Principal Engineer
"It was a good start for us here in Monte-Carlo today. Stoffel and Jenson each clocked more than 70 laps without any major issues throughout FP1 and FP2, and we were able to go through our programmes with minimal disruption.
"For Jenson, today was his first time behind the wheel of a Formula 1 car since his swan-song in Abu Dhabi last year. The cars have changed a huge amount since then, but Jenson showed today what an incredibly capable and experienced driver he is and was quickly up to speed. I'm looking forward to seeing how he progresses over the remainder of the weekend.
"It was also Stoffel's first time around Monaco in a Formula 1 car, although he is of course a former winner here in GP2. It was great for him to have such a solid day of running. He's been working incredibly hard with the team over the last few weeks and we are seeing encouraging results from that hard work this weekend.
"Needless to say, qualifying will be key here as overtaking is very difficult. Although we will not have any sessions tomorrow, we will continue to work hard analysing the data collected today to gain as much lap-time as possible before Saturday."
Williams
It wasn't much of a day for Williams, though they gathered plenty of information to process tomorrow and Massa thought they were in a better place than in recent years here. In the afternoon Stroll was closer to his team mate until he ran wide entering Casino Square and brought out the red flag for five minutes as he crashed into the outer barrier. It was, he said, a typical street circuit error.
Felipe Massa - FP1: 1:14.617, P11; FP2: 1:14.003, P13
"Today was a typical first day in Monaco, really. We had to try and understand everything: the tyres, the balance, and try to get used to the track with the new car and new rules. But today was always going to be a learning day. Happy may not be the right word to describe today because we're not in a great position, but we are a little better than we have been at this track in previous years. It's definitely going to be a big fight with so many teams around us. But we'll do everything we can and I hope we'll be able to understand everything to improve so that we can be ready for qualifying on Saturday."
Lance Stroll - FP1: 1:15.595, P16; FP2: 1:14.474, P16
"The track is great and I was really happy with the car, but then there was the crash at the end. I just basically centred in looking for the limit, got onto the dirt a little bit and lost the rear. It was a typical street circuit mistake. I got into learning the circuit pretty quickly and I was happy with the day until then. What is good here is the tyre seems to be hanging on quite a bit, so we are able to do multiple push laps. In FP3 I am just going to build up my rhythm in that area, but I think I know pretty clearly in my head what I did wrong. I am going to look at the little areas I can improve on for Saturday, as I know we can do that and have a good day. I think corner eight and the last corner are the two places I need to improve on, but it really annoys me because every time I play the Playstation game it has always been those two corners that I couldn't get right, and in reality it is still those two corners!"
Paddy Lowe, Chief Technical Officer
"Thursday in Monaco is all about getting in the laps and I think we ran a good programme. We timed our runs well for both drivers as we didn't encounter too much traffic. Felipe conducted a number of tests throughout both sessions, and we gathered some good information from those. It was Lance's first time driving around Monaco, and he did a very solid job in building up his confidence and improving his laptimes. By the middle of FP2 he was producing times that were very similar to Felipe's. Unfortunately, towards the end of the programme we'd planned for him, he braked too late for Massenet and lost the back end. Despite that mistake we're all happy with what he has achieved today. On the whole the baseline performance of the car isn't too bad, but there are a few things we need to understand to be better on Saturday; as it's going to be very close between everyone out on track."
Renault
Renault had a pretty wretched day, with Hulkenberg losing all but three laps of FP1 because of an electronics issue, and Palmer's engine breaking early in FP2.
Nico Hulkenberg - FP1: No time, P19; FP2: 1:14.870, P17
"We made progress in the afternoon after a morning where I wasn't put through my paces but my team mechanics had all the work to do. There were no issues for me in the afternoon however we were a bit behind where we should have been by missing the earlier track time. I focussed on assessing parts and set-up more than going all out for the fastest time possible, so there's more in the bag for Saturday."
Jolyon Palmer - FP1: 1:15.949, P17; FP2: 1:15.616, P18
"Monaco's all about building momentum and getting the laps in, so in that regard it was a positive morning but a less positive afternoon. There's certainly more pace to come from me and the car so I'm very eager to get back out on track, although we have to wait a day longer for FP3 and qualifying here. Obviously the afternoon was unfortunate but there's still a lot of potential for the weekend ahead."
Nick Chester, Technical Director
"Today certainly wasn't the start we wanted for our Monaco weekend. Nico suffered from an electronics issue in the morning whilst Jolyon experienced a power unit related issue in the afternoon, meaning less running for both drivers. We have some work to do but we know where improvements can be made looking to qualifying on Saturday."
Sauber
Sauber had a tough start, with Ericsson losing all of FP1 with gearbox problems, then brushing the barrier exiting Casino Square in FP2 but making the catch of the day as he kept control. Wehrlein went about gathering as much data as he was able to.
Marcus Ericsson - FP1: No time, P20; FP2: 1:15.691, P19
"It was obviously not an ideal day. I have lost lots of track time in FP1 because of the gear box issue. That really hurts, especially on a track like Monaco, where you need to find a good rhythm every lap. The guys worked really hard to get the car ready again for FP2. The afternoon session was good in terms of running, but our pace is not satisfying at the moment. We made some proress in Barcelona, but here we struggle with the overall grip."
Pascal Wehrlein - FP1: 1:16.258, P18; FP2: 1:15.695, P20
"Overall it was a difficult practice day for us. We definitely expected more here in Monaco compared to where we are. Therefore, I am not satisfied with today's performance. We need to understand the reasons for that, so that we can improve for Saturday and Sunday."
Pirelli
The surface of Monaco could hardly put a dent in any of Pirelli's three softest tyre compounds, which meant that degradation was negligible in both sessions. So much so that there has even been speculation that a set of supersofts could virtually go the race distance. At the same time, many drivers reported difficulty getting the harder compounds in their limited operating window. The gap between the two softest compounds was around 0.7s per lap.
Mario Isola, Head Of Car Racing
"Monaco is not a circuit that generally holds many surprises: we saw very limited running on the soft and the majority of action on the ultrasoft, exactly as we expected. Even this compound is on the hard spectrum for the very specific low-grip conditions of Monaco: ideally we would bring specialised compounds for this event, even softer than the current ultrasoft. Nonetheless, we already saw the fastest-ever lap of Monaco even in FP1, which subsequently became even faster in FP2. Some drivers who want to do something different in qualifying might choose to run the supersoft in Q2 on Saturday: in the event of an early safety car, this is a gamble that could pay off."