Feature
What the teams said - practice in Shanghai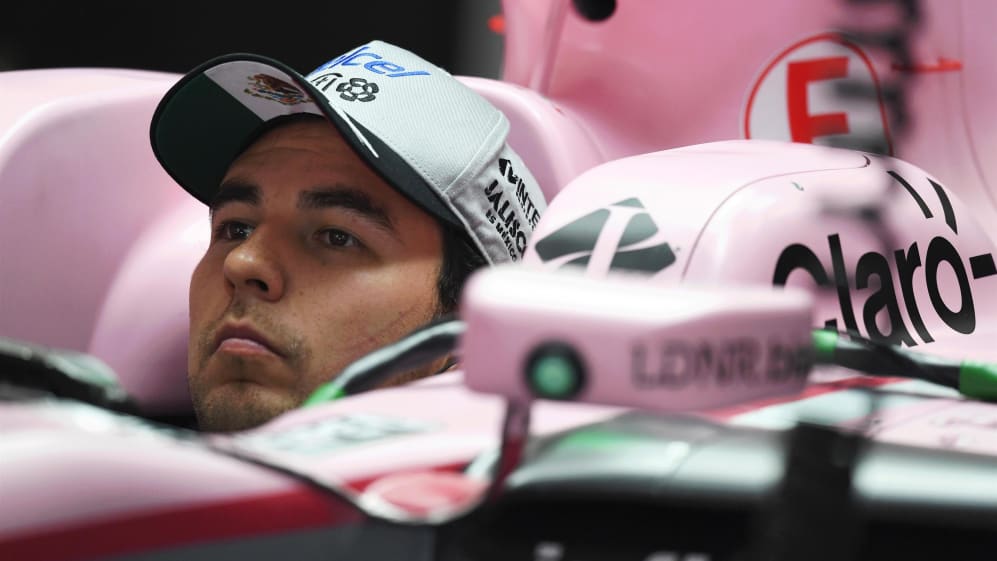 A round-up of the opening day's events from the 2017 Formula 1 Heineken Chinese Grand Prix at the Shanghai International Circuit, where poor weather conditions unfortunately led to the cancellation of second practice...
Red Bull
Max Verstappen - FP1: 1:50.491, P1
"The weather played a big part today meaning I managed just two timed laps, I did however top the time sheets so that is a nice positive. We haven't been able to test anything on the car since Australia, and it's unfortunate that due to the delays today we just didn't get the running time we had hoped for, it also meant we don't have a lot of track data to review. I understand the reasons behind not running, the weather simply meant the helicopter couldn't fly and that is integral to our safety in the case of an accident. The balance of the car seemed quite good in the wet but Ferrari and Mercedes weren't really running so we don't have a competitive comparison. I think the forecast is looking better tomorrow so at least we will get some dry laps to try a few new things heading into qualifying, for now the most important thing is laps, the more the better. For the fans it could be good tomorrow as everyone will be making up for lost time, so a lot of track action."
Daniel Riccardo - FP1: 1:54.038, P8
"It's pretty frustrating that FP2 is over and we didn't get to drive but at least we managed a handful of laps this morning. It's a shame for us drivers but also a shame for the fans who have turned up today to support us. At the same time I understand what happened and I do support the decision as safety comes first. The track conditions were fine but if someone was to have an accident and the helicopter couldn't airlift them to hospital then it could be a major issue. The weather forecast looks a little better for tomorrow so hopefully we will be able to drive and get some practice in ahead of the race on Sunday. If it does rain on Sunday then the exciting part is that none of us have really done any wet driving yet which will create a more open playing field and potentially a very interesting race. I'm definitely ready to stop talking and start driving."
Williams
Felipe Massa - FP1: 1:52.086, P2
"There's not much to say today! We did a few laps on the wet tyres, which felt OK in the few laps I did, but it was not really enough to understand the tyres. We had a few laps with barely anyone on track. Whilst safety is so important, it was a fairly uneventful Friday and I hope we can have nicer conditions on Saturday and Sunday for us on track, but also for the fans so they get to see the spectacle of the race!"
Lance Stroll - FP1: 1:52.507, P3
"You can't change the weather, it is what it is, and it was such a shame for the fans that they didn't get to see us on track. It's obviously not ideal, as for me it was the first time here and the first time in a Formula One car in the wet, so I would have liked to have run a bit more today. The conditions were not fully wet, so I was on intermediates and, as the track was drying, it was even becoming a bit too dry for them. I only did seven laps, so there is still a lot to do. I hope there are a lot more laps to do before qualifying, as I have a lot more to learn. I am now just going to focus on tomorrow and make the best of it."
Paddy Lowe, Chief Technical Officer
"Whilst it's been a frustrating day for everyone, it's probably more so for other teams, because we were able to make the best of the opportunity. We didn't run in the wet in Barcelona during the pre-season tests so we had never driven the car in the wet. It was particularly good for Lance, who has never driven any Formula One car in the wet. The small amount of running we did on the full wets in FP1, and the sets of laps on the intermediates were actually invaluable as we learnt how the car behaves in wet conditions and on wet tyres. The pace was encouraging for the car but also for Lance, who was able to drive with confidence in those conditions. I feel the worst for the fans! We have some really enthusiastic fans in China and they've been denied the excitement of the cars running today. From our point of view, we have a lot of homework to do ahead of qualifying and the race, which we haven't done today, but it's the same for everyone so that's the challenge we face together."
Toro Rosso
Carlos Sainz - FP1: 1:52.840, P4
"A very particular Friday, as the conditions were not good enough for the helicopter to fly, so we spent most of the time in the garage today. In this morning's FP1 we managed to at least do an install lap and check the car, making sure everything was working well. In FP2 we unfortunately didn't complete any laps and I spent an hour and a half in my seat, watching the session on TV! It was like sitting on the sofa at home - at least I confirm I'm very comfortable when I sit in the cockpit! Tomorrow's FP3 will definitely be a tough and intensive session. There's now a lot to learn in a little amount of time, but it's the same for everyone."
Daniil Kvyat - FP1: 1:53.314, P6
"I'd like to thank all the engineers and mechanics, they were extremely busy today…!  Okay, of course it's a real pity that we were only able to complete a few laps in the morning and none in the afternoon… Surprisingly, we were still able to get some interesting information and tomorrow, if it's dry, we need to be very alert, try to have a clean programme and complete as many laps as possible. The forecast for the rest of the weekend is quite unstable, so we will see what happens – it could be an interesting race!"
Jody Egginton, Head of Vehicle Performance
"Unfortunately, the restrictions affecting the medical helicopter today have meant our running has been limited. However, safety is of paramount importance, so we accept this as something we have to deal with. In FP1 we managed a couple of timed laps with both cars and, given we did not manage any running on the intermediate tyre in winter testing, these laps have been very useful - they've provided a first view of not only the intermediate tyre but also the requirements regarding aero balance, brake, differential and engine settings, and this data is very important. With no running in FP2, we will now prepare the cars for Saturday and adjust run programmes so that we can cover as much ground as possible in the one hour session tomorrow. We can expect it to be a very busy one."
Haas
Romain Grosjean - FP1: 1:53.039, P5
"It wasn't a great afternoon for anyone, for us, the fans, the TV viewers, anyone waking up back in Europe. We managed a few laps in the morning, which is better than nothing, and I've got a few ideas of work we need to do and where we need to go. We were planning to try that in FP2 but, obviously, that didn't happen. It's going to be a very busy Saturday morning and we're going to think about what the race is going to be. The car didn't feel too bad, so I'm pretty encouraged by that. We'll see how things develop through the weekend."
Kevin Magnussen - FP1: 1:55.104, P10
"There was nothing really learned today, so hopefully we can get some driving in tomorrow. The forecast is meant to be better. We'll see. We want to drive, we want to be on track, but it was out of our control, so what can we do?"
Guenther Steiner, team principal
"Not a lot can be learned from a day like today. What can you do? We know our cars run, and that's about it. It's unfortunate that not a lot of running took place today for anyone, but you also understand why. We all take safety seriously, and if the medical helicopter can't fly because the conditions won't allow it, then it can't fly. It's pretty straightforward. Tomorrow is supposed to be a much better day weather-wise, making final practice and qualifying that much more important for the race."
Renault
Nico Hulkenberg - FP1: 1:55.608, P11
"Unfortunately there's not much to say about today. I did get one flying lap on the intermediate tyres but that was it. We made a front wing adjustment and I was starting another flying lap when I was caught out and spun at the entry to turn three. Sadly the car ended up in the gravel so that was the end of my session. Running was stopped shortly afterwards due to the helicopter issue so we didn't lose out today. FP2 was a real shame for everyone."
Jolyon Palmer - FP1: No time, P15
"In terms of track time we ran faultlessly today; unfortunately the weather circumstances meant it was only for three installation laps. It was pretty slippey-slidey out there, but I was happy with both the wet and intermediate tyres for the limited time I used them. It's a shame for the fans and I'm hoping for everyone's sake that the weather improves tomorrow."
Nick Chester, technical director
"There wasn't much learnt today due to the limited track running. It's a shame for the fans who came here to watch, but unfortunately the medical helicopter was unable to fulfil its role, so we were prevented from running. On the plus side, there is less work to be done on the cars overnight. We're hoping for better conditions and more track time tomorrow."
Sauber
Marcus Ericsson - FP1: 2:15.138, P13
"We were only able to run a couple of laps in FP1 under virtual safety car. It is disappointing for all of us and for the fans. Hopefully the weather conditions will be better for the rest of the weekend, so that we can put on a good show."
Antonio Giovinazzi - FP1: 2:15.281, P14
"Unfortunately, there was almost no running today, so we could not work through our planned programme - but it was the same for everyone. I hope this will change tomorrow, so that we can have some track time before going into qualifying."
Mercedes
Valtteri Bottas - FP1: 1:54.664, P9
"I'm really sorry for the fans, first of all. All the people came to see us in practice today but didn't see any running apart from a couple of laps in FP1, which is a shame. I promise we'll do all we can to make it exciting in Qualifying for them tomorrow and especially on race day. A big thank you to all those loyal fans for their support. The weather tomorrow is looking alright, fortunately. If it is wet on Saturday or Sunday it's no big drama. We have a little bit of information on the Intermediate tyre - more or less the same as any other team, so we're all in the same situation. Dry conditions will be the question mark at this point, so hopefully we get some dry running in FP3 tomorrow morning."
Lewis Hamilton - FP1: No time, P20
"Obviously not a great day. I've only done one lap on the 2017 wet tyres so far this year and, from what I could tell on that out-lap, they feel pretty similar to last year's so I don't have any particular worries over it. But there's a bigger picture today. The track was absolutely fine and we could have run all day today with no issue if it weren't for the clouds. It's not good for the fans watching on TV and even worse for all those people in the stands, who have paid money to come out here from the city or even from other countries. They've barely seen a car on track today, which must be tough for them. We need to work together with the FIA and FOM to find a solution or an alternative plan of some kind when we have circumstances like this in the future."
James Allison, technical director
"Missing Friday means we go into qualifying and the race not knowing as much about the tyres as we'd like, for example how long they will last and what the performance difference is between the compounds - and those data are the basis for your race strategy. We'll miss the time for set-up tweaking to fine-tune the balance as well, but these days you arrive at the track with a pretty good balance so we shouldn't be hurt too badly. The nature of modern Formula 1 is that, even if it's wet in practice, we limit the amount of running because you don't want to spin off or damage the car and be on the back foot for the rest of the weekend. So most of the time when the drivers use the Wet tyres it's a voyage of discovery for them - and that's where you see their ability really come to the fore. We are fortunate that, in situations like this, our two drivers have the skills to limit any disadvantage. Saturday should be the best of the three days in term of weather but Sunday is looking quite troublesome."
Force India
Sergio Perez - FP1: No time, P19
"It's always frustrating when you cannot do any running because it's a lost chance to prepare for the weekend. It's also a shame for the fans: the grandstand had a good crowd and they have been so supportive throughout the day. The hope is that the rest of the weekend will give them something to cheer about. Missing all today's running is a challenge, not just for tomorrow, but also for Sunday because FP3 is a very short session to recover all the lost ground. I am still positive about our weekend: I think today's lack of running can turn into an opportunity for us and I hope we can benefit from it and come away with a strong result."
Esteban Ocon - FP1: No time, P18
"With just two out-laps to my name, I didn't really learn very much today. It was useful being in the car because I was able to get used to the various elevation changes on the track and I got to try the intermediate tyre, but of course I would have preferred to do a lot more running. Tomorrow looks like it will be a very busy day, especially in FP3, so let's hope conditions are better and we can get on with our programme. I hope the fans are not too disappointed by today's lack of action: hopefully they'll keep coming to watch and they'll be rewarded by an exciting race on Sunday."
Robert Fernley, deputy team principal
"It's always difficult when plans get disrupted, but everyone on the grid is in the same boat. Tomorrow's practice session will be crucial to get an understanding of the tyres and prepare for qualifying. This is a totally new track for Esteban and he hasn't had the chance to complete a competitive lap yet, so he will need to maximise his time tomorrow. The weather has perhaps turned this weekend wide open, so tomorrow we will need to be on top of our game to make the most of any opportunity."
Ferrari
Sebastian Vettel - FP1: No time, P16
"A shame about today, especially for the people who came here to watch, but what else could we do? Over the past few days, there have been so many fans and so many messages from people saying how delighted they were with the result in Australia. Let's see what we can do tomorrow and let's hope we have the right set-up, otherwise it will be difficult. However, I'd add that I'm confident we can do it and tomorrow the weather will be better."
Kimi Raikkonen - FP1: No time, P17
"Today we learned nothing: after the installation lap we wanted to go back out on track, but the session was interrupted. It's a shame, but it's the same for everyone. You can't change the weather and sometimes things like this happen. It was not an ideal day, but even if we had run today, it would have been in the wet and tomorrow it's not due to rain. So we must wait and see what the weather will be and how things will go."
McLaren
Fernando Alonso - FP1: 1:53.520, P7
"It's good to see the fans in the grandstands and how much they enjoy Formula 1, but it's a shame that we didn't put any laps in for them in FP2, and very few in FP1. Hopefully we can give them a good show tomorrow and Sunday.
"I know this track well, I know the tyres, I know the car, so I don't mind going straight into qualifying. Should we need wet tyres or dry tyres, I have all the data on my hard disk already!"
Stoffel Vandoorne - FP1: 1:57.445, P12
"Well, it wasn't a very exciting day for any of us. Nobody wants to wait in the car or hang about in the garage, so it's a shame I only got one run in FP1 today, in wet conditions. There will be a lot for me to catch up with tomorrow. Hopefully, conditions will be better and we'll be able to get some decent running.
"It's true we have some new bits on the car and we would've preferred to spend more time on track to evaluate them, but it's the same for everyone, after all.
"From my side, for sure, it's the first time I've driven here so catching up will be one of our key tasks tomorrow. We'll try to make the most of it."
Eric Boullier, Racing Director
"Well, what can I say? In FP1 Fernando drove five laps, and Stoffel four. In FP2 no-one drove any laps at all, and the session was aborted even before it was due to end.
"That was the correct decision, disappointing as it must have been for the small number of spectators who had braved the rain and mist to visit the circuit today, because you can't race if the available vision is too poor to allow a helicopter to be deployed safely. That's an absolute, because the safety of our drivers is paramount.
"However, we know we're in the entertainment business, and, together, we all hope to be able to put on a better show tomorrow, with plenty of on-track action, when the weather is forecast to be rather better."
Yusuke Hasegawa, Honda R&D Co. Ltd Head of F1 Project & Executive Chief Engineer
"Obviously it was very frustrating that we were unable to do any significant running today, but the safety of our drivers is the absolute priority.
"It was also particularly disappointing for the fans who braved the rain to come out and support us. All we can do is hope for better weather tomorrow, for us and for them.
"In terms of where we are, we were only able to do a total of nine laps, so we didn't really learn a lot. Hopefully we'll have better conditions and more track time tomorrow so we can gather all-important data for qualifying and the race. We also still have a lot of work to do on set-up and understanding the tyres. Tomorrow will be a busy day for the whole team.
"In addition to everything else today, this is Stoffel's first time to race here, so it was a missed opportunity for him to understand the track. However, we're sure he won't let that hold him back this weekend."
Pirelli
Mario Isola, Head of Car Racing
"Today was the GP debut for our 2017-specification wet and intermediate tyres. We also have a wet weather tyre in a different compound with the target of providing more grip. Its test wasn't particularly significant due to the lack of running. However, we did see a fastest time from Max Verstappen that was seven seconds faster than the intermediate tyre in China last year. With both the wet and intermediate tyres being new this year, the crossover points are different and we saw the teams experimenting with those in FP1. The weather forecast still seems uncertain for the next few days so it's hard to know what to expect tomorrow and for the race."