Feature
What the teams said - qualifying in Abu Dhabi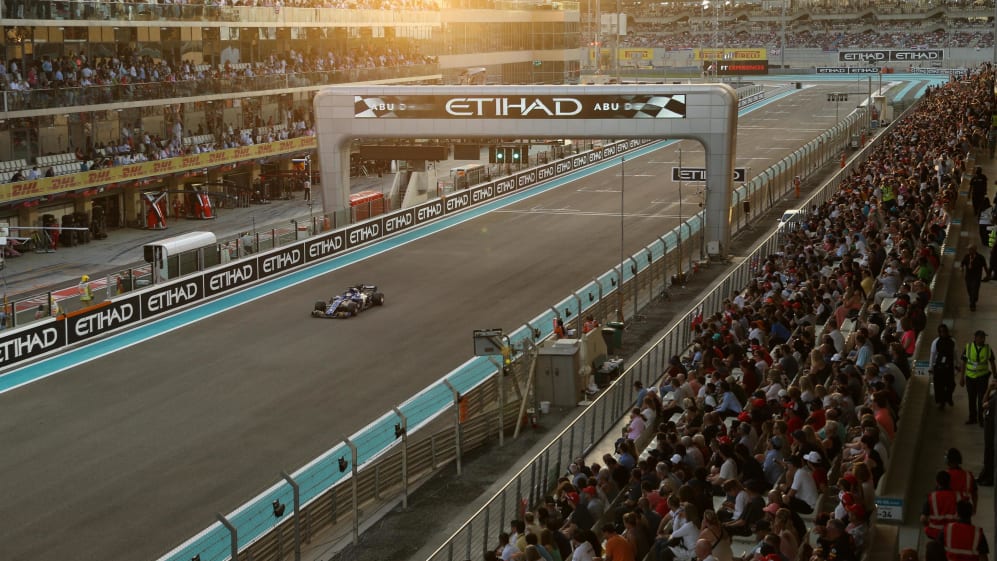 A round-up of all the action from qualifying at the 2017 Formula 1 Etihad Airways Abu Dhabi Grand Prix at the Yas Marina Circuit...
Mercedes
Mercedes always looked to have the beating of their rivals around the Yas Marina Circuit and so it proved come qualifying. Bottas headed Hamilton in Q1, before the two reversed positions in Q2. In the pole shootout Bottas put together a perfect lap to pip his team mate by the slenderest of margins. On their second runs Hamilton gave it everything but pushed too hard, running wide on the final corner and as such, Bottas grabbed his fourth career pole position and his second in a row.
Lewis Hamilton, 2nd, 1:36.403
"Congratulations to Valtteri, he did a fantastic job in qualifying. It's good to see him performing at this level, particularly at the end of the season which puts him into a great position for next year. For me, practice was great. Then I made some changes in anticipation of the track cooling which I think were not the right ones in hindsight. But it was good to experiment a little which I hadn't really done all year long. However, that's why I struggled a little bit with the balance in qualifying. I think in the end I was up about a tenth and a half out of Turn 1, but then I lost it somewhere else through the rest of the lap. Nonetheless, it was fun to be out there, challenging in the last qualifying of the year. Now we can get on with the race tomorrow. It's a very hard track to overtake, but I will give it everything for sure."
Valtteri Bottas, 1st, 1:36.2
"It's only the fourth pole of my whole career and I had to beat some pretty good qualifiers, so it's a great feeling to start from P1 tomorrow. It was a really good qualifying, clean and smooth. With the changes we made, the car was behaving much better in qualifying than it did in free practice. Run after run, I could always find some time here and there, I really worked on the details. But the weekend is not over yet; we want to finish strong tomorrow as well. We were nearly there in Sao Paulo and now I get a second opportunity. It would mean a lot to end the season on a high. However, no matter how tomorrow goes, it will be nice to head into the winter break knowing that I had the speed to be on pole two races in a row. That's a good feeling and a good basis to start working for 2018."
Toto Wolff, Head of Mercedes-Benz Motorsport
"That was a great lap from Valtteri and I'm really pleased to see him claim pole position - it shows he has really bounced back after some tough races after the summer break. Lewis scored a very strong second place, too, and it's great to see our boys lock out the front row at the final race of the season. Our car was the fastest in every sector today and that is a first sign of how we have kept the level high since winning the championships. Looking ahead to tomorrow, we cannot underestimate the importance of the race. The final race gives an important momentum into the winter and we will be going all out for the win. The long runs yesterday looked very similar between ourselves, Ferrari and Red Bull so we are in for a close fight!"
Andrew Shovlin, Chief Race Engineer
"Firstly very well done to Valtteri on a well-deserved pole position and his second in a row! He'd had a few issues over the sessions getting the tyres to come in for a single lap but he seemed to judge it perfectly when it mattered. Overall, the day has gone rather well and both cars had a busy but productive session this morning. One of the challenges of this track is following the evolution of the circuit and adapting from the hot conditions in the earlier sessions to the cooler conditions you face in qualifying and the race. Both drivers felt that the overnight changes had moved the car in the right direction giving a more consistent balance compared to yesterday although the windy conditions were never going to make it an easy car to drive. We were also perhaps finding it a little easier than others to get the first lap out of the tyres. The traffic during the session was quite tricky, clearly a lot of teams were trying different approaches to the outlap and it made it hard to find a bit of track that would allow you to prepare the tyres how you wanted. More of less from the word go it was clear that both Valtteri and Lewis were going to be contenders for pole, we had a very close eye on Ferrari although as the sessions went on our drivers seemed to be able to keep finding a little more each run and we had an entertaining shoot-out for pole between the two of them. Having both cars on the front row for the race tomorrow puts us in the best possible position as a team although we're not expecting the race to be easy. The Ferrari and Red Bulls both showed very strong pace on Friday and no one has much to lose at this stage of the season so we're ready for a good fight."
Ferrari
Ferrari couldn't match Mercedes for pace, but always looked assured of the second row. Vettel and Raikkonen traded times all through practice and into qualifying, but it was the German who hooked a lap up when it mattered to grab third on the grid. Raikkonen had complained first of a vibration and then of traffic and wound up being edged out by Red Bull's Ricciardo for fourth.
Sebastian Vettel, 3rd, 1:36.777
"I think we were missing some speed today in qualifying but I think tomorrow we can be closer to our competitors, so we'll see. Especially in Q3, in sector 2, they were very fast, while in the first and third sector we were more or less on the pace. Hopefully tomorrow it can be different: I think during the race we should have a better pace. Winning is always possible, even though here it's difficult to overtake if your speed is not different to the other cars. So, let's see what this race can bring and hopefully we can put pressure on our rivals".
Kimi Raikkonen, 5th, 1:36.985
"It was not an easy qualifying and fifth position is far from ideal. The car felt good all day, I had good feelings. In Q1 we did few laps and it was very easy, but then it got tricky with the tyres. For whatever reason, I struggled to make them work and trust them on a flying lap. In some runs, they were ok, then in another one it was more difficult. It was a bit of a guessing game. I'm sure that tomorrow the race is not going to be easy. The start is the easiest place to overtake, but even after that the race is far from over".
Williams
Stroll felt he extracted the maximum from his FW40 in scraping into Q2 at the expense of Grosjean, but could go no further than that and qualified 15th. Massa struggled on his first run in Q2 and it looked like that is where his final qualifying session would end, before a late improvement saw him grab P10 much to the delight of his fans. Tenth was all he could manage in Q3 but nonetheless, it was an impressive performance from the veteran.
Felipe Massa, 10th, 1:38.550
"I'm so happy with the qualifying and with my lap. I just managed to get to Q3 and I got the best out of the car. I'm finishing with my head held high, and showing that I'm at the top of competitiveness. I'm so happy with what I achieved and I'm really looking forward to tomorrow's race. Some points would be great!" Lance Stroll, 15th, 1:39.646
"It wasn't the perfect day and not a great qualifying. I never really got into it. I just couldn't get the balance right and drive the car the way I wanted. It was hard as we still have the disadvantage of the old power unit after the change in Brazil. I also made too many little mistakes and I don't think we were in the window for the tyres. I locked up in the last corner and lost it there on the first lap, and on the second lap there was a lot of traffic, and I was slower than I planned in the last sector. We need to understand why this happens over the winter, to try and improve our Saturdays. I am not saying it is the end of the world as tomorrow is another day and we have started further back this year and come through to score some good points."
Paddy Lowe, Chief Technical Officer
"Today, one of the main focuses was on Felipe's last Formula One qualifying. It's tough out there competing in the midfield to get those places in Q3 and he did a tremendous job to achieve that. It was very difficult conditions with changing temperatures and the way that affects the tyres to try and make the tyres last through all three sectors. Putting that perfect lap together is really difficult, but we saw on Felipe's final lap he did a great job, even just looking at the last corner. Unfortunately, it wasn't enough of an improvement to move up from tenth, but it was a great lap all the same. On Lance's side, it has been a tough day for him trying to put the right lap together and we saw that in qualifying. He was able to get through into Q2 but wasn't able to improve from there, however tomorrow is the race and we have potential to get points with both cars which is our ambition."
Red Bull
Red Bull had looked in the mix in yesterday's practice sessions, but seemed to have lost a few tenths in FP3. It seemed they would be squabbling amongst themselves for grid places, behind Ferrari but comfortably ahead of Force India and Renault, and that is how it panned out before a last-gasp lap from Ricciardo - called "one of your best of the season" by the team - elevated him to P4 ahead of Raikkonen. With their race pace looking stronger, expect Red Bull to be right in the mix come race day.
Max Verstappen, 6th, 1:37.328
"It wasn't a great Qualifying session for me today, we have struggled to find a good set-up all weekend and today was no exception. The changes we have tried did not impact the car how I would have liked and then by the time you get to Qualifying it is too late to change anything else. Like I said yesterday, I haven't been able to find a good level of grip here which means I am always fighting with the car and it makes it difficult to drive. The conditions for the race should be similar to tonight so I think it will be a hard race from our side but let's wait and see what we can do. Daniel is in front of Kimi so hopefully that could mean a bit of a fight for us tomorrow and we can avoid a lonely race. I did the best I could with the car, sometimes you have to accept that you are not fast enough, learn from it, come back and try harder next time. I'll do my best so let's see what we can achieve from P6."
Daniel Ricciardo, 4th, 1:36.959
"I'm happy with the end of Quali. I'm so happy to have jumped Ferrari and the second row is good. We thought we could get close to Ferrari but as Qualifying went on, it looked like they were too quick. During the first run in Q3 we were slow but I knew we could get a lot more out of the car, we just had to figure it out. We understood the tyre temperature a little better and then it was a much quicker lap. It hasn't been the perfect year of Saturdays for me, so it's nice to finish 2017 with a good one. We were pretty solid all weekend, just not quite on the pace of the top three but tomorrow I think we can have a chance for the podium. I don't think the start will be straightforward, it's the last race of the year and everyone wants to win so there could be some action and hopefully I'm there to be a part of it."
Christian Horner, Team Principal
"Today we saw one of Daniel's best Qualifying laps of the season to make it on to the second row for the start of tomorrow's race. He managed to put it all together right at the end of Q3 with an excellent effort. Max is starting in P6 on the grid and has not been happy with his car balance all weekend, and whilst that improved during Qualifying, he still wasn't totally at ease with the car. As we go into the last race of the year, we will certainly give it all we've got. It will be great to finish the season on a high note and hopefully we can sign off on 2017 with that tomorrow."
Toro Rosso
Toro Rosso struggled in qualifying, losing both cars in Q1. Hartley always had a grid drop looming over him after the team opted to fit his car with a new MGU-H and therefore was always likely to prop up the field. Gasly couldn't extract any pace from his STR12 and only managed 17th.
Pierre Gasly, 17th, 1:39.724
"My qualifying lap was good and I feel happy about it because I managed to put everything together, it was a decent lap… The only thing I'm not super happy about is the performance, of course – to qualify only 17th is not what we want to see and it's a bit frustrating not to be fighting for higher positions. Having said that, I think we made the most out of the potential we had today and that's important. What I really wish for now is that we hold on to sixth position in the Championship tomorrow – it's going to be a difficult task, but nothing's impossible! We'll keep pushing and see where we end up!"
Brendon Hartley, 20th, 1:40.471
"I'm not happy, that wasn't a good session for me… We've been lacking a bit of pace all weekend on both cars, but in particular mine. We've obviously been making a lot of changes - we had nothing to lose in this session as we were going to start from the very back anyway because of the grid penalty… But it was a pretty scrappy session from my side, I didn't get it together at all…It's a little bit frustrating, but it doesn't really change the result. Obviously, I would've loved to have banged in a banzai lap, but it just didn't work out. On the positive side, all of this is good preparation for next year! All we have to do now is push as much as possible tomorrow – points are going to be pretty difficult and it will be quite a tough ask to defend our sixth position in the Championship, but we'll do our best and stay optimistic until the very end!"
Jonathan Eddolls, Chief Race Engineer
"Because of the struggles we suffered yesterday, the engineers spent an awful lot of time analyzing all of the data in terms of tyres, aerodynamic behavior and mechanical set-up to try and understand the issues that we had yesterday. We understood a good number of problems, even though there were still some questions unanswered. Therefore, we developed the FP3 run plan to try to understand this further and to cover all of the work the plans were slightly different across the two cars. We obtained some interesting information in this session, but clearly we were still off of the pace. Going into qualifying, we made some pretty big changes, especially on Pierre's car. This made a step in performance on his car even though, obviously, it's not where we want to be. On Brendon's car we tried some compromises in Qualifying because he had slightly different handling characteristics compared to Pierre in FP3. We feel that we've underperformed today but, even if our main focus has been on next years' car for some time now, this doesn't mean that we will give up until seeing the chequered flag of tomorrow's race – we need to defend our sixth position in the championship and during the race anything can happen, so we believe it's of course still possible."
Haas
Grosjean had struggled with both the front and rear-end of his VF-17 in practice and was disappointed to exit in Q1. Magnussen did make Q2 but could only achieve 14th, meaning it will be an uphill battle for Haas to out-score their rivals in the battle for sixth in the constructors championship. They will be hoping for reliability woes for their rivals ahead... or a safety car or two if they are to get close to the points.
Romain Grosjean, 16th, 1:39.516
"We didn't do much in FP2 yesterday, so qualifying was always going to be tough. I don't have any front end. Kevin (Magnussen) loves it, but I don't like it. We've struggled to find the perfect balance. I'm struggling to drive the car that way and get the last few tenths out of the car. No excuse, but it just doesn't fit my feelings. We're going to work hard and try to find out what we can do to improve that. It's been the case for about the last eight or nine races. We made a step in Brazil, but here with all the low-speed corners, it's just difficult. Hopefully in the race, with more laps, it should get better. We need a lot to happen in the race tomorrow, but anything is possible."
Kevin Magnussen, 14th, 1:39.298
"I think we've been better here than our average. If you take away the likes of Australia, Austria, Silverstone, this is probably our average position or there about. I don't think it's that bad. We've done well to get back after missing FP1 which, unfortunately, I've had to a few times this year. We've gotten to a good point with the car and made some good steps since FP2 and through into FP3 and then to here. We've managed things well with the change in temperature with doing FP1 and FP3 in the sun, then FP2 and qualifying in the dark, where track temperature drops a lot and affects the tyres a lot. It's not an easy one to get right and I didn't think we did a bad job with it. There's nothing to lose tomorrow, so we're going to go for it and give it everything."
Guenther Steiner, Team Principal
"It was quite an average day. I think the good thing is we recovered from FP2, as we were struggling a little bit there yesterday. Is it good enough to get into the points tomorrow? I don't know. Nevertheless, we don't give up yet, because we're normally better in the race than in qualifying. Starting 14th and 16th – it's not impossible to end up in the points, so let's see what the day brings tomorrow."
Force India
Force India looked to be struggling for pace relative to their midfield rivals in FP3, but come qualifying they looked as solid as ever, getting both cars into the top ten with ease. From there it was all about the intra-team rivalry, with Perez edging in front by 0.023s to win the season's qualifying battle by 13 races to 7. But qualifying is one half of the story and the Mexican will be looking to beat his team mate on track for the first time since Malaysia on Sunday.
Sergio Perez, 8th, 1:38.374
"I am quite happy with our result tonight, even though I cannot be totally satisfied after missing seventh place by just a tenth. We were able to clear Q1 with just one lap, but Q2 was slightly more complicated. Nico [Hulkenberg] compromised my warm-up lap: it was something unnecessary and it completely ruined both our laps. Thankfully it didn't affect our final result and we still made it to Q3. In the final part of qualifying, my first lap wasn't very good, so I had to deliver on the second attempt. All in all, it's a good result. Tomorrow should be an interesting race because the middle of the grid is always very close. It will be important to pass Hulkenberg at the start or during the first lap, because overtaking can be a challenge. If we don't manage to do it, I am confident we can use the strategy to make our way through. The weather will play a big part too – as it gets darker, the air and track get much cooler and there is a strong wind in certain corners. It will be a challenge but we are in a good position and I am keen to finish the season on a high note."
Esteban Ocon, 9th, 1:38.397
"I'm not totally satisfied with our session today because I think we could have been higher up the grid. I think seventh place was realistic, but the traffic didn't go our way today and there were a few other things that I didn't' maximise. It's always a difficult qualifying session here with the temperatures dropping and you have to work hard to get the tyres in the right operating window. I'm just annoyed I didn't show the true pace of the car, but it's only Saturday and the race is what really counts. I want to make a good start, jump ahead of a few cars and end the season with a strong result."
Robert Fernley, Deputy Team Principal
"It's good to end the final qualifying session of the year with both cars in Q3. Esteban felt Valtteri impacted his final opportunity in Q3, but ninth place is not a bad effort. Sergio had a strong lap, but just fell a tenth of a second short of seventh place, which shows how close the racing is at the front of the midfield. It means we line up in eighth and ninth places with a great opportunity to end the season well."
McLaren
McLaren had looked quick in practice, with both drivers finishing in the top ten. But in qualifying Vandoorne struggled to hook up the perfect lap, whilst Alonso was narrowly pipped by Massa. With both cars having free tyre choice, all is not lost, but it is perhaps not the result the team were looking for in their final outing as McLaren Honda.
Fernando Alonso, 11th, 1:38.636
"I'm happy with 11th – it's what we deserved today. I don't think we were super-quick in qualifying, and it's not worth making it into Q3 to be ninth or 10th and then start on a scrubbed set, when the guy just behind you can start on fresh tyres. Tomorrow we'll be that guy, and we'll take advantage of the situation.
"We extracted the maximum, but when we get to qualifying everyone seems to have a magic qualifying mode button for their engines, so we step back a little bit.
"I'm also happy with the car balance – it has been good all weekend: we were seventh and eighth this morning and we're looking quite competitive on the long runs, so for race pace we should be there and tomorrow we have a good opportunity to score points.
"I hope tomorrow we will put on a good show and an exciting race, especially now that there's no pressure for anyone, and there are no championship points to fight for as nearly all positions are basically decided."
Stoffel Vandoorne, 13th, 1:38.808
"I have mixed feelings after today. Final practice was pretty good this morning and we were looking reasonably strong – we were the fourth quickest team. But, as we usually see going into qualifying we don't have a magic button like the other teams to gain a little bit of extra horsepower and we lose out.
"We expected that it was going to be difficult for us today but it was very close and I think the potential was there to get into Q3. I experimented a little bit with the set-up and tried to go aggressive to find some more lap-time, but maybe it didn't turn out as it should have done and we plateaued after Q1. Saying that, I'm reasonably happy and hopefully we're going to have a good race tomorrow.
"There's only one more race to go and we're all looking forward, but the whole team is treating it like any other race and there's still an opportunity to score points. We're trying to make the most of it and hopefully we can make it a good one. Race pace has looked pretty decent in clear air recently, but qualifying is so important this year as overtaking is hard for us, so we'll have to wait and see. We know that strategy is going to be a little bit limited, so hopefully we can have a good start, a clean opening lap, and find ourselves in a strong position. We'll give it our best and we want to finish on a high."
Eric Boullier, Racing Director
"Like yesterday, we've seen that here in Abu Dhabi the midfield pack is extremely close, so we knew getting into Q3 would definitely be touch and go here, although we were hoping for a little bit more from our package. However, as we feared, the other cars around us were able to turn up the tools in their armoury just enough to pip us into Q3, and we narrowly missed out.
"Although we're a little frustrated that we weren't able to demonstrate in Q2 the same strong pace we saw from both drivers in FP3 and Q1 – where we were running strongly as the fourth fastest car on track – there are still positives to take from today's running. Both drivers have used their time wisely to set up their cars not only for tomorrow's race but fine-tune their packages in order to gather important data for the future.
"Tomorrow, both Fernando and Stoffel will benefit from a free choice of tyres, and, while overtaking isn't particularly easy around this track, there are still points to play for and we'll be pushing hard to finish the weekend – the final race of the season, and our last as McLaren Honda – on a positive note."
Yusuke Hasegawa, Honda R&D Co. Ltd Head of F1 Project & Executive Chief Engineer
"Despite having maintained good momentum from the last few races, today's result turned out to be tough for the team.
"In FP3, the team proceeded with further set-up from yesterday and the drivers went into qualifying with a good feeling about the package. Therefore, the qualifying result was not ideal with both cars exiting in Q2 – Fernando 11th and Stoffel 13th.
"Tomorrow will be the last race for McLaren Honda. And, although today's result was disappointing, we'll start the race with our choice of tyres and from a position where we're hopefully able to fight for points.
"Our power unit performance has been stabilised in the past few races and we'll extract the full potential out of the car in order to have a good finale."
Renault
Hulkenberg had an assured session, comfortably making Q3 and finishing as 'best of the rest' in seventh. Sainz by contrast struggled in Q2 with traffic on his first run and then with an unexpected loss of engine power on his second. It was a surprising result, but don't rule out the Spaniard come race day, as he will have free choice of tyres and could yet sneak into the points.
Nico Hulkenberg, 7th, 1:38.282
"We know it's only qualifying and anything can happen in the race, but we've put ourselves in a good position. I had one of my best quali laps this year in Q2 and I was very pleased with that. In Q3 I was starting to struggle a bit more, as the temperatures were dropping off but we see that every year. The long run pace has felt pretty good and I have felt strong in the car so we are as confident as we can be at this stage. We will approach tomorrow as a normal race, but are hoping we can hang on to that seventh place."
Carlos Sainz, 12th, 1:38.725
"I have to say that from my side it was a bit disappointing in the end, particularly as we felt we had the pace in FP3 and Q1 to make it through to Q3. Unfortunately Q2 was a bit compromised by front tyre warm-up – I had a poor out lap and couldn't put temperature in the tyres so the fastest lap was not optimum. We have shown we have the pace over the long runs, so tomorrow we are targeting a good race and getting into the points. Nico is in a very good position and it puts the team into a strong place for the race tomorrow, which is very important."
Alan Permane, Sporting Director
"It was a very decent effort from Nico in Q3. His lap in Q2 was exceptional and we felt that if we could repeat that in Q3 we would be in really good shape. We couldn't quite replicate it exactly, but it was good enough for seventh, which is where we need to be for the race tomorrow. Naturally we are a little bit disappointed for Carlos. He didn't seem to quite get a lap together. He struggled with traffic on his out laps and didn't get the tyre preparation exactly as he wanted, but he's nevertheless just outside the top ten in a competitive position.
"Running the race is reasonably straightforward. We need a good first lap then to sprint away from the cars behind. I don't think we will be able to stay with the top six cars ahead but I'm hoping for a very boring, lonely race to give us the points we need."
Sauber
Both Sauber drivers exited in Q1, but did at least out-qualify Hartley's Toro Rosso. The intra-team battle on the day - and indeed across the season - went to Wehrlein, 11-7. Ericsson did beat his team mate last time out in Brazil and will be hoping to carry that form into the race, and leave a lasting impression, with both Sauber seats still theoretically up for grabs for 2018...
Marcus Ericsson, 19th, 1:39.994
"It was a decent qualifying session. I was not completely happy with the balance of the car in FP3 so we made some changes for qualifying. I felt more comfortable in the car after that, which shows us that we are moving in the right direction. In qualifying, my lap time improved with each lap. The final lap in Q1 was a good one, but in the end it was not enough to make it to Q2 today. I am looking forward to fighting back tomorrow."
Pascal Wehrlein, 18th, 1:39.930
"Qualifying today was alright. Of course, I am not satisfied with the qualifying result – however, we knew that we would have some difficulties getting the tyres into the right operating window due to the drop in temperature that occurs in Abu Dhabi in the afternoons. The race will be at the same time of day as today's qualifying, so we will see what is possible. I will give my all to finish the race in the best possible position."
Pirelli
Mario Isola, Head of Car Racing
"Qualifying went exactly as we expected it to: there wasn't a huge degree of track evolution and the lap record dropped further, with ultrasofts used from start to finish. The ultrasofts were in fact capable of more than one flying lap, which is why we saw some drivers alternating push laps with cool-down laps. We should see a one-stop ultrasoftsupersoft strategy for most drivers, but the low degradation also means that the pit stop window is pretty wide, so drivers should be able to make their stop more or less when they want to."