Feature
What the teams said - Qualifying in Austin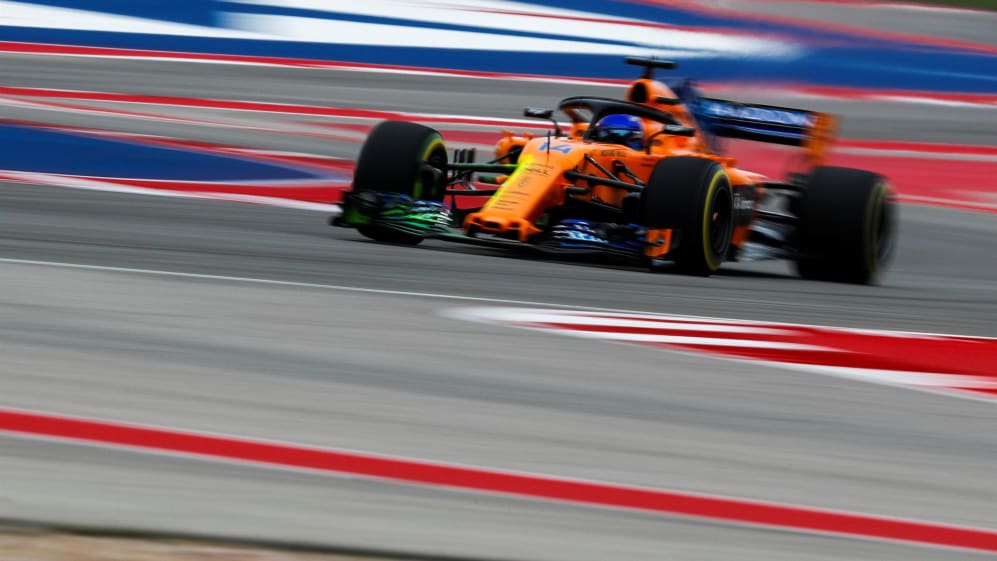 The drivers and teams report back on final practice and qualifying at the Formula 1 Pirelli 2018 United States Grand Prix...
Mercedes
With Mercedes failing to match their Scuderia rivals in FP3, suddenly qualifying took on an extra dimension. The Silver Arrows opted to use the supersoft tyres in Q2, thus starting both their cars on that compound. Come Q3 and Bottas wilted in the face of the Ferrari onslaught but Hamilton rose to the challenge to grab his eighth pole of the year, his third in a row in Austin and surely must fancy his chances of wrapping up the title tomorrow.
Lewis Hamilton, 1st, 1:34.130
"I'm so happy, this is a great result. We knew that it was going to be extremely close today and that we would have to give it everything. Q1 and Q2 were fairly straightforward. Once we got to Q3, we made sure that we got out on the track at the right time to have a good window and not be stuck in traffic. My first lap in Q3 was good, but it was really close between us all. I think I was ahead by less than a tenth and I knew the others would improve as well, so there was no room for error. There have been some Q3s in past races where I had to bail out on the second run, so I was very strict on myself and I told myself "Today, you have to pull through on that second lap", which is exactly what I did. The team has done a really great job this weekend so far, the approach for us has been very sturdy and we're not getting ahead of ourselves. We knew that it was going to be close this weekend and that we have to put in the same work, effort and diligence as before - and that's exactly what we will continue to do."
Valtteri Bottas, 4th, 1:32.616
"It was a pretty straightforward qualifying session all the way until the second run in Q3. Everyone else improved much more on their second run, but I could not find more grip. You want the tyre pressures and temperatures to be in the optimum window for those qualifying laps. The first run in Q3 felt a little better, so we will have to look at the data and see if we managed to get the tyres into their optimum window for the second run as well. P3 is not a bad position to start from though and my main focus will be to get past Kimi because we want to get the maximum number of points for the team. Both Lewis and I will be on the SuperSoft and Kimi between us will be on the Ultras, so that should be interesting for the start. I think every team will go into Sunday with a number of question marks since we couldn't do any proper long runs, so we have only limited information on the tyres. I'm really looking forward to tomorrow to find out what's going to happen."
James Allison, Technical Director
"We had a pretty reasonable idea after third practice that qualifying would be a squeaky affair and so it proved. Our hearts were in our mouths on that final lap and indeed through the entire session, with the cars very closely matched and Vettel actually ahead of Lewis on the final run until the last corner of his last lap. We are, of course, delighted to be on pole for tomorrow and to have Valtteri lined up right behind Lewis on row two. However, we have a tough Grand Prix ahead of us and, when the three top teams ran high fuel this morning, we were all very evenly matched. Tyre management will be key in the race and the car and driver that look after their rubber best will prosper; we hope that we have done enough for that to be us."
Toto Wolff, Head of Mercedes-Benz Motorsport
"That was a really intense qualifying session - but this is the kind of battle that the sport should be all about. In recent days, everybody has been talking down Ferrari and talking us up, but we knew those extremes wouldn't be reflected in reality. Ferrari have had incredible straight line speed so far this weekend and they carried that through into qualifying, where we expected to have a very tough fight on our hands. And that's how it proved, with Lewis pulling out that something extra to find pole in the car today. We're happy to be on the first two rows with both Lewis and Valtteri - but we will have a tyre disadvantage to Kimi at the start, and we will need a good first lap to hold position. Tomorrow is not about the world championship, it is about trying to maximise the potential of our package and deliver the best performance we can. And hopefully that can take us another step closer to our goal."
Ferrari
In the dry, Ferrari were a different beast to the more awkward one seen in the wet on Friday. A one-two in FP3 set the tone before they pushed Mercedes all the way in qualifying. Vettel turned the airwaves blue when he found out just how narrow the margin was to Hamilton ahead, but with a three-place grid drop earned yesterday, it was of little consequence. What has bigger ramifications is Raikkonen lining up on the front row on the grippier, ultrasoft rubber – could the Finn be leading into Turn 1 come race day?
Sebastian Vettel, 2nd, 1:32.298
"Today it has been a positive surprise that we could go so fast, especially if we compare our performance with previous events. Obviously, if you are that close to pole position, you want to be ahead, so it's also a shame that with the grid penalty we can't be where we belong. It's true that we came back in good shape today, but there's still a long way to go though, so I can't say tomorrow we are going to win. But I think it will be a close race and I just hope we'll be as strong tomorrow as we were today; then anything can happen".
Kimi Raikkonen, 3rd, 1:32.307
"In the last couple of races we struggled a little bit, but so far this weekend, it has been more normal ; we are more or less where we should be. And we are pretty happy with how things went today. For sure we wanted more, but at least we proved that we are thereabouts. The morning started pretty well straightaway. Obviously there are always things that we hoped to do slightly better or feel better, but with the limited running we had in the dry, it's not that simple. In qualifying the feeling with the different sets of tires was a bit random, and this makes it a bit harder to know when you can push. The wind was changing in a few places and this made it a bit tricky, but generally we have been pretty good. I don't know if my tire choice for tomorrow, starting on the Ultrasofts, will be an advantage or not, we'll find out. We'll try to make a decent start and then see what happens; I think we should have a good chance".
Red Bull
Ricciardo kept his head down, his nose clean and pushed as hard as he could but he didn't have the pace to challenge the Ferrari and Mercedes drivers ahead. Verstappen didn't get to find out – he ran wide over the sausage kerbs in Q1, suffered a suspension failure and sat out the rest of qualifying. But the Dutchman starting in the midst of the pack will certainly provide some entertainment for the fans.
Daniel Ricciardo, 5th, 1:33.494
"It's been a while since I've had a second row start, so I guess I can kind of thank Seb or the stewards for that extra grid position. Being on the second row puts me in the mix at the start, Turn 1 is wide and I'm sure there will be a bit going on. I'm just happy to have my nose there and then we just need to make it happen. Ferrari and Mercedes were really strong today and their qualifying pace has been pretty superior all season, but in the race we seem to be able to bring that back. If I can get track position at the start then I can maybe disrupt their tempo and have a good crack at a podium. We look pretty racy in the third sector, in the first and second we're going to bleed a little but I'm gonna try and make something happen. It's also probably going to be a little hotter tomorrow, which might help work the tyres a bit harder but I think if it's cool then there isn't too much difference between the ultrasoft and supersoft. Every year I've come here with Red Bull we've been in a shot of getting a podium, so hopefully we've got a good shot tomorrow and I can promise you now, if I've got an opportunity of a podium tomorrow, I'm not going to let it slip."
Max Verstappen, 15th, No time set in Q2
"Unfortunately in Q1 I touched one of the larger kerbs pretty hard which resulted in a suspension failure. It is pretty frustrating as plenty of other cars, including myself had been doing this all weekend. It was bad luck for the failure to happen when it did. It shouldn't be an issue tomorrow in the race as you usually don't push the track limits as much as in qualifying. The plan is to clear as many cars as quickly as possible and be able to fight at the front. The longer it takes to get through the pack the further ahead the front runners get, so a quick start is important. I really like driving here, and last year I had fun fighting my way up from 16th so I can be excited for tomorrow's race."
Christian Horner, Team Principal
"It's great to see Daniel qualify on the second row of the grid, even if he had a little help from the stewards and I know he will put everything he's got into bringing his car home in a podium position tomorrow. We are obviously incredibly disappointed not to have Max up at the sharp end with him, but those kerbs are pretty brutal out there and it looks like they took their toll on his rear suspension in Q1. As we saw here last year, Max enjoys coming through the field and giving the fans something to shout about so let's hope for more of the same come the race."
Force India
Force India got both cars through to the top 10 shootout and Ocon impressed in winding up 'best of the rest' in P6. The Frenchman could do with a strong race result to send another poignant reminder of his talents to the rest of the pit lane. Perez, meanwhile, struggled in Q3 and wound up tenth.
Sergio Perez, 10th, 1:34.594
"Qualifying tenth is a disappointing result because we had the potential to achieve much more. My first attempt in Q1 was pretty good, but when I returned to the garage we inexplicably discovered a lot of damage to the right hand side of my car, on the floor and bargeboards. We tried to fix it in the time we had, but we couldn't repair it completely. From that moment on my car behaved differently and it hurt the balance. I struggled quite a bit in Q2 and Q3. The car definitely had potential, as Esteban demonstrated, so it's a shame not to get more from today. Our aim tomorrow is to make up some ground. We have a car that can do it so let's see what opportunities come our way."
Esteban Ocon, 6th, 1:34.145
"I am really happy with our performance today. It's awesome to be sixth on the grid – the best of the rest – but it was a really close session all the way through. In Q3, my lap was very strong and the car was working really well. Tomorrow the aim is to stay where we are and bring home the points. The race pace is a bit unknown because of the wet weather yesterday but I think we can be just as competitive tomorrow."
Otmar Szafnauer, Team Principal & CEO
"Our performance in qualifying confirmed that we are the fourth quickest team once again this weekend. Esteban delivered a clean and tidy lap in Q3 to end the day in sixth place. Checo picked up damage during the first run of Q1 which impacted the aero balance for the rest of the session. This hurt our overall qualifying result because he should have been up there with Esteban in Q3. Anyway, both cars in the top ten is still a good day and we are well placed to score good points tomorrow."
Renault
How closely matched can two team mates be? Sainz and Hulkenberg were just 0.002s apart in Q2, to the benefit of the German. But starting P11 and with free tyre choice, Sainz might not mind his end of the bargain. As it was Hulkenberg wound up an encouraging seventh – can he finally see the chequered flag in Austin for the first time in five years?
Nico Hulkenberg, 7th, 1:34.215
"I'm pretty pleased with a smooth qualifying as we got the potential out of the car. To be honest it felt quite tough out there in terms of car balance as it's very windy and you really feel that in the car. The balance changes quite drastically from one corner to another which makes it quite tricky - and it didn't feel too pretty - but it was the same for all of us trying to produce clean laps. I pushed as hard as I could and I think we were quite successful today."
Carlos Sainz, 11th, 1:34.566
"Today was encouraging and it's good news to see we are in the mix again. Unfortunately, I was two thousandths shy from Q3. I accidentally pressed a modifier button on the steering wheel and lost two tenths in the last corner. It's frustrating because that means Q3 was actually within reach. Points are awarded tomorrow, however, so I remain positive. It's usually a great race here as you can follow cars and you can overtake, so there's potential for a very interesting day tomorrow."
Alan Permane, Sporting Director
"It's good to be back in the top ten, and in the middle of the top ten too with Nico. We're in front of our main rivals which means we're well placed for tomorrow. Carlos missed out on the top ten by two thousandths, but had he made it he would have pushed Nico to P11, which illustrates how close it was out there.
"As we only had limited running on wet tyres on Friday it's difficult to make too many predictions on race tyre performance as we only have the FP3 data on dry tyres. We're confident from looking at our pre-race simulations, so with Nico in P7 on the grid and Carlos the leading car with an open tyre choice, we should have all options covered for the race."
Haas
Grosjean made Q3 for the 11th consecutive race, which just so happened to also be the first time Haas have qualified in the top 10 at their home Grand Prix. Magnussen, so impressive for much of the season, has struggled to match his team mate in recent races – but with free tyre choice, he might still steal a point or two.
Romain Grosjean, 8th, 1:34.250
"I was happy to be in Q3 again. It's too bad Kevin couldn't quite make it into the session. Maybe we're not quite best of the rest this weekend, at least with the conditions we had today. Hopefully, we'll have a bit more for the race tomorrow. I'm really looking forward to the race. We've got one car that can choose its tires for the race start, and then I'll start on the ultrasofts. It should be about 15 degrees hotter in terms of track temperature. There's a lot of difference for tomorrow. I think we're pretty much in a good spot. I think we've got a good car. It's exciting to know that we're in the mix there with Force India sixth and Renault seventh. This midfield battle is pretty amazing."
Kevin Magnussen, 12th, 1:34.732
"I was struggling a lot in sector three, the low-speed corners. I just had a bit too much instability at the rear, which I struggle a little bit with. My lap was okay. P12 is not satisfying, but we can do some stuff tomorrow with strategy and, hopefully, we'll get into the points. The midfield is so close. It's only something like two tenths of a second from where I am to the top of that fight. I just missed that tenth or two to get me in front there. We missed that today, but who knows tomorrow. With strategy a bit more open for people outside of the top-10, maybe there'll be an advantage there. We'll see what we can do tomorrow."
Guenther Steiner, Team Principal
"This morning we had the first proper running of the weekend. We learned quite a bit in FP3. Then qualifying eighth and 12th, that's our best qualifying result here in America, so at least we're going uphill. We were never that good here previously. I think we're in a good position to score points tomorrow with both cars. Romain had a little bit of oversteer, unfortunately, in the last corner, so he was eighth instead of sixth, but that's racing, and some you win and some you lose. We're still in a good position. Let's go racing tomorrow."
McLaren
McLaren in truth have struggled for one-lap pace for much of the season. At least in the early races they turned this around and were strong on Sundays – but of late they have been slipping back. With both drivers eliminated in Q1, it will be an uphill battle to secure any points here this weekend.
Fernando Alonso, 16th, 1:35.294
"It was a good qualifying for us in terms of lap-time and the lap itself. Both laps were clean, with no traffic, no issues, the car felt good and was responding well, so we more or less maximised the package. That's the maximum we could achieve today, as unfortunately we didn't have the pace in dry conditions. We missed making it into Q2 by a couple of milliseconds as it was quite tight in the midfield, with one or two tenths to P11.
"Hopefully tomorrow we'll see a tight race and we'll fight for the points at the end. Normally on Sunday our pace improves a little bit and if we manage to do a good start and a good strategy and there's maybe some action in front of us, that'll help to recover some places for free.
"Having had a wet practice, we don't know exactly about the tyre degradation and some other things, so we go into the race with some unknowns. However, maybe this will give us the possibility to do something differently and gain some places."
Stoffel Vandoorne, 20th, 1:35.735
"It wasn't a great qualifying for us, and we didn't have enough at the end of Q1. Today was the first dry day we've had this weekend. We were hoping for a little bit of rain, which looked like it was coming but it never seems to rain at the right time for us!
"Tyre-wise, we've been struggling a bit with the Ultrasofts. We haven't been too comfortable with how they've been behaving and can't seem to make them work – we were quicker on the Supersofts. We only had one dry session and in FP3 we didn't really feel that comfortable in the car on them, and that feeling carried forward into qualifying. The good thing is tomorrow we probably don't have to race with that tyre.
"We'll try our best tomorrow – we've always been a bit better in the race. We were reasonable last year in race conditions and made a few overtakes, so we'll see how that's going to play out and if we can recover a few places. I'm looking forward to it and hopefully we can have a bit of fun."
Gil de Ferran, Sporting Director
"So close and yet so far. Although we didn't make it out of Q1, we were just a few tenths away from being in the top 10.
"Tomorrow, conditions should be quite a bit hotter, which will pose very different challenges in terms of tyre wear and degradation.
"We're fully focussed on doing everything we can to improve our positions in tomorrow's race. Given our historical relative improvement in pace on a Sunday, I'm hopeful that we can recover from this difficult day."
Sauber
A real mixed bag. Ericsson was eliminated in Q1, while his team mate made it all the way to Q3. Opting to do just the one run, Leclerc still managed ninth and will be confident of a third points finish in four races. Ericsson will at least gain a few places due to grid penalties, but points look out of the question.
Marcus Ericsson, 19th, 1:35.536
"The qualifying outcome is disappointing, because I was quite happy with my lap. The car felt good, and the driving did as well, so we will spend some time investigating what happened and how to improve for tomorrow. Overall, we have been quite strong this weekend in the limited time we have spent on track due to the difficult weather conditions yesterday. The lack of running will spice things up, as all teams are in a bit of an unknown in terms of the preparation ahead of the race. I still look towards tomorrow feeling optimistic and we will see what we can do."
Charles Leclerc, 9th, 1:34.420
"I am satisfied with the way the day went. Finishing in Q3 is always great, and I am convinced that we extracted the maximum of our potential – especially in Q2 and Q3 today. We planned to drive only one fast lap in Q3 to gain advantage of the track evolution, however, it started to rain a bit which probably put us on the back foot. Nevertheless, it was a great qualifying and I look forward to the race."
Toro Rosso
Hartley had an eventful FP3 – first he lost a piece of his halo fairing, before later going for an untidy spin. It mattered not – with both cars due to start at the back due to grid penalties, they used qualifying as an extra practice session and spent much of Q2 conducting starts at the end of the pit lane before testing out long-run pace.
Pierre Gasly, 13th, No time set in Q2
"Q1 was really positive today, I enjoyed that lap and it was good to finish in seventh position. As we will start from the back of the grid, there wasn't much reason to run in Q2, but the new engine specification is a great step and the car feels really good. All weekend I felt very comfortable in the car which behaved well in both the wet and dry conditions. We already know that tomorrow's race won't be easy, we have a lot of cars to overtake and a few good battles in front of us, but if the performance is still there I'll give a big push and I hope we can achieve the best result possible."
Brendon Hartley, 14th, No time set in Q2
"It didn't really matter where we qualified today as we are starting tomorrow's race from the back. After this morning's running, we've set the car up for the race as much as we could and used Q2 as a session for doing practice starts. It will be an uphill race tomorrow, but we definitely have the pace to fight. Hopefully we'll be able to benefit from any opportunity that might come our way, we just have to be ready."
Jody Egginton, Deputy Technical Director
"Today was the first opportunity for dry running and this was especially important for Pierre, given it's the first time he's driving this circuit. Due to the lack of dry running during Friday, it was important to make full use of FP3 in order to gather tyre data and also work through the list of setup items we were unable to cover yesterday. The team worked hard to make up all of this ground, with both drivers completing long runs using two of the compounds and scanning the various control and PU settings. Also, shorter runs provided an opportunity to evaluate some setup items across these two runs, which resulted in useful improvements being made. Because of the PU penalties we've elected to take at this event, the approach to Qualifying was changed on the basis that the grid starting position is predefined, however, we took the opportunity to learn more about the package and conduct three runs with both drivers. Pierre was pretty competitive in Q1 ending the session P7, with a lap time quick enough to suggest Q3 was a possibility at this circuit. Brendon had a slightly more compromised session ending P15, but even with both cars making Q2, we elected not to conduct further timed laps given the decision to fit new PUs here. However, this decision has provided a useful performance benefit here and should continue to do so for the remaining events of the season, so we are happy to take this approach. Looking ahead to the race tomorrow, and considering the performance improvement from the PU, we feel that if the opportunities present themselves we're optimistic we can have a good race and move forward with both cars."
Toyoharu Tanabe, Honda F1 Technical Director
"We had focussed mainly on race set-up during practice, doing more long runs than usual in FP3. Nevertheless, Pierre showed very good pace in Q1 which is encouraging. We will start from the back, but we are still aiming to try as hard as ever in the race, to put on a good show for the enthusiastic American race fans."
Williams
Williams lost both cars in Q1 for the tenth time this season, but one thing was decided as Sirotkin has won the 2018 qualifying battle with Stroll. Both cars will be promoted up the grid by a couple of slots, but unless they can find some pace tomorrow, they will struggle to make further inroads.
Sergey Sirotkin, 17th, 1:35.362
"We should be happy with what we have, especially with the amount of running we did earlier today. I think we optimised our performance quite well, I know we're not through to Q2 and we have to aim for higher performance, but we squeezed the maximum from what we have available. I think we should be fair with ourselves and take it as it comes."
Lance Stroll, 18th, 1:35.480
"It was the usual to be honest and kind of what we expected. I just missed a little bit on the last sector of my lap. Maybe I could have got Alonso, but I definitely couldn't have scraped through to Q2 as those couple of tenths are so hard to get. It was very tight. The plan for tomorrow is a good start and take any opportunities on the first lap. I think we also gain a couple of places with some other cars having penalties, and so that will be helpful. We will see what we can do and hope to have a good race tomorrow."
Paddy Lowe, Chief Technical Officer
"Qualifying in 17th and 18th is not where we want to be, but I think the drivers both got the best they could from the car in what is quite a close field. A lot of today was about trying to get the best from the tyre through the whole lap and we had limited practice to get that right in FP3. All of our focus will now be on the race tomorrow to see if we can make progress from where we are."
Pirelli
Mario Isola, Head of Car Racing
"In the end today was completely dry, which meant that we saw quite a lot of track evolution in FP3, and the teams headed into qualifying with just one hour's worth of slick tyre data after free practice this morning. The compounds here seem quite closely matched, with around half a second between each one in terms of lap time. However, with no real long runs completed, the full picture in terms of wear and degradation is yet to fully emerge, which keeps a few intriguing question marks for the race. We've already seen variations in strategy throughout qualifying, so it will be interesting to see how this pans out tomorrow. Starting on the supersoft might allow more strategic flexibility, but this also depends on track conditions. With supersoft and ultrasoft lining up alongside each other in P1 and P2 tomorrow, it's going to be a fascinating start to the Grand Prix."