Feature
What the teams said - qualifying in Austria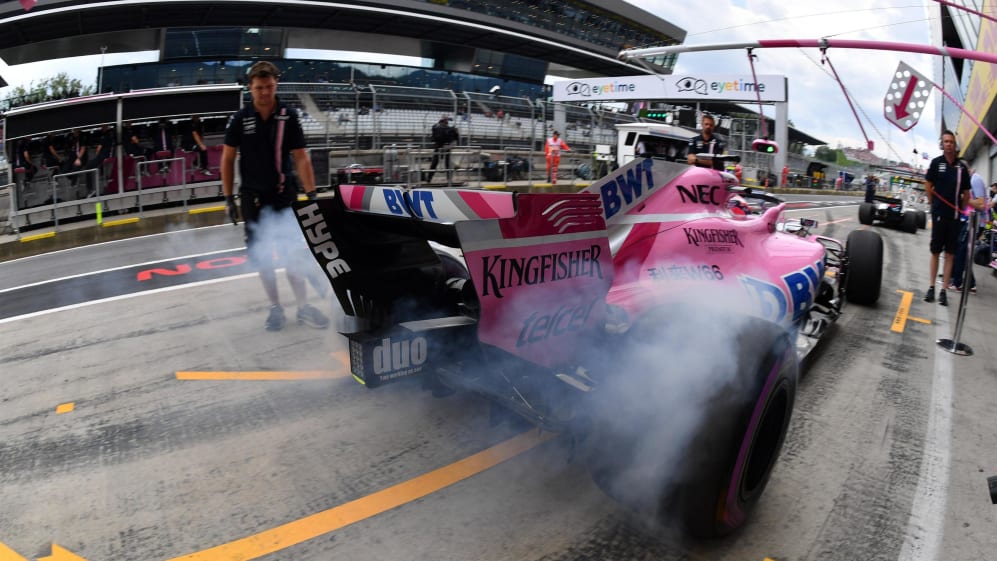 A round-up of all the action from final practice and qualifying at the Formula 1 Eyetime Grosser Preis Von Osterreich 2018 at the Red Bull Ring...
Mercedes
Bottas showed his mettle here last year and proved that was no fluke with a commanding pole position. He was pushed hard by his team mate, but Hamilton was hampered by a mistake on his first flying lap, and thus had the added pressure on his second. A second straight front-row lock-out puts Mercedes in prime position for the race, which has been won from the front row for the past three seasons...
Valtteri Bottas, 1st, 1:03.130
"It feels really good to get my first pole position of the season. I like this track a lot; last year I had a good weekend here and this year the weekend has started well again. It's a tricky circuit; there are only seven real corners on this track, but you can get them wrong very easily and lose a lot of time. For me it helped a lot that my first lap in Q3 was really good, so I could build on that in the second run. I will look at the data in detail to see where there is further room for improvement. The car felt really well-balanced today, so I can't imagine why it wouldn't feel that way tomorrow. We have had very mixed races lately, so I hope that I can get a good start and fight for the win. We have shown that we are quick here and have a really strong package, so we need a nice, clean race to turn our qualifying result into points. It's nice to have a good result, but this was only qualifying, and it's the race that counts."
Lewis Hamilton, 2nd, 1:03.149
"This is a great result for the team, I'm really happy for us to have a 1-2. Congratulations to Valtteri, he did a better job today. He went a completely different way with the set-up and maybe in hindsight I should have gone that direction as well. I'm really grateful for all the hard work from everyone at the factory, they've helped us to improve the car, move forward and lock out the front row - it's quite a privilege to be in that position. You can't really follow here, so there usually isn't a lot of overtaking but we will see if the three DRS zones will make a difference. Ferrari will start on the UltraSoft tyres whereas Red Bull and us will start on the SuperSofts so that will be interesting. There is a bit of a performance difference between those tyres, so keeping Sebastian behind at the start will be difficult, but I will give it everything I could. It's going to be close tomorrow, but we're in a good position for the race."
Toto Wolff, Head of Mercedes-Benz Motorsport
"It's a fantastic result to take the front row here in Spielberg with Valtteri just a few hundredths ahead of Lewis. We have been pushing hard in recent weeks to add performance to the car and, after the upgraded engine last week, it was really impressive to see the size of the aero upgrade here at the second race of the triple header. The hard work has paid off so far, with the car performing well and handling nicely around this circuit. Valtteri has been on good form all weekend and had a clean qualifying session, building up the performance level with each lap; Lewis also started strongly, after a tricky FP3, but made a mistake on his first lap in Q3. That meant it played out like a perfect thriller, with everything riding on the final runs - Lewis was quicker than the provisional pole time, but Valtteri was a little faster still and took his first pole of the season. It's a well-deserved result after some really bad luck in recent races.
"Now, we need to manage the start well to have a strong race. Like last weekend in France, we will start on the SuperSoft, Ferrari on the UltraSoft; this gave them the advantage from the start last weekend, and we need to be conscious of that tomorrow. But those considerations are for this evening, for a few moments now we can enjoy a strong team result - and the best possible starting point for what will be a hard-fought Grand Prix."
Andrew Shovlin, Trackside Engineering Director
"It's great to get our second front row in succession and a fantastic reward for all the hard work that has gone on in Brixworth and Brackley bringing updates to these recent races. Congratulations also to Valtteri on his first pole of the year. He's had more than his fair share of bad luck this year but has remained completely focused and committed so it's nice to see his hard work rewarded. The day has run quite smoothly, we made some changes to the car overnight that seemed to be a step in the right direction but we still had a bit of time to find in the slow corners that required some fine tuning for qualifying.
"The qualifying session was more or less to plan. Both drivers were finding time as the track improved, Valtteri getting a very good first lap on the board in final qualifying whereas Lewis had a mistake in Turn 3 which left him with everything to do on the final run. To see them separated by two hundredths with such a good gap behind shows that they were both really getting all the performance out of the car. The long run picture from Friday looks like it will be closer in the race than we saw in qualifying and the start tyre difference between us and Ferrari adds another dimension. We've got a long way to go to convert the front row into a one two but we'll be working hard tonight on a race plan to help us achieve that."
Red Bull
On paper Red Bull had a straightforward qualifying - Verstappen was an expected fifth, Ricciardo an uncharacteristic seventh after a scrappy final run. But delve deeper and things were not as they first appeared with in-team squabbling over who should go out first and thus 'tow' the second car at the heart of Q3 and neither driver was entirely happy with the antics of the other...
Daniel Ricciardo, 7th, 1:03.996
*"That wasn't my best Qualifying, that's for sure. In the heat of the moment I felt like I could have been treated more fairly, but I've had a few discussions since with Christian and my engineer and I can see the full picture now. I spoke a little bit with my engineer about it before Qualifying but I guess as a team it wasn't discussed. From the team's point of view once we got into Qualifying and Q3 and they saw us playing cat and mouse they probably thought, what is going on and this is not what we talked about. In my mind in the car, it was obvious that I wanted a run where I was getting a tow instead of giving a tow. Maybe if we had talked it over beforehand we could have done it differently. For that last run I thought I would get a chance to get a tow, but I guess by that point I didn't want to push the air again and Max didn't want to give me a tow. From his point of view we didn't talk about it beforehand, so he thought, I'm staying where I am. The competitor in both of us is not wanting to give an inch. I'm not mad at Max for that but in the heat of the moment I was frustrated. Your teammate is the first guy you want to beat so everyone is out there for themselves and everyone knows that. We have a policy where we alternate who leaves the garage first race by race. Luck of the draw this week meant I was out of the garage first, but I was hoping I wouldn't have to do it for every run. We haven't been that quick here anyway and we are losing more on the straights than we thought, so when I could see I was even losing to myself on the straights, I was just thinking how am I going to be up there in Qualifying. In Q3 the balance was actually pretty good and in the high speed we are at the limit of the grip, but we just don't have a fast package on this track. There are no points for Qualifying so let's see what we can do tomorrow in the race." * Max Verstappen, 5th, 1:03.840
*"The car felt a bit better today, in Q1 and Q2 it felt quicker but we just didn't make the step needed in Q3. All weekend we have been chasing the balance of the car so this means we are not as close as we would like. This not only effects Qualifying but also our long run pace. We have it in a better window than yesterday so hopefully we can gain a bit more for tomorrow. We were down on speed on the straight even though I was running minimal downforce. I think there was a little gain from the engine mode we now have but nothing really obvious and I need to go away and look into the data to see how much we gained. I don't think it is fully optimised yet so hopefully there is more to come. In Q3 there was a bit of confusion between Daniel and myself. Last weekend I was ahead in the session and this weekend Daniel was ahead, that is the pre-planned strategy race by race so I kept to that. They asked me to overtake him but as I said, the plan was to remain behind so I stuck to it. As we managed to get three runs in it meant it was quite a rushed Q3 but at the end of the day I followed the plan. It looks like the step Mercedes made in Paul Ricard has put them a little bit further ahead, we will have better tracks for us to come which I'm sure will mean we are closer to them and will be able to compete." *
Christian Horner, Team Principal
"I think fifth and seventh is about representative on such a power-sensitive circuit. With three long straights and minimal corners we were unable to play to our strengths even with the small power upgrade. In terms of the drivers; we have a very simple policy here that has operated for the last seven years and that is to alternate who drives out of the garage first from race to race. This is the only way to keep it scrupulously fair between both drivers.This weekend it was Daniel's turn to drive out of the garage first. In the heat of Qualifying he felt that on a track like this where a tow can sometimes help, he could be at a slight disadvantage going out first. Last weekend it was the reverse and he benefited. Now that both drivers have had time to review what happened they have a rather different view of things than they did in the heat of the moment. This is natural when you want to win and we would not want to take that away from them. With three DRS zones in the race, hopefully we can have better pace tomorrow and put on a good show for our home fans."
Ferrari
When Vettel topped FP3, it looks like the Scuderia were right in the battle. Like in France, they opted to run ultrasoft rubber in Q2 while their Mercedes and Red Bull rivals went for supersofts, which could make the start of the race interesting. However, Vettel was later reprimanded by the stewards for impeding Sainz in Q2 and has been handed a three-place grid drop for the race, so he will be in damage limitation mode once more.
Sebastian Vettel, 3rd, 1:03.464
"I'm sorry for Carlos. It was never my intention to ruin his lap. You can't see well straight back in the mirrors, with the rear wing and everything, and this time I was not told that he was coming. As for my qualifying, I think I had another tenth in my pocket today, but probably not enough to become a threat. In my first run in Q3 I knew I had to ramp it up, so I pushed very hard and made a small mistake that turned into a big snap, so I tried to recover concentration for my last attempt, which is always difficult, and probably held something back a little bit. Now let's focus on the race tomorrow".
Kimi Raikkonen, 4th, 1:03.660
"Obviously, it's not the ideal result, but it's a rather decent one. It has been a pretty straightforward and consistent day. I struggled a little bit with understeer in the last few corners to get the car to turn and carry the speed into the corner, but apart from that it was ok. For sure there are always things to improve and you can always go faster; today we did our best, but it was not enough. Tomorrow is a different day, we know that sometimes qualifying is different from the race. We'll start on different tires to our competitors, so it will be interesting to see how it pans out. This is quite a special circuit, lap time is very short so we expect everybody to be very close. As for overtaking, it's supposed to be easier with an additional DRS zone. Let's hope we have a stronger day on Sunday".
Williams
A possible ray of light on the horizon at Williams, with Stroll making Q2 for the first time since Baku. He couldn't make it any higher than 15th, but will gain a place thanks to Leclerc's grid penalty. Sirotkin exited in Q1 but did at least make it off the back row, out-qualifying a Toro Rosso and a Sauber in the process.
Lance Stroll, 15th, 1:05.286
"I am pretty happy with getting into Q2. Looking back at it, I think there was more in it, as we only had one set of tyres because we put three sets on in Q1, which isn't normally what our run plan is. But this time we just wanted to put all our effort into getting out of Q1, which put us on the back foot for Q2. I think we missed out a little bit on the balance in Q2, as with some of the track improvement I think we could have probably put some more front wing on it and that would have helped us gain some more positions. However, all in all I think we have to be pretty satisfied with getting into Q2 and it is a step in the right direction."
Sergey Sirotkin, 18th, 1:05.322
"It was a disappointing qualifying. I think it was one of those cases where we could improve from practice and put the car more together and still improve it through qualifying. We had the pace to get through into Q2 even with the tiny margins in it, but my out-lap was strongly compromised with the traffic. Despite this, I was able to improve my time on the first half of lap, before the yellow flag. After the yellow flag we had to abort the lap as there were a lot of cars ahead of me. Looking ahead to tomorrow, our long run pace in FP2 was promising so I am ready for tomorrow."
Paddy Lowe, Chief Technical Officer
"The team did some good work yesterday which allowed us some changes overnight. We made some progress with the balance and stability of the car, which I think we saw today. Some great laps from Lance helped get us into Q2, and Sergey could have most probably done the same if Leclerc had not caused a yellow flag on his final lap. Overall, we are in much better positions for the race than we were in France, and we look forward to seeing what we can achieve tomorrow in the race. Finally, I'd like to say well done to the drivers and team for a great job so far this weekend."
Haas
Haas started the season as best of the rest and are firmly back in the mix once again. Magnussen looked solid, but it was the under-pressure Grosjean who delivered a perfect lap to out-qualify Ricciardo and grab his best grid slot of the year with sixth. Now he just has to turn that starting position into a points finish to open his tally for the season...
Romain Grosjean, 6th, 1:03.892
"It was a really good qualifying. We produced some good setup work on the car and we've built our pace through the weekend. I'm very happy we could get into Q3 using only one set (of tyres) in Q2. It meant we could have more fun and play around in Q3. I was happy with the car. It all went very well, and the balance was great. I was hoping we'd stay in P4. I was thinking, 'Come on, that can stay there.' The truth is that other teams are faster, but I'm very proud to be in between the two Red Bulls, and I'm happy that Kevin is P8. We've got both cars in the top 10 for the race tomorrow and, hopefully, we get some points."
Kevin Magnussen, 8th, 1:04.051
"I think the team did a really good job today with the car being so good. Romain did a really good lap, and we've been quick all day. I think P6 and P8 are pretty good starting positions for tomorrow. We'll see how Sunday goes. Our pace yesterday in FP2 on the long runs was pretty good. We'll take what we can get, but we need to get those points. We're going to keep our feet on the ground and see what we can get tomorrow."
Guenther Steiner, Team Principal
"Obviously, it was a very good result for us. Thanks to the drivers, and to the whole team, for a fantastic job. They can be proud of what they've achieved today. We're now looking forward to the race tomorrow."
Sauber
Ericsson had looked competitive in free practice but had his final run in Q1 ended by yellow flags and exited in P20. Leclerc made Q2 for the sixth time in a row, but suffered a gearbox issue in FP3 and the resultant change means a five-place grid drop for the race. That might make points difficult, but don't rule anything out for this in-form youngster.
Marcus Ericsson, 20th, 1:05.479
"It was a disappointing qualifying for me. We have had a good weekend so far, so we need to work to understand why we struggled so much during qualifying. The car felt good, so we are going to take a close look at the data to get the maximum potential for the race."
Charles Leclerc, 13th, 1:04.979
"I am very happy about today – P13. There was not much more for us to extract, and now we must push to understand why we made a small step backwards after FP3. A huge thank you to the whole team for putting my car back out on track for qualifying. Due to a grid penalty, I will be starting the race from P18 tomorrow. It will be difficult to advance, but I will push as much as I can in the first few laps, and do my best to work my way forward in the race."
Renault
After a lacklustre Friday, Renault once again turned the tables by getting both cars into Q3. They didn't have the pace to trouble Haas, so it became an intra-team battle, with Sainz getting the better of Hulkenberg by three tenths. Renault will be hoping for a double points finish to strengthen their positions in the constructors' championship.
Nico Hulkenberg, 10th, 1:05.019
"We did well to get into the top ten today. I'm not so happy with qualifying, so I'm hoping for better in the race tomorrow. It's a short track here, and if you don't have a good balance with the car it's difficult to extract all the pace over one lap. We'll be aiming to look after the tyres tomorrow, as 71 laps is going to be pretty gruelling with so many corners. There's a lot of energy going through the rubber, so we need to be smart during the race."
Carlos Sainz, 9th, 1:04.725
"Today we managed to overcome our main limitations from yesterday and the car felt better. We had a strong qualifying and I'm happy to be P9 in the end, it was the best result possible today. We'll be aiming to go forwards at the start tomorrow and hopefully we'll have extra race pace to fight for good points. Overtaking is always difficult here, but there are three DRS zones, so let's see what that brings."
Alan Permane, Sporting Director
"The build-up to qualifying involved quite a bit of hard work to get the car set-up working for both drivers, so it's good to see the fruits of that labour with both cars qualifying where we need to be for tomorrow's race. We've made good progress from yesterday.
"It's a tough track to race here. There are a lot of laps to complete, and it's punishing on the car, especially on the brakes. We've seen how important it is to stay off certain kerbs, so we'll be looking for a strong, clean race where hopefully we can harness the good long run pace we saw yesterday. Anything could happen tomorrow."
McLaren
Vandoorne exited in Q1, leaving all eyes on Alonso to see if the Spaniard could drag an uncompetitive qualifying car up the order. He tried the soft compound tyres for his first run in Q2, before switching to the ultrasofts and throwing his MCL33 far too wide around Turn 10. Running over the sausage kerbs proved fatal for his front wing in a repeat of the incident suffered by his team mate yesterday, and ended his chances of making Q3.
Fernando Alonso, 14th, 1:05.058
*"We did our best in qualifying today, and I think we maximised the package, but this is not where we want to be.
"Tomorrow, we need to aim for points by thinking about the best strategy. We have a free choice of starting-tyre and all possibilities are open for us. I'm relatively optimistic.
"On my final lap, I was two tenths slower than on my previous lap; for the final two corners, I said to myself, 'let's try and do this flat out, in case I can recover those tenths' but that was over the limit…*
"We had some fun today and the car was good to drive, but this still isn't the position we want, and we need to keep improving."
Stoffel Vandoorne, 16th, 1:05.271
"It was a very tight session, and didn't go perfectly for me.
"I didn't have any particular issues this afternoon. We changed a lot on the car yesterday, but we left it alone today – but it still felt a little different from one set of tyres to another, which was hard to explain. Maybe it's the tyre preparation, or other cars doing warm-up laps before starting their push-laps.
"Everyone who's touched those yellow sausage-kerbs has broken bits of their car. Even in qualifying this afternoon, a bit broke off my car – and I didn't even touch any of the kerbs. They're quite harsh: I don't see the reason for putting them there: if you're going that far onto the run-off, you're losing time anyway.
"Qualifying was more or less what we expected – we'll see tomorrow what the race brings."
Eric Boullier, Racing Director
"After three tricky practice sessions, which were spent either testing experimental parts, chasing the car's balance or replacing bodywork damaged on the unforgiving exit kerbs, we'd hoped for a somewhat more straightforward qualifying session.
"While our qualifying pace was more or less what we expected this afternoon, we damaged a few more components over those kerbs. We're evaluating contingencies, and are already looking to fly out some additional spares overnight to ensure we have a useable stock for the race tomorrow.
"It's disappointing to be outside the top 10, but the margins are tight around here, and both drivers will fight hard for positions tomorrow."
Force India
A mixed session for the team in pink - Perez couldn't extract any pace from his VJM11 and suffered with traffic on his flying lap. Ocon did make Q2 and finished 11th, which of course means free tyre choice for the race. On the downside, he will be right in the middle of the pack into Turn 1, which in the past has proved notorious for crashes.
Sergio Perez, 17th, 1:05.279
"I am disappointed to go out of qualifying so early today. It was definitely not the result we were expecting. We were close to making Q2 but in the end we fell just short. I found so much traffic in the last sector of my final and the time I lost kept me out of Q2. We didn't maximise our performance and paid the price for it. With these small margins, we had to be perfect to progress and that wasn't the case today. I feel we made some good steps forward with the car this weekend, even though we weren't able to show it today, and we will give everything to try and recover some points tomorrow."
Esteban Ocon, 11th, 1:04.845
"A place in Q3 was just out of reach today. We were missing a tenth or two to make the difference because the middle of the grid is very close. It's not been the easiest weekend and we have struggled to find the pace, especially over a single lap. I think the developments we have coming for the future races will give us the boost we need. The positive thing about P11 is that we have a free choice of tyres tomorrow and can start the race on new tyres. For tomorrow I'm only looking forward and aiming for points."
Otmar Szafnauer, Chief Operating Officer
"On such a short lap we always see a very tight grid with small margins between the cars, especially in the middle of the pack. P11 represents a decent effort by Esteban and keeps us in the fight for points tomorrow. Sergio has been struggling more with the balance of the car and he was caught out by the traffic this afternoon. With a grid penalty for Leclerc, we expect Sergio to move up a position to start from P16. We have solid race pace so I think there's all to play for tomorrow and I will be disappointed if we don't come away with some points."
Toro Rosso
Toro Rosso wanted to get at least one car into Q3, but instead saw Hartley exit in Q1 for the second race in a row. Gasly did at least make Q2, but lacked the pace to challenge the Renaults ahead. Starting 12th, points are not out of the question for the Frenchman - if you can make it to the end of Lap 1 that is, unlike last week...
Pierre Gasly, 12th, 1:04.874
"It was a good day, we looked more competitive than we did last week in Paul Ricard, which is positive. We still need to work a bit harder and find more performance to fight with the guys in Q3, but I'm happy with the lap I did and I think we maximised the package we had. The car felt good, I think in terms of chassis things are looking quite positive, but we know with the straight line speed we are still a bit behind Mercedes and Ferrari, so overall we made a good step but there's still work to be done. However, P12 is not a bad place to start the race tomorrow because we will have the freedom to choose the tyres."
Brendon Hartley, 19th, 1:05.366
"Not a good qualifying, I was out of Q1 and three-tenths of a second off my team-mate. It hasn't really been a clean weekend, I had some of the new aero updates yesterday which didn't go 100% to plan, but THEN I think we got on top of it today. I damaged my front wing in FP3 which meant I ran the old wing in Qualifying. It was a decision made right before the session because of lack of spare parts, so I ran a bit of a hybrid between specs, of course it was not ideal but today Pierre did a better job and the new front wing would not have given me 3 tenths but may have helped to squeeze through to Q2. My last lap wasn't particularly clean and I got too close to the car in front trying to get a slipstream. The midfield is very tight and 1 tenth faster would have got me through to Q2. I am disappointed with P19 but will fight in tomorrow."
James Key, Technical Director
"As we could clearly understand from yesterday, it was extremely close in our area of the pack. I have to say Haas have been strong all weekend and they were ahead of the rest of the midfield, and it was up to the rest of us to try and get in directly behind them, on this short circuit the margins are very small. This morning Brendon's car had a better balance and in Pierre's case it wasn't quite there and we had work to do, but we gradually pulled it together and we knew what steps we needed to make for qualifying. Q3 was going to be tough but possible today, just a couple of tenths could make a big difference and that is what it boiled down to in the end. We didn't really make a step forward in Pierre's second run, but to be fair he extracted as much as we had today and I don't think it would have been possible to go much quicker. Ocon is three-hundredths of a second quicker and P10 was less than a couple of tenths, so it's a shame. However, the advantage of being just behind the top 10 with the tyre selection is relevant here after what we saw on Friday so we are in a position to fight for a top ten place tomorrow. In Brendon's case he improved quite a bit in FP3, and although he finished on the last row in qualifying today it was also a question of a few tenths of a second."
Toyoharu Tanabe, Honda F1 Technical Director
"Looking at our pace in the other sessions, we had hoped to make it through to Q3 this afternoon. But with a very competitive midfield, Pierre just missed the cut to Q3 by two tenths of a second. Nevertheless, our long run pace in free practice looked quite competitive and we will plan our strategy thoroughly with the team tonight, so let's hope we can have a stronger race and aim for some points tomorrow."
Pirelli
Mario Isola, Head of Car Racing
"The short lap meant that we had a very close qualifying session as we expected, especially in the midfield. For the same reason, there's not a big difference between the compounds here, which – together with low degradation – opens up a number of different strategic possibilities. With Mercedes and Red Bull starting on the slightly slower supersoft tyre, among the rest of the top 10 on ultrasoft, we should see an interesting first stint tomorrow in particular. We expect mainly a one-stop race but we are likely to have a few variations on that theme, with a wide pit stop window."