Feature
What the teams said - qualifying in Bahrain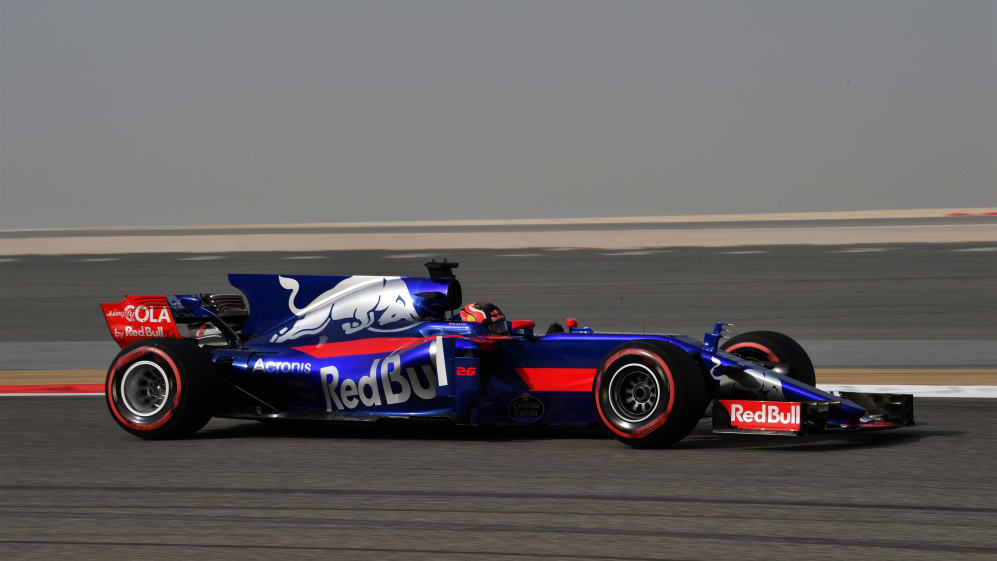 A round-up from qualifying at the 2017 Formula 1 Gulf Air Bahrain Grand Prix at the Bahrain International Circuit in Sakhir...
Red Bull
Red Bull had looked to be lacking pace compared to Mercedes and Ferrari, but in the hotter temperatures Verstappen topped FP3 and it looked like it would be a six car shoot-out for pole. In the end it was Ricciardo who hooked together the better lap to grab fourth ahead of the Ferrari of Raikkonen. Verstappen finished sixth after complaining that his final flying lap was compromised by Massa.
Daniel Ricciardo, 4th, 1:29.545
"It's been a good and positive day today. We didn't expect much to change from China to here but now we're a lot closer to pole than we were a week ago so we'll take that. To be on the second row and to get ahead of a Ferrari is a good surprise. We kind of thought if we put everything together then there might be a chance of a second row and we got it. We're learning and are getting a bit more out of the car as well which is great to see. If tomorrow Mercedes and Ferrari run into some tyre degradation maybe we can have a bit of a go. But the aim now is to try and maintain this gap in the race and stay within half a second or second each lap and to replicate our pace during qualifying in the long runs."
Max Verstappen, 6th, 1:29.687
"In general the whole qualifying was very positive and we improved with every session up until the last run where I just got hurt in the preparation. Felipe (Massa) squeezed in front and I had to stay in first gear to keep a gap to him so the tyres cooled down which hurt my first sector. If you lose straight away two tenths then it's not ideal and you try to catch up but it's very hard if the tyres are not in the window. The pace was there today but just not on the last run when it counted, but sometimes that happens if you have some traffic. We have made many small improvements and tried to optimise everything which seemed to work and we understand the car more and more with every run that we do. We are definitely closer, I think Mercedes is still too fast for us but the Ferrari doesn't look too far ahead. Our car seems to work much better on this track so hopefully we will get a clean start with no incidents and then see what we can do in the race. It was definitely possible to be a bit further forward but last time I started a bit further behind and ended on the podium so anything is possible."
Christian Horner, Team Principal
"In a qualifying session that was always going to get faster and faster, Daniel did an excellent job in extracting every ounce of performance there was in the car, and to have picked off one of the Ferraris and got on to the second row is the absolute maximum we could have hoped for here. Max made great progress through the sessions, unfortunately on his final lap he didn't have the best preparation that he would have liked, having a little bit of traffic on his out lap. Nevertheless he lines up on the third row of the grid and can still have a strong race from there. The gap to the leaders has consistently come down through the first three events of the season and to have got on to the second row is a positive step forward for the team."
Ferrari
Vettel had been top in FP1 and FP2 and so must have been surprised to find that despite putting together a good lap in Q3, he was nearly half a second back from the Mercedes duo. Starting third is no disaster though, and with the Ferrari's seemingly dominant long-run pace, Vettel will have every chance of grabbing victory. Raikkonen trailed his team mate for most of the day after complaining of understeer.
Sebastian Vettel, 3rd, 1:29.247
"Overall, it has been a good day. Yesterday I couldn't get the right feeling, I kept sliding too much. We made some minor tweaks on the set-up and the car felt better today, I was quite happy with the balance. But in qualifying, after seeing what the gap was at the end of my first run in Q3, I wasn't so happy, so I tried it all and maybe pushed a bit too much. This is a circuit where you can easily overshoot it. Today, we were losing a bit everywhere around the lap, perhaps more than usual down the straights. But tomorrow it should be closer, and hopefully we'll have a tight race. The car feels good for Sunday."
Kimi Raikkonen, 5th, 1:29.567
"The car was good overall, I thought there was a lot of potential, but for many little reasons we never really got the time out of it. The final result is far from what we wanted, but that's how it ended up today. I have been struggling to find the right set up: all in all it has been better here than it's been the last few races, but in qualifying, when we start to push, it is not what we wanted yet. Tomorrow is another day, the grid position is not ideal and the race is going to be quite tricky. So let's try to make a good start , make the right decisions and take the best out of it."
Mercedes
After Ferrari and then Red Bull had been quickest in the practice sessions, it was difficult to know what to expect from Hamilton come qualifying. He quickly reasserted his dominance, topping the times in Q1 and Q2. He went blisteringly quickly on his first run on Q3 and looked set for his third consecutive Bahrain pole, but at the last minute Bottas put in a dream lap to grab his first pole position.
Valtteri Bottas, 1st, 1:28.769
"I'm really happy with my first Formula One pole. It's my fifth season in the sport now, so it took a few races. But we got it and hopefully it is the first of many. It feels good. I didn't realise it'd been nearly 10 years since a Finn was last on pole. I'm very proud as always to drive for Finland and represent my country. It's not an easy track to get everything right. It's quite a technical and there are a few tricky corners. But I I've been getting more and more comfortable with the car and managed to get the lap together. Thankfully it was good enough for pole. I just want to say a big thanks to the team for giving me this car. It's great that we're both starting from the front row. We've done a really good job this weekend to focus on the evening conditions and really maximise the lap time in the car. We'll enjoy this for a short period of time – but the main focus is the race tomorrow. There is no point to start dreaming just yet. It's all about getting the maximum out of the race. As a team we can be really strong tomorrow."
Lewis Hamilton, 2nd, 1:28.792
"A big congratulations to Valtteri. He's been working so hard and he's gelled so well with the team. Today he was just quicker than me and did the better job, so hats off to him on his first pole. My lap felt great but it was so close out there. I was losing quite a bit of time through the first sector, which is unusual as it's usually a very strong sector for me. Overall it was a great battle and that's exactly how close qualifying should always be. It forces us to be on the absolute limit. I'm happy with the job I did and it' s great for the team to lockout our first front row. Today we had a bit of a margin over the Ferraris but generally in race trim they seem to be a bit quicker, so we expect them to be closer tomorrow. It's definitely going to be tight. Looking after the tyres is difficult, so whether it is a one or two stop race will be interesting to see. Hopefully we'll have a great battle tomorrow."
Toto Wolff, Head of Mercedes-Benz Motorsport
"That's a fantastic result in a really close qualifying session with some great competition between the drivers. I'm very pleased for Valtteri. It was a tough race last weekend in China but he has been chipping away at his qualifying performances and he did a great job this evening, finding the last few hundredths on his second run in Q3. As for Lewis, he couldn't quite improve on that final run – but for the first time this season we have both cars on the front row of the grid. The gap to Ferrari looks pretty good here but their drivers were complaining of understeer, so perhaps they have gone with more of a race set-up in mind. And then there's Red Bull. You always have to have them on the radar because they have all the resources they need to be fighting at the front. Tomorrow's race will be all about surviving on the tyres and making the right decisions in terms of strategy. We're starting from the best possible positions and we now need to get the heads down and work hard to convert it into podium finishes tomorrow."
James Allison, Technical Director
"A first pole for Valtteri and it feels excellent. It's lovely to have a front-row lockout and it's a great reward to Valtteri for three excellent laps in qualifying today. We are all really happy. The gap to Ferrari is a little larger than in the first two races but rather than being surprised we're just grateful for that small bit of breathing space. It will be different again tomorrow when everyone has their cars full of fuel – then we are sure to have our work cut out. We're expecting the weather to change a fair bit for tomorrow, both windier and cooler. But it will be normal fare for Bahrain – tough on the brakes, tough on the drivers. It'll be a long, hard toil, but hopefully we'll end up at the front. It's going to be super tight."
Sauber
Wehrlein impressed in his first qualifying of the year for his new team. As well as making Q2, he out-qualified both Force Indias and a Toro Rosso. It will be interesting to see if he can make inroads tomorrow in his first full-length race outing with the Swiss squad. Ericsson was unable to emulate his team mate, and was knocked out in Q1.
__Marcus Ericsson, 19th, 1:32.543 __
"It was a disappointing qualifying for me being out after Q1. I did not get the maximum out of the car, but that's how it goes sometimes. Nevertheless, today I felt more comfortable in the car compared to the practice sessions on Friday. The long-runs were looking ok, so I hope I can fight back tomorrow."
Pascal Wehrlein, 13th, 1:31.414
"I am really happy with P13. I was able to improve from session to session, so overall we can be satisfied with this result today. I am curious about what to expect during the race tomorrow, and I will surely do my best and learn as much as I can, because it will also be my first race for the Sauber F1 Team. I want to thank the Sauber F1 Team as well as Mercedes again for their support, which I have received during my injury lay-off."
Haas
Grosjean briefly caused the red flags to fly in FP3 after spinning his Haas into the tyre barrier and losing his front wing in the process. After complaining of both understeer and oversteer throughout the day, leading to several lock-ups, the Frenchman managed to pull a lap out of the bag when it mattered to make Q3. Magnussen was unlucky - he was hampered by yellow flags on his final flying lap in Q1 and had to abort, leaving him stranded in P20.
Romain Grosjean, 9th, 1.30.763
"It's been great to turn around the day as we did. We really struggled in FP3. I couldn't feel the car. The guys did a great job setting it up for qualifying and the car felt much better from the first run in Q1. That was good and I'm very happy where we are. We're in a great place to start the race. Last year we started P9 and finished fifth, so anything is possible. It's going to be a long race. Tyre degradation is going to be a big thing here. I'm looking forward to seeing how it goes tomorrow and seeing what we can do from ninth."
Kevin Magnussen, 20th, 1:32.900
"It's bad luck. These things happen, but it's always annoying. That's how it is sometimes, but we've just got to get up tomorrow and have a good race. Obviously in China, race conditions were a bit easier to fight back, but we'll still give it a go tomorrow. We'll see if we can get through. Anything can happen, we know that. There's no reason to give up. We'll just do what we can."
Guenther Steiner, Team Principal
"Today was a difficult day, certainly in FP3, as we struggled. We couldn't find the balance of the car and both drivers had very similar problems. We recovered as well as you can for qualifying. Romain qualified ninth, which at the moment if we have a good day is where we should be. Kevin was unlucky in Q1, again, with a double yellow. Last week it was Romain's turn and today it was Kevin's time, otherwise we were pretty confident he would've made it into Q2.
"Hindsight's a beautiful thing. If you go out too early, where we are with our performance, we need to use the track improvement to gain the next spots. So if you go out early, you cannot get a time, you take a risk. To end up two consecutive weekends with the double yellows, that's a little bit unlucky. If the car was faster, we wouldn't have to take the risk. Last week we started second-to-last and Romain finished 11th. For sure, we will try to do the same tomorrow – to get back in the points, as we saw this was possible last week."
Toro Rosso
Sainz had set the fastest first sector on his final flying lap of Q1 and looked comfortably set to progress before he pulled over to the side of the track with a technical issue. Luckily his team mate Kvyat had already assured his place in Q2, unlike a few others who were hampered by the resultant waved yellows. The Russian was then unlucky not to make Q3 but with free tyre choice in P11, will fancy his chances of scoring some points tomorrow.
Daniil Kvyat, 11th, 1:30.923
"It was another very tight qualifying session and we came very close to getting into Q3 – unfortunately I made a mistake and went off at the last corner during my fastest Q2 lap. I'm really sorry for all the guys, they would have deserved to be in the top 10. Nevertheless, the car is capable of being up there consistently, which is very pleasing. We managed to do quite a good step forward from yesterday to today and I was feeling good in the car. With a clean lap, we would've made it into Q3; we have a fast car. Tomorrow we get to start from P11, which is good from a strategic point of view as we can choose what tyres to start the race on – we should be able to fight for some points from there tomorrow."
Carlos Sainz, 16th, 1:32.118
"How frustrating and annoying! We lost a great chance today of getting into Q3 – I'd say the top 8 was possible. I'm disappointed, as I was doing a great Quali. We had got up to speed very quickly after yesterday's problems and I was coming very fast, but another reliability issue puts us only P16 on the grid. The only positive is that the race is tomorrow and we can still fight for something. I think the car has a lot of potential here and it feels faster than ever since Australia, so it's a real shame that I had to stop the car in Q1. Anyway, once I cool down I will get over this, stop being upset about the situation and already start thinking about the race – I will push hard even if I will go a bit into the unknown after missing so much track time; there will be a lot of improvisation, but we've done that before and we've come along pretty well, so I'm positive that tomorrow can end up being a good day."
James Key, Technical Director
"A disappointing qualifying session for us. We knew coming here that, out of the first four flyaway races, this one would be the trickiest for our car, but we did hope to get both cars into Q3. Q1 started smoothly and our pace seemed to be as we hoped it would be, we went out twice as a precaution, as the track evolution in Q1 was very high. This allowed Daniil to get through without any issues,l however, unfortunately for Carlos, his Power Unit packed-up on his second run and he had to stop the car at the last corner, meaning he lost out on getting through to Q2. It's very disappointing for the team, and of course for him, as he was on a strong lap with the sort of pace that we needed to see to ultimately challenge for a top 10 place. We now need to recover as best as we can from this situation. We have plenty of new tyres, so we will do whatever we can to make the best out of his race tomorrow. Regarding Daniil, he was going for a Q3 position, which was an extremely tight competition between us and many of the cars around us. He was looking good to go through but sadly he just missed out on the last corner, where he just went wide and that knocked out a bit of lap time – just enough to put him in P11. So, sadly, no cars through to Q3, but P11 has its advantages with tyre choice, so it's a case of recovery for the team tomorrow and we will give it our best shot. Finally, I'd like to congratulate Valtteri for his first pole position in Formula 1 – well deserved!"
McLaren
More technical gremlins dogged the McLaren team. Vandoorne was knocked out in Q1 after struggling with brake issues. Alonso did make Q2 but didn't set a time after an apparent power unit failure. After a double DNF in China last time out, getting a car to the finish line will be a step forward for McLaren come race day.
Fernando Alonso, 15th, No lap time set in Q2 (MGU-H issue)
"Unfortunately, my lap in Q2 was good. I think until the last corner it was half a second better than my Q1 time, then I went on the throttle and there was an issue in the power unit. That hurt, because we had a chance of being a couple of places up, and tomorrow we'll have to fit a new power unit, which won't have the perfect settings or calibration. The first lap the engine gets will be the formation lap, so it won't get any warm-up, we won't get any laps to tune it, and we'll probably therefore have an even tougher race than we'd expected.
"The guys in the garage work day and night to prepare the car, there are parts we keep changing, we keep testing the updates, there's hard work behind every weekend, but we don't have a competitive power unit to fight at the front.
"It's not the ideal situation, but there's nothing we can do just now, so we'll see tomorrow what we can do."
Stoffel Vandoorne, 17th, 1:32.313
"Everything was more or less OK with my laps. I struggled a little bit with the brakes on the second run and had a couple of lock-ups, so I was lacking a little bit of confidence. But I think the lap was more or less the maximum possible – I don't think there was much more left in the car. Our results are more or less the same as they have been during the past couple of races, so I don't think we expected anything different here this weekend. We know once we get to qualifying that the others can turn up their engines and have a little bit more pace in their pockets, so we just have to drive the perfect lap and see where we end up.
"Not having much running in FP2 cost us a bit, and meant it was difficult for me to get an idea of the grip available on track and what the Supersoft tyres were going to feel like, but in the end it's more or less as expected. We'll try our best tomorrow as usual; we know our race pace is difficult, especially with the straight-line speed we have, but we'll see what we can do. The lap times in the evening are quite a bit quicker than in the daytime, but the track surface is still very hot, so it's still difficult to manage the tyres. Tomorrow that will come into play.
"We're not setting ourselves any targets for tomorrow. We just need to stay out of trouble, do a good job, and hopefully we'll have a good result – we'll wait and see. The race will be tricky and there are difficult conditions out there, a tough race for everyone and a long race, but hopefully we can benefit from that and make a difference."
Eric Boullier, McLaren-Honda Racing Director
"In Q1, Fernando got everything he could out of our chassis / power unit package, and would certainly have set a representative lap time in Q2 but for an MGU-H issue that prevented him from doing so. As a result, he'll start tomorrow's race from 15th place on the starting grid.
"Stoffel had a badly disrupted day yesterday, also as a result of MGU-H issues, but he recovered well today to post a Q1 lap just a couple of tenths off Fernando's best. Super-competitive racer that he is, Stoffel was disappointed not to make it through to Q2, but we were very impressed by his performance here today. Given his acute lack of running yesterday, in fact, we reckon he totally nailed it. He'll start tomorrow's race from 17th place on the starting grid.
"The 2017 Bahrain Grand Prix will be a long, hot and difficult one for both our drivers, but that's the hand they've currently been dealt, and they'll play it as best they can, of that you can be absolutely certain."
Yusuke Hasegawa, Honda R&D Co. Ltd Head of F1 Project & Executive Chief Engineer
"It became a very disappointing day in the end today.
"During FP3 this morning we were able to complete our practice programme as planned to find suitable qualifying and race settings. Unfortunately this afternoon in qualifying we had to end Fernando's Q2 session prematurely after detecting an MGU-H issue. We are still investigating to find out exactly what the issue is and whether or not it's related to Stoffel's issues yesterday.
"Despite the difficulties facing our drivers, they did a great job to extract the maximum power from our car. Fernando once again led us into Q2, and Stoffel was just 0.2 seconds behind his team-mate, which was a good performance considering the tough day he had yesterday.
"After the issues with Stoffel's MGU-H yesterday, our boys worked incredibly hard with McLaren to utilise the limited working hours and get Stoffel's car ready to run today. Tonight, we'll do the same for Fernando.
"We're having a challenging time here in Bahrain, but we'll work as hard as we can to turn things around for the race tomorrow."
Williams
Stroll once again was looking good in qualifying but a front-end problem limited his running in Q2 and he was just knocked out by the improving Hulkenberg. 'Mr Reliable' Massa made Q3 for the third race in a row and P8 looked representative of what the FW40 was capable of today.
Felipe Massa, 8th, 1:30.074
"I'm happy with our qualifying session and the job that we did. Maybe the perfect position would have been seventh as we lost a little bit of time at the end there. But, I'm really looking forward to the race tomorrow. I'm happy with the performance of the car across the whole weekend, not only on new tyres but also the old tyres. Tomorrow is another day and we need to concentrate on getting everything right and try to get a better position tomorrow."
Lance Stroll, 12th, 1:31.168
"Looking at the times it's really close, so I'm happy. I wouldn't say we have been struggling, but it has been difficult for us this weekend just getting the tyres in the window for a qualifying lap and suffering with low grip here. It was not easy in qualifying on that first run, but once I knew where the grip was and how the car was I was able to deliver it on that second lap, but unfortunately that only gave us one set for Q2. However, I think it was a good effort with the one set we had. P12 is not too bad. It's obviously not what we needed to get into Q3, but I am pleased with the day and looking forward to tomorrow."
Paddy Lowe, Chief Technical Officer
"Overall I'm quite pleased. We had a trouble free session and Felipe did a good lap at the end for P8. I think Lance should be very happy with his qualifying because it's a difficult circuit with varying conditions between sessions and it's quite tricky on tyres, so I think he's done a really good job in only his third Formula One qualifying session. It also puts him in a good position to start the race, with a free tyre choice and new sets available. Equally for Felipe we have some good opportunities for the race and we look forward to seeing what we can do tomorrow. I also want to say a massive congratulations to Valtteri, who started his Formula One journey at Williams back in 2010, and who did a great job achieving his first pole position today."
Force India
Force India struggled in the cooler qualifying temperatures. Perez was the big name casualty in Q1, his flying lap blighted by yellow flags. Ocon did at least make Q2 but was unable to extract enough pace from his VJM10 to trouble the top ten.
Esteban Ocon, 14th, 1:31.684
"It was a pretty normal session, apart from the DRS problem in Q1, but I'm not happy with P14 because we want to be higher up the grid. We did everything right, but we didn't have the performance to make Q3 today. We've seen that the working range of the tyres is very small and it's not easy to understand them and get the performance you need. I think that was our main issue today – we just didn't find the window. Managing tyre degradation tomorrow will also be very important. I believe points are possible and there will be opportunities in the race. It's a circuit where you can overtake so I need to make a good start and keep pushing."
Sergio Perez, 18th, 1:32.318
"I was really unlucky today with the waved yellow flags. I had to abort my final lap in Q1 and that was the end of my qualifying. It's a shame because I had the speed to be much higher up, but sometimes things just don't work out. I still feel positive for the race because we made some good progress between final practice and qualifying. I felt much happier in the car, but we could not show it with the final result. Tomorrow we will do all we can to move forward. It's going to be a tough race, but with good strategy I think we can be more competitive."
Robert Fernley, Deputy Team Principal
"It has been quite a tough weekend leading into qualifying, but it's still disappointing not to get at least one car through to Q3. Sergio's chances ended with the waved yellow flags, which caught him out and meant he could not finish his lap. Without this bad luck, he would have easily moved into Q2. Esteban had a fairly routine session and continued to build up his speed, but we struggled to find the sweet spot with the tyres and that hurt our performance in qualifying. Despite being on the back foot, we will approach tomorrow's race determined to get both cars up the order to continue our run of points finishes."
Renault
Renault had their best qualifying outing in a while, with both drivers making Q3 - Palmer for the first time in his F1 career. Hulkenberg in particular impressed, getting within two-tenths of the Red Bull ahead. Palmer struggled to make his mark in Q3, trailing his team mate by over a second to finish tenth. Nonetheless Renault will be confident of scoring their first championship points of the season.
Nico Hülkenberg, 7th, 1:29.842
"That was one of my best qualifying laps together with my pole in Brazil 2010. It's quite a tricky track to get a perfect lap here, but I think I extracted the maximum possible today. The team has done a great job all through the weekend so I'm very proud and happy right now. Looking to the race, I'm a bit cautious with predictions as we had a great qualifying last time out, then the circumstances of the race undid our good work. We just need to get some good Easter egg points tomorrow."
Jolyon Palmer, 10th, 1:31.074
"It's my best ever qualifying; Q3 for the first time, and I've seen a full hour of qualifying, which is nice. I'm happy, especially as we had a tough weekend up until now, trying to extract the performance from the car. I got my head down with my engineers and we made some changes before qualifying making the car much better. I didn't put in a fantastic Q3 lap so it could have gone better, but we do stand a good chance to score points tomorrow."
Alan Permane, Sporting Director
"We're obviously very happy with today's performance. Nico put in excellent laps all the way through the qualifying sessions, not only to be ahead of both the Williams, but also in P7 on the cleaner side of the track. Jo staged a fantastic recovery after a tricky weekend so far; following a difficult FP3 by improving steadily all the way through qualifying, for his first top ten grid position.
"The track temperature is unlikely to be as extreme as we've seen so far this weekend, which should be kinder on the tyres. The twilight race means cooler temperatures anyway but it will be another step cooler tomorrow. Our cars have been working well so far this weekend, so there's nothing to fear ahead of the race. We're hopeful of a straightforward Grand Prix where we secure our first points of the year."
Pirelli
Mario Isola - Head of Car Racing
"Today we saw the fastest-ever lap of Bahrain in qualifying, using the supersoft tyre. Depending on track conditions tomorrow, drivers might opt for a one-stop or a two-stop strategy.There's still enough of a time difference between the soft and the supersoft tyre to make some variations in strategy possible. As the teams seem very closely matched in terms of race pace, this could well make the difference."