Feature
What the teams said – qualifying in Belgium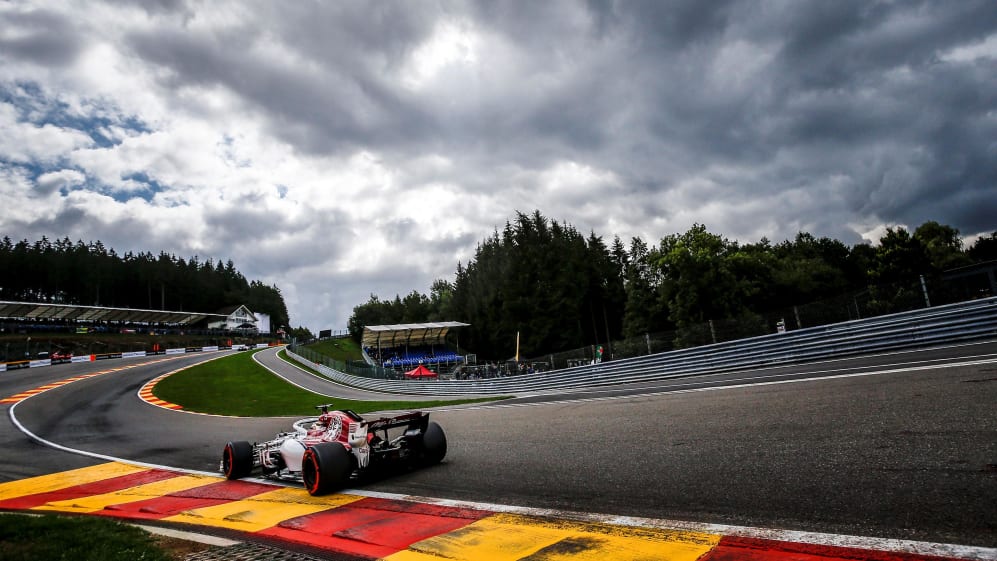 A round-up of all the action from final practice and qualifying at the Formula 1 2018 Johnnie Walker Belgian Grand Prix at Spa-Francorchamps...
Ferrari
Another case of what might have been. Ferrari looked to be the quickest team on paper, with the two team mates pushing each other all the way. But when the rain came down, first Raikkonen was grounded in the pits as Ferrari miscalculated their timings and failed to get him back out on track before Vettel couldn't make the most of the evolving conditions and qualified a distant second.
Sebastian Vettel, 2nd, 1:58.905
"Today was ok, we had the pace and we managed to stay on track and maintain control even if the conditions were tricky. I could have done much more but I made some mistakes, therefore I am happy with second position, albeit not completely of course. When it suddenly starts raining as it did today, everything gets more confused and there's more traffic on track. You know that every lap is important, but you also know that the last one could be the best. However, we have a good car, our people are pushing very hard and I think we have taken another step forward here. I believe that speed is the main aspect that can make the difference. We'll see how we get off the line tomorrow in the first lap, but I think that if we have better speed, then we will find the right way to pass. We've been very close so far, so I think we'll see the real pace tomorrow in the race".
Kimi Raikkonen, 6th, 2:02.671
"The weekend so far had being going in the right direction and the car was fine. The result of this qualifying is far from ideal, but not a disaster. For sure this is not the place we should have finished today. In the end we only had fuel for one lap and we had to come in. This is what we have got and there's nothing we can do. It's just a matter of getting it right and being there when the track is faster. At the moment, it is difficult to find a positive side, but the race is normally a different story and we'll see what happens. Tomorrow we'll try again, learn from our mistakes and keep going. First of all we need to come through the first corner without any issues. Yesterday it was surprisingly difficult to overtake, but in the race it is a different story".
Mercedes
Mercedes looked to be a fraction behind Ferrari heading into qualifying.... until the rain once again arrived with impeccable timing for the Silver Arrows. All eyes turned to the wet weather master and Hamilton didn't disappoint. Having made a mistake on his first flying run, he nailed his second lap under pressure to grab his fifth Spa pole and sixth pole of the season. Bottas had a hairy moment, spinning at Blanchimont but emerged unscathed and lines up at the back due to grid penalties.
Lewis Hamilton, 1st, 1:58.179
"I really love driving in the wet, but I don't think I can quite put into words just how difficult the conditions were out there today. We were all tip-toeing around and you're just praying you don't lock up. We went straight from slicks onto the Inters in Q3 meaning we only had a handful of laps to try and find the grip, understand which parts of the track were dry, and which parts were wet. I went off at Turn 1, then at Turn 12 on my next lap, so I only had one lap left to get the job done, with the track starting to dry out in those final minutes. I knew I had the pace, I just had to find that right balance and that balance is different in every single corner. I love driving like that. I actually thought we were right in the fight if it had stayed dry. I knew it would be close, but I thought I might just have the edge to get ahead of the Ferraris. They've been favourites for a few races now, but we've managed to come out ahead. Sebastian's long-run pace looked very strong yesterday, so tomorrow could be tough. I don't know if we've quite got the pace to win, but you can bet I'll be giving it everything I've got. It's a long run down to Les Combes on the first lap and we know the Ferraris are incredibly fast on the straights, so we'll have to see how it plays out tomorrow."
Valtteri Bottas, 10th, No time set in Q3
"This afternoon felt a little strange - you take a very different approach to qualifying when you know that the result doesn't really matter because you have to start from the grid anyway. Our initial plan was actually to only go out in Q1. We changed the plan shortly before the session, thinking that I could give Lewis a bit of a slip stream, but then it started to rain in Q3 so we abandoned the idea in the end. Thankfully, it didn't do any harm to our original plan as we qualified on the Soft tyre which was the compound we wanted to start the race on anyway. It's pure enjoyment to drive on this track, so I'm really looking forward to tomorrow and I'm confident that there will be possibilities coming up. This track offers the chance to overtake and we do have a very good car around here, so I look forward to the challenge and I'll try to have a little fun as well."
Toto Wolff, Head of Mercedes-Benz Motorsport
"That was a great lap from Lewis at the end to claim pole position - once again, he showed that when the pressure is on, there's nobody else you'd want in the car. Until the rain came in Q3, it was a very close fight between Ferrari and ourselves, getting closer as the session went on. Then when the rain came, we decided to fuel for the session and give Lewis the best chance to get pole - and that proved to be the right call. In fact, Lewis was the first car to cross the line, so we were worried that the timing was wrong; but in the end, it didn't matter as he put together three brilliant sectors to take P1 by a healthy margin. As for Valtteri, we abandoned the plan for him to tow Lewis in Q3 when the rain came, as it would have been too risky. But we saw glimpses of his true performance in his short qualifying session today, and I hope he can put that to good use tomorrow from the back of the grid. Well done, too, to the entire team at Force India; after the turbulence of the past weeks, P3 and P4 on the grid is a great boost for them."
James Allison, Technical Director
"A brilliantly exciting qualifying session, not just because it finished in wet conditions with all of us watching with our hearts in our mouths as Lewis produced his final lap for pole - but also because in dry conditions it was shaping up to be an extremely close tussle between Ferrari and ourselves, as the engines were turned up progressively through the session. We clearly have two very closely matched packages round this circuit. We are delighted to be on pole today and looking forward to tomorrow's race, when we will have the dual task of converting Lewis and the team's good work and bringing Valtteri through from the back of the field. His pace this weekend merits much more than the last row start to which he has been relegated by our unreliability earlier in the season - and we look forward to watching him deliver that pace in tomorrow's Grand Prix."
Red Bull
Red Bull couldn't make the most of the changing conditions, and wound up with both drivers in the pits as the track dried out in the dying moments of Q3. Despite that miscalculation, seventh and eighth isn't a disaster at a race where overtaking is common and chaos often the norm. Ricciardo will need to pull something out the bag though after trailing his team mate for much of the weekend so far after failing to find the perfect set-up for his RB14.
Daniel Ricciardo, 8th, 2:02.939
"Timing is difficult here and the weather is just so unpredictable. Once it started raining, we thought it would get heavier, but five minutes later it started to dry and by then we had used our tyres and fuel. As a team, we thought we were doing the right thing to get out on the Intermediate as quickly as possible while it was still not that wet, but at the end of the session the cars still on track had the best conditions. It was unlucky and in normal circumstances once it starts raining it usually gets worse and worse but today that just didn't happen. In hindsight, the strategy didn't work but at the time it looked like the right thing to do. Even if it's raining in the pitlane here it could be 40 degrees at the other side of the track so we just missed out. I've struggled all weekend with speed and there are still some unknowns. In Q1 I had to put two sets of tyres on to get through, even though we weren't expecting to be that quick around here, we shouldn't be in that position and we will try and find some answers tonight before the race tomorrow. Even though we haven't been that quick so far, tomorrow we can be more optimistic, even starting eighth. We are definitely better than that and we will try and charge through. I'm sure a few cars in front of us won't be as strong on race pace so we will be moving forwards and not backwards."
Max Verstappen, 7th, 2:02.769
"Starting seventh is not what we wanted but it was a tricky situation out there today. We fuelled for two laps, one of those for slicks and the other for Intermediates. It stopped raining towards the end of our laps and the track dried a little but if we had stayed out and gone for another lap we would have run out of fuel. It's frustrating as the time we spent on track was competitive so I'm sure we could have been closer to the front. Even my last quick lap could have been a little better as I ran out of energy in the last sector and I had expected to use it on just one lap. I think we made the correct decision to go on to the Intermediates, it was just bad luck that it stopped raining and we had no fuel left. In general Qualifying was good and the car felt good, we just got caught out in Q3. We have really low downforce on the car so we should be able to overtake some cars ahead of us that usually would not be there. With the unusual mix at the front it should be an interesting first few laps."
Christian Horner, Team Principal
"We progressed through Q1 and Q2 without incident and then for Q3 the rain was in the air but the question was how much was going to come. All cars left the pits on slick tyres with all bar Force India electing to pit at the end of the out lap. We had enough fuel in the cars for a couple of laps, thereafter with the rain looking like it was going to get worse, we elected to turn the cars round quickly and get back on track as soon as possible. Both drivers did a great job setting third and fourth quickest laps at that time but unfortunately there wasn't then enough time to pit and refuel for another run. With the circuit improving as the rain held off P7 and P8 were the end result but this should produce an exciting race tomorrow."
Force India
Quite simply, a day to remember. After looking competitive all weekend, Force India got both cars into Q3 for the first time since Canada. As the rain intensified, they were the only team to opt for a lap on the supersofts but had to abandon that idea quite swiftly. It looked as if their chance had gone but instead they ended up perfectly placed on a drying track with both drivers delivering when it mattered to lock out the second row on the grid.
Sergio Perez, 4th, 2:01.894
"I am very happy about today's result and what a tremendous qualifying it has been! So many emotions are going through my head – it has been a really difficult session, which makes the result even sweeter. It's a great result for the team – for the new owners, the old ones who built the team to what it is now, and everyone who works so hard every day. The rain made things stressful and we had to take some risks. We chose to stay out on slicks because the track was dry in sectors one and two, but as soon as we did the rain picked up quickly. I had a massive moment in Eau Rouge and I was lucky to stay out of the wall, but I was really expecting the worst – there's no small crash there. We had to come in for inters and I locked my rears at the final corner. I jumped on the kerb, damaged my front wing and the time we took to change it meant I only had the chance to do one lap on inters. Perhaps with one more lap I would have been able to fight for pole position, but we can still be very happy about P4. We are in a great position for tomorrow and we can put up a strong fight in the race. At the very least, we are targeting a lot of points – but you can never make predictions in Spa."
Esteban Ocon, 3rd, 2:01.851
"It's a fantastic day. After everything that has happened in the last few weeks it's a special moment and we should enjoy the day. I'm very proud of the entire team because they kept up their motivation and worked really hard to give me a quick car today. Even without the rain, we looked strong and made it well into Q3 in the dry. When the rain started falling, we knew there was the chance to get an even better result, but it wasn't easy. At the start of Q3 we tried to do a lap on the slicks, but it just wasn't possible and I had a few scary moments getting back to the pits. When we switched to the intermediates, I knew I needed to get a perfect lap, but on my first attempt I made a small mistake. So on my final lap I tried to be safe as well, and we ended up in third place. I'm so excited for the race. We have a quick car, especially down the straights and we will race hard tomorrow."
Otmar Szafnauer, Team Principal
"It's a very positive result today although we got a bit lucky with some of the decisions we made when the rain came. We had a quick car, as we saw in Q1 and Q2, but it is also thanks to the good decisions of the engineers that we were able to place both cars so far up the grid. At first we gambled on staying out on slicks, hoping the track would be as dry as on the finish straight, but it quickly became obvious this wasn't the case. We brought both drivers back in, had a good turnaround and we hit the best time to send them out, as the track was improving with every second at the end of Q3. Esteban and Sergio still had to deliver the good laps and they did. We are in a strong position for tomorrow's race. We know there are some very quick cars behind us, but we are going to give everything to bring home a lot of points."
McLaren
McLaren have struggled all weekend, and along with their old rivals Williams, lost both cars in Q1. Vandoorne has finished bottom of every session so far - not a home Grand Prix to remember, especially given he crashed in FP3 trying to overtake a slow Mercedes. And even Alonso's experience and skill wasn't enough to creep that McLaren into Q2 in qualifying. Can the Spaniard buck the form book and make it into the points tomorrow?
Fernando Alonso, 17th, 1:44.917
"We've lost a bit of performance in recent races, but on top of that we knew Spa would be quite a difficult race for our package in terms of performance, and so will Monza. We will try to defend here and attack on more favourable tracks.
"My qualifying lap today was enjoyable. Driving these cars on this circuit is always very special because they feel fast and grippy, but then you cross the line and your time is slower than your competitors, which means that tomorrow we'll have to recover.
"We try to score points in every difficult situation so why can't we score points again tomorrow? We need something special to happen, so maybe there is some rain coming that will give us a chance."
Stoffel Vandoorne, 20th, 1:45.307
"Our general performance explains pretty much everything this afternoon. We've been last in almost every session, we've had so many problems this weekend and I don't think there were any surprises here in qualifying.
"It's my home grand prix and it's a real shame that we don't have better machinery to really put on a good show and give the fans a good result.
"I don't think there would have been a huge miracle if I hadn't had the incident in FP3. We tried to play every card today, with a bit of slipstreaming as well and we didn't really progress any further, so I don't think it made much difference for me.
"I hope I can progress at least a little bit tomorrow. It's been a difficult weekend, we've not really had any performance at all, and I just hope tomorrow will be better."
Gil de Ferran, Sporting Director
"This circuit has indeed exposed many of our weaknesses, to an extent that we were unable to overcome them today.
"While we are very disappointed with our qualifying performance, we will approach tomorrow with our usual unwavering fighting spirit in the quest for a good result."
Haas
Haas turned things around overnight after being off the pace yesterday. They got both cars into Q3, where Grosjean delivered a composed performance to grab fifth on the grid. Magnussen came home ninth, and the American outfit will be confident of a double points finish tomorrow.
Romain Grosjean, 5th, 2:02.122
"It wasn't easy, but it's great to have a qualifying session like this – beating some of the top teams and ending just behind the Force Indias, who were very strong in the wet conditions. We're fast in the dry as well, which is good. I think we were in front of one of the Red Bulls most of the time – that's quite exciting, as well. I was ready to give it all in Q3, and then the rain came and added to the fun. It was a close call at the start, whether we tried a lap on slicks to begin with. I was tempted to go for it, but I think it was just too wet, so everyone went for the intermediates. I'm happy with our performance, especially knowing that our last qualifying in the wet, we were not so good."
Kevin Magnussen, 9th, 2;04.933
"It was a pretty hectic Q3. It had a lot of potential to be good, and in those kinds of conditions, you can make a big difference. You can also mess it up, which I did. The track was dry on the last lap. You go out on the intermediates, and it's wet with spray. It doesn't look like it's going to dry up, so you push with everything you can. Then on the second lap, the tyres are already gone. By the third lap, the track was so dry that you get massively faster again, but today I missed out, whereas the likes of the Force Indias got their big chance. It's exciting, but obviously it's disappointing when it's not gone your way. At the end of the day, two cars in Q3 is good, and we made some good steps in the dry in Q1 and Q2. We were running in the top 10 consistently. I think the car's race pace is good, so tomorrow should be interesting."
Guenther Steiner, Team Principal
"I think Q3 was difficult for everybody with the rain. It was a bit of a lottery, but we are very happy with the result. To get into Q3, the whole team did a fantastic job to get there from yesterday's performance. We were not as strong as we normally are on a Friday, but we recovered very well, and that's down to the hard work of everybody. We're now in a good position for tomorrow to score points with both cars."
Renault
Renault looked top 10 contenders all weekend until it mattered. Hulkenberg is carrying grid penalties and thus opted not to take part in Q2 - but at least he made it that far, unlike his team mate who exited in Q1 for the second time in four races after complaining about a lack of grip. With both drivers down the field, it will be a tough ask for Renault to claw back some points in the race and thus could be a golden opportunity for their rivals to close the gap in the Constructors' Championship.
Nico Hulkenberg, 15th, No time set in Q2
"The one lap I did today was pretty much on the pace, so the car felt alright. Q3 looked like it was exciting and it would have been nice to be involved, but with the engine penalty it made sense for us to skip the rest of qualifying to save the engine as it needs to go a long way from here. We have to be realistic for tomorrow and it won't be easy to get into the points. Having said that, overtaking is possible here and our top speed has been competitive so far this weekend, so I want to have a good race and have a bit of fun and hopefully there will be a nice reward at the end."
Carlos Sainz, 16th, 1:44.489
"Qualifying didn't go as expected. We're looking into what's happened with the car as it wasn't behaving as normal, it was strange as I had a lot of oversteer, which is something I've not had all weekend. The car felt fine yesterday and this morning, then suddenly for qualifying it's not how it was. It's tricky to understand, and we'll be going through the data to figure out why. It's a circuit where you can overtake so of course tomorrow is another day and we'll be looking to work our way through to the points."
Alan Permane, Sporting Director
"With Nico, we knew he would start from the back of the grid due to his PU penalties so we only planned one run in Q1. With Carlos we need to thoroughly investigate his car and the data, as it's clear he was unable to extract performance from the car in the same manner he has through the rest of the weekend so far. It's a long lap at Spa and overtaking is possible. There's always the potential for variable weather too, meaning that we have to maximise every opportunity. Starting from further down the field allows us to be more creative with strategy, so we'll be looking for every chance to move forwards."
Williams
Off the pace all weekend, it was not a surprise to see Williams lose both cars in Q1 for the seventh time this season. Sirotkin won the intra-team battle by one tenth, but they will at least move up a couple of spots when grid penalties are applied. Starting that far back though, points are unlikely come race day.
Sergey Sirotkin, 18th, 1:44.998
"Today's a shame as qualifying didn't feel as bad as it looks on the timesheet. I think, like yesterday, we've got a more balanced, stable and understandable base and we'd expected to get more performance from it today than we actually did. I think my lap was really good, but in the last chicane I didn't nail it so Fernando ended up half a tenth ahead of me. I think otherwise I could have got ahead of him, but not by much as that's the limit of the car. Unfortunately, it's one of those days where with your eyes closed you'd say it was a good job, but when you look at the timesheet it's not. It's confusing for me because it felt like an improvement."
Lance Stroll, 19th, 1:45.134
"It was very challenging and just a poor session. The car was very difficult to drive, I made a mistake in turn one, as I just locked up on my second push, and then I ran wide again in turn 13 so lost a few tenths there, but we are missing a big chunk of lap time to challenge the others. For the race, I honestly doubt we can do much, as we are quite slow on the straight line and not so good in the corners. However, I am still going to go race and give it my all as anything can happen in turn one and Eau Rouge, so for the start I am going to try and gain some positions and go from there."
Paddy Lowe, Chief Technical Officer
"It's very disappointing not to get out of Q1 with either car. We ran the session as planned with two runs for each car and the drivers made no mistakes, but the car is not quick enough. We're losing a lot of time in the straightline elements of the circuit in sectors one and three although we're reasonably competitive in sector two. Our car is not configured to compete very strongly here as it was clear to see today. It was an exciting qualifying nevertheless and congratulations in particular to Racing Point Force India on their second-row lockout. It was a challenging Q3 session for all the teams and a great shame we weren't able to be part of it. We would have started Q3 on the intermediate tyres for sure!"
Sauber
For a team often rooted to the back of the grid, saying Q2 is disappointing shows just how far they have come this season. They looked solid Q3 contenders all day, but Ericsson parked up after his first Q2 run and Leclerc failed to find enough pace to make the top 10 shootout. Nonetheless, with free tyre choice, a second double points finish is a real possibility.
Marcus Ericsson, 14th, 1:44.301
"The car felt good and we gave a solid performance both in FP3 and Q1. We advanced into Q2 but unfortunately, due to a technical issue with my car, I had to retire before starting the last run which was a bit disappointing. Despite this, I have been feeling very good so far this weekend and I remain confident for the race."
Charles Leclerc, 13th, 1:44.062
"It is a shame we did not make it any further in qualifying today. The car feels good since the beginning of the weekend, and we are quite competitive on this track. Some of the other teams had a bit of extra performance in their pockets today, and were able to stay ahead of us. We had some issues we must fix to improve for the next qualifying. However, we are optimistic with regard to our potential for a good result tomorrow. The weather conditions will play an interesting role in determining the outcome of the race, and I look forward to it."
Toro Rosso
Toro Rosso got both cars into Q2 but could go no further, but they will be promoted one place when grid penalties are applied and have the bonus of free tyre choice for the race. And at least their drivers just about kept it clean, both spinning but neither hitting the barriers. Thus they are well placed to score some points and with Force India now behind in the Constructors' Championship, every point could make a big difference to the Italian outfit.
Pierre Gasly, 11th, 1:43.844
"P11 was a really good result today, it was much better than we expected because we knew Spa is a track that doesn't necessarily suit our car. In the end we were right behind the top 10, so I'm really satisfied with the result. We definitely extracted the most out of the car today; I think the gap to the Haas was five-tenths to get into Q3, so I think it was too much of an ask for a better result. I'm excited to go racing again, I think our tyre degradation was very good which is a positive factor for tomorrow. The cars in front of us are really fast, so it's not going to be easy to overtake them, but if we get a good start then we can give it a big push!"
Brendon Hartley, 12th, 1:43.865
"After FP2 and FP3 we knew today was going to be a challenge. I think as a team we got most of the performance out of the car and it felt quite good. Making it to Q3 would have been a bit of a stretch today, but in the end it was a pretty good day for us. I would have loved the rain to have come a bit earlier because historically we're pretty good in mixed conditions, but we have been able to achieve the best we could today. P11 and P12 was a good result – especially since we will both move up a position after Bottas' penalty. We're in a good position to hopefully fight for points tomorrow."
Jonathan Eddolls, Chief Race Engineer
"The team did a lot of analysis overnight to pull together everything we learnt in FP1 and FP2. We put together a good test plan for FP3, mainly focusing on tyre operating conditions and aero level after seeing we were fairly competitive in FP2, but less so in FP1 and FP3. We tried an alternative downforce level with Pierre, but this did not give entirely the expected result and made the balance worse so we revered back during the session. Aero tests in Spa are always tough given that it's difficult to get clean laps for comparison without tows. Brendon focused on further setup items and some tyre tests and was generally very happy with his car. Unfortunately, neither car got to complete their second runs because of the red flag towards the end of the session, and this limited the amount of data we had to analyse going into Qualifying.
"Heading into Q1, we put the optimum aero configuration on both cars, with the plan to get a tow, given the importance of the speed gain that comes from this, and that worked very well with both drivers progressing to Q2. The first runs in Q2 were also competitive so we went for one timed lap for the final runs, but unfortunately Brendon locked the rears into T1 and, with Pierre just behind him, this cost his lap too. Having said that, the gap to the car in front was too large for us and in the end it didn't make a difference.
"However, if we had been offered P11 and P12, which is now P10 and 11th, before coming here, for sure we would have taken it and it's a good position to aim for a positive result tomorrow. Also, congratulations to Racing Point Force India for a great result in qualifying today – after all the uncertainty the team has been through recently it's great to see them perform so well in the very tricky conditions!"
Toyoharu Tanabe, Honda F1 Technical Director
"In yesterday and today's free practice we tried various set-ups relating to chassis and PU and selected the best combination for the rest of the weekend. Although we did not make it through to Q3, starting from tenth and eleventh means we can still realistically aim for a point or two tomorrow afternoon. We will now prepare for the race, bearing in mind that the weather could be a factor."
Pirelli
Mario Isola, Head of Car Racing
"After a lot of uncertainty about the weather, the rain finally materialised at the end of Q2. In the end, the Cinturato Green intermediates proved to be the best option in Q3, with different levels of water on the track, which is quite typical of Spa. This made it very hard to judge the final qualifying runs, with the cars driving on the intermediates for the first time all weekend. The race, by contrast, seems more likely to be dry, in which case we can expect one pit stop for the majority of competitors, with the correct pace management."