Feature
What the teams said - qualifying in Brazil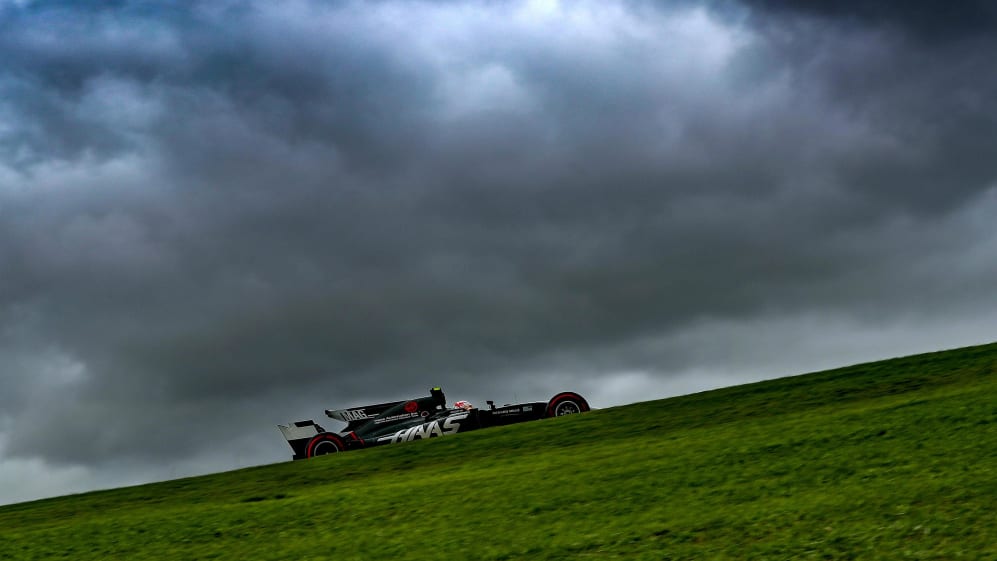 A round-up of all the action from qualifying at the Formula 1 Grande Premio do Brasil 2017 at the Autodromo Jose Carlos Pace in Sao Paulo...
Mercedes
After topping both practice sessions yesterday, the Mercedes dominance looked set to continue as Bottas pipped Hamilton by the narrowest of margins in FP3. What was not in the script, however, was Hamilton losing his car in Turn 7 on his first run at the start of qualifying, hitting the barriers and ending his session without setting a time. Fortunately, Bottas stepped up and delivered when it mattered most to grab his third career pole position.
Lewis Hamilton, 20th, No time set
"I'm not really sure what happened, it all happened very quickly, but I take full responsibility. Of course, today is not the result that I would hope for, but challenges are what make life interesting and overcoming them makes life meaningful. It is unfortunate - but it is what it is. I am just going to try to take the bubble of negativity that comes from that experience, learn from it, and move forward. Years ago, I came from quite far behind and had a great race, so I will try to have as much fun as possible tomorrow."
Valtteri Bottas, 1st, 1:08.322
"It was so close in qualifying, as it always tends to be in Brazil. I knew going into the last run in Q3 that I had to improve if I wanted to be on pole. I could feel and see that I was improving corner after corner. It's such a good feeling to get everything together in the end. It was very unfortunate that Lewis wasn't there for Q2 and Q3. So it was up to me to deliver for the team, and I'm very happy that I could. I have the clear goal to still try and become second in the Drivers' Championship. Having a good target makes everyone in the team work harder, including myself. It's going to be important to have a good, clean race tomorrow, but it won't be easy, the Ferraris are very quick as well. Turn 1 and 2 are always tricky in Interlagos, but hopefully I will get a good getaway so there won't be any issues. It's only my third pole position, so I will very much like the view from the starting line tomorrow."
Toto Wolff, Head of Mercedes-Benz Motorsport
"That was an unusual session - it started out pretty badly and finished pretty well! First of all, a brilliant job from Valtteri. It was a great lap from Sebastian in Q3, so Valtteri had to pull out all the stops to claim pole position. And he did. After a tough night for a number of our boys following yesterday evening's incident, this was the perfect reward for their professionalism and dedication. It was a tough session for Lewis and obviously very unusual to see him not set a time in qualifying. But rather than focus on the shunt, I was struck by the way he went straight to parc ferme to be the first to congratulate Valtteri on his pole position. That's a small example of our team spirit and the trust between two team-mates. Now it's all eyes on tomorrow's race. Lewis has a mountain to climb - but if anybody can, he can. And for Valtteri, there can only be one target. It will be an exciting, close race but we will be aiming to come out on top."
Andrew Shovlin, Chief Race Engineer
"As expected, we saw much cooler temperatures today and intermittent rain, which changed both the way the car was working and the tyre operating window compared to yesterday. We had made small set-up changes in anticipation of this, while remaining mindful that tomorrow is forecast to be much warmer, and enjoyed a solid practice session this morning when both drivers were reasonably happy with the car - but it was also clear that we would be in a very close fight with Ferrari. Qualifying got off to a bad start with Lewis' accident at Turn 6 and this left us with just one car to focus on. Valtteri rose admirably to the challenge and did a great job. He improved on every run and put in a fantastic final lap, in tricky conditions with some light rain hanging around, and deservedly added another pole position to his growing collection. Tomorrow, we are expecting Ferrari and Red Bull to be very close to us on race pace. Interlagos always serves up an exciting Grand Prix and we don't expect tomorrow to be any different."
Ferrari
Ferrari had lagged a little behind the Silver Arrows in practice but come qualifying looked to be right in the fight. Raikkonen seemed to be on form around the twists of Interlagos, but Vettel found a turn of speed in Q3 to grab provisional pole position. He left some time out on track in his final run and that was enough for Bottas to sneak ahead. Nonetheless, starting P2 and P3 means Ferrari will be in the hunt for victory come race day.
Sebastian Vettel, 2nd, 1:08.360
"We have improved since Friday, and that's the important thing. I was happy with my car today, but in my last run, I was perhaps a bit too shy in braking for the first corner. I had a better run at the end of my out-lap, so there was probably more grip than I expected there. In the last sector, I knew I could make up for some of the lost time, and I did, but it wasn't enough. However, it was very close, and we're usually even closer in race conditions, so my motivation is high for tomorrow and I'll being aiming for a win."
Kimi Raikkonen, 3rd, 1:08.538
"The feeling with the car was good most of the time but somehow the laps were always a bit tricky, with everybody trying to get their free space. When the tyres switched on well, then everything was easier, but with the traffic in the out-lap it was not always the case. Some sets were feeling better than others purely because of having a bit better out-lap . It was a bit hard to trust them and not get a front lock-up at the first corner. Overall the car itself was nice to drive when the tyres worked, so it's a bit of a shame. It was not the most straightforward qualifying but in the end it was a decent result.
"I think we did a solid job today, we can consider it a good team result. For sure there was more to get, but the race is tomorrow and it's going to be long. For the start we'll try our best, the first corner is quite tight, so we'll try to make a good start and see what we can get."
Haas
Haas managed to get both cars out of Q1 for the first time since Belgium, with Grosjean in particular finding some speed to qualify 12th. With free tyre choice, the Frenchman is handily placed to capitalise on any mistakes from those ahead. Magnussen couldn't quite match his team mate, but P14 is not a bad result.
Romain Grosjean, 12th, 1:09.879
"We tried really hard to go for it from Q2. It's a good recovery from yesterday and from previous races. We've made some good steps this weekend and I'm happy with that. Last year here we had a good qualifying and this year's is pretty decent for us. I guess the grid is going to be shuffled a little bit more with all the penalties. It's a long race and track temperature will be over 50 degrees, so cars are going to be working in a different way. We'll definitely see what we can do. Sixth in the constructors championship is still there and we're eager to get it."
Kevin Magnussen, 14th, 1:10.154
"I think Romain got the most out of the car today. He did a good job with the car we have this weekend. I did less of a good job in qualifying. When the car is like it is – unstable in the rear – Romain is just very strong. I struggle a bit more with that. I'm not too unhappy with the result today because the car hasn't been to my driving style this weekend. We'll see what happens in the race. The race pace didn't look any worse than our qualifying pace, so with some luck tomorrow, we could be up for some more points. That's what we're aiming for."
Guenther Steiner, Team Principal
"After yesterday's performance I think everybody – the engineers, the mechanics – did a good job to get the cars together again and improve them. The drivers drove a good qualifying. I'm very pleased with what's happened between yesterday and today and with our result in qualifying. Tomorrow we are again in a good position to score points, and for sure we will try."
Red Bull
Ricciardo knew he had a grid penalty for the race and thus opted to run soft tyres in Q2, and will start on that set for the race with long-run pace in mind. Both Red Bulls comfortably made Q3 but couldn't find the pace to challenge their rivals ahead, and it was far from plain sailing as Verstappen also suffered some engine problems. In the end qualifying P4 and P5 was the best that could be hoped for, and with Ricciardo potentially making his way up from the midfield the race is an enticing prospect for the Red Bull fans.
Max Verstappen, Position: 4th, 1:08.925
"I think we maximised the result in Qualifying today but we were just not fast enough. In general the pace has been simply not quite good enough across the whole weekend. I think both Daniel and I have been chasing the car balance and we could never find the full grip and potential. In Qualifying the grip was a little bit better; we lose a lot of time on the straights here but I think there are also one or two tenths we could have found. I never expected to beat Ferrari and Mercedes on this track as it's just not strong for us, but I did expect to be a little closer. For sure I would love some rain in the race, but I don't think it looks like that's going to happen. Maybe I will do some praying tonight! We may need a bit of luck to be honest, but you never know what can happen up front and it can still be an exciting race."
Daniel Ricciardo 5th, 1:09.330
"A kind of a mysterious Saturday really. Normally, in past years, Fridays were never good for us and we then improved in Qualifying. Lately Fridays have been pretty comfortable but then on Saturday we often lose out. I think we were better on the soft tyre in Qualifying today but I'm sure something was up with the last set of supersofts I had in Q3 as I had vibrations as soon as I left the pits. That was a bit frustrating because I didn't really feel I could work with too much out there. We start on the softs so hopefully that helps us tomorrow. I've got to try and charge through the field and I think we'll have a good race car. Lewis is starting behind me so we'll see; if Mercedes is as quick as they have been all weekend I might see if we can get a bumper on the front of Lewis' car and he can push me up the field."
Christian Horner, Team Principal
"An uneventful Qualifying for us today, and we finished where we expected to be. Both drivers had a few issues with grip around this circuit and with temperatures being what they were, to qualify in fourth and fifth respectively for Max and Daniel is the maximum we could have hoped for. With Max on the second row of the grid, he will take any opportunity he can to make early progress, while Daniel, whose penalties mean he will start down the grid, will be up for the challenge of moving through the field quickly and closing in on the leaders. With Lewis also starting at the back, tomorrow's grand prix could be very interesting indeed."
McLaren
Alonso once again got the utmost out of his MCL32, making it all the way to Q3 and qualifying seventh, which becomes sixth when Ricciardo serves his penalty. From there, on a track which should suit the McLaren, anything might be possible for the Spaniard. A slightly unwell Vandoorne had a quieter day and couldn't quite match his team mate, but with free tyre choice could still sneak into the points.
Fernando Alonso, 7th, 1:09.617
"I'm happy with P7 today, particularly because it was a difficult qualifying. Conditions were very tricky: you see drops of rain on the visor, and that takes some confidence away even when the asphalt is completely dry. So you have to trust what the car is doing, and commit to the corner even though your mind is saying something different.
"Yesterday, we weren't completely happy with the balance of the car and with the performance, but today the car stepped up and we were more competitive.
"P6 is a fantastic starting position for scoring points, but we know that Hamilton and Ricciardo will come back very strongly tomorrow. I'll try to defend as much as I can even though tomorrow we expect a very sunny day and completely dry conditions, so it's not going to be easy to hold on to our position.
"A little bit of rain is always welcome for us. We seem to be more competitive in damp conditions, but being in the top 10 tomorrow is our goal. Saturday has been great, let's see what Sunday brings."
Stoffel Vandoorne, 13th, 1:10.116
"I'm not 100 per cent satisfied with today – it was a bit of a strange session for us. My qualifying started well and I had good rhythm straight away in Q1. I had decent pace and I was going quicker with each run. In Q2, I had some difficulties getting the tyres to work and I'm not sure why that is. With the final set of tyres on my last run we didn't really manage to improve, and we need to delve into the data later to see if we can work out why.
"It's been very difficult to predict the weather this weekend. It's always a bit better for us when the weather is mixed-up, so we'll have to wait and see what the conditions are like tomorrow. We're starting 12th so let's see what's possible.
"If I reflect back on Friday, our long-run performance looked quite strong, so hopefully we can take those positives into the race. We know it's always difficult for us to overtake, but from where we're starting there's always a chance for points. If we can get a good start and drive the perfect race maybe it will be possible."
Eric Boullier, Racing Director
"Fernando's qualifying effort was genuinely brilliant today. He has looked fantastically committed all weekend, and has been really flinging his car around this track with incredible passion and dedication. His seventh position (sixth on the grid) was a genuine reflection of the car's pace; he's been in the top 10 all weekend, and, once he'd dialled out the understeer that had been affecting the balance, was able to demonstrate all our potential this afternoon.
"Starting from sixth, and mindful of the promising pace we showed yesterday in our race simulation runs, we think he's set for a good showing tomorrow.
"Stoffel has been stoically soldiering on despite suffering from overnight food poisoning. That's understandably taken its toll on him, but he still drove well. Without a perfectly balanced car, it can be tricky to get a perfect lap around here, and Stoffel felt he didn't quite manage to find that sweet-spot today.
"Nevertheless, he too feels the potential in the car and will be pushing like crazy tomorrow."
Yusuke Hasegawa, Honda R&D Co. Ltd Head of F1 Project & Executive Chief Engineer
"As today's temperature went down compared to yesterday, we needed to adjust our settings in the final practice session in order to be best prepared for qualifying this afternoon.
"Fernando has been looking competitive all day, and had a strong run to take P7 in qualifying. Once race penalties have been applied, he will start the race from P6. His performance was brilliant today.
"It is Stoffel's first race weekend at this technical circuit, and therefore it is quite a tricky challenge. I think P13 is a good result considering this.
"We had a smooth day with our PU today and I feel our competitiveness has improved as a team in the last couple of races. I am looking forward to the race tomorrow and hopefully we can continue this good momentum."
Toro Rosso
Toro Rosso had a thankfully quieter day out on track, but with both drivers having grid penalties for the race they were always unlikely to play a major part in qualifying. Gasly exited in Q1 and whilst Hartley made Q2, he circulated making practice starts and didn't set a time. Toro Rosso will have their work cut out from the back of the grid tomorrow, but in Brazil anything can happen...
Brendon Hartley, 15th, 1:10.625
"Not a bad day, I'm pretty happy to have got through to Q2 today! We then didn't go out to set a time in Q2 in order to save all the tyres and keep all the options available for tomorrow's race, so we just used the session to do a couple of practice starts – something I needed considering my first two starts in F1, which haven't been the best… Hopefully this pays dividends tomorrow! It's going to be quite a tough ask to finish in the points, but we're definitely going to try, do our best and push for that – I'm really looking forward to the race!"
Pierre Gasly, 17th, 1:10.686
"I think today was pretty ok. Obviously it hasn't been a perfect weekend for us but at least we had some proper running in FP2 and FP3. We knew at the beginning of the weekend we would start at the back of the grid, so we tried to mainly focus on race simulations. This morning I was pretty happy with the long runs even if we knew it wasn't ideal for qualifying: in terms of downforce we put less than what we would have wanted to maximise our overtaking opportunities during the race. Hopefully it will pay off tomorrow. The track is so exciting! There's so much rhythm in the second and third sectors… it's really good to drive, but the most important thing is to be competitive tomorrow for the race, and hopefully have some good overtakes during the race."
Jonathan Eddolls, Chief Race Engineer
"The mechanics were very busy last night: they had to swap the E-Turbo and change the engine on Pierre's car after the issues in FP1, so there was an awful lot of work to do but they did a great job getting all of that work done in time so that we were able to leave before the curfew…that was really good. In FP3, because we knew we were taking penalties, we didn't have to just focus on qualifying performance in the session; we had a combination of long and short runs to test some different setup ideas that the engineers had prepared from yesterday. After not having the perfect balance yesterday, we could test those ideas this morning and they all work well. Final practice went well and trouble-free, we learnt some things for the race and qualifying so that was useful. The track temperature today was significantly different to yesterday and the predicted race temperatures, so we need to take that into account with our learning from today.
"Moving into qualifying, because we knew we were taking penalties we really just focused on Q1 and we didn't save any tyres for Q2. Both drivers did a great job. Pierre was very unlucky as the cut off was so tight that he just missed out on progressing to Q2 by around half a tenth. Brendon did a fantastic job to get the car into Q2. Since we took the decision to not have any new tyres for Q2, we instead focussed on some procedural work for him - mainly starts practice, pit entry, pit exit. Obviously the work that we were able to do in FP3 puts us in a better position for the race, and also the fact that we've managed to save tyres means we can keep all of our options open to give us much more of a chance and more strategic opportunities tomorrow."
Force India
It was an interesting day for Force India and their intra-team rivalry. Ocon had looked to have the beating of his team mate, but couldn't produce when it mattered and wound up P11 - the first time he has failed to make Q3 since Singapore. Perez did advance to the top-ten shoot out and was the 'best of the rest' in P6, which becomes P5 due to Ricciardo's penalty. The Mexican was suitably pleased with that result and will be looking to capitalise tomorrow.
Sergio Perez, 6th, 1:09.598
"I am very pleased with today's result, especially given how difficult the last couple of weekends have been for me in qualifying. It was a good fight to get into Q3 because our rivals were pushing us really hard, but I managed a good lap in difficult conditions to be sixth – the maximum we could hope for today. I have to say 'thank you' to the team: we went through everything to understand how the latest upgrades on the car work because I seemed to struggle a bit in qualifying at the last few races. The engineers have worked so hard and today's result proves our pace. I am pleased to be back on form and I am looking forward to the race. It was quite cold today and we expect a much warmer track in the race, so managing the tyres and being on the right strategy will be especially important. Perhaps there could be some rain too – you never know in Brazil, which could help us have a nice battle at the front."
Esteban Ocon, 11th, 1:09.830
"It was not a perfect session and I just missed out on making Q3. The margins are always tight here and a few hundredths would have made the difference. For whatever reason we didn't make our usual step between Friday and Saturday, and that's one of the reasons we were not as strong as we should have been. I was also struggling with putting all the sectors together over one lap because I was gaining time in sector one, but losing grip in sector two. It feels as though we just didn't get the most from the tyres when it mattered in Q2. On the positive side, I will move up a place on the grid with Daniel's grid penalty and I have a free choice of tyres for the race."
Robert Fernley, Deputy Team Principal
"Another fantastic job by the entire team today and it's very rewarding to see Sergio so happy after the qualifying session. Everybody continues to put in a huge effort to maintain our competitiveness and to be starting from fifth and tenth places on the grid gives us a great opportunity to do well tomorrow. Esteban was disappointed not to get more from the session, but the long run pace should allow him to race well tomorrow. The weather looks brighter for the race and we will do our best to convert these qualifying positions into a strong result on Sunday."
Renault
Renault had a solid day, getting both cars into Q3 for the second consecutive race. Sainz had a tussle for track space with Massa but with clear air couldn't match his team mate, Hulkenberg winning the qualifying battle by a tenth. The German has had many reliability woes of late and will be looking to see the chequered flag tomorrow for the first time since Malaysia. If he could do so in the points, so much the better for Renault who are locked in a tight battle in the constructors' championship for sixth place.
Nico Hulkenberg, 8th, 1:09.703
"That was a good qualifying effort today and I think it was as good as it gets from the car here. We had some nice laps at the end of Q3 so I'm happy with that. Of course, I would have liked there to have been a little more rain to mix it up a bit, but that wasn't to be. The name of the game tomorrow is to get to the chequered flag and to get points. We have reasonable race pace so it should be a good battle with Force India, McLaren and Williams; let's see what happens."
Carlos Sainz, 9th, 1:09.805
"It was a good day. I'm feeling more confident with the car and today was definitely a step forward from previous sessions. There's still scope for improvement and adaptation, but to be in Q3 for the third time with my new team is a positive experience. Points are definitely the target tomorrow. It's going to be an interesting race with Hamilton and Ricciardo fighting back, but we have the pace, so we just need to keep pushing."
Alan Permane, Sporting Director
"We're happy with our performance today. Both cars are in the top ten and we experienced a very straight-forward day with both drivers delivering well. Reliability is something foremost in our minds as getting to the end of the race and scoring points is our target. The aim is to move up in the championship. The weather forecast is currently for a dry race, which means fewer variables; we just need to concentrate on maximising every opportunity. We're aiming for a sensible race with a solid result."
Williams
Mixed fortunes at Williams today. Stroll lost power at the start of FP3, and required an engine change as a result. Helped by the red-flag stoppage period, the team did manage to get the Canadian out on track but the lack of running cost him dear and he was knocked out in Q1. Massa made it all the way to Q3 and looked right on form, but had his first flying lap compromised by traffic. With just the one run, he couldn't deliver on his earlier form and qualified tenth.
Felipe Massa, 10th, 1:09.841
"I was happy with qualifying until Q3 where I lost a lap because a driver disturbed me on purpose. That is really disappointing. I think if you make a mistake it's ok but it wasn't a mistake. I am really disappointed. It was raining a little bit on the last lap and I didn't put it together. I was locking up and I'm not starting in the position that I should be."
Lance Stroll, 18th, 1:10.776
"It was a tricky day missing out on FP3 and not doing any running until qualifying, so it was always going to be hard. We got helped by the red flag, but I was starting from zero today. It was just very hard. The car felt good, but I just made too many mistakes trying to find the limit of the car on the couple of laps I had. It has been a difficult weekend up to now, but tomorrow is a new day. We will have a penalty for changing the gearbox, but we will take it from there."
Paddy Lowe, Chief Technical Officer
"Unfortunately, with Lance we had a gearbox failure at the start of FP3 which resulted in both a gearbox and power unit change. The team did a fantastic job to get the car ready and he was out fairly near the beginning, helped by the red flag after Hamilton crashed, which gave them a little bit more time to prepare the car. Lance managed two laps on the supersoft tyre but with limited running ahead of qualifying, he unfortunately wasn't able to set a time quick enough to get out of Q1. On Felipe's side, he had been showing good pace all weekend and he looked even stronger throughout qualifying. He easily made it into Q2 with the fourth quickest time of the Q1 session, and then only needed one run to get into Q3. So, for the first time in a while, we arrived into the final session with two new sets of supersoft tyres, which was a great job by Felipe. Unfortunately, he encountered traffic on his first run, and on the second lap a couple of small mistakes meant he wasn't able to find those final few tenths to move higher than P10. Overall, it was a great qualifying from Felipe showing his skill around his home track., and we aim to move forward in the race with Lance to bring home some good points for the team tomorrow."
Sauber
Wehrlein was bitterly disappointed to be pipped by Hartley for the final spot in Q2 by just 0.053s. Ericsson was further down the road in P19, but will advance a few places when others serve grid penalties. On a track not normally conducive to overtaking, it might be hard for Sauber to make inroads, but equally they could quite possibly spoil a few races by keeping faster, out-of-position cars behind.
Marcus Ericsson, 19th, 1:10.875
"It was a pretty decent day for us. We were in the fight with the lower midfield. We knew that Q2 was possible if we got it together perfectly – it was close, but not close enough. We may move up some positions on the grid because of penalties. Tomorrow is a new day, and the race could be a good one."
Pascal Wehrlein, 16th, 1:10.678
"I am satisfied with today's result. I have had some issues with the car balance over the last weekends. Some parts have been changed for this weekend, and the car feels as it should again. I feel very confident on track. Today's qualifying result was a good one. We were very close to Q2. That makes me go into the race with a positive feeling. It will be important to have a good start tomorrow, and I will give my all to finish the Grand Prix in a good position."
Pirelli
Mario Isola, Head of Car Racing
"Up until qualifying the fastest lap seen so far this weekend was Hamilton's lap from FP1 yesterday. Conditions were much cooler today, which helped the performance of the supersoft: we saw the fastest-ever lap of Interlagos in Q3 courtesy of Bottas. One stop is the most likely option tomorrow but two are possible as well, depending on wear and degradation rates. Conditions tomorrow are forecast to be dry and warmer than today, and this will be one of the factors influencing whether we see one or two pit stops in the race. With a few drivers starting out of position, closely-matched race pace, and a very short lap here at Interlagos, we should be in for an action-packed Grand Prix."