Feature
What the teams said - qualifying in Canada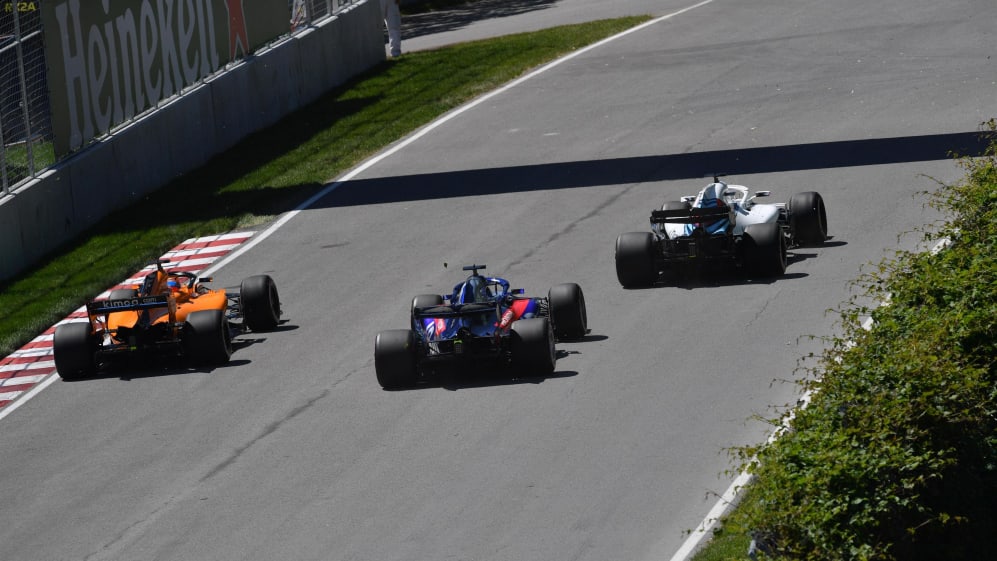 A round-up of all the action from final practice and qualifying at the Formula 1 Grand Prix Heineken du Canada 2018 at the Circuit Gilles-Villeneuve...
Ferrari
Ferrari had looked off the pace on Friday, but found their form in FP3. Come qualifying it was all eyes on the Scuderia as Raikkonen and Vettel traded fastest laps. Vettel claimed he made small mistakes on both his flying runs but it didn't matter - he grabbed his fourth pole position of the season whilst Raikkonen was left to rue putting two wheels on the grass on his final effort.
Sebastian Vettel, 1st, 1:10.764
"Pole position is always important and for Scuderia Ferrari this track and this country means a lot, as this is the place where Gilles Villeneuve came from. That's why I am very happy to have qualified on pole. It's a great result for all the team, but I think I could have been even faster. I was quite happy with my first run in Q3 but I knew there was something more in the car for the first part of the lap. So I tried it all but I wasn't sure until the end if it was enough. We have definitely improved since yesterday, I was very happy with the car today. Choosing the ultrasofts for the start of the race was a pretty straightforward decision for us, now we have to do our best on Sunday!"
Kimi Raikkonen, 5th, 1:11.095
"On my last try in Q3, I suddenly had a lot of understeer entering Turn 2, I struggled to turn the car round. At that point I had no choice but to try and get out of it as quickly as possible, but obviously I was off the line and my lap finished there. What happened was a bit odd, my car had been working well all day. I'm sure there was more to come today, and the end result is not what we were looking for. Tomorrow is a different day though, we'll see what happens. For sure it will be tricky, with different tyres on different cars in the front. It's difficult to have a clear picture of how it will pan out, but we believe we made the right choice for the start of the race."
Mercedes
A mixed day for Mercedes. Montreal specialist Hamilton locked up on both his flying runs in Q2 and Q3, which proved costly indeed and he could only qualify fourth. What could be worse is the fact he flat-spotted his tyres in Q2, which is the set he will start the race on. Bottas delivered where his team mate couldn't, narrowly missing out on pole by less than a tenth of a second. Starting second, he has every chance at a track where statistically, pole isn't the be all...
Valtteri Bottas, 2nd, 1:10.857
"That was a pretty good qualifying session. I was able to find a lot of performance from FP3 to qualifying and it felt like I got everything out of the car. It's a good result, although it's not perfect to start behind the Ferrari, but we knew that they would bring some improvements for this weekend. Red Bull will also be a threat, but it's cool to see three teams fighting for the win. We're happy that we qualified on the ultrasoft tyre in Q2, I think it's the right choice for our car. It will be interesting to see how it does in the start of the race, especially because Red Bull will start on the hypersoft. Overall it seems like the margins are very small between the top 3 teams, so the strategy could really be the key. It should be an interesting race tomorrow."
Lewis Hamilton, 4th, 1:10.996
"It was a difficult qualifying. My laps weren't good and it just didn't quite come together for me. In practice things looked good and I think I could have been quickest in FP3, but in qualifying I couldn't quite hit the potential we had shown. I don't think today's performance has got anything to do with the older engine. Sebastian simply did a better job when it counted in Q3. You can see just how tight things are at the front of the grid, so I think it could be tricky to overtake tomorrow. Sure, it'll be tough to win from fourth here, but nothing is impossible. I'll dig deep tonight. My focus now is on tomorrow."
Toto Wolff, Head of Mercedes-Benz Motorsport
"We were not quick enough today in qualifying, which is pretty disappointing at a circuit where we have traditionally been very strong, and P2 and P4 on the grid reflect that. It once again showed us that this is a championship where tiny details will make the difference in the end: the gaps are measured in fractions of a tenth of a second and every single small detail counts towards our final performance. It's not one factor or the other, but every piece of the puzzle that we need to get right if we want to win. Valtteri drove well to take P2 with a very strong first run - but then unfortunately couldn't improve on his final set of tyres. Lewis made a useful improvement on that last run but was never totally comfortable on the HyperSoft tyre today and his qualifying position shows that. The positive is that we have both cars starting on the UltraSoft, so we hope to be in a strong position for the race with a number of strategic options."
Andrew Shovlin, Trackside Engineering Director
"We'd expected qualifying to be a close fought battle today but thought we had a chance at pole given the pace of the car this weekend. We didn't really have any issues, it just looks very close with Ferrari in particular and this afternoon we just weren't quite quick enough. Valtteri had a solid qualifying session, his first run in Q3 was strong and that left him less than a tenth off pole. His second run wasn't quite as tidy, losing a little in turn two that he couldn't make back around the remainder of the track but he did a good job with what we have and he should be happy with his lap. Lewis had a more difficult session, not quite finding the car as predictable as it had been in free practice and that meant it was tricky to get the lap together. Only six hundredths would have put Lewis into third on the grid and it's always frustrating when you miss a place by such a small margin. So, overall a somewhat underwhelming day but we are expecting to race well tomorrow and we will be working hard tonight to look at the various opportunities in strategy that will give us the chance to win. It's going to be interesting at the front with the Red Bulls on the hypersoft compound, which looks to be quite fragile, and Mercedes and Ferrari on the ultrasofts. It's also a race that rarely runs start to finish without a few incidents or safety cars, so there is plenty of opportunity likely to come our way if we can stay at the front and put some pressure on the cars around us."
Red Bull
Verstappen picked up where he left off on Friday- topping FP3 and looking competitive in qualifying. He nailed his final lap to put his RB14 third on the grid, making full use of Renault's upgraded power unit. Ricciardo managed only sixth, but both Red Bulls start on the hypersoft tyre compound in contrast to their rivals and thus could be the ones to watch at the start.
Daniel Ricciardo, 6th, 1:11.116
"I think my weekend has lacked a little bit of rhythm and we've been one step behind due to some of the issues on Friday. In qualifying, we actually made really good progress and I feel like we should be better than sixth with the way we performed. It's all very close; disappointing to be at the tail end of that top pack but actually I don't think we could have done more. Even though Max was quickest in each practice session, I think we still knew getting pole here would be tricky and for that reason we thought it would be better to start tomorrow on the hypersoft. We knew we would probably have a couple of cars to pass and it gives us a chance off the start and on the first lap with a bit more grip, afterwards we will have to manage them. This strategy sets us up to be aggressive and attack. The first few laps will dictate a lot of the race but I think we still have a chance of a podium and it should hopefully make some good TV as well."
Max Verstappen, 3rd, 1:10.937
"I think we did a really good job today, the car has been performing very well and we made the most of it. In Q3 we were just lacking a little top speed but we were close and I'm happy. We have no issues, the pace was decent and we are not too far behind. The whole weekend I felt very good on the hypersofts which makes me more comfortable to attack the corners and this is always a good combination. The little engine upgrade probably pushed us a bit closer which is always nice to have. This track feels a little like a go-kart track and hitting all the kerbs is good fun. We have been fast all weekend and in the race we are usually faster than in qualifying. We are starting on a different tyre which will make things interesting in the race but we will see, because many things can happen and if the safety car comes out that can change everything. We can definitely overtake on this track so that will give us many possibilities."
Christian Horner, Team Principal
"A really exciting qualifying today, with nothing much between the times set, which is particularly encouraging for us at this type of circuit. It was an excellent performance from Max to qualify in P3, less than two-tenths from pole position, topping a strong showing in the practice sessions here in Montreal. Having been quickest during Q2, Daniel will start tomorrow's Grand Prix in P6 but in qualifying there was not much to separate him from those further up the grid. We have elected to start on a different strategy to our immediate competitors, starting tomorrow's race on hypersoft tyres, and it will be interesting to see how that plays out tomorrow."
Williams
Stroll and Sirotkin had cleaner sessions, but the Canadian made a mistake on his final flying lap and so lost the chance to try and make Q2. Sirotkin likewise exited in Q1, lacking the pace to progress further. A long day may be in store for Williams tomorrow, but they can take comfort from the fact that this race track often produces exciting races and thus there may be opportunities to move forward come Sunday.
Lance Stroll, 17th, 1:13.590
"I thought there was a bit more in it. I locked up in the last chicane on my best lap and that lost something like two and a half tenths. However, it would not have been enough to get into Q2, and not enough to get another position as we were six tenths off Gasly in P16. Unfortunately, we are not as competitive as we should be, but I am still happy with my first run and my performance. In the race it is a whole other story and I hope the race pace will be better, as last time I started 17th here I finished 9th, so anything is possible. This weekend will be very special as it is my home race, I love the energy and I have a lot of butterflies in a good way."
Sergey Sirotkin, 18th, 1:13.643
"It's been a very difficult session. We were struggling to understand how to make the tyre work best in the hot conditions that we faced yesterday in FP2, and today in qualifying. This is crucial as you can play around with the car balance a lot but we missed the peak of the tyre completely. I really tried to be positive going into the session as we have been working on improvements and felt we had a better understanding of the car. However, I am quite disappointed we couldn't fight."
Paddy Lowe, Chief Technical Officer
"It was a good job done by the team today with no mistakes. The cars were as balanced as possible and we got the most out of them, but unfortunately the car simply does not have the pace that we need to compete for higher positions, for the same reasons that we have suffered with all year. We will look to see what we can do with the race tomorrow. Thank you to all the fans for the support here, including Lance's fans at his home Grand Prix, especially those in the Lance Stroll grandstand. We are sorry that we don't have a better car right now, but we will do what we can to fight in the race on Sunday."
Haas
Grosjean can't catch a break here - after damaging his front wing yesterday following an altercation with some Canadian wildlife, he hadn't even fully made it out of the Haas garage before smoke began to puff from the back of his engine. One spectacular trip down the pit lane later, his qualifying was over. Magnussen was left to fly the flag and he made it to Q2, missing out on the top ten by just two-tenths. But with free tyre choice for the race start, the Dane could be perfectly poised to sneak some points.
Romain Grosjean, No time set
"Something went wrong. Maybe the beaver from yesterday was still in there somewhere. Seriously though, we laugh about it as it's been a terrible series of luck since the first race of the season. We've had some really tough luck. Anyway, the feeling in the car was really good since FP1. I was very happy with the upgrade. Kevin was improving and getting better in qualifying, which is great for the team. Starting last is never ideal, but it's one of those racetracks where you can overtake, so luckily it's not Monaco. I think everyone starting on hypersofts is going to suffer from the degradation, especially if it's warm. We're going to try something different. There are a lot of cars to get around. A good safety car, some luck at a good time, and we could be up there."
Kevin Magnussen, 11th, 1:12.606
"We brought an upgrade here and we hoped that would improve the car, and it looks like it has. This kind of track – we knew it was going to be difficult here. We put this upgrade on and, of course, it's difficult to see as we're not as quick as we were in Barcelona, where we were dominating that midfield. I think without the upgrade we'd have been a lot worse here. Low speed tracks are our weak point, but I'm happy that, so far, we've been able to limit the damage. I think we can attack tomorrow. Our race pace, if anything, is better than our qualifying pace, and we're starting with a free choice of tyre in P11 – that's probably a better position to be in than P10 and P9. We're going to fight."
Guenther Steiner, Team Principal
"I think we cannot get rid of being unlucky, as much as we don't believe in it. With Romain, we were finding a good speed in the car, then we had an issue with the power unit, so that was his day done. I think Kevin stepped up pretty good from FP3. He got a little more confident with the car and put it P11. All in all, that's not a bad starting spot for tomorrow."
Sauber
Ericsson made a mistake in the first qualifying segment, tagging the wall and damaging his C37. He returned to the pits and the damage was significant enough to end his involvement. Leclerc by contrast made it to Q2 and out-qualified both McLarens in a composed display that sets him up well for the race.
Marcus Ericsson, 19th, 1:14.593
"After a promising Friday, today was more difficult for me. In FP3 I was not as comfortable with the balance of the car. We did some work in preparation for the qualifying session. Initially I felt better – unfortunately, I was pushing a bit too much and touched the wall, damaging the front right. I couldn't rejoin the session and it was disappointing for me as the potential was there. At the moment, I am struggling a bit to put everything together in qualifying. Regarding the race, as we showed in the last weekends, we have the pace so we need to remain focused and fight back."
Charles Leclerc, 13th, 1:12.945
"It was a good day overall. We made some good steps from FP3 to qualifying, and I am pleased to have finished in Q2 again. The track was new to me when I arrived in Montreal this weekend. After the last two days, I definitely feel comfortable driving here, and the car also feels good. Starting in P13 tomorrow is a positive, and I look forward to seeing what we will be able to do during the race to get a good result."
Renault
Renault turned their fortunes around after a Friday to forget, with both drivers making up for lost time. They made Q3 with ease, Hulkenberg particularly impressing with his 'best of the rest' P7 as Renault made it five races out of seven with both drivers in the Saturday top ten. Similarly, the German will be looking for his fifth points-scoring finish this year come race day.
Nico Hulkenberg, 7th, 1:11.973
"I'm satisfied with that today. I felt a little on the back foot heading into qualifying due to the lack of running yesterday, but I've been confident in the car all weekend. I think we did the best we could in terms of position. There was probably more in me and a couple more tenths out there to extract in Q3. We have the top speed and a generally good package with the high fuel runs yesterday, so we'll be there to fight and pick up positions tomorrow."
__Carlos Sainz, 9th, 1:12.168 __
"I'm quite happy with how things have gone today. This Q3 is definitely thanks to all our mechanics for sorting the car out and completing an amazing change on my turbo to help me get out in qualifying. It was a great job by the whole team. For tomorrow we have good pace but it'll be a tough race, especially starting on the Hypersoft tyre, but we'll be pushing flat out to have both cars in the top ten."
Alan Permane, Sporting Director
"Qualifying was good for us. We were able to go through Q1 on one set of tyres and that gave us two sets for each of the other sessions. Both drivers felt they could have got more out of the car. Nico felt there was another couple of tenths out there and he didn't quite get the perfect lap, but still, seventh is very good. Carlos was just pipped in the end for eighth. It's going to be a challenging race tomorrow but both cars are well-placed to score points. We know this circuit well and the weather looks like it should be similar to that we've seen today. We're hoping for a clean and straightforward race."
McLaren
Having flirted with the top ten, McLaren couldn't convert that into single-lap pace in qualifying and both cars exited in Q2. It was the narrowest of margins between the two - Alonso just 0.009s ahead and given the Spaniard often starts strongly, points shouldn't be out of the question despite his worst qualifying of the season.
Fernando Alonso, 14th, 1:12.856
"We knew this could be a difficult circuit for us, but yesterday we felt competitive, the car was feeling good and we were fast.
"Today the car was still feeling okay, but we lost that level of competitiveness. In FP3 we felt a little bit worse and less competitive and unfortunately, we confirmed in qualifying that we were not on the pace today.
"It's a disappointing day but the race is tomorrow, and hopefully we can recover some places with a solid start and the right strategy. This is a circuit that provides good opportunities for overtaking, and I still think points are a possible target for us."
Stoffel Vandoorne, 15th, 1:12.865
"Today's result is a bit disappointing. From this morning, we've found ourselves in this very tight group, and it seems like we didn't make a step forward into qualifying. It's a shame, as yesterday we had good pace going into FP1 and FP2, especially considering we didn't run the Hypersoft in FP2.
"This morning we looked to be getting close to being able to get into Q3. In qualifying, there was nothing particularly wrong – the balance was good and I think we more or less got the maximum out of our car if you look at the lap-times – but we're just lacking pace. It's a shame we weren't able to progress further.
"The race is a different story. There's a lot to prepare for tomorrow – the race is always interesting here in terms of tyre degradation, especially for the guys that are going to have to start on the Option tyre – so we'll have to wait and see. Our race pace is usually better, and at least we have the freedom of tyre choice, so hopefully that will give us an opportunity tomorrow. This is also a circuit where we can overtake, so we'll see what we can do."
Eric Boullier, Racing Director
"Today's performance is not one we can be satisfied with. Following Friday's performance and the promise we showed in this morning's final free practice session, there was optimism that at least one of our cars would get through into Q3, so it's disappointing to have qualified where we have.
"However, before this weekend we knew this track would be tough for our package, and therefore we cannot be too surprised with our final qualifying positions. We know our race pace has often been stronger than our qualifying performances have led us to believe, and, knowing the work we've put in so far this weekend for our Sunday set-up, we can be fairly confident of a better showing on Sunday afternoon.
"We believe that the benefit of a free tyre choice does offer some advantage here for the race, and it means we'll be able to work hard to optimise our strategy for the package our two drivers have underneath them. It certainly won't be an easy race, but we've often seen drama here in Montreal, so we'll be looking to maximise every opportunity that comes our way tomorrow afternoon to fight the other midfield teams for points."
Force India
A solid day for the team in pink, with both drivers making it to Q3 for just the third time this season. Opting to run just the once in Q3, Ocon shaded his team mate by over half a second to grab eighth, but couldn't quite take the fight to Hulkenberg ahead. Nonetheless, a double points finish will be the aim as Force India look to make inroads on McLaren in the constructors' championship.
Sergio Perez, 10th, 1:12.671
"I'm a bit disappointed to have finished behind the Renaults, but I am still confident we can fight with them tomorrow. Our set-up was completely geared towards the race and I felt it was very difficult to deliver a clean flying lap. Tomorrow, however, we should have an advantage and the opportunity to score good points. The first stint will be very important: degradation is quite high around here and we need to make sure we manage the hypersoft and don't have to pit too early. The cars starting outside the top ten will be on a better tyre compound and we'll need to fight them off if we want our strategy to work. This is what we've been working for and hopefully tomorrow it will work in our favour."
Esteban Ocon, 8th, 1:12.084
"I'm happy to finish in eighth today. I had a fantastic feeling with the car and we've been getting better with each session. The work last night and in final practice really paid off and we took big steps forward in the build-up to qualifying. So I have to say a big 'thank you' to the team because we are really making good progress with this car. I think there is all to play for tomorrow: we are often stronger with race pace so the job tomorrow is to try and get ahead of Hulkenberg and bring home some big points."
Otmar Szafnauer, Chief Operating Officer
"A solid qualifying effort by the team, which leaves us well placed to score important points tomorrow. The car has been quick here throughout practice so it's rewarding to deliver on our potential with both cars through to Q3 for the third time this season. Esteban's laps were clean and tidy and he came within a tenth of beating Hulkenberg into seventh place. Checo struggled a bit more in Q3 with the set-up, but we're confident the race pace will be strong."
Toro Rosso
A mixed bag at Toro Rosso - Gasly suffered a loss of power in FP3, and had to revert back to an old PU for qualifying. Lacking the Honda upgrade package meant a loss of straight-line speed and he exited in Q1. Hartley, running the newer spec engine, managed to qualify in P12 and points aren't out of the question for the Kiwi.
Pierre Gasly, 16th, 1:13.047
"We were quite unlucky today, everything looked promising until FP3 where we had an issue with the power unit, so we changed back to an old version. Unfortunately, at a track like Canada where we know the straight line speed is really important, it cost us quite a bit. It made qualifying quite tough, and of course it's always frustrating to miss out on Q2 with such a small margin. Looking at the positives, Honda made a really good step with the updates they brought to Canada which seems to work very well so far, I can't wait to put them back on my car as soon as possible! I think tomorrow will be a tough day… but we'll try everything! Anything can happen in Canada, it's a challenging track and it's easy to make mistakes, so maybe there'll be some opportunities for me."
Brendon Hartley, 12th, 1:12.635
"I was really happy with the job I did today, and how we've worked as a team throughout the weekend to get the car in the right place. I think 12th was more or less where we've been this weekend, there was probably another tenth in the car on that last lap, but to move much further up the grid and into Q3 was a bit of a tall order today. I've really enjoyed driving the track here, it's got a lot of character, bumps, kerbs, you're close to the walls… I felt strong all weekend in Monaco as well but Q1 was a bit of a mess and we missed Q2, so it was nice to get a better result in Montreal. I'm quite optimistic for tomorrow! The upgrade performance in qualifying was good, and we think the bigger step is in the race trim which is where we have been struggling recently. Hopefully we can battle it out and try to muscle our way into the top 10 - everything has been really positive so far and we've seen races in the past here where a lot can happen, so I'll keep focused and do my best to bring home some points."
Jody Egginton, Deputy Technical Director
"Following on from a productive day yesterday, the engineers worked hard overnight analysing the required setup changes for today, and I think it's fair to say these have resulted in an improved car balance. The main focus in today's sessions was to work on out lap preparation for tyres, and fine tune brake balance, differential, and the various power unit related parameters as the baseline setting both sides of the garage was where it needed to be. Both drivers' comments highlighted some further need to fine tune front tyre preparation for the single timed lap, but beyond this the car was in the right ballpark. Unfortunately, right at the end of the session, we identified an issue on Pierre's power unit, so to avoid any unnecessary risk we reverted to a previous unit on his car for qualifying. The guys from Honda and from our side did a fantastic job in changing the power unit in time for qualifying, as such there was minimal impact to the normal qualifying preparations.
"The planned qualifying program centred around a push, cool, push approach, but It's a fairly short lap around here with typically traffic management required especially in Q1. Unfortunately, the first lap of the first run for Brendan was slightly compromised, but his second push lap was traffic free as was his second run. Pierre's first run suffered from a bit too much understeer early in the lap, but better for his second push lap meaning we were looking to make Q2 with both cars at this point. However, Pierre was called to the weigh bridge after his first run, and the time he spent there meant we were under some pressure to get his car turned around for the second run. The push-cool-push, plan was looking like being incredibly tight and unfortunately we have not managed to achieve this, meaning he only had a single lap to set a time. This was not the optimal approach for the tyres and we weren't able to progress to Q2 with him. I'm disappointed for Pierre, as he has not had the maximum opportunity to get the most out of the car today.
"However, I am pleased to see Brendon have a smooth qualifying putting in a couple of strong laps to qualify 12th, so all in all mixed emotions as we had the potential for a bit more. Our thoughts now turn to the race tomorrow, and the preparation tonight to see how best we can use our tyres and try and move our drivers forward in the race, making best use of any opportunities which present themselves."
Toyoharu Tanabe, Honda F1 Technical Director
"Although Brendon missed the cut to Q3 by a small margin, we can look forward to a strong race from 12th on the grid. Towards the end of this morning's free practice, Pierre's engine showed a drop in power. As a precaution, we decided to change the entire unit. The PU that Pierre had for qualifying was an older unit that therefore did not have the updates we have introduced at this race. As Pierre had used this PU before, this change does not incur any penalties. We will now examine everything closely to identify the cause of the problem. Well done to the Honda and Toro Rosso mechanics, who did a great job to change the unit and get Pierre out in time for Q1. In the circumstances, it was understandable that he was unable to get to Q2."
Pirelli
Mario Isola, Head of Car Racing
"Qualifying went as we expected, with an important strategic element as Mercedes and Ferrari chose the ultrasoft to set their fastest times in Q2 and therefore start the race. This has the advantage of a longer life than the hypersoft, but it is theoretically slower off the line, so the start tomorrow will be very interesting. With a wide mix of possible tactics and a historically high chance of a safety car, it's particularly hard to make any predictions. This isn't a race where qualifying has the biggest influence on final results, so the most important thing during the grand prix will be to react efficiently to circumstances and opportunities as they happen."