Feature
What the teams said - Qualifying in China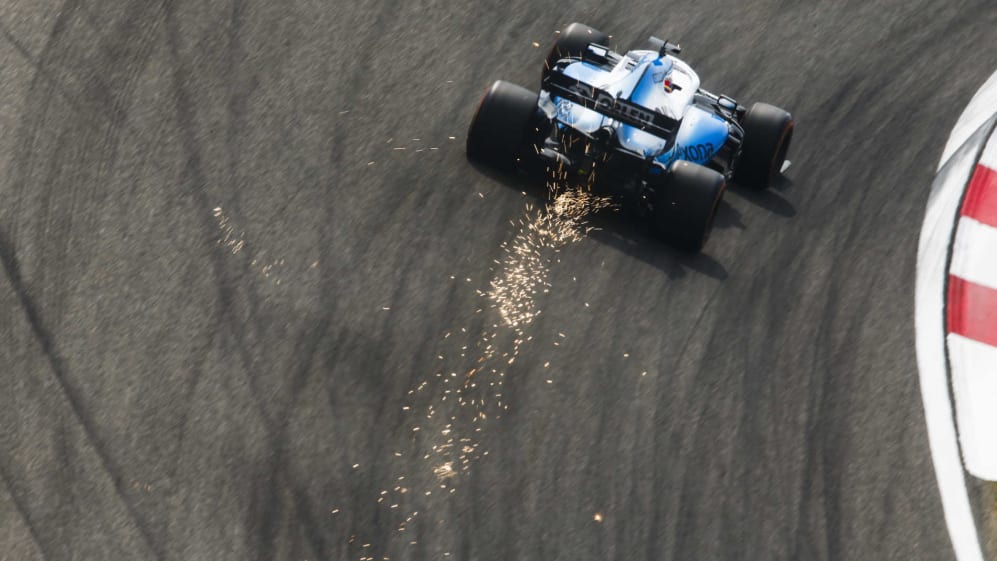 The drivers and teams report back on all the action from final practice and qualifying at the Formula 1 Heineken Chinese Grand Prix 2019...
Mercedes
An interesting day down at Mercedes. They managed to get the jump on their rivals and by an impressive margin too, to the surprise of many including by the looks of things, the Ferrari garage. Bottas grabbed his first pole of the year, beating Hamilton by just 0.023s after the reigning world champion had a slightly scrappy final sector on his last lap. A front row lock-out, can Mercedes make it a fifth win in six years here?
Lewis Hamilton, 2nd, 1:31.637
"Fantastic job from the team, I'm really happy for us to lock out the front row. Valtteri did a great job, he was a bit quicker but I was happy to get a decent couple of laps. I didn't know where we would be, but in the end we've shown a strong performance. I've struggled a lot this weekend up until Qualifying, I was battling with the balance, so I'm really happy with the direction it went for Qualifying; it was a bit late, but better late than never. I'll try and pull a good start out tomorrow; tyre management and strategy will also be important. This is not a bad track to overtake, so it should be an interesting race. I'm sure there will be a few opportunities tomorrow and I will try to put myself in the best position to be able to fight."
Valtteri Bottas, 1st, 1:31.547
"It feels good to be on pole. I think it's going to be a very close race tomorrow, so it's a good thing to start from the front. It's been a strong weekend for us so far and it was nice to continue that way in the first session that counted. Because in the end when you go into Qualifying it doesn't matter if you've had a good weekend up to that point; the only thing that counts is if you can deliver a good lap. I'm happy I was able to do that today. I think we were still a little bit behind on the straights compared to Ferrari, but we were stronger in the corners and ultimately gained more than we lost to them on the straights. It will be a tight race tomorrow and we will need a strong race pace and the right strategy to win. I'll also need a good start in order to keep the lead as I'm sure both Lewis and the Ferraris will be pushing. We've been strong all weekend long so we need to continue to perform at this level to get the job done tomorrow."
Toto Wolff, Head of Mercedes-Benz Motorsport
"It's great to see both our cars on the front row for the 1000th Grand Prix. The Ferraris squeezed it all out and were very fast again on the straights, but we were quicker in the corners and that was ultimately how we stayed ahead today. Our car looks really good in terms of downforce level, but we need to improve our straight-line speed. It is always a combination of power and drag, so we need to leave no stone unturned on the chassis and the power unit to recover a little bit.
"Valtteri was strong all weekend long and put in some good laps in Qualifying. Lewis was struggling with the grip before the session and was a few tenths behind this morning, but he did a very good job recovering in the session that mattered. We're seeing massive swings from weekend to weekend, even within one team, and it makes this season really interesting. Valtteri was in a class of his own in Melbourne, he struggled in Bahrain, but then he has come back here.
"For Lewis it was the other way around; he had some issues in the race in Australia, but was really strong in Bahrain. If you look at Leclerc and Vettel it's very similar. It makes racing unpredictable and I'm sure we will see an exciting race tomorrow as well. Our long run pace looked decent yesterday, but we expect a close battle between Ferrari, Red Bull and ourselves so we need to keep pushing."
Andrew Shovlin, Trackside Engineering Director
"A great job by the team and both drivers to get the front row and congratulations to Valtteri on another pole position. During the morning session we ran both Soft and Medium compounds as we wanted to try both ahead of qualifying to see how realistic it would be to progress through Q2 on the Medium. The wind was also a bit stronger and blowing in a different direction to Friday, so there was a bit of learning to do with the drivers to understand how the balance had changed.
"Valtteri came out of FP3 pretty happy with this car, Lewis on the other hand was struggling to get the grip out of the Soft tyres on a single lap. Qualifying is always a busy session but there is more pressure this year as the midfield are much closer. Lewis took a bit of time to find the peak of the grip on the tyres but by his second run in Q2 he was looking very competitive and it was extremely close between our drivers in the final part.
"While it's nice to start on the front row, we expect this race to be one where the fastest car will win – and with Ferrari and Verstappen starting on the same tyres, we're under no illusions that tomorrow will be anything other than difficult. However, it's shaping up to be an exciting battle between all three teams so hopefully the 1000th race will be one to remember."
Ferrari
Ferrari might have the fastest car on the straights, but the corners are costing them and they wound up locking out the second row, off the pace of Mercedes. Vettel got the better of his team mate although earned the ire of Verstappen when he jumped the queue on the final out-lap. Leclerc admitted he has struggled here this weekend and seemed relieved to be ahead of the Red Bulls.
Sebastian Vettel, 3rd, 1:31.848
"We could have done a bit better today but probably not enough to really beat our rivals for pole. It could have been worse, but I am not entirely happy. We started off well, but then our competitors had more pace over the single lap in terms of pure performance. We should have a good car tomorrow though and hopefully we can show it throughout the whole 56 laps. It's a long race and I expect it to be a very tight one too. Making the right strategy choices will be important; we must make the right call at the right time and see where that takes us. I am not sure everyone understands how many variables have to be taken into account. The top drivers are all starting on Medium tyres and we will see if that turns out to be the right choice. I believe anything can happen."
Charles Leclerc, 4th, 1:31.865
"I am annoyed with myself today. I made a mistake on the last lap and I really shouldn't have done that. Overall, I think there are some positives, because in all three practice sessions I was struggling quite a lot with the setup, the confidence in the car and the driving. But then, before qualifying we introduced some changes, which meant I could drive better and set the lap times we were expecting. It was good but it is also disappointing not to extract all the potential from the car today. We knew our rivals would be competitive as they have been since the first session. The race tomorrow is going to be a bit more complicated than expected, as I haven't done any long runs yesterday nor this morning because of the red flag so, I will be a bit in the dark. It will be tough but I'll push as much as possible and we can expect our opponents to be very strong."
Mattia Binotto, Team Principal
"Qualifying wasn't perfect for us today and in a championship as closely contested as this, that can make the difference. However, I have to say that at his high level of performance, one should not be surprised to find that one can be in front in one race and then behind in the next one. But we have learned to our cost in Bahrain that races are not won on Saturday and I think tomorrow's Grand Prix will be very closely contested and we expect to be in the fight right to the very end."
Red Bull
A missed opportunity for the Red Bull pair, who both failed to make it across the line before the chequered flag and thus couldn't go for a final flying run at the end of Q3. Gasly at least made it to the top 10 shootout for the first time this season, and starts on the soft compound while his team mate will have the medium tyres fitted for tomorrow, giving him the potential advantage on strategy.
Max Verstappen, 5th, 1:32.089
"On the final run in Q3 I followed the Ferrari in front of me as we were all in a queue. I was actually trying to be nice and not overtake, as that's not what you do in qualifying when you're all trying to prepare for the last run. This time it caught me out when I was overtaken at the end of the lap. I am of course not happy with that, or to be fifth, but we didn't get the opportunity to do a final lap. I'm sure this will swing around and happen to other people at another time but it's annoying as we were fighting for third. Of course, when you can't do the last lap in Q3 you know the guys who are doing the lap have a chance of overtaking you and that's what happened. It is how it is, and it will make tomorrow more interesting. We have good race pace, I'm not sure if we have the pace for a victory, but for sure we will fight for a podium."
Pierre Gasly, 6th, 1:32.930
"Driving F1 cars is probably the best job in the world, so I cannot really complain about anything (laughs). I think today was pretty good, it was still difficult to drive the car and I'm still not 100 percent happy with my driving, but P6 was probably the best we could expect today. I have some areas to improve but I had a better feeling with the car than last weekend. We now know what we need to improve on and I know what I can do on my side. I had a different strategy than the top five with the soft tyres today, so let's see how that works tomorrow. For sure we know the degradation on the softs can be a bit tricky, but anything can happen at this track. We saw it last year with Daniel and again in qualifying today when it was hectic on the last run. Max was fast all weekend so now we both need to focus on the race. We will push flat out and I really hope we can get some good points. I think we're in a good place to start the race and I'm excited for tomorrow."
Christian Horner, Team Principal
"Qualifying was frustrating for the Team in one respect and positive in another. It's encouraging to have both cars on the third row, particularly for Pierre who equals his best F1 qualifying position but frustrating that we couldn't fight for third. With both cars having progressed through to Q3, Max and Pierre set the fourth and sixth fastest times respectively after their first run. Max then got himself into a good position between the two Ferraris for the final run but unfortunately as things got backed up at the last hairpin, he was passed by Sebastian. He then tried to make a gap to Seb and was passed by both Renaults. By that time he had lost sufficient time that he missed the cut-off and was first to see the chequered flag. Unfortunately, that concertina also hampered Pierre, resulting in both cars missing the final run. The gap to the front runners is significantly smaller than it was in Bahrain and we can have a strong race from here."
Renault
Finally, some progress. An error-free qualifying meant both cars made Q3 for the first time this season. Ricciardo out-qualified his team mate on merit for the first time this season but there was only a hair's breadth in it, 0 0.004s to be precise. Best of the rest on paper, can Renault stay out of trouble long enough to mix it with the Red Bulls tomorrow? Gasly was only a few hundredths up the road...
Nico Hulkenberg, 8th, 1:32.962
"It's a really good team result. The car has been feeling good and performing well all weekend and we had a smooth qualifying today. We managed to get into Q2 on just one run, which is pleasing. I was happy with all my laps, we knew it would be close and it shaped out to be that way. The important thing is the team result and we can race strong from there. Our long run pace yesterday was competitive, the package feels good and we'll be pushing for a double points finish."
Daniel Ricciardo, 7th, 1:32.958
"I'm really happy for the team with today's result. It's really good to have both cars in Q3; that's a solid result. This midfield battle is so tight and your weekend can change within one or two tenths of a second, so it's pleasing to be at the head of that midfield battle. My Q3 lap was actually a little bit messy in the final sector, so I was happy to hear we had finished seventh. Tomorrow, we'll realistically like to hold onto the top seven and see if we can go after sixth."
Alan Permane, Sporting Director
"We're happy with seventh and eighth today. We had a smooth session with both cars into Q3 and we can be pleased with today's effort. Of course, we would have liked to have been slightly higher. We feel well prepared for tomorrow's race and we have good grid slots to target strong points. Both cars worked well on long runs yesterday and we'll continue our work tonight to evaluate our options on strategy for tomorrow."
McLaren
After getting both cars through to Q3 last time out in Bahrain, it will have been a disappointment for the Woking team to wind up 14th and 15th, with Sainz pipping his team mate by four-tenths of a second. But having focussed on one lap pace, have McLaren changed strategy at a track where overtaking is possible, and sacrificed qualifying in favour of a race set up? Only time will tell.
Carlos Sainz, 14th, 1:33.523
"Quite disappointed today with P14, but already in FP3 we saw that it was going to be very difficult to get into Q3. We knew coming into Shanghai that it was going to be a tough circuit for us and it was going to expose more our limitations.
"However, I think we managed to put together a decent qualifying. Maybe I missed a tenth or tenth and a half on my last run, but overall I think I extracted pretty much all our potential from the car. We'll analyse and work on our weaknesses and we'll prepare ourselves for the race as best as possible."
Lando Norris, 15th, 1:33.967
"Today was obviously not as good as the past two weekends but, on the whole, I don't think it was horrendous. There's still some work to do with the car. Overall, there wasn't a lot more to gain today: Carlos was quicker than me – but he wasn't ahead of anyone else. I think he did a really good job of getting the most out of the car.
"This track just doesn't suit our car, compared to the previous two. It's just an area we have to work on."
Gil De Ferran, Sporting Director
"Once again, today we had proof of how competitive this 2019 Formula 1 field is. Obviously the further forward one is in qualifying, the happier one is. Therefore, on the happiness scale, we're not feeling as happy as we have been!
"We've been working on the set-up of the car throughout the weekend, and in reality I'm not sure we had the pace to get into Q3. Nevertheless, we can still race well from where we are, given our free tyre choice and the encouraging race pace we've shown to date.
"One thing we fully expect from the 1,000th Formula 1 Grand Prix here tomorrow in China is that it will provide the fans with incredible battles up and down the field."
Toro Rosso
In the closing stages of final practice, Albon ran wide through the final corner, kept his foot in and hit the barriers hard. The result was a trip to the medical centre for the Thai driver, and a car needing a full rebuild after leaving the race track littered with shards of carbon fibre. Based on the radio messages, Albon has learned a big lesson there. It left Kvyat to fly the flag for the team and he made Q2, winding up P11 which isn't a bad position to be in, given he will have free tyre choice...
Daniil Kvyat, 11th, 1:33.236
"It was a tight qualifying as always, a very narrow gap separated a couple of cars, so a tenth of a second would mean two or three positions on the grid. I think I did the best I could today and the car felt quite good but we still have some room for improvement, although in general it was a very strong session. I think this was our best qualifying of the year so far, Q3 was within two hundredths of a second, so it's just a pity to miss out by such a small margin. Based on FP2 we have a strong car for the race and a good starting position, so we'll try to do our best to finish inside the top 10."
Alex Albon, 20th, Did not take part in qualifying
"I had a pretty big crash in FP3 but I'm OK, I'm just more disappointed I made a mistake. Obviously, being quick in FP3 doesn't really help you that much as it's Qualifying that counts, but there are still positives to take away. I had been playing around with that AstroTurf at the last corner for a while now because it's a bit quicker using that extra bit of track. It's always a little bit loose and normally you can recover it, but this time I was a bit greedy with the throttle. I would have preferred to have spun to the left side of the track, but the car went to the right and I hit the wall. Looking on the bright side, we had a good FP2 and our race pace looks strong so I'm optimistic about tomorrow's race. It's not going to be easy, but I think we have the pace to make a few overtakes and hopefully get some more points."
Jody Egginton, Technical Director
"Both drivers were quite competitive in FP3 and overall happy with the balance of the car which was a positive sign heading into qualifying. Unfortunately, due to the extent of the damage on Alex's car sustained when he went off towards the end of FP3, he wasn't able to participate in qualifying. However, the guys are working flat out preparing Alex's car for tomorrow. On the other side of the garage, qualifying was – as we have become accustomed to – a very tight battle, with Dany finishing in P11 and just missing Q3 by 0.022 seconds. It's a little bit frustrating as he had shown the Sector 3 performance good enough to make Q3 in the first run of Q2, but this is how is goes sometimes. The pace of both cars during the Friday long runs should provide us with some opportunities to have a good race tomorrow."
Toyoharu Tanabe, Honda F1 Technical Director
"Daniil is eleventh, unlucky to miss out on Q3 by two hundredths, but he has a free choice of tyres for the start and should challenge for points tomorrow. We are all relieved that Alex is fine after his FP3 crash. As a result of the accident, we are changing the PU and sending the one that was in the car at the time of the crash back to Sakura for a full check. At the moment, we do not know the full extent of the possible damage to the various PU elements. Alex can still do well tomorrow, starting from pit lane, as he showed a good pace in free practice and overtaking is possible here."
Haas
Haas have had their struggles here this weekend, but looked back on form in qualifying, with both cars making serene progress through to Q3. But once there it unraveled quickly – Grosjean and Magnussen both aborted their first flying laps and didn't set a time. With just one shot at glory, the team sent them both out late and with no margin for error, they failed to make the chequered flag in time. No lap time set, ninth and tenth the result. A disappointing end to what had been a solid session.
Romain Grosjean, 10th, No time set in Q3
"I wasn't very pleased with my first attempt in Q2, I had a big snap in turn eight, I just couldn't complete the lap. When you've got one chance, and the midfield is within two tenths of a second, it puts a lot of pressure on us. We did well, and I think we recovered very well from yesterday, so I was happy with that. Obviously, in Q3, we maybe hadn't adjusted our clocks to Chinese time. I think the car looked really good today, much better than yesterday, so I'm very happy with that. Renault looked really strong yesterday on their long runs, so let's see if we can keep up with them. We're in a pretty good position. Obviously, it wasn't ideal to not set a time in Q3, but I think the pecking order we see there in Q3 is more representative of the pecking order for the year."
Kevin Magnussen, 9th, No time set in Q3
"It was good to be in Q3, but not good to get zero laps – we just missed it. Everyone went out of the pits at the same time, I got out just a little bit late, I missed six or seven cars. I couldn't get around to cross the line before the chequered flag. I was just at the back of the queue, so I didn't get a lap. I don't think we'd have been much better if we'd had the lap, but it would still be good to try. At least we have some good tyres for tomorrow. I'm not as optimistic for Sunday but hopefully we'll have a good result, we'll just have to wait and see."
Guenther Steiner, Team Principal
"On the positive side we've had both cars in Q3 in the first three races to start the year. That's a pretty strong showing. The last run, we didn't make it to the start-finish line in time because everyone was bunching up. We didn't make it, but if you don't take risks, well – we wouldn't have gained if we'd gone out first. We would have been ninth and 10th anyway. With our position in the garages, we were the last ones to get in the row. We didn't make it, despite our forecast. In the end it's not fantastic, but it's not the end of the world. As I said, I think we've shown ourselves to be strong in qualifying by once again having both cars in Q3."
Racing Point
Stroll at least kept his car pointing in the right direction today but couldn't extract enough pace to compete and exited in Q1 for the seventh consecutive race. Perez made Q2 and wound up an impressive 12th, with free tyre choice for the race. The Mexican is a master at extending tyre life and could cause a headache for the strategists at a few midfield teams tomorrow if he tries something different...
Sergio Perez, 12th, 1:33.299
"P12 is a good result - we were less than a tenth away from making Q3 so I feel quite happy with our performance considering our speed in practice. With a perfect lap we could have made the top ten, but the windy conditions made it tricky out there today. The midfield is so tight and if you don't have a perfect lap, you can miss out. I would have preferred to be P11, but we are in a nice position. There is a question mark as to whether the soft or medium tyre is the best, but we will evaluate the data with the engineers this evening and make our decision. We have free tyre choice for the start and, with a good strategy, I think we can make up some ground tomorrow and aim for points."
Lance Stroll, 16th, 1:34.292
"A frustrating session. I don't feel I got as much out of it as I should, so it could definitely have been better. I'm not quite getting to grips with the car 100% yet and I made some mistakes on my lap, which cost us a couple of tenths and, in the end, that's all it takes. It's very, very tight in the midfield and every tenth counts. My race pace is generally pretty good and I believe we can be stronger tomorrow, but when it comes to Saturdays we need to sort a few things out to really unlock that extra bit of performance. We started sixteenth in Australia and finished ninth, so there's no reason why we can't do the same thing here. It's a long race, I generally make good starts, and you can score points from wherever you start on the grid, so that's what I'm aiming to do tomorrow."
Andrew Green, Technical Director
"The changes we made overnight took us in a better direction this morning, but track time was limited with final practice being cut short. Lance didn't have a particularly clean lap in Q1 and just missed out on making it through to Q2. As we saw in Melbourne and Bahrain, a tenth here and there can have a big impact on your your starting position. Sergio progressed smoothly to Q2 and will line up in P12 tomorrow, which opens up some nice strategy options. Scoring points won't be easy, but I think we can race intelligently and bring ourselves into contention."
Williams
Still propping up the pack, still well off the pace. The good news for Williams is they have unearthed a star in Russell, who calmly went about his business and despite trailing his team mate across practice, got the better of him when it mattered by 0.028s. They will at least start ahead of Giovinazzi and Albon – but how long can they keep those two behind?
Robert Kubica, 18th, 1:35.281
"It has been a surprising qualifying with the balance of the car. I struggled a lot in the first run where I had massive oversteer which I was not expecting, as we've struggled with understeer all weekend. We have to try and understand this as it came as a surprise. Tomorrow will not be easy, managing the tyres will be important especially depending on the ambient and track temperatures but it will be the same for all of us."
George Russell, 17th, 1:35.253
"Starting P17 is definitely higher than we expected going into this weekend. It was a fairly decent session, we are getting closer to everybody else and as a team we are slightly more competitive. We are understanding the car better and getting more out of the set-up which has enabled us to find some laptime. We will go out and give it everything tomorrow and see what we can do."
Dave Robson, Senior Race Engineer
"Following some useful testing in FP3, we had another busy qualifying session as each driver completed three runs. The trackside team of engineers and mechanics, with help from the strategists back in Grove, did a very good job of getting both drivers into good positions on track for all runs. The drivers also did a good job, and although there are always things that we could've done a little better, together we got almost all of what the car had to offer today. Today we also benefited from the misfortunes of Albon and Giovinazzi, but we know that they will be very keen to get past us early in tomorrow's race."
Pirelli
Mario Isola, Head of F1 and Car Racing
"Temperatures were a bit warmer than often seen in China at this time of year, with track temperatures of more than 40 degrees centigrade – 15 degrees more than yesterday – and some wind as well. There were no real surprises during qualifying, with the tyres performing exactly as we anticipated and an interesting mix of strategies. As the top five will be using a strategy that is theoretically slightly slower than the drivers starting on the soft tyre, this could provide an extra element. However, starting on the medium also provides a bit more tactical flexibility. We'd expect there to be some degree of degradation on the soft tyre tomorrow, which will be one of the main factors influencing the timing of the pit stops."