Feature
What the teams said - qualifying in Germany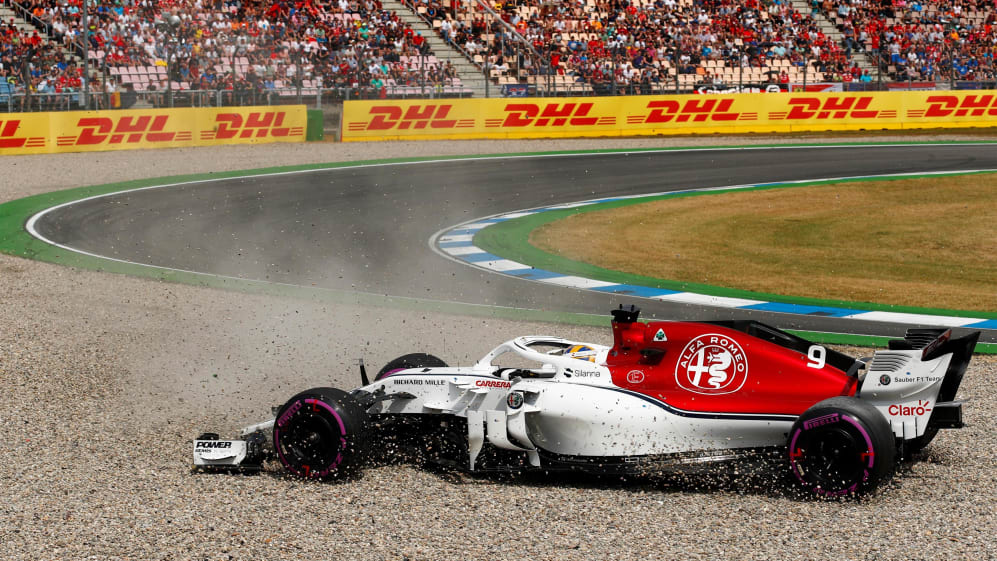 A round-up of all the action from final practice and qualifying at the Formula 1 Emirates Grosser Preis von Deutschland 2018 at Hockenheim...
Ferrari
It was difficult to know exactly how much pace the Scuderia had after yesterday's sessions - but the answer was emphatic come qualifying. Vettel didn't put a foot wrong to grab his fifth pole position of the season, with Raikkonen third after running wide in Q3. It will be difficult to see anyone beating the German at his home race tomorrow, with the SF71H looking formidable around this circuit.
Sebastian Vettel, 1st, 1:11.212
"You always try to do your best every day. Today has been one of those days, the car was fantastic. I could feel it in Q1 already and then in Q3 I knew I could get a good lap. Racing here in Germany means a lot to me and hopefully we can get first place tomorrow. We built a strong car and we know there's still potential. Also, we know we can still improve race by race, because there's still some weaknesses, but overall we are competitive and strong. So, it's up to us to make good use of this potential everywhere we go."
Kimi Raikkonen, 3rd, 1:11.547
"Today the car was working well and in qualifying I knew there was a lot of lap time in it. On my first try in Q3 I had a good feeling and the lap was looking good, but then I made a mistake and got sideways. We had the speed to do better, but I did not want to make any crazy mistake and risk throwing everything away, so on my last try I took it a little bit easier. Third position is obviously not ideal, but in the end it is a pretty good position to start from. It's difficult to say what will be the key to the race. So far our car has been good and I expect it to be the same tomorrow, but the conditions might change. As for every race we'll try to do our maximum and see what it brings in the end. We need to do the best we can."
Mercedes
It looked as if normal service had resumed and Mercedes wold be slugging it out with Ferrari for pole, but in the end they only had one representative in the action. Bottas pushed Vettel close, but the Silver Arrow was the slower car and despite a scintillating lap the Finn lines up second. Hamilton was watching by this point - a hydraulics problem in Q1 ended his qualifying, despite desperate efforts to push his car back to the pits.
Lewis Hamilton, 14th, 1:13.012
"It's been a tough day, but these things happen in sport. This is a part of racing. We had a hydraulic failure at Turn 1, then lost the power steering and I went wide. When you're fighting for a championship that's as close as this you can't afford days like this. You put so much preparation in, everyone works so hard, and then to go out early in qualifying is a bit of a shock. Your heart sinks and sometimes you just can't believe things unfold the way they do, but all you can do is suck it up. In that moment I was thinking just push the car back to the garage, maybe we can fix it - it's that I will not to give up. All I can do is put aside that negative energy and see tomorrow as another opportunity to rise. Hockenheim is a trickier for overtaking on than Silverstone, but I'll do everything I can."
Valtteri Bottas, 2nd, 1:11.416
"It felt like a good lap, especially in the last sector, but I don't think pole was up for grabs for us today - Ferrari was just a bit quicker. It is going to be very close between us and them tomorrow; the race start and the strategy will decide the outcome. We've been working on our starts and made good progress, but the Ferraris have been producing really good starts this season, so we'll find out if we have closed the gap. It was a shame that Lewis missed most of Qualifying. He will try and get as far up as possible, we've seen in the previous races that he's capable of that. From my side, I will focus on getting that one position back - and the race start could be the best option. For us at Mercedes, Hockenheim is a home race, so I will give it my best tomorrow."
Toto Wolff, Head of Mercedes-Benz Motorsport
"That was a tough qualifying session for us today - we were fighting with one hand tied behind our backs after losing Lewis' car so early in the session. From what we can see in the data, we had an hydraulic failure as Lewis used the Turn 1 kerbs in a normal way - then, with failed power steering from the loss of hydraulic pressure, he ran wider and that's when we saw the car bouncing dramatically on the TV. Clearly, this is a vulnerability we have under the high loads you see when running the kerbs, and something we must get on top of. It will be a tall order for Lewis to come through the field tomorrow but we saw already in Silverstone how well he can fight back. For Valtteri, it was a mega final lap that put him on provisional pole - especially in the third sector, where he was fastest of everybody by a big margin. But Sebastian and Ferrari were just that bit stronger than us today. They were particularly strong in the middle sector and it's clear they have found a lot of power in the last races - and that we need to catch up. It will be a challenging race tomorrow but we saw very close matched long runs from everybody in practice yesterday. The conditions will be cooler, so it will be interesting to see if and how that changes the competitive order."
Andrew Shovlin, Trackside Engineering Director
"A day of mixed fortunes, well done to Valtteri for putting the car on the front row but it was very tough session for Lewis. Knowing that you have a car that can be on the front row makes it even more frustrating to be side-lined in the early parts of qualifying. We are still looking into the failure to work out the precise root causes of what happened, but it goes without saying that our priority is to try and understand this issue ahead of the race. Lewis has already switched his focus to recovering position in the race tomorrow. It's not easy to overtake with these cars but the race should offer several strategic opportunities that will hopefully open things up for us and get us back into the good points. Valtteri's race is a bit more straightforward. The pace and the tyre behaviour in the cooler conditions are a bit of an unknown for all teams, but there are good opportunities for him to win and that's his entire focus right now."
Red Bull
Ricciardo sat out of Q2 as expected, as he already knew he will start from the back of the pack due to grid penalties. That left the burden of expectation on Verstappen's shoulders. Red Bull had looked right in the mix, but come qualifying the RB14 was found to be lacking on the straights and the Dutchman could only manage fourth. But if Ferrari and Mercedes start to squabble on track come race day, don't discount Verstappen getting involved in the victory battle...
Daniel Ricciardo, 15th, 1:13.318
"We're starting last tomorrow no matter what, so by not taking part in Q2 means we have a choice of which tyre to start the race with. If we had done Q2 then whichever tyre we went on, we would have to start the race on. This decision has given us a bit more freedom and we can decide what looks best for tomorrow and save some mileage on the car. I'm actually glad that Qualifying is dry and the others were forced to use the tyres as it gives us a bit more of an open book to choose the most aggressive strategy. It's one of those races like Silverstone which is between a one or two stop. Depending on how fast I can come through the pack will determine whether I can make it a one stop. I think we need a little bit of luck to get a podium, it's a long shot but it's never impossible. Now I'm just thinking of the excitement I will have starting from the back tomorrow. Obviously, I would rather start at the front but there will be some excitement to be had for sure. It's probably going to be doubly entertaining with Lewis now also starting towards the back too, so both of us coming through the field should make for a good race. Lewis probably isn't as happy as me right now as I knew this penalty was coming and he had a chance of pole, but tomorrow we're going to have a good time I'm sure."
Max Verstappen, 4th, 1:11.822
"Fourth was the maximum we could do. You have to be realistic going into qualifying and if you don't have the horsepower you can't expect to be at the front. I was very happy with my lap, I feel we extracted the most out of the car so a satisfying day from my point of view. The plan was to start on Softs but the red flag in Q2 changed that. Looking back, I think we would have been ok but we wanted to make sure we progressed to Q3, so we will now start the race on ultrasofts. This compound should be stronger for the start sequence. It's then unknown how the tyres will degrade due to the track temperature being different from Friday compared to the race. Our pace should be better tomorrow than in qualifying so with a good start I'll see how I can progress. I think I'm starting on the inside which isn't ideal but being on the second row helps. It was good to see all the fans out there, I'm not sure if they were cheering Sebastian as I was following him, or myself, but either way it was nice to see."
Christian Horner, Team Principal
"Unfortunately for Daniel his qualifying in the dry conditions was never going to go past Q1 because there was no point in burning tyres and engine mileage as he already had penalties that put him at the back of the grid tomorrow. We therefore took the strategic decision not to run his car in Q2 and provide him with more options tomorrow. Max, in progressing through Q2, aimed to get into Q3 on the Soft tyre but the delta today between the two compounds was just too great to make it through. We changed to the ultrasoft like our competitors and thereafter in Q3 Max drove two very impressive laps. On the last lap he was flat through Turn 1 and is the only car to achieve that so far this weekend. Unfortunately, the time loss in sector 2 was disproportionate so fourth was the maximum we could achieve today. Hopefully we can make progress in the race and I'm sure Daniel will also enjoy the challenge of coming through the field."
Haas
A solid day for the American team, with their drivers grabbing fifth and sixth on the grid to match their starting slots from Australia. Magnussen edged his team mate for the first time this weekend, although Grosjean was forced to abort his final flying run as the conditions improved. The team will be looking for their drivers to keep it clean and bring both cars home in the points.
Romain Grosjean, 6th, 1:12.544
"It was a pretty good session. We just need to see what happened on my last run. I went wide on turn one, so we just have analyze that. We couldn't do the second push lap in Q3, unfortunately, but all in all, it was a good session. I'm really happy for the team. On a track were we were not sure we'd be competitive, we've been good. We're right up there, so that's very encouraging. We'll see what the weather's like Sunday. There's a bit of uncertainty about that, but I don't think we'll mind cooler conditions. I think we're in a good place for tomorrow."
Kevin Magnussen, 5th, 1:12.200
"That was a nice lap at the end. There was no beating the Red Bulls – they're still too far ahead for us to play with them, but we're best of the rest again, and that's our target. Now we just need to get it tomorrow as well, which is the bigger challenge. For tomorrow, you just hope the guys ahead get a good start so we can get some free air and do our own thing. We're lucky that it's looking like the temperatures will be a little bit cooler. With the problems we had on Friday with the overheating of the tyres, maybe it'll be a bit better. Hopefully, the car will behave well, as it did today, and we can score some good points."
Guenther Steiner, Team Principal
"It's a very happy day today. Qualifying fifth and sixth is the best. That's what we wanted to achieve, and that's what we did achieve. It was a good job from everybody. Now we look forward to going racing tomorrow."
Renault
Sainz had an early spin in FP3 in the wet conditions, and after that Renault decided to sensibly focus on qualifying. It paid off, with both drivers making it to Q3, Hulkenberg using the team's newer-spec front wing to beat his team mate by a tenth. The German has never finished higher than seventh at his home race, but with other cars out of position he has a great chance of breaking that record this weekend.
Nico Hulkenberg, 7th, 1:12.560
"I would have loved to have been a little bit closer to the front, but I'm happy with my laps and progression through qualifying. Tomorrow I'll give it a shot to hunt down the cars in front of me. It was great to see the home crowds and so much support today with full grandstands; that makes me proud and happy as a German and I hope to reward this support with a strong Grand Prix."
Carlos Sainz, 8th, 1:12.692
"I'm pretty pleased with how things have gone today. Qualifying was quite challenging at the beginning, but we made big improvements throughout. I put in a decent lap in Q3 and eighth is not a bad position for tomorrow. I didn't use the new front wing in qualifying but the upgrade is working which is also great news. As always, we are targeting to put both cars in the points tomorrow. Our race pace looks promising, but we need to keep an eye on the tyres and managing them throughout."
Alan Permane, Sporting Director
"We're happy to get both cars into the top ten, but it was a shame for Nico that his final lap was so close to gaining another position on the grid, but ultimately there was not quite enough pace.
"We don't expect to see a return of the heavy rain we saw this morning, so our focus will be on maximising the tyre performance life, in particular trying to avoid the pitfalls of blistering. It's likely to be warmer than today, so has potential to be a tough race. We're happy with our race preparations yesterday and confident we can show strongly."
Sauber
Leclerc topped FP3 from his team mate, in unrepresentative wet conditions. Come qualifying, the rookie once again had the upper hand, making it to his third Q3 in four races. After failing to finish in Silverstone, he will be on the hunt for points tomorrow. Ericsson lines up 13th so will have a harder job to make up ground.
Marcus Ericsson, 13th, 1:13.736
"It was a mixed qualifying for me today. The first target was to reach Q2. After that, the potential to improve was still there, but it got a bit messy with my spin. I was able to rejoin and complete another lap but it was not the cleanest one in the end, which is a bit of a shame. We have a good grid position tomorrow, starting just outside of the top ten. Another advantage is that we can choose our tyres. The car feels good overall, and we have strong form. Our aim will be to score points, and I am looking forward to the race."
Charles Leclerc, 9th, 1:12.717
"It is great to have finished in P9 – not only for me, but the whole team, as we have achieved another Q3 finish. The day started out being quite tricky, with heavy rain preventing us from running for a large part of FP3. We managed to put everything together in qualifying though. The balance of the car was good, and the new updates we have on the car are working as expected. Hopefully we can continue like this and score some points during the race to make up for what we lost in Silverstone. We have come a long way since the beginning of the season and I Iook forward to building on that tomorrow."
Force India
A mixed bag for Force India. Ocon blamed a lack of time out on track for his exit in Q1, admitting that Hamilton's stricken Mercedes did not impede his lap. Perez had a better time of it, making it to Q3 before qualifying tenth. The Mexican will be looking for a third points finish in a row tomorrow.
Sergio Perez, 10th, 1:12.774
"I am happy with our performance today. I think the team did a strong job especially considering we lost FP3 to the rain. It wasn't an easy session and I only just made it through to Q2. I had to make every lap count in every session. P10 is a good place to start the race, but I think the conditions will be much hotter tomorrow. So it will be a completely different game and tyre management will be very important. We can certainly aim for points and hopefully beat some of the cars ahead of us."
Esteban Ocon, 16th, 1:13.720
"It's not a great feeling going out in Q1 but I made a slight error in qualifying today, which cost me the opportunity to continue into Q2. I didn't manage to get the right feeling with the car and we couldn't set it up how I wanted. Today's rain during FP3 really hurt me because I had already missed a session yesterday. There is nothing we could have done about it, but it meant we went into qualifying feeling a bit blind, with just one session of track time. I think Sergio showed what the car can do around here and I am confident our pace in the race is going to be strong. The battle in the midfield is going to be close, as always, but this is a good track for overtaking and I think we can push our way into the points."
Otmar Szafnauer, Chief Operating Officer
"It's been a challenging day with the mixed weather conditions limiting mileage, which particularly impacted on Esteban's time in the car leading up to qualifying. With such a competitive midfield, every tenth of a second counts and Sergio did well to progress to Q3. Esteban was close to making Q2, but just missed out. The forecast suggests warmer conditions tomorrow so all the preparation work from Friday will be very relevant for the race. I think our race pace is a match for all of the midfield teams so I'm optimistic of some points tomorrow."
Toro Rosso
Both cars exited in Q1, with Gasly compromised by the late yellow flags. That marked the first time the team has failed to get a car through to Q2 since Baku - and they will have a long day tomorrow unless they can extract some extra pace from the STR13...
Pierre Gasly, 17th, 1:13.749
"It's such a shame to go out in qualifying so early. We hoped we would see some rain for the session but it didn't happen unfortunately. It's pretty difficult for us at the moment because the other teams are improving and we haven't made the step forward we would have liked, so we need to work hard to catch the others. I know the team is working flat out, but we are still struggling with pace. I knew it wouldn't have been easy to make it to Q2 today, and in the end we missed it by just four-hundredths of a second. However, considering our times yesterday, our race pace looks competitive, so hopefully tonight we can find a good strategy for tomorrow. Everything's possible - of course we will need some lucky happenings to make our way through the pack, but we will give it our everything to recover as many positions as we can."
Brendon Hartley, 18th, 1:14.045
"I'm a bit disappointed that we didn't make it to Q2 today. It was a relatively smooth session, my first lap looked OK so I opted for one lap at the end of the session. In hindsight, maybe doing two laps would have been better with the track improving the way it did. In addition, we really lacked some pace on the ultrasoft tyre today. Thinking of the positives, our long run pace looks quite competitive - we were one of the quickest cars in the midfield during the race simulations."
Jonathan Eddolls, Chief Race Engineer
"We recognised some weaknesses from yesterday, so we planned a number of changes to the car and decided how to operate the tyres for FP3 and qualifying. Unfortunately, it rained during FP3 which meant we couldn't put our dry setup ideas into practice. The rain was quite heavy so even if we didn't get representative running, it was useful to get a run in at the end to check the balance of the car, as there was a chance of rain in qualifying - we wanted to make sure we had the car in the right window. We found a good balance with both cars and the drivers were pretty happy going into qualifying. Unfortunately, we just didn't have the right pace today. As we can see from the time sheets, it was once again very tight in the midfield and half a tenth makes a big difference. Thinking about tomorrow's race, our long run pace yesterday was pretty competitive and we've usually been able to manage our tyres in the race better than most, so there's no reason not to remain positive. Since we are starting from the back, some overtaking will be required and we know it will be tricky, but anything can happen. We'll have to look through all of the strategy options tonight to figure out what we need to do to make the best progress tomorrow."
Toyoharu Tanabe, Honda F1 Technical Director
"This morning's final hour of free practice in the wet was not very useful, as it is meant to be dry for tomorrow's race. The rain also made it difficult to know what to expect in qualifying, although that is the same for all the teams. The result is disappointing and we need to work hard to improve the overall package as soon as possible."
McLaren
Vandoorne suffered gearbox issues and exited in Q1. Alonso did at least make Q2, and optimistically attempted to qualify on the soft tyre compound before switching to the ultrasoft. He couldn't extract enough pace to make Q3, but starting P11 with free tyre choicehe has a great chance of making headway in the race and scoring more points.
Fernando Alonso, 11th, 1:13.657
"I'm definitely happy with 11th, as it's a small pole position for the midfield group. Tomorrow we'll start on the tyres we wish, and they'll be new, so it's a great opportunity to score points as we're starting already close to the points zone. It'll be a close fight but normally on Sundays we pick up a little bit of pace, so we'll try to do our best and have a good race.
"We had the benefit of [Lewis] Hamilton and [Daniel] Ricciardo not running, this is clear, but still we completed a good qualifying.
"The car is getting better; the new parts are definitely improving our performance but everyone else is making small steps every race so we keep more or less the same gap with our rivals. However, we are moving in the right direction and hopefully we can bring more and bigger upgrades to the next few races.
"We need both McLarens to score points so we have to find what the issue on Stoffel's car is, as it's the second race that we've seen less downforce and a problem with that car."
Stoffel Vandoorne, 20th, 1:14.401
"The situation today was the same as at Silverstone. Since we hit the ground there we were the last car by some margin, and it's turned out the same today and all weekend so far. It's frustrating as we've changed a lot of parts on the car to try and fix the problems, but we haven't yet managed to find a solution.
"I definitely haven't forgotten how to drive. Between me and Fernando the cars are in a similar spec, but we can see some issues on the data on my side. The team has put in a lot of effort to change parts already, but it seems like we're not really moving forward much and the team is looking at various options to see what else we can do. The priority now is to find a solution for the problem we have.
"Tomorrow I have nothing to lose, so the only way is up from here and hopefully we can extract a little bit more out of it."
Gil de Ferran, Sporting Director
"Obviously we're disappointed with the outcome on Stoffel's side today. It's a shame that we lost FP3 due to bad weather conditions, which would have a been a good opportunity to better understand the issues.
"Fernando had a very positive day. The team, both back at the factory and at the track, made some very good decisions overnight to enable us to take a step forward with the car today. Not enough can be said about his performance, which has put us in a very good position to have a strong fight in the race tomorrow. * *"It looks like we have all the ingredients in place for an exciting German Grand Prix on our return to this legendary track."
Williams
The Williams duo braved the conditions in FP3 to see how the FW41 handled in the wet, both running wide but keeping out of the barriers. Come qualifying, Stroll was hampered by not knowing the best set-up for his car and exited in Q1, but Sirotkin did make Q2 for the first time since Monaco. Starting 12th, he has an outside chance of points but will have a tough battle to keep quicker out-of-position cars behind...
Sergey Sirotkin, 12th, 1:13.702
"It was a really good result for us today getting into Q2 and finishing P12 in qualifying. We ran a big programme yesterday where we went through many things, I don't want to be too optimistic, but we have found some interesting things yesterday. We put all these findings into one package and it was a good call in the end. It's a very important step for all the team as we have been waiting for this for a long time and it's good to show we are moving in the right direction. I am very proud of myself and for all of the team for the hard work and development."
Lance Stroll, 19th, 1:14.206
"It is a shame as I just didn't get it together. Looking back on my lap, there were a few things I could improve, but we tried all sorts of stuff. I don't think we adjusted the front wing very well for that last run, as we were on the understeer side, so in hindsight there was a lot more in the car. I didn't dial in the car the way I would have liked to, but probably with a good FP3 session we could have saved that and had a much better qualifying. However, that is how it is, and I have to focus on the race tomorrow."
Paddy Lowe, Chief Technical Officer
"After FP3 there was a distinct threat of rain as we were coming into qualifying, but as it turned out it didn't materialise, so we reverted to our standard programme. The two runs for each driver in Q1 were trouble free and it was all very close, but Sergey managed to get through to Q2 with a particularly strong lap. Both drivers improved on their second set of tyres, but by this stage it was clear this was a one lap tyre as neither of them improved on the second lap. Unfortunately, on Lance's second run he got caught up in a long queue on the out lap and failed to meet his tyre temperature targets for the start of lap, otherwise we may have got two cars into Q2. Having selected two sets of the soft compound tyre at this race we only had one ultrasoft set for Sergey in Q2 which he chose to run at the very end. On a single lap he was able to slightly improve on his Q1 lap which put him in 12th. Overall, it was a trouble-free session, this is a good spot for Sergey to start the race from, and with Lance's great first lap talent I have no doubt that he can also move himself further up the field during the race tomorrow. Congratulations to Sergey for his best grid position since Baku."
Pirelli
Mario Isola, Head of Car Racing
"All the drivers embarked on today's qualifying session without the benefit of the representative data that is usually collected in FP3 on Saturday morning, due to the very wet conditions. Even though qualifying took place on drying asphalt, the top cars were still immediately on a pace that was faster than Friday's FP2 session, thanks also to asphalt temperatures that were more than 20 degrees cooler than yesterday. In these conditions, the Purple ultrasoft tyres worked perfectly, resulting in a pole position time that was more than three seconds faster than the last pole at Hockenheim set two years ago: a notable figure, given that this is quite a short lap. Strategy tomorrow will depend somewhat on the degradation of the ultrasoft in the specific weather conditions for the race, but it should be a one-stopper for everyone. In any case, all three compounds look to be viable options for the Grand Prix."